Give a birthday gift that lasts a lifetime when you give bonsai plants for gifts. See your options to decide what is the best plant to gift on birthday of your friend or family member.
As an out-of-the-box birthday gift idea, a bonsai tree shows love, thought and care behind your gift. With a number of beautiful and meaningful plants for gifts, you can easily find the best plant to gift on birthday of friends or family members. They will feel truly blessed with lasting greenery, soothing vibes and beautiful shape flourishing in age along with them.
Our bonsai plants suitable as birthday gifts
(10)
₹

1,299
Ships Tomorrow
Surprise your loved ones with birthday gifts of a lifetime
Bonsai plants and trees hold an array of surprising attributes that establishes them as one of the loveliest birthday gifts. Not only do they add a bit of natural aesthetic to the place where it is kept,  but the reviving aura makes your special ones feel nostalgic every time they catch a glance at the plant.
You can buy any of the bonsai trees for sale in India and get it delivered to the home of your friend or family member with love and designer packaging. It will truly be a lovely and long-lasting birthday gift for them to cherish for a lifetime.
Why are green gifts such ideal birthday gifts?
Bonsai plants are small and compact gifts. Therefore, they reflect the captivating beauty of nature through dense green foliage in their miniature structure.
Some also bear colorful flowers and delicious fruits to level up the excitement of your loved ones and make them even more enjoyable as birthday gifts.
Bonsai plants are considered auspicious in nature and are praised for being bringers of peace, prosperity and good luck to your loved ones when given as birthday gifts.
Spiritual bonsai plants will allow your loved ones to sink deep into their soothing and healing vibes. 
Choosing the best plant to gift on birthday
While every bonsai plant has something to love about it, choosing a perfect bonsai birthday gift makes it really unique and special. The range of bonsai plants to gift on birthday and other occasions is wide and diverse. It includes a variety of beautiful and auspicious plants that are both easy to care for and can sit in your loved one's home with several years to come.
#1 Chinese Elm bonsai tree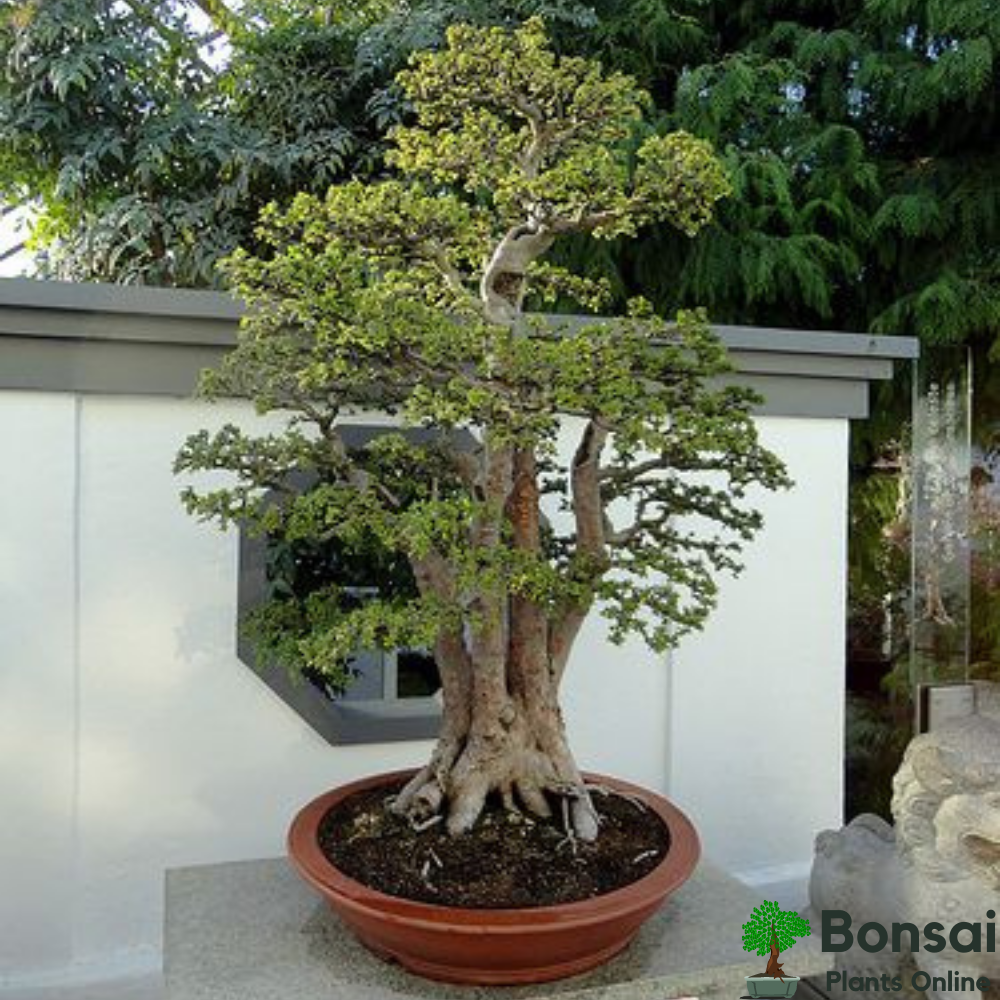 The Chinese Elm bonsai tree is often considered the gateway to developing indoor gardening as a hobby. Therefore, by gifting someone the Chinese Elm bonsai tree, you are gifting them the thrill and joy of new passion. This makes this beautiful and green plant ideal for giving as birthday gifts. As a semi-indoor plant, the it can be placed anywhere in the outdoor or indoor spaces and will be loved by your friend or family member for multiple reasons.
The Chinese Elm bonsai tree displays an artistic build and dense green foliage making it a beautiful birthday gift.
In its ornamental structure, the Chinese Elm also signifies inner harmony and personal strength for the person you are giving it to as a birthday gift. That makes it a perfect birthday gift to fill your loved ones with positivity and heartwarming emotions.
The plant will be easy to care for by your loved one as it does great with little watering. Even if your family member or friend does not have a green thumb or experience with taking care of houseplants, they will be easily able to maintain and love the Chinese Elm bonsai tree.
#2 Jade bonsai tree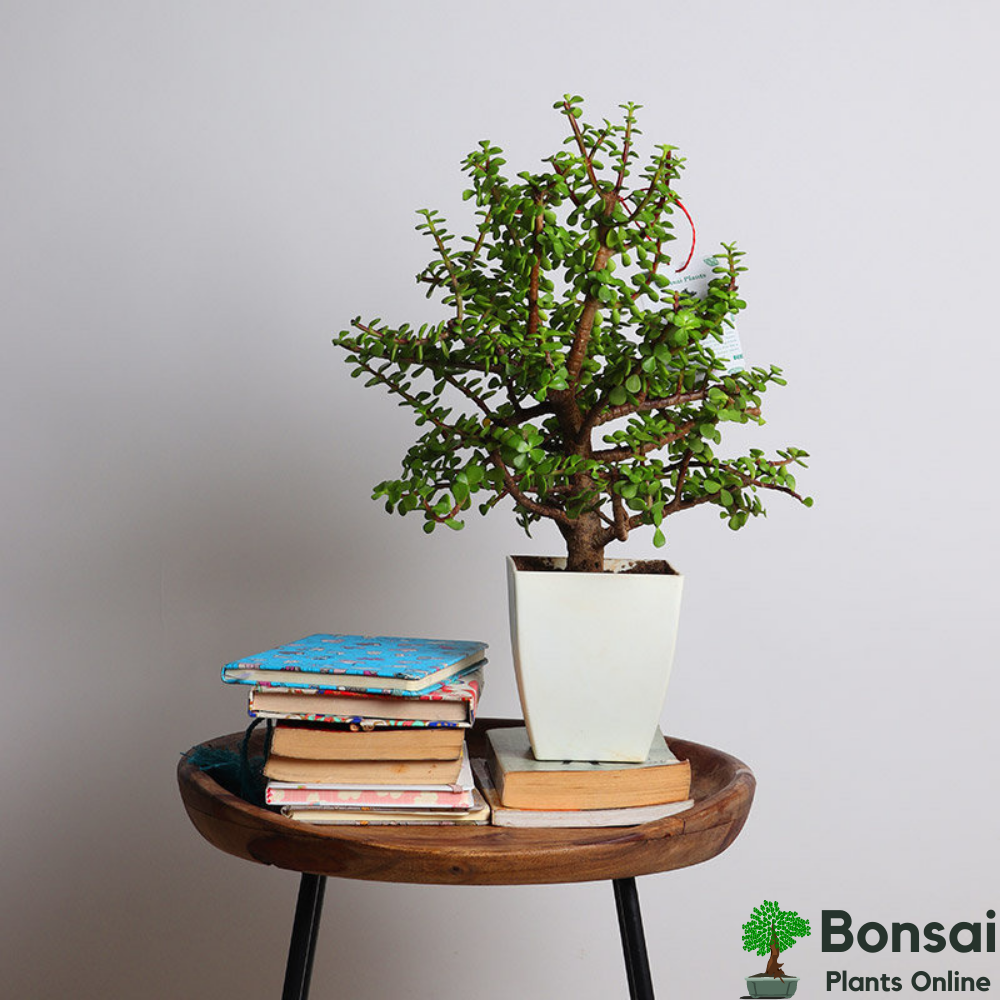 The Jade bonsai plant is considered to be a lucky plant with a succulent appearance, making it a unique and thoughtful plant gift for birthday. Besides a thick trunk and fleshy coin-sized leaves, the Jade plant bonsai also wins the heart of the onlooker with its rare-looking blossoms of white star-like flowers.
The Jade plant bonsai is not only a beautiful birthday gift, but it is also known to bring good luck and wealth to those you are planning to excite on their birthday. In fact, as a famous Feng Shui plant, the Jade plant bonsai is believed to attract money and charge happiness towards the home where it is kept. Moreover, the plant also has air-purifying properties which signifies thought and care for a lifetime in your birthday gift.
As a beautiful succulent plant, your loved ones will be able to easily maintain it for enjoying a long life inside their home, without even worrying much about watering their houseplant. Truly, this makes it a really thoughtful and meaningful gift that your loved ones will appreciate for more than just its appearance.
#3 Cherry Blossom bonsai tree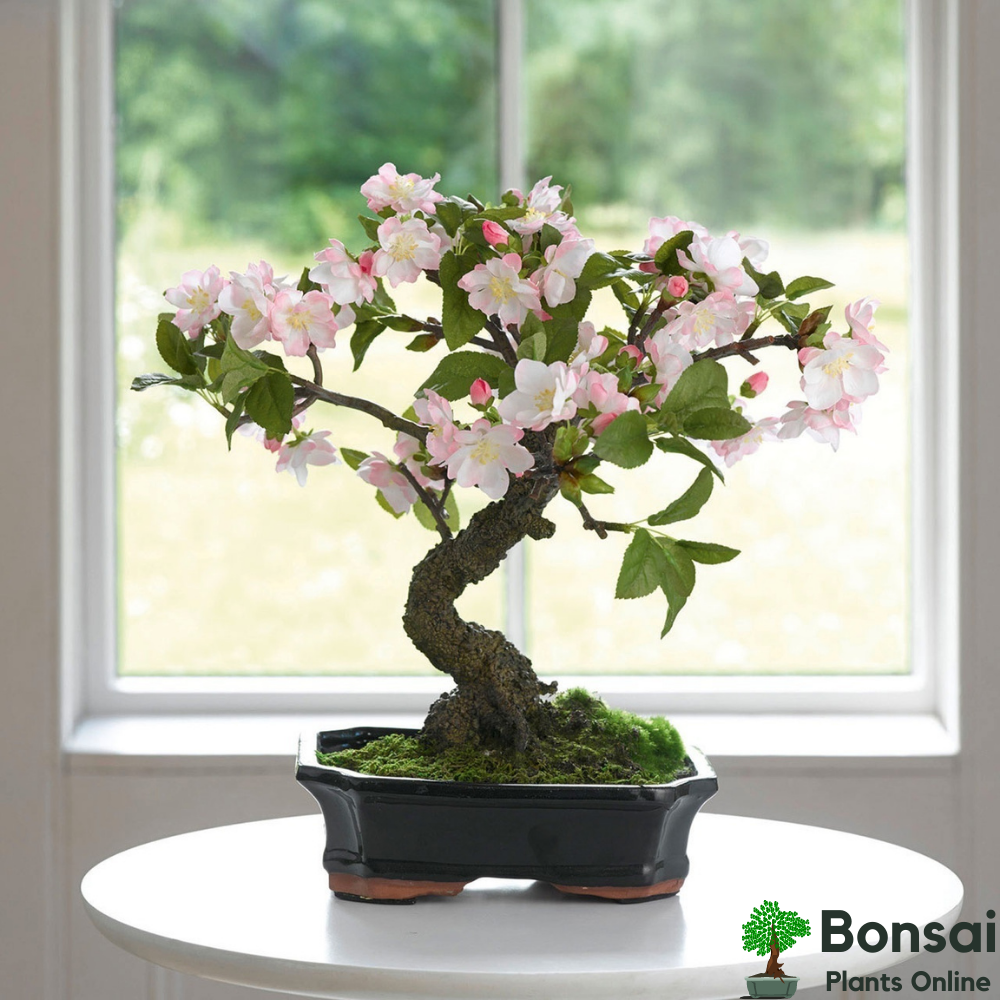 When you give someone the Cherry Blossom bonsai tree, you give them the gift of the festive colors of Japan. The plant is truly suitable for gifting and ornamental purposes. In fact, it is an unarguable connotation of beauty itself, and is even considered to represent femininity.
Since it symbolizes renewal and rejuvenation, many consider the Cherry Blossom bonsai as the best plant to gift on birthday that goes well with the essence of the occasion. This makes it a suitable gifting plant for the birthdays of your loved ones. The plant has delicate pink blossoms and edible red berries, and your loved ones will enjoy the plant thoroughly when you give it to them as a birthday day. Moreover, the plant is easy to maintain, and can even be pruned easily to give it any shape desired.
#4 Lucky Bamboo bonsai tree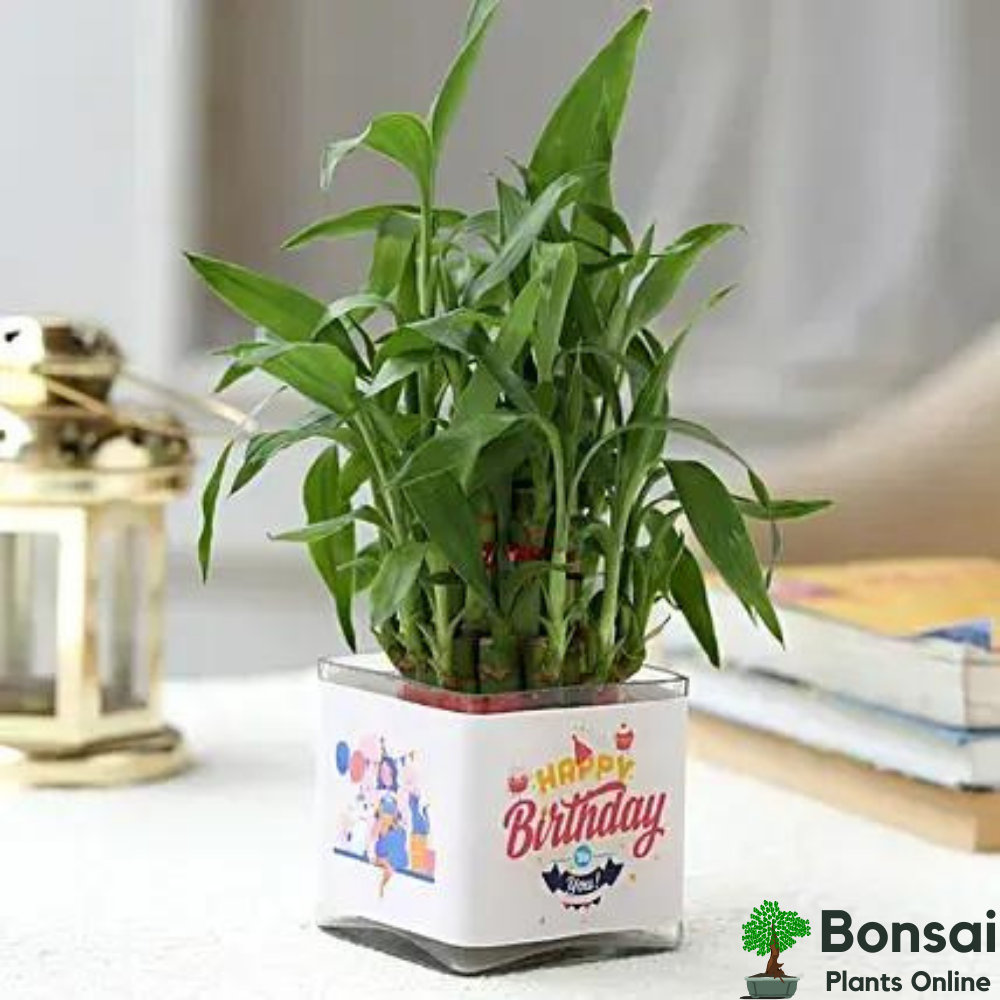 This plant is the most suitable and best plant to gift on birthday if you want to shower your loved one with good luck and blessings on their special day.Y ou can get the plant in various beautiful layered arrangements of its shoots, such as 3 layered, 5 layered and 7 layered arrangement. This not only boosts the aesthetic value of the plant, but brings different types of good luck to your loved one.
These plants are one of the easiest to maintain as they require minimal care. In fact, the Lucky Bamboo bonsai plant can even be placed and grown in glass pots filled with water. This makes it suitable for giving to friends and colleagues alike, if you want to combine a meaningful plant with elegant aesthetics.
As an authentic Feng Shui plant, the Lucky Bamboo bonsai tree possesses auspicious values and brings happiness and longevity to your loved one when you gift it to them on their birthday. Its stylish and chic look will be a constant delight for your friends, parents or relatives to cherish throughout the year.
#5 Azalea bonsai tree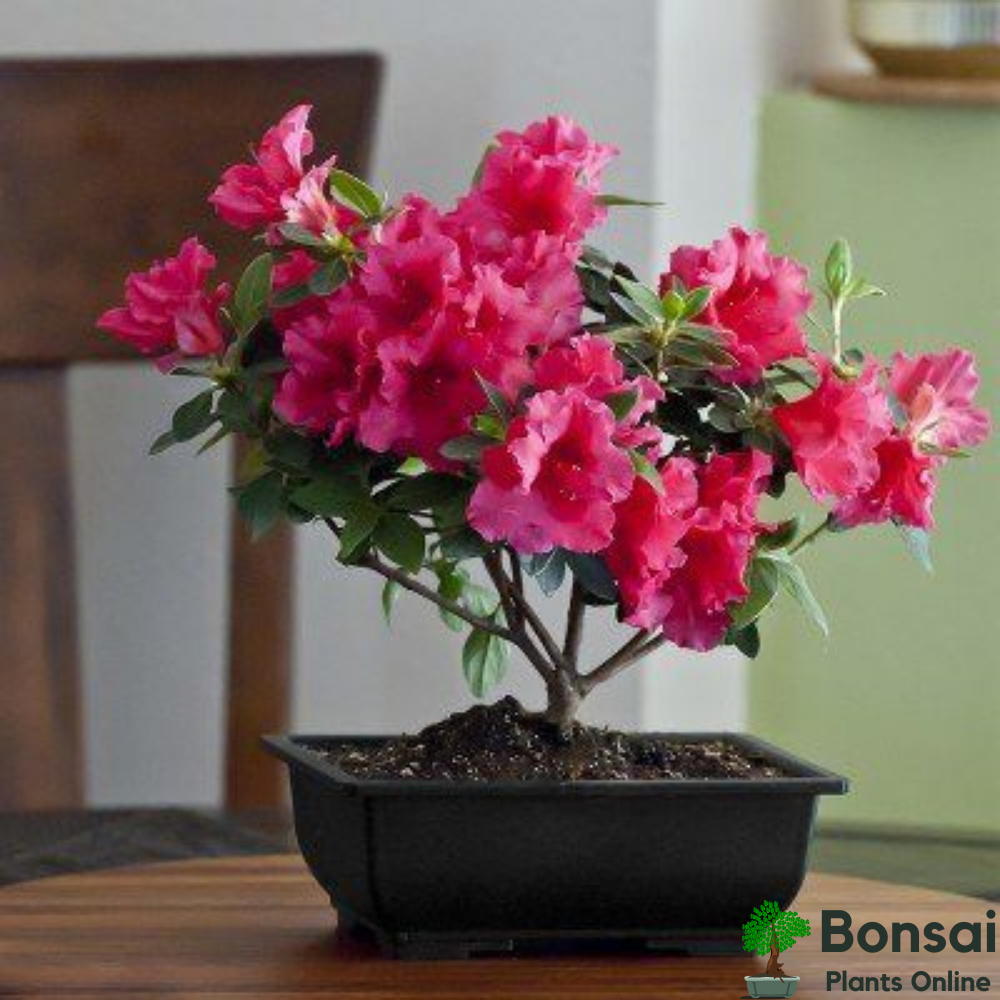 Azalea is a gorgeous flowering bonsai tree that spruces up any special occasion with its dense foliage and lovely pink flowers. The beauty of Azalea flowers makes it a charming birthday gift to show your care for anybody you adore.
It has a bushy and compact structure that is easy to maintain.
The Azalea bonsai tree gets draped with blossoms of attractive pink flowers , making it a charming plant to give as a birthday gift.
These Azalea flowers symbolize beauty and joy, and thus make the plant suitable and thoughtful plant gifts for birthday and other joyous occasions.
The plant is easy to maintain and blossoms every year with minimal care needed, making it a colorful and joyous addition to the life and home of your loved ones.
Send a bundle of joy and wishes as birthday gift
By giving bonsai plants for gifts to your friends and family on their birthday, you leave a long-lasting impact on their hearts. In fact, all bonsai plants for sale are artistic dwarf trees with multiple benefits rolled into one. This makes them a birthday gift that your loved one will always be enjoying when home.
Since they stand the test of time and can grow for hundreds of years, bonsai trees can be given as suitable and meaningful birthday gifts. By choosing the best plant to gift on birthday as per the occasion, you can truly show how much you care for your family member or friend with a houseplant that will last in their home for several years to come.