Green gifting has a special significance. With these popular plants to gift, you can give anybody a beautiful gift of love.
Let's take a look at 5 best plants for gifting on any mood or occasion.
(10)
₹

1,299
Ships Tomorrow
While there are many plant options for gifting, a meaningful gift often has a lot of thought attached behind it. Your loved ones mean a lot to you, and by showing thought and care in your green gifts they will mean something unique and special.
Why should you send plants as gifts?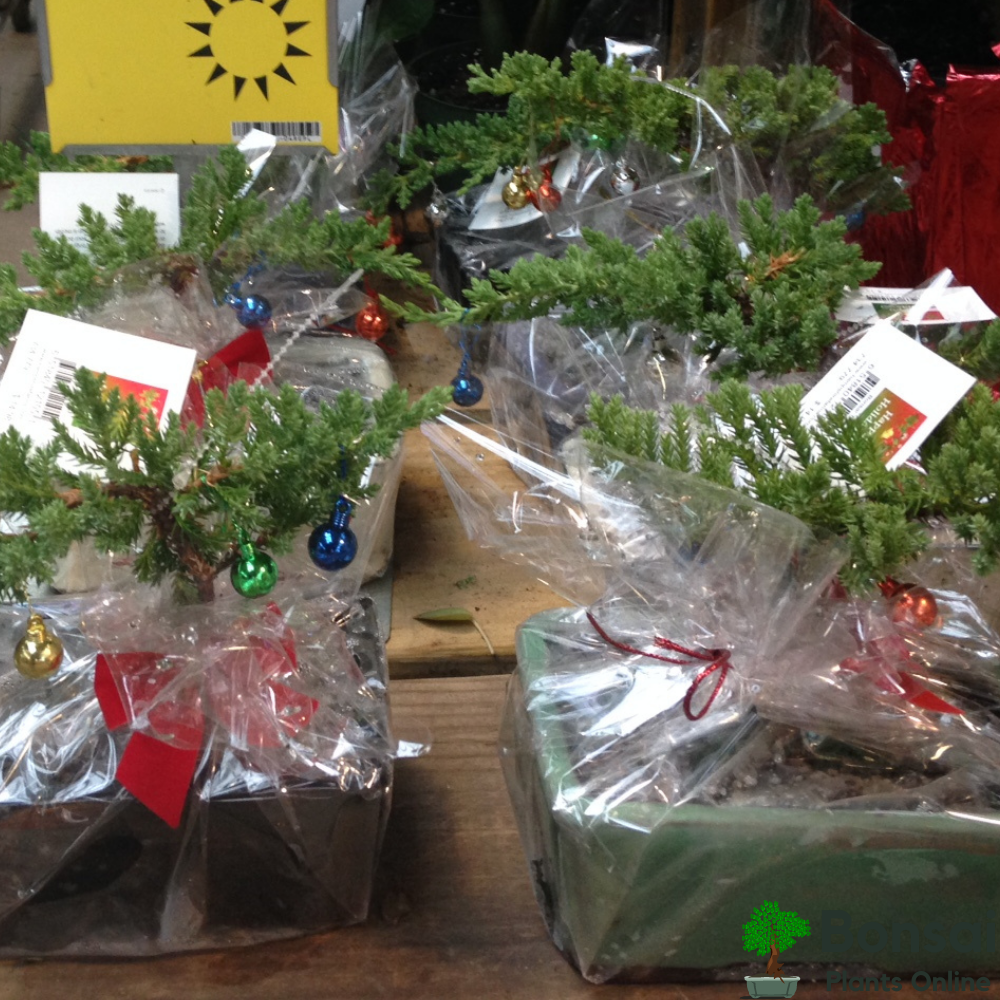 Plants are great gifts because unlike other gifts such as gold, they continue to grow with the other person. Since these plants breathe and mature as well, the bond that your friend or family with their new houseplant will be much more meaningful and personal
Plants signify love and devotion for your loved ones, making ideal gifts for many occasions like birthdays, anniversaries, house and office parties, and many more.
Gifting bonsai plants will bring happiness and peace into the life and house of your loved ones, showing how much you care for them. In fact, these plants bring soothing vibes wherever they are placed.
Feng Shui plants are considered auspicious and sacred in many cultures around the world and are seen as promising plants to give to a loved one. 
They are fun to grow and their enchanting foliage and mini build create a stunning centerpiece both indoors and outdoors. 
Some bonsai gifting plants bear attractive colorful flowers and make for wonderful substitutes for the usual flower bouquets. 
How to choose suitable plants for gifting?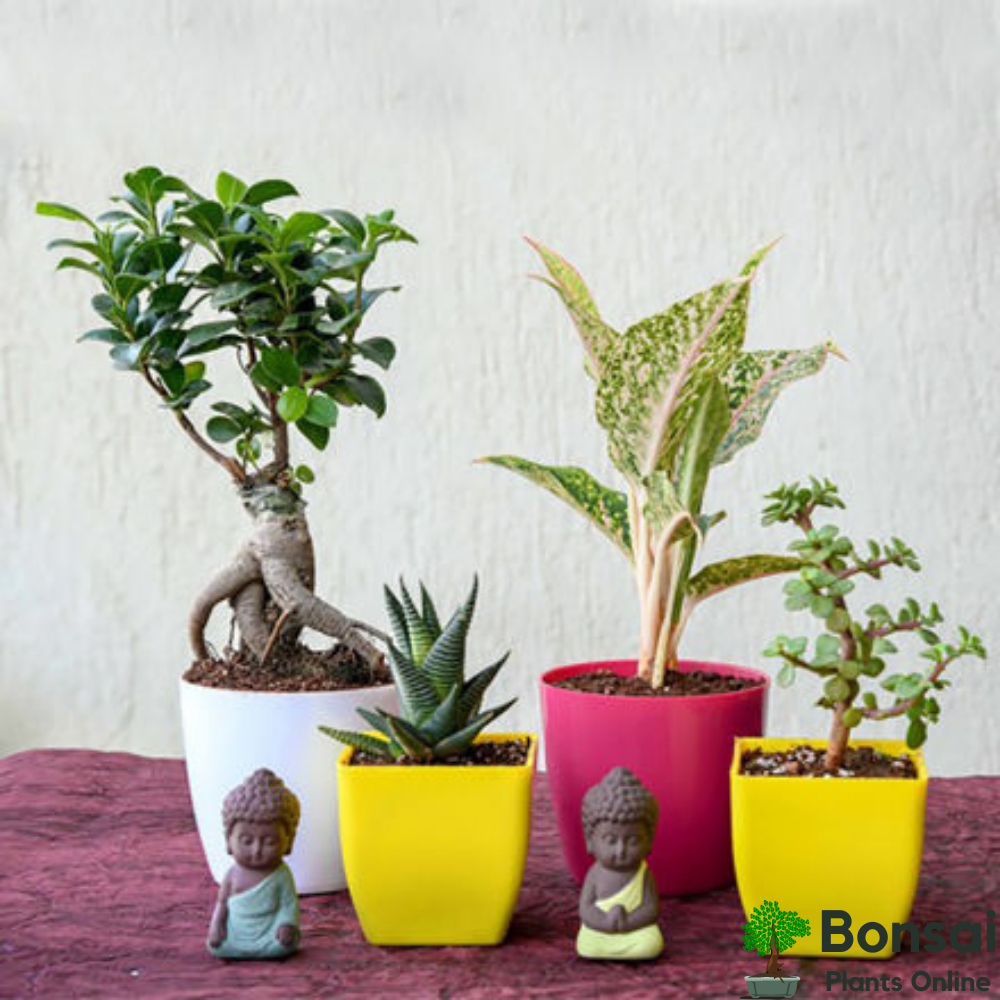 Choosing the right plant for gifting is not rocket science. You can do it easily. Let me give you three pointers and some ideas if that can help you in choosing the right plant for gifting.
What amount of plant care can your loved one provide?
If your loved ones don't have experience with growing plants before, they would have no trouble with low-maintenance plants suitable for beginners. For experienced gardeners, you can choose from other plant types that will surprise them with their natural beauty.
What would be the placement of the plant?
There are major two types of plants based on location.
Indoor Plants: If you want the plants to be placed indoors such as living room, dining room, office desk, or kitchen, bed-room etc, you can go for indoor plants. Top 5 indoor plants are Snake Plant , Peace Lily, Areca Palm , Ficus bonsai tree, Carmona bonsai tree.
Outdoor Plants: You can choose from a wide range of outdoor plants if the place has access to a good sunlight area like Garden, balcony or terrace etc. Top 5 outdoor plants to gift are Flowering plants namely Hibiscus, Adenium (Desert Rose), Azalea, Wisteria and Bougainvillea bonsai trees.
What is your budget for gifting?
Real plants and bonsai trees start from around 500, but some of the oldest or rarest varieties can cost even up to a few lacs. To help you select a plant for gifting, I've listed the plants under 1000, under 2000, under 5000, etc., so you can choose as per your budget..
Bonus: Popular plants for all-purpose gifting
If you don't want to go through a list of plant types and options, then there are certain plants that are lovely gifting options for any mood or occasion. Read more about these plants that you can buy as suitable green gifts today.
With these beautiful plants that everyone falls in love with, green gifting has never been easier!
#1 Money Tree (Pachira bonsai) – Gift of wealth and more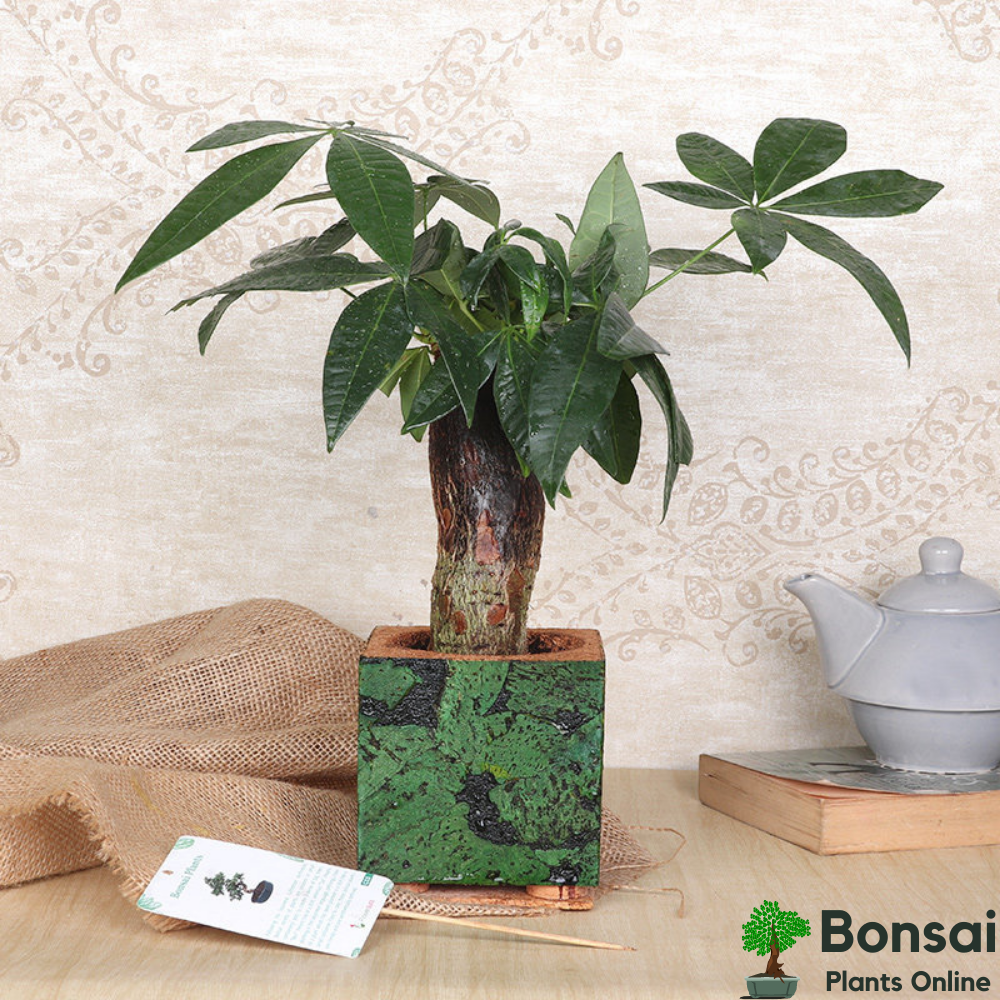 The Money plant is famous in Feng Shui. This is because it has beautiful leaves that appear in sets of 5. As per the ancient Chinese science, this is going to bring fortune and wealth when placed in the home of your loved one.
Small and compact, this indoor plant will fit all styles of home decor. This makes the Money plant a perfect gift to give to your office colleagues and friends.
The Money plant is easy to maintain, making it ideal for growing in indoor medium-light with regular watering. Your loved ones will have no worries in caring for this plant.
The plant comes in beautiful options of braided and single firm trunk styles, so you can even personalize it as a plant to gift for your loved one. 
It is also known to be one of the best air-purifying plants and helps your loved ones live and breathe healthier.
#2 Bamboo plant – Stylish and lucky gift!
Ever spotted an office space decorated beautifully with bamboo?
That's because the bamboo plant promises good luck to the owner. With its stylish and compact looks, you wouldn't guess but  it is another of the Feng Shui plants in India. In fact, its elegant appearance is enough to make it a gift that everyone will love.
You can buy the bamboo plants to gift in special arrangements and layers of stalks and layers. Popular options for these include the 3 layered, 5 layered and 7 layered varieties of bamboo. Read more about the bamboo plant to see what difference this makes in your green gift.
#3 Ficus bonsai – Leafy plant for beginners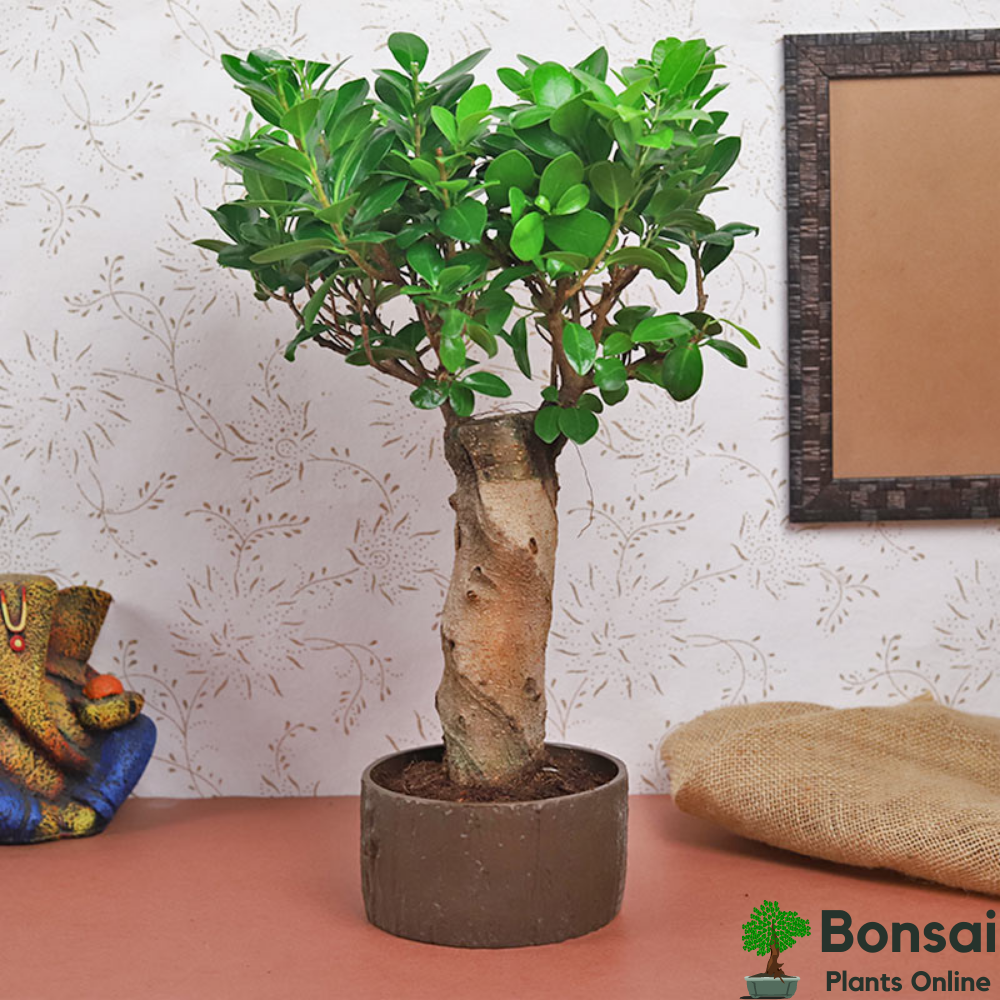 Considered as a favorite of beginners, the Ficus bonsai tree is also loved by experienced and advanced gardeners.
Being a tropical plant, this is one of the most beautiful bonsai trees that you can easily buy for gifting in India. Its benefits are numerous, depending on which specific variety of Ficus bonsai you choose to gift.
The Ficus bonsai tree is one of the most recommended for beginners. This is because the plant is easy to look after, and thrives gorgeously in indoor locations with basic caring. 
The plant displays an adorable miniature structure with luscious green foliage. Some species also offer the exotic show of aerial roots in your homes. 
Some Ficus species are considered sacred and spiritual in many parts of the world and make for thoughtful options for gifting. If you've heard of someone getting gifts of Peepal or Banyan, these are varieties of Ficus bonsai as well!
#4 Chinese Elm bonsai tree – Best for enjoying nature
This is one of the first houseplants for most people when it comes to owning a bonsai plant. Gift your loved ones a Chinese Elm and they will be set asail on a journey of loving nature in different ways. The plant is known to be a bringer of wisdom, peace and strength, and your loved ones will feel it too!
Best suited for balconies and porch areas, the plant is hard to kill despite an artistic appearance. This means that your loved ones will stay worry-free, as the plant radiates its beauty throughout all around.  establishes wisdom, peace, and strength in your home.
#5 Jade plant bonsai – Indoor plant for stealing eyes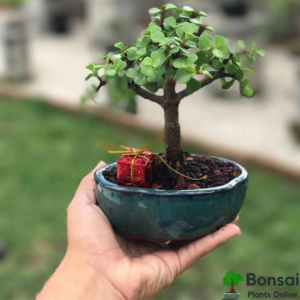 Jade catches everyone's eyes because of such a unique appearance. This is because of bulbous roots due to the succulent nature of the plant.
Resistant to droughts, the Jade bonsai plant grows perfectly even when you forget to water it for days. Its hardy nature makes the Jade plant bonsai one of the best plant gift ideas for any occasion.
The plant is also popular for giving the gift of prosperity through the gift of bonsai.
The Jade plant bonsai is a plant of Feng Shui that attracts abundance while also captivating everyone's attention with beautiful looks. 
The plants have bright green, fleshy coin-sized leaves of heart shape adorned on a beautiful compact crown.
As a succulent plant, the Jade bonsai plant stores water in its leaves and trunk. This symbolizes the good luck that the plant holds inside the house of your loved one.
Due to the plant's practically care-free maintenance and readiness to adapt into any surroundings, the Jade plant bonsai makes a perfect gift for your friend or family member to enjoy. Both.
Choose only from the best plants to gifts
Gifting bonsai plants means giving your loved ones a joyous experience that will last for a very long time. Their new plant is not just going to be a lovely companion, it will be a lasting reminder of your affection and care for them.
You can find many more bonsai plants online for gifting to your family, friends and other loved ones. Since most of these are easy to care for, you can read about the different plants for gifts if you are looking to give a gift with a more personalized meaning.