Maintain the cheerful looks and good health of all your bonsai plants by combining it with a bonsai tray. Choose from a range of watering trays for your existing pre-potted houseplants or buy a matching tray along with attractive and durable bonsai pots. Each bonsai tray is designed specially for your bonsai trees as it greatly enhances the plant's appearance while also making it easier to maintain its good health.
Secure good plant health with a bonsai tray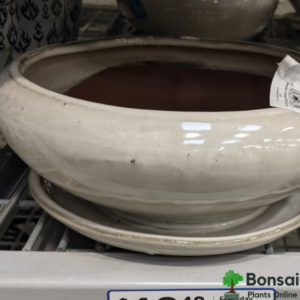 A bonsai tray is an effective and useful plant care item for both your indoor and outdoor plants. You can combine it with your existing bonsai pots, or buy it as a matching item along with the bonsai pot of your choice. In this way, it serves as an overall container that protects all types of bonsai plants and also enhances their natural beauty. 
Extra layer of protection for your bonsai plants
By serving as a base for the plant, the bonsai tray raises your plant a little from the ground due to the tray below it. This not only makes your bonsai tree stand out more beautifully, but also protects it from debris, animals and insects on the floor indoors or on the ground outside in your gardens.
Ensure the perfect level of watering
Even slight variations in the watering routine of your bonsai plants can lead them to be unhappy and unhealthy. Rather than facing this problem then fixing it, you can use a bonsai tray that automatically regulates the amount of watering that your bonsai plant receives.
How a bonsai tray works
The tray is placed under any of your bonsai pots with a drainage hole at the base or bottom. Any excess water that is provided into the pot by accidental overwatering or heavy rain will not collect in the pot. Instead, since bonsai pots are provided with a drainage hole at the base, all excess water will seep out.
You only need to place the bonsai tray under any of your bonsai pots. The rest of the work will be done by the bonsai tray itself. The tray will make sure your bonsai plant never faces the issue of over-watering which can lead to root rot.
Supplementary use a natural humidifier
Some bonsai plants such as Ficus thrive better and more beautifully with high levels of humidity around them. Using a bonsai tray for such plants is a cheap and convenient alternative to using an artificial humidifier for increasing the level of humidity around your bonsai plants.
Using such a watering tray for plants ensures a more leafy and gorgeous natural bloom of all your bonsai plants. That's because your bonsai tray will always hold water under your pot and thus help in increasing the level of humidity in your plant's immediate environment.
Makes your bonsai tree care easy and fun
By reducing the risk of over-watering any of your beautiful and beloved bonsai plants, your bonsai tray will make caring for your plants truly worry-free
Since all the excess water gets collected in the pot instead of flowing out through its drainage hole, your bonsai tray will make sure there is no spillage of water from the pot onto your floor areas. This can be a hassle to clean up after watering your plants every time, especially indoors, but can easily be avoided by using a bonsai tray.
By reducing the need for watering your bonsai tree, you can enjoy the natural beauty and benefits of your bonsai plant by putting only the minimum amount of effort into watering.
You can pick up the bonsai tray from under each of your bonsai pots and give the water collected in it back to the pot again the next time you need to water it. This means that with one time of watering, your bonsai trees will receive water for 2 times or sessions. This not only makes your bonsai tree care easy but also interesting and interesting.
Take home decor to the next level by combining your plants with a bonsai tray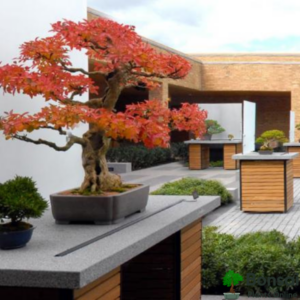 You can choose from a number of options when you are looking to buy bonsai pots online. Your bonsai tray will come as a complimentary item along with different bonsai pots that will give your plant the desired look, aesthetic and feel.
Ceramic is one of the most popular options for bonsai trays, as it offers beautiful and glazed looks while also being easy to maintain and clean. In fact, your bonsai tray made of ceramic will be ideal for keeping indoors as a home decor item, such as on your desks or by the sofa.
How to pick a suitable bonsai tray for your plant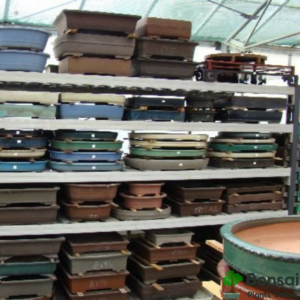 Whether you are looking for a bonsai tray for simplifying your plant's maintenance or for enhancing its beautiful and natural looks as per the mood or style, you won't have much problems with choosing the ideal bonsai tray or. You can buy a bonsai tray along with different pots online. Transfer your pre-potted plant into the bonsai tray of your choice for giving it the exact desired aesthetic as per your mood, or the occasion or style you desire.
Placement: Based on your plant needs
Place your bonsai tray anywhere in the house, whether indoors or in your balcony, stairwell, terrace or even outdoors. More designer variants are usually preferred for indoor spaces, but the choice is entirely yours based on the look and style you are going for.
If you have an indoor plant at home then using a bonsai tray is often preferred over any other type of bonsai pots. This is because the tray will not only reduce the need for watering your bonsai tree but also prevent the spillage of water from the pot drainage onto your floors.
Material: Use a high-quality bonsai tray to encase your plant
The material that your bonsai tray is made of is important, as it is essentially the home of your plant's roots and the plant itself. You can find a bonsai tray of all sorts of materials, from plastic and clay to ceramic.
Ceramic is often considered an ideal material for your bonsai tray as it has a beautiful appearance with long-lasting shine or glaze that comes with durability and strength.
Design: Combine it with any bonsai tree for beautiful home decor
You can choose from a wide variety of colors and designs for your bonsai tray. If you want to get more creative, then you can combine your bonsai pots with watering trays of different types or designs.
Using a bonsai tray comes useful here as you cannot re-pot your plant too often just for the sake of switching up its overall aesthetic. But you can always change the look and design of the bonsai tray you use for it. This is a great way to give more meaning to your long-lasting bonsai plants as per the occasion or mood.
Beginner-friendly: Useful for simplifying your bonsai tree care
A bonsai tray is sturdy, and easy to clean by just taking out from under the pot and wiping or washing it. In fact, your bonsai tray is self-cleaning, as you don't even need to clean your bonsai tray often. The water collected in it from watering sessions will do that for you.
You can use your bonsai tray for all types of bonsai plants, and both indoors and outdoors. Each plant will benefit greatly, through the reduced need for watering and care for your bonsai tree. In fact, using a bonsai tray

makes caring for your bonsai plants easier, by ensuring a gradual and optimal level of watering.
Sometimes beginners might not be able to predict the risk of water spillage onto the floor when over-watering a bonsai tree. Using a bonsai tray makes sure this does not happen, as it can be a hassle to clean up later, especially indoors.
Get a bonsai tray to enhance your bonsai-keeping experience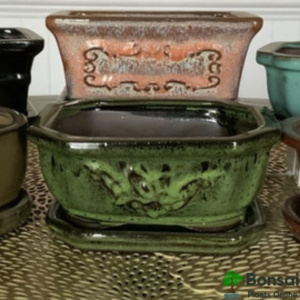 Made of beautiful and long-lasting materials like ceramic and available in a variety of design and color options, your watering tray for plants is an eye-striking and useful accessory to buy for all your bonsai plants. It will not only enhance the natural beauty of your bonsai tree by making it stand out in your outdoor spaces, but also ensure its best health and appearance both indoors and outdoors.
Whether you are looking to buy bonsai plants online or just looking for plant care items and accessories to enhance your bonsa-growing experience, a bonsai tray will really make a huge difference in how easily you are able to enjoy the experience of growing and maintaining all your bonsai trees.