Ceramic is not only beautiful but it also nourishes plants naturally in ceramic bonsai pots. Choose from our designer ceramic pots that protect and nurture your plants for many years to come. Explore the widest collection of ceramic bonsai pots for sale in India, and buy the most beautiful and long-lasting plants for yourself or your loved ones.
Our ceramic bonsai pots for sale
Enjoy your plants better with our ceramic bonsai pots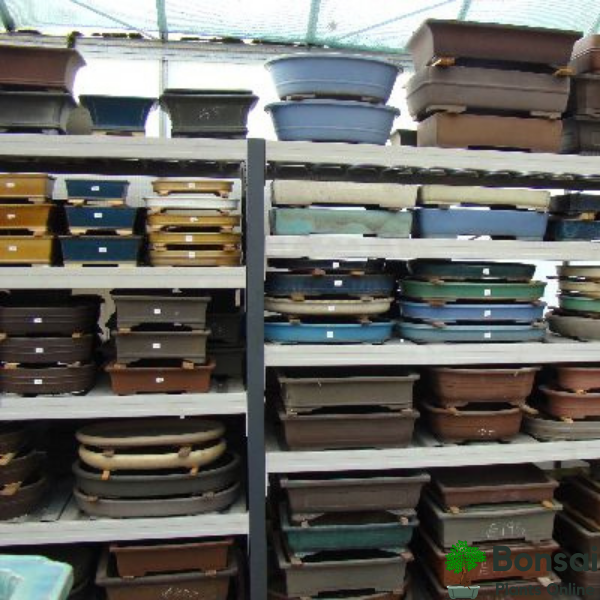 With bonsai plants, you can get lush green foliage and stunning-looking flowers in your home. But your plants need a good nurturing environment, and our ceramic bonsai pots are designed to provide just that.
You can combine different types of bonsai plants in your indoor or outdoor spaces with these colorful and artistic ceramic pots to create a charming visual aura in your home. More than just a container for your plants, they will add to the natural aesthetics of your plants and even make them look happier and in full bloom.
Ceramic bonsai pots are environment-friendly bonsai pots, as they are made from natural materials. They can be provided with a glazed finish that will offer long-lasting shine in your outdoor spaces. You can even gift these pots to your loved ones, which will encourage them to take on the adventurous and fulfilling task of growing a bonsai tree at home. We offer ceramic bonsai pots for sale in India at the lowest prices, with the assurance of the good quality and nurturing nature that your houseplants deserve.
Stylish and designer pots for indoor and outdoor use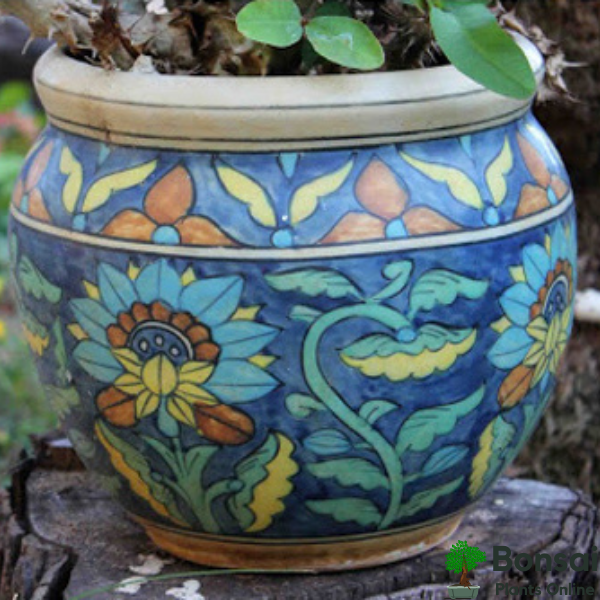 You might be fond of indoor plants or prefer to enjoy bonsai trees in your outdoor gardens. In either case, you can find ceramic bonsai pots for sale in India that will fit perfectly in that empty or dull spot of your house. You can plant any of the bonsai tree types in these pots to enjoy the combination of natural aesthetics and lush greenery with the hand-made, artistic looks of different ceramic bonsai pots.
Indoor options for ceramic bonsai pots: Decorate your interior by keeping the on the desk, window sill, on shelves or next to the sofa, as long as your plant is receiving sufficient sunlight.
Outdoor options: Suitable for keeping on the balcony, porch, front lawn, back yard, terrace and in your outdoor gardens. It is suggested to bring them indoors or in semi-shaded spots such as porch during the chilly peak of winter months to avoid cracking due to sudden freezing temperatures at night.
Ceramic bonsai pots combine beautifully and naturally with both your indoor and outdoor plants. You will not have to worry about your pots getting damaged or broken by natural conditions like rain or wind. In fact, your ceramic bonsai pots are not just for adding to the plant aesthetics, your plants will actually be a lot safer and healthier due to the nurturing aspect of these beautiful and eye-catching pots.
These pots come in all colors, shapes and sizes. So you can choose whichever suits your plants the best. In general, bigger and rounded ceramic bonsai pots will accommodate larger and leafier bonsai trees, but it all comes down to taste. Some of our ceramic bonsai pots are meant to form a meaningful combination with your bonsai plants. For example, a pot of an auspicious design will not only suit but also boost the natural aesthetics of your bonsai plants both indoors and outdoors. Your plants will even look more cheered up, and your home much more visually appealing when you keep your bonsai plants in pots of equal beauty.
Easy-to-clean ceramic bonsai pots
Cleaning these eye-catching pots is a worry-free task, as their surface will look beautiful and glossy without any extra maintenance required. All you need to do is use a soft brush or a wet cloth for wiping your ceramic bonsai pots from time to time. This will keep the surface beautiful like new. Our pots are made of high-quality ceramic which not only ensures their long-lasting life and looks but also makes them resistant to variations in temperature and water levels.
Since these pots often have a glazed finish for a shiny appearance, they are easier to clean and maintain than most other types of bonsai pots such as plastic or clay. In fact, the shine or gloss of your pots will be as long-lasting as their unique and attractive color or design. That's the advantage you get when you buy ceramic bonsai pots.
Safety, security and good health for all your bonsai plants
Your ceramic pot will be appealing not just to you and your guests, but your plants will love it too. And that will show in the good health and robust structure that your bonsai plants will gain. Using ceramic bonsai pots has several benefits that will affect your plant's health in positive ways.
The pots allow free-flow movement of air and water through them. This helps in providing good aeration and gradual watering to your bonsai plants. In other words, when you water your bonsai trees planted in ceramic pots, you will need to water them less as the pot will retain moisture for a longer time.
With a thick wall of high retaining nature, ceramic bonsai pots will give the best protection from everything that could possibly harm your bonsai trees.
The walls are temperature-resitstant, which means that your plants will not heat up or cool down too quickly. This will ensure the good health and long-lasting appearance of your bonsai plants.

Being heavier than many other types of bonsai pots such as plastic and clay, you can keep them outside worry-free.Ceramic bonsai pots do not tip over due to wind currents in your outdoor gardens and maximum safety to your bonsai plants.
Your plants deserve a beautiful and cozy home too
Since ceramic is such a great material to make bonsai pots, you will be buying a beautiful and nurturing environment for all your houseplants. And when you see the beautiful and lush-green bloom appear on them, you will be glad to have given them the joy of growing in ceramic bonsai pots. After all, you get what you give, but your bonsai plants will give back a lot more generously when you grow them in ceramic bonsai pots.
Attractive pots with a glossy and glazed finish that lasts long.
Temperature-resitant pots that provide a stable warm environment to your bonsai plants even in extreme variations.
Sturdy and stable pots for securing your plants safely.

Offer a nurturing environment by replicating natural growing conditions inside the pot.

Special bonsai pots with a drainage hole at the base, that prevents water-clogging.
Hard to break or crack, as long as they are protected from cold and chilly winds on winter nights.
Easy to maintain, clean your ceramic bonsai pots by wiping with a wet cloth easily.
Get the best and designer ceramic bonsai pots for sale in India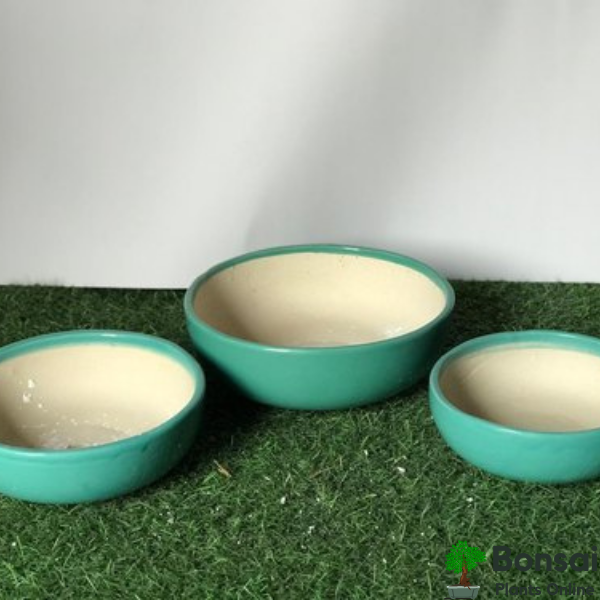 You will find a huge array of bonsai pots to choose from online. We have a wide collection of high-quality pots of all shapes, including auspicious and multicolor designs that you can buy along with our bonsai plants online. Your plants will be happy to find a nurturing and beautiful home in our ceramic bonsai pots, whether you are keeping them indoors or outdoors. Since they are suitable for all bonsai tree types, you can get the pots and combine them with different plants to create rich and dynamic aesthetics from nature in your home.
Frequently Asked Questions about ceramic bonsai pots
How durable are ceramic bonsai pots?
Ceramic bonsai pots are quite durable and can last for years if taken good care of while handling. These are less affected by seasonal changes and thus make for suitable and long-lasting pots to keep anywhere in your home. 
Do they have drainage holes in them?
Yes, most of the ceramic bonsai pots come with a pre-cut watering hole at the bottom that helps release extra water and save the plant from overwatering. However, you can easily find a ceramic pot without drainage holes. These are majorly used for ornamental purposes or for those plants that grow well in soaked soil.   
What size of ceramic bonsai pot should I buy?
You will get a wide variety of ceramic bonsai pots for sale in India in terms of sizes, shapes, and designs. They can be found in any desired size and can accommodate a wide range of plants regardless of their size and type.
What are the benefits of using a ceramic bonsai pot?
While these pots create ideal growing situations for lovely plants, ceramic bonsai pots add a wise and charming element to your home's visuals. The glossy appearance of the glazed pots and the organic earthy texture of porcelain pots are both perfect for creating beautiful aesthetics in your gardening spot and bringing joyous vibes indoors.