Some of the best gifts are the most unique ones. As giving plants for gifts isn't special enough, then here are our secret hacks for plant gift ideas to leave anyone spellbound.
Potted plants are not just beautiful items of natural beauty to gift, they are associated with several benefits and meanings. This makes pre-potted bonsai trees truly thoughtful plants for gifts to not just nature lovers but all. No matter what the occasion such as birthday, anniversary, love or even just showing your love and affection, there is no dearth of bonsai plant gift ideas.
Our bonsai plants suitable for all plant gift ideas:
(10)
₹

1,299
Ships Tomorrow
Surprise your loved ones with unique plant gift ideas
Bonsai plants are beautiful and soothing additions of nature ideal for anywhere from indoors to gardens, porch and balcony. You can get a bonsai plant online for your loved one will all sorts of looks, ranging from evergreen to deciduous and succulent plants.
A number of these plants flower or have an enticing aroma, which makes them ideal as pre-potted plant gift ideas. Plants are living and ever-growing, thus they grow along with your loved ones, forming a special bond with that person resulting in a special experience. Therefore, your gifting bonsai plant can be unique and personalized in choice as per the occasion of gifting and who you are gifting it to.
Indoor plant gifts: Compact and beautiful plants for gifts
Indoor bonsai plants are compact and aesthetic, and make for a charming addition you can gift for the interiors of your family member or friend. If they have just moved into a new home or are going through a rough time, giving a bonsai plant gift for their home is bound to cheery them up
#1- Bamboo bonsai plant (Gift of good luck)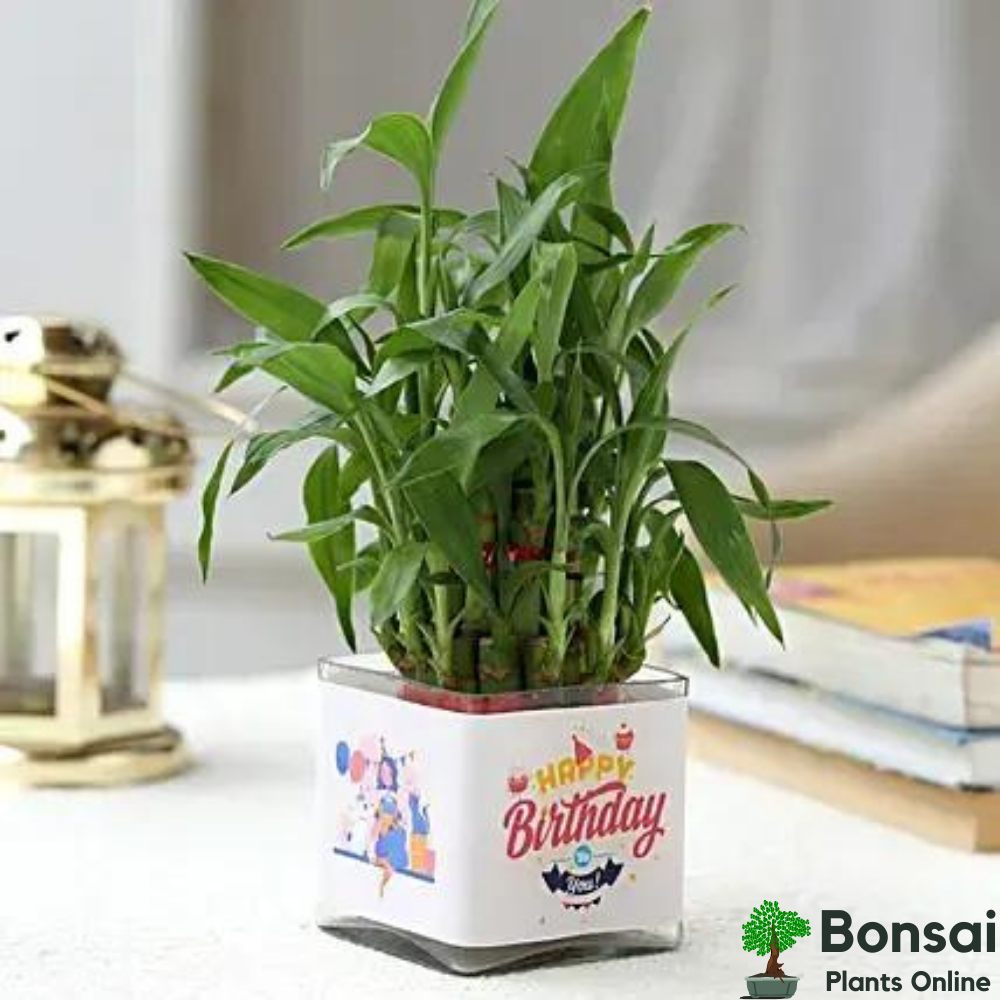 This beautiful and elegant-looking plant is considered auspicious and lucky. In fact, the Lucky Bamboo bonsai plant can be gifted to your loved ones for good luck in different aspects of life, depending on the type of bamboo plant bonsai you buy for them.
The Lucy Bamboo bonsai tree thrives indoors with minimal care, making it one of the perfect indoor plant gift ideas suitable for all occasions. In fact, it can even be grown in glass pots filled with water, which makes them a great and charming bonsai gift for family friends and colleagues.
#2- Jade plant bonsai (Gift of prosperity)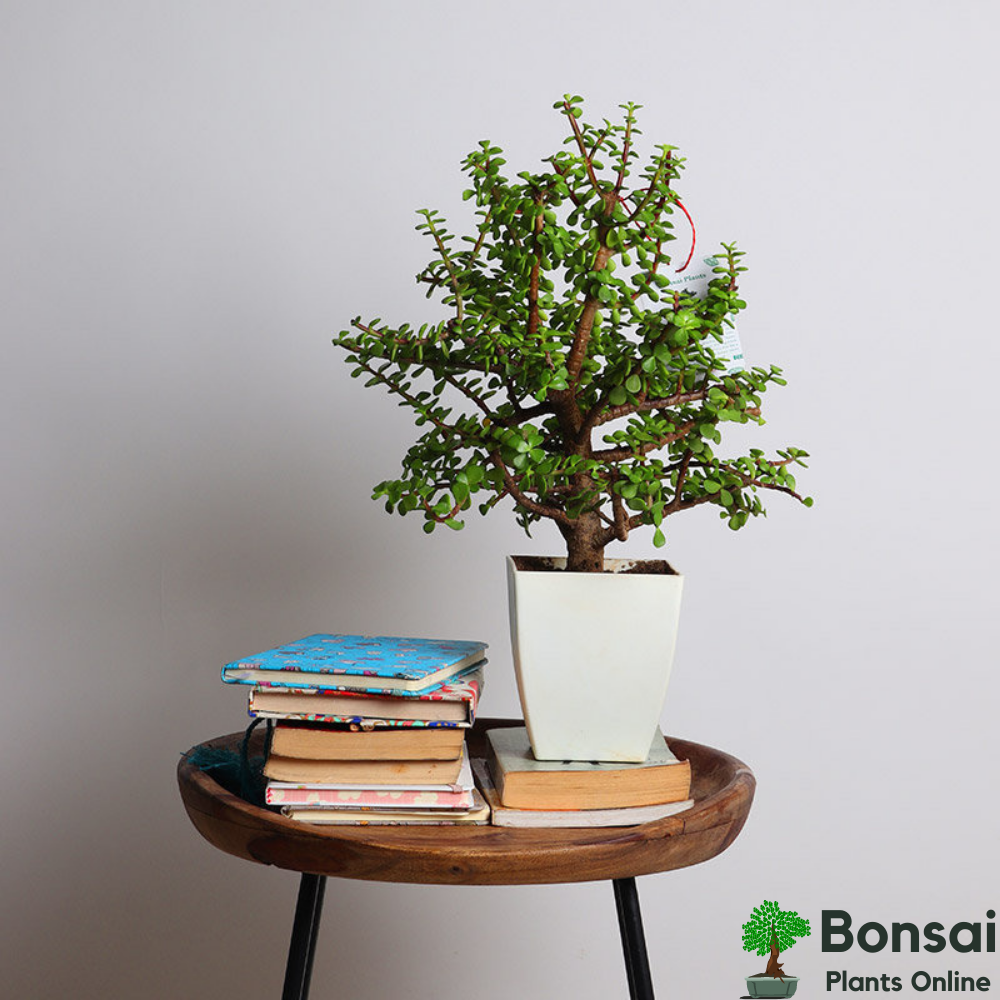 The Jade plant bonsai is a succulent houseplant that is easy to maintain and offers beautiful aesthetics indoors. It is a popular bonsai tree for gifting due to the plant's auspicious nature. Thus, gifting your loved ones with the Jade plant is a thoughtful gift meant to bring prosperity to their home. It is also super beginner-friendly with a beautiful and elegant appearance, further adding to its gift value as loved ones will not have to worry much about the bonsai tree care.
Outdoor plants for gifts: Gorgeous plant gifts for garden spaces
By gifting bonsai trees for the gardens, porch and other outdoor spaces of your loved ones, the joy and beauty of these beautiful bonsai plants will radiate throughout the life of your loved ones as a beautiful bonsai gift to tree. Moreover, outdoor bonsai plants also make great gift ideas for plant lovers and nature lovers.
#3- Bougainvillea bonsai tree (Gift of color)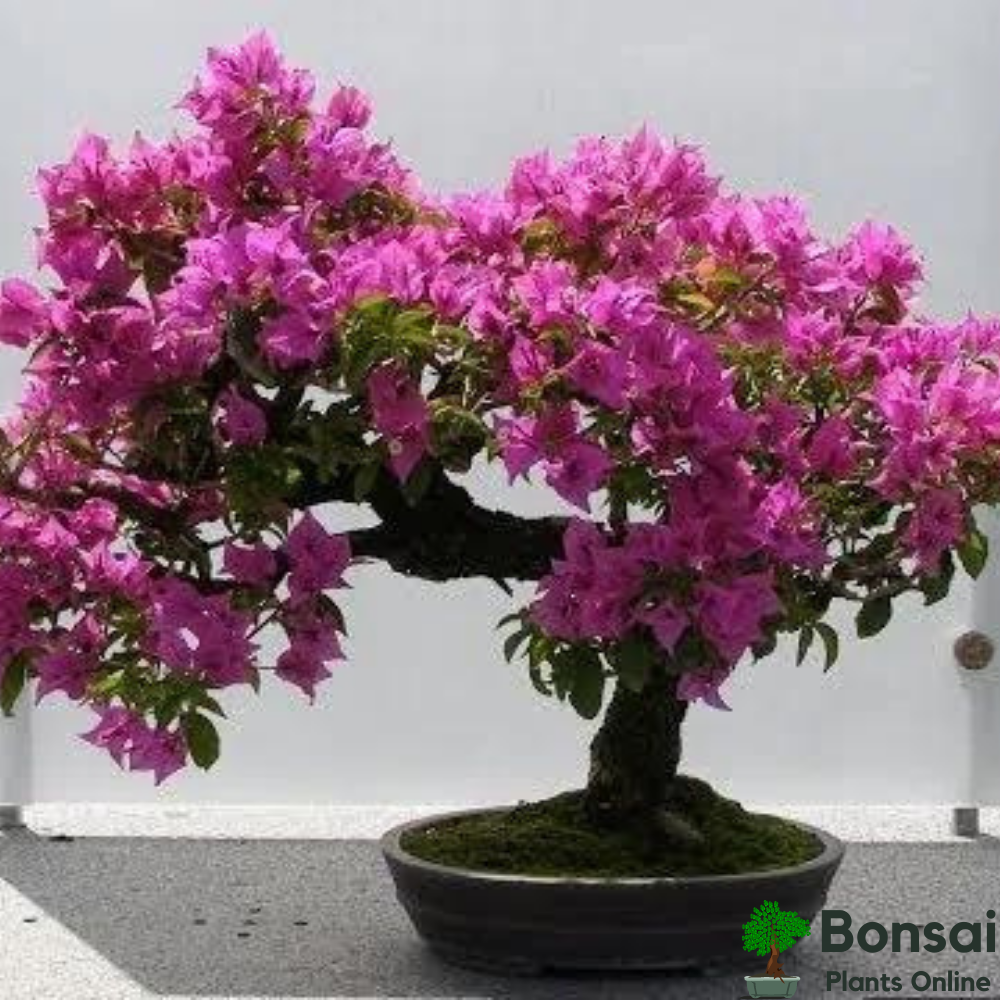 One of the most colorful and gorgeous outdoor bonsai trees for sale, the Bougainvillea bonsai plant can be grown in a number of ways. It is a popular gifting bonsai plant that produces vibrant flowers of a pinkish-purple color. These flowers will be a charming and gorgeous reminder of your love and care for the Bougainvillea bonsai tree.
You can gift this beautiful plant to the ones you love on special occasions such as birthday parties, Valentine's day, weddings or even as a lovely and vibrant plant that will beautify their gardens. In fact, the Bougainvillea bonsai plant is one of the most charming pre-potted plant gift ideas for outdoor spaces like gardens.
#4- Mango Tree bonsai (Gift of sweetness)
Give your loved ones the gift of 100 % organic and home-grown mango fruits with a beautiful Mango Tree bonsai. As an exotic-looking tropical bonsai plant for outdoors, the Mango bonsai tree will be loved by family members, friends all when gifted for their gardens.
As a gifting plant for your loved ones, the Mango Tree bonsai will fill their homes with joy and life. The plant has dark-green luscious-looking leaves and is laden with juicy mango fruits that spread their aroma when the fruits ripen.
Charming a nature lover with plant gift ideas
If you know that your friend or family member loved plants and nature, then surprising them with one of the several potted plant gift ideas is bound to cheer them up. Since they already love nature, they must be already familiar with the concept of bonsai trees and would feel flattered when you gift them a bonsai plant to beautify and enliven their lives.
#5- Chinese Elm bonsai tree (Gift of bonsai itself)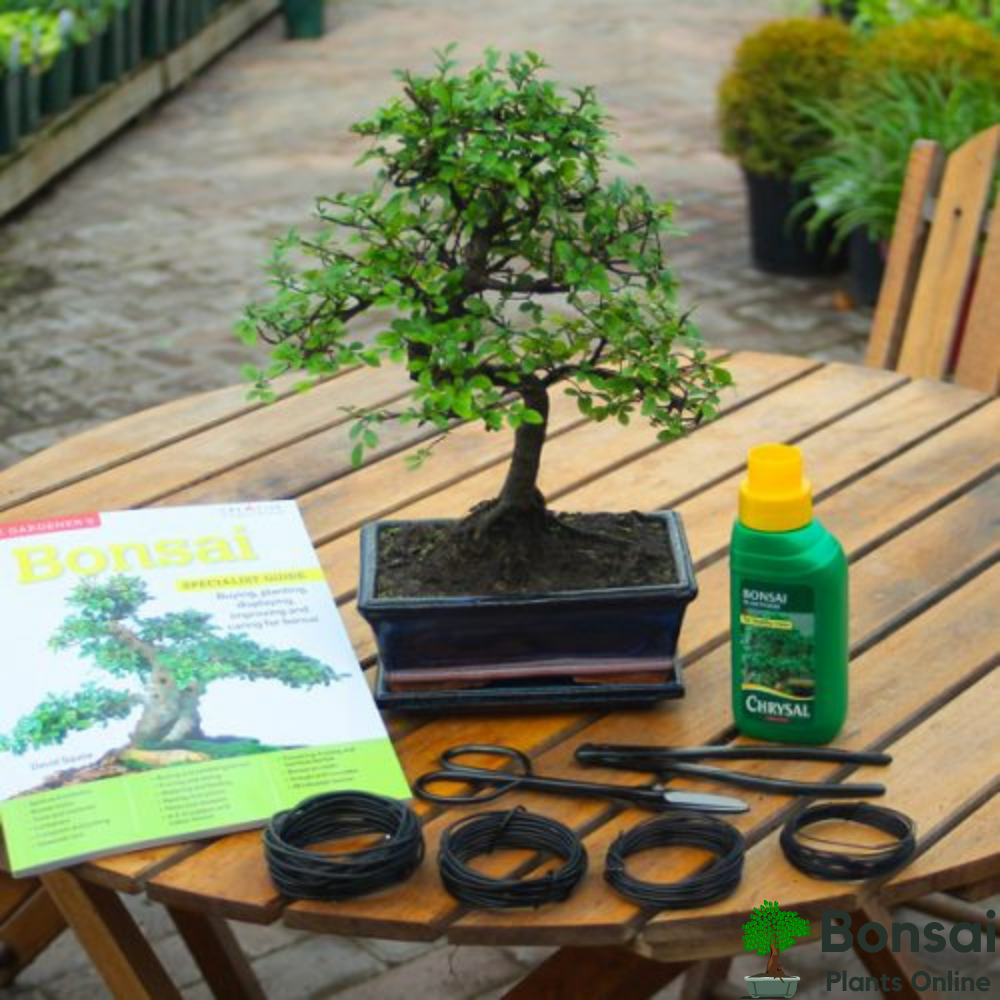 As a beginner-friendly bonsai tree, this plant is most suitable for people who are getting started with their bonsai journey. If your loved ones are fond of nature and plants, then they will feel blessed and thankful when you give them the gift of opening the doors for an exciting bonsai adventure with the Chinese Elm bonsai tree.
The plant has dense green foliage along with a sturdy and attractive-looking bark. This not only makes for a beautiful sight in your porch, verandah, balcony and other semi-indoor spaces, but also represents the appreciation your loved one has for nature and its beauty.
#6- Carmona bonsai tree (Gift of flowers)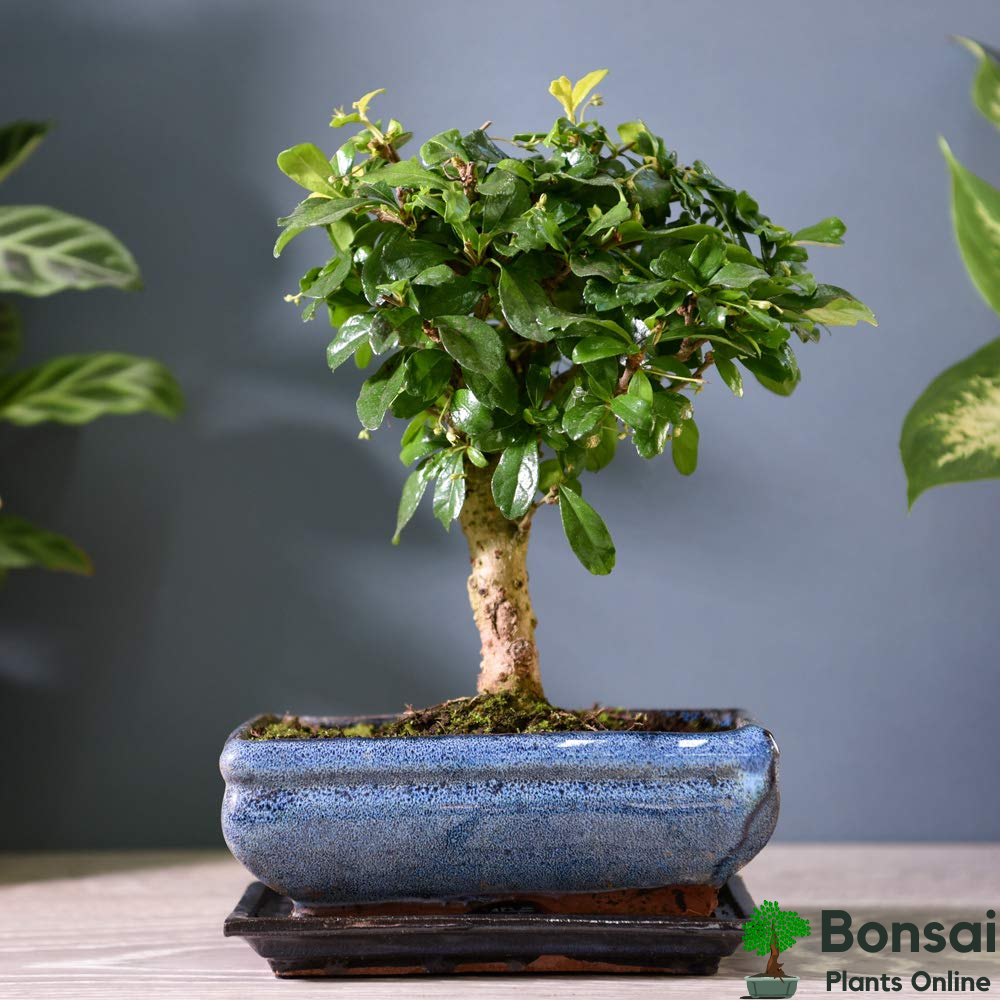 The Carmona flowering bonsai plant has it all, from beautiful lustrous leaves with attractive freckles on them to a beige-colored bark that captivates the eyes and heart of your loved ones. In fact, it is one of the few flowers that can be naturally grown inside homes with great ease, and you can gift it to your loved ones by buying online. Any nature and plant lover is going to treasure the Carmona bonsai tree as a bonsai gift that understands and appreciates their love for nature.
Add charm with some interesting plant gift wrapping ideas
When you gift someone a pre-potted beautiful bonsai tree, the wrapping of the plant holds great value for how impressive and meaningful the gift ideas are. Choose from a number of bonsai plant gift wrapping ideas for different occasions, when buying bonsai plants online.
The Lucky bamboo bonsai tree looks all the more elegant as a gifting bonsai plant when it is given in a glass bonsai pot.
This glass bonsai pot for the Lucky Bamboo bonsai plant will contain the plant in only water, and no soil. This makes it a highly suitable and beloved bonsai gifting option due to its elegant aesthetics.
Plants such as the Carmona flowering bonsai tree and Bougainvillea bonsai tree are suitable gift options for plant lovers as these bonsai plants have a gorgeous natural appearance with enchanting vibes.
The Chinese Elm bonsai tree is a suitable plant gift option if you wish for your loved one to get kick-started with their bonsai journey – an adventure full of life, colors and bonding that will will add joy to their lives.
The Lucky Bamboo bonsai plant and the Jade plant bonsai are two of the most popular gifting plants renowned for bringing prosperity and good luck to the homes and lives of your loved one that you give it to.
Show your unique thought with our green gifts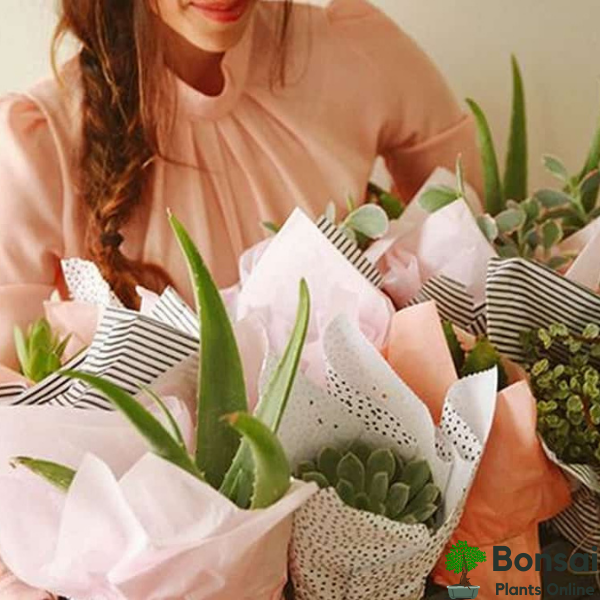 No matter what uniques ideas you have, our variety of plant types, styles and assistance will make sure you get the plant that conveys the right messages or meaning, besides being healthy, long-lasting, beginner-friendly and beautiful. You can buy bonsai plants to fit the occasion, mood and the person you are gifting it to.
Browse through our various gifting plants for sale in India. All of these plants for gifts will be delivered with beautiful and safe packaging along with complete and simplified care instructions to the doorstep of your friend or family. Your loved ones are going to cherish their new houseplant and find love and joy in it in multiple ways.