If I've to describe the bonsai plants as gift; I'd rate it more than gold because not only the value of bonsai plants increases better than gold, but also it reminds of you to your beloved one everyday.
Take a look at top 5 and the best bonsai plants available for gifting.
(10)
₹

1,299
Ships Tomorrow
Why are bonsai plants is an ideal green gifts?
Since they are living and breathing houseplants, giving bonsai plants for gifts really means a special and lasting expression of love. In fact, bonsai trees carry a deep and meaningful significance even as green gifts suitable for all.
Long-lasting nature: Bonsai trees can easily live for tens if not hundreds of years. The gift will be truly permanent or lifelong, and will be a way for your love and care to stay with that person forever.
Hope, life and beauty all in one: Bonsai plants are beautiful, living and aeshtetic houseplants that have. arange of natural benefits. In this way, they bring hope, love and joy into the life and home of your loved ones when given as green gifts.
Dynamic beauty: While there are evergreen bonsai plants that have year-long greenery symbolizing beauty and longetivity, you can also gift deciduous plants for gifts that will change in their appearance and shows various types of beauty and colors from season to season.
Brings natural benefits to the plant owner: Since bonsai trees often purify the air indoors or outdoors, bring about soothing and calming vibes and
Easy-to-maintain houseplants: Your lved ones will not have to worry at all about the bonsai tree care and maintenance. We will send a simplified list of care instructions along with the beautifully wrapped product package so they will will be able to take care of their beautiful houseplant for a long time to come.
In an age surrounded by modern and post-modern confusions, buy bonsai plants green gifts for him, her or any other significant ones in your life such as family. These gifts are eco-friendly, and thus reflect the pureness and positivity of your friendships and relationships with your loved ones. Choose from a range of different plants for gifts suitable for various occasions and moods and gift them these plants from the comfort of your home
Make a thoughtful gesture with green gifts for your loved ones
Green gifts are not something new, but their relevance and significance sure is. By giving green gifts to your loved ones, you show the pure, serene and beautiful nature of your love, care and affection for that person.
What does it mean to give green gifts?
Due to their eco-friendly nature, green gifts do no sort of damage from start to end. This is a true way of expressing a love that is only pure and without any mal-intentions. By giving green gifts to your loved ones on various occasions, you can express the amount of care and affection you have for that person in ways so great that only nature can compare to that in the form of living and pre-potted bonsai plants as green gifts.
Choose bonsai plants for every occasion and mood of green gifts
With a wide variety and types of bonsai plants online, you can buy plants for gifts with any look, style, age or natural benefits. You choose from all types of bonsai plants for sale and find the specific plant that expresses just what you want to express and signify with your green gifts.
Green gifts meant for friends, family or that special someone
The beauty of green gifts also lies in the fact that they are suitable for gifting toeveryone you love. From children to elderly people, your friends, family and even that special someone in your life, you can buy these long-lasting and living plants as ideal green gifts for everyone by choosing the right plants for every occasion and mood.
While you can gift bonsai flowering plants such as Carmona and Bougainvillea to your lover or partner on anniversary or Valentine's, tropical plants sch as the Ficus bonsai tree can be more suitable for enjoying the benefits of natural greenery even inside the home. You can also buy auspicious plants such as Money Tree, Bamboo or Jade plant bonsai for bringing prosperity and good luck into the life and home of your loved one. If you want to gift a plant on a religious occasion then you can buy Peepal Tree bonsai for sale in India at the best prices from us.
Popular bonsai plants for green gifting
| | |
| --- | --- |
| Bonsai plants for gifts | Meaning behind the gift |
| Ficus bonsai | Gift of greenery and natural benefits, beginner-friendly |
| Money Tree (Pachira bonsai) | Gift of prosperity, elegant looks |
| Carmona Bonsai | Beautiful and lovely flowering plant gift for indoor spaces |
| Bougainvillea Bonsai | Gorgeous corporate gifts, party gifts and on special occasions |
| Chinese Elm | Gift of bonsai, beginner-friendly |
| Jade plant bonsai | Gift of prosperity, beginner-friendly succulent plant for indoors |
| Cherry Blossom | Flowering bonsai with a lovely and gorgeous appearance |
List of bonsai plants popular as green gifts
Bonsai plants are the best eco-friendly green gifts
Since all types of bonsai trees are grown by experts in nurseries, the entire process from start to end is eco-friendly with zero damage to the environment. In fact, by giving bonsai plants for gifts you will be spreading the joys and benefits of nature such as helath benefits into the lives and homes of your loved ones. Truly, the bonsai tree will be the complete gift of joy, prosperity and good health for your friends as well as family.
Make long-lasting gestures of love with plant gifts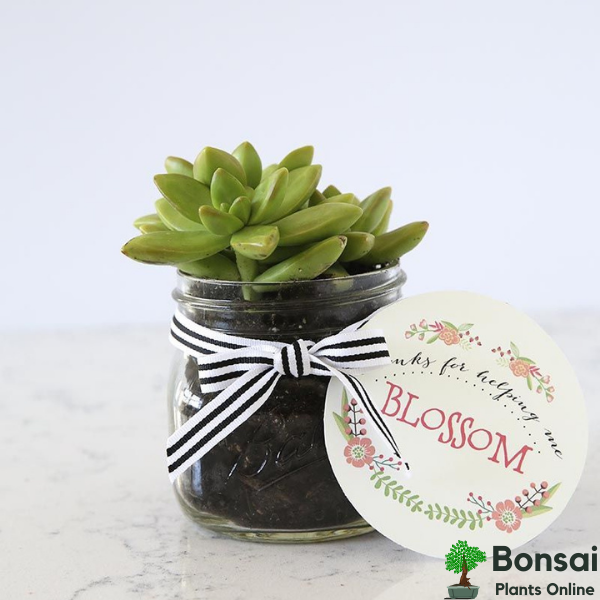 Since all our plants have been well-trained in the hands of experts in bonsai tree care, you can sit back knowing your loved ones won't have to worry a thing. With the minimal amount of maintenance required, their bonsai tree will bloom and even blossom in their home for years to come, remiding them of your love and care for them. Doing so will actually help your loved one live a happier and healitheir lifestyle that is closer to nature. Therefore, bonsai trees are truly lifelong gifts that will grow and mature along with your loved one both in appearance and maturity.
Buy bonsai plants online to send green gifts from home
By browsing through all different types of bonsai trees for sale in India, you can buy the most suitable, and the healthiest and most beautiful plants for gifts to your friends or family. You can buy any of our bonsai plants online and enjoy a free and fast delivery of your green gifts directly to the doorstep of your loved ones. The living and pre-potted plant will be beauifully gift-wrapped by us and hand-delivered with all the love and care so your loved one can enjoy and cherish its natural beauty and benefits for many years to come.
Frequently Asked Questions about green gifts
What does it mean to give bonsai plants as green gifts?
The pre-potted plants are not only completely eco-friendly as gfreen gifts, but they also are green in themselves. As real and living plants for gifts there are different types of bonsai plants online that make a special impact and a thoughtful gesture when given as easy-to-maintain green gfts suitable for all occasions and moods.
What are the benefits of giving bonsai plants for gifts?
Bonsai trees have several benefits when given as green gifts. They truly encompass joy, beauty and prosperity into one. This is because they have several benefits such as natural greenery, soothing vibes, colorful flowers, auspicious values and helping to set up a dynamic and pleasing home space for the comfort, happiness and protection of your loved one.
What types of bonai plants can I give as green gifts?
All types of bonsai plants from tropial and evergreen to decideuous and even succulent types can be given as thoughtful and meaningful green gifts to friends and family. There are also flowering bonsai plants and fruits plants that will give your loved ones the joy of savoring natural flowers and edible fruits such as Mango and Orange growin inside their home and in front of there eyes. Air-purifying bonsai plants such as Money Tree and Ficus which have religious or auspicious values associated with them are also highly loved when given as bonsai plants for gifts.
What are the best plants for gifting?
Some of the most popular bonsai plants given as green gifts include Carmona, Ficus, Money Tree, Bamboo, Chinese Elm and Boxwood. However, nearly any species of plants can be given as green gifts such as Bamboo bonsai grown as a living plant in water-filled glass pots without the need of soil.
What bonsai trees are suitable as romantic green gifts?
Some of the flowering bonsai plants such as Carmona for indoor spaces and Cherry Blossom or Bougainvillea for outdoor spaces make the loveliest and most romantic gestures when given as green gifts to him or her.