Carmona Plant: A Rare Combination Of Flowering + Indoor Bonsai Tree
Looking for beautiful bonsai tree, get Carmona plant online. Carmona bonsai plant is a rare combination of indoor and flowering plant
Carmona is a beautiful flower that can be grown indoors naturally even if you are a beginner. You can get a pre-potted Carmona bonsai plant delivered to your doorstep. Your Carmona flower bonsai will be an expert-grown and pre-sculpted lively addition to fill your indoor spaces and indoor life with natural beauty that even blooms in the winter season.
Our Carmona bonsai plants for sale
Spark up your indoor life with a Carmona flower bonsai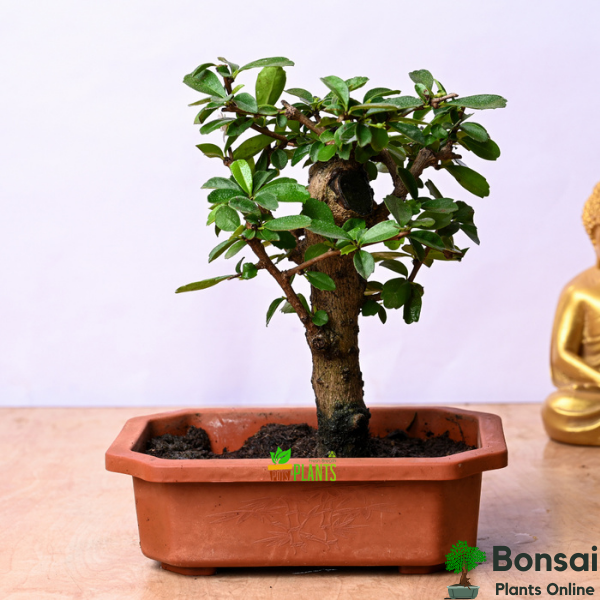 From the snowy blossoms of white color to enchanting vibes throughout your interiors, the Carmona bonsai tree is a lovely houseplant to own. In fact, the Carmona flower bonsai serves as a visually attractive and stunning centerpiece of the room.
The plant offers a soothing and charming aesthetic all year round in your interiors. Rest assured that which Carmona bonsai plant you choose for your home, it will be an easy-to-maintain houseplant that will spread its joys and beauty inside your home through more than just its delightful and attractive flowers.
Many forms of natural beauty in one Carmona bonsai tree
When you buy bonsai plants online, Carmona is one plant that will surely offer you all. In fact, your Carmona bonsai tree will be well-trained to beautify your home with more than just its beautiful flowers.
The plant blossoms every year with white, snowy-looking flowers that can easily last throughout the year.
It has an elegant and aesthetic-looking bark carrying an attractive texture.
It also has dark-green leaves of a beautiful, oval shape that offer soothing vibes and a rich taste of natural greenery inside your home.
The plant also has a powerful and stunning presentence as a centerpiece of your various interior spaces to fill them with life, joy and nature's soothing presence.
Enjoy your plant worry-free with easy Carmona bonsai care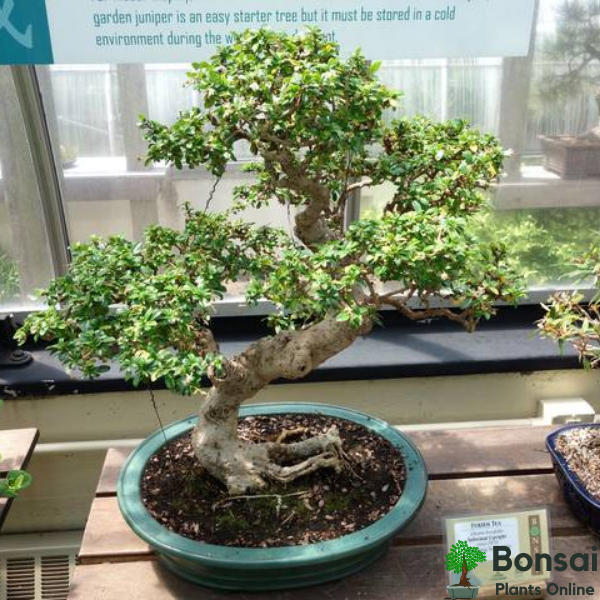 When you get a Carmona bonsai plant you are pleasantly delighted by how easy it is to take care of your plant. In fact, with just a little amount of care you can not only make the plant have a much more beautiful appearance in your indoors but also blossom cheerfully throughout the year.
Placement
Proper placement of the Carmona bonsai plant is typically not a concern. Your plant will grow best when placed indoors in most places.
You can keep your pre-potted Carmona plant bonsai in any well-lit or shaded indoor space. Ideally, the area should be sufficiently aerated or ventilated to make your Carmona bonsai care easy and effortless.
Watering
The thumb rule is that the pot should be watering right after it has run dry. This keeps the plant watered at att times, but also avoids over-watering which can cause root rot.
Pro tip: Make your Carmona plant bonsai thrive with the most eye-striking beauty by watering it 2 to 3 times every week and on a regular basis.
Fertilization
While fertilization is not necessary, you can feed the plant with a mild-acting liquid or natural fertilizer. Since the plant has sensitive roots, make sure that you use a mid fertilizer and do not over-fertilizer the plant. Feeding once per month during Spring season should be sufficient.
Pruning
Good news for plant and nature enthusiasts, you will not need to worry about pruning your Carmona flowering bonsai tree much. This is because the leaves are naturally small in size, and will not overgrow, thus reducing the need for pruning to the minimum.
Remember to leave behind 2-3 leaves every time you are pruning the plan to maintain it's overall shape and size inside your home.
Wiring (re-shaping)
Wiring the Carmona bonsai plant will not be needed. If you wish to make any readjustments to the shape, then you can re-wire its branches by using a special copper wire. But this should generally be avoided as it can damage the plant's beautiful and elegant-looking bark or branches.
Re-potting
For the best growth and appearance, re-pot your Carmona plant bonsai by transferring it into a new bonsai pot after every 2 years. Make sure to:
Mix pebbles in your soil mix for re-potting to make it well-drained.
Perform this re-potting in the spring season so that you can enjoy its flowers when winter comes.
Get your next Carmona bonsai plant online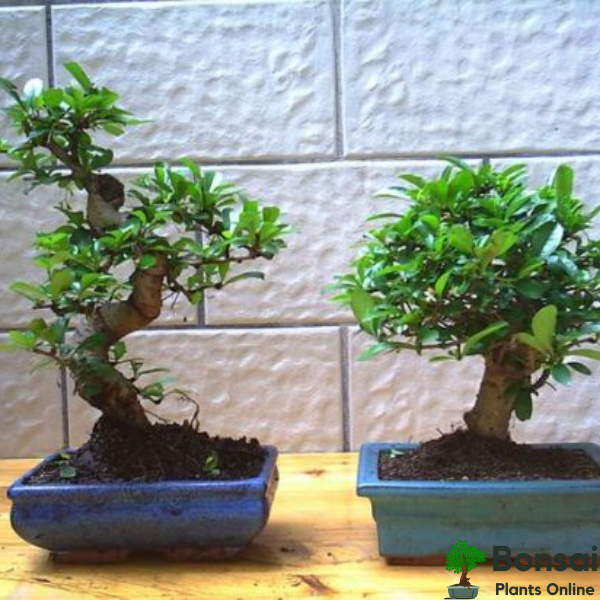 With such simple ways for the Carmona bonsai care, getting this plant is a charming option for homeowners. You can also buy a Carmona plant bonsai online to get an expert-grown and pre-potted, pre-fertilized plant delivered to your doorstep. This has several benefits, such as:
You will get a healthy and long-lasting Carmona bonsai plant of the age, shape and looks promised to you. It will be more likely to flower gorgeously and even throughout the year.
You also get live assistance from our bonsai experts for your Carmona bonsai care and maintenance-related questions and support.
You do not need to worry about the hassles of transporting this beautiful plant from a local nursery. You will get to enjoy the plant delivered to your doorstep with all the love and care it deserves.
You can get the plant for yourself or gift it to your loved ones from the comfort of your home. In fact, the Carmona bonsai plant is becoming popular as one of the most loved bonsai plants for gifts to friends and family alike.
Tackling common issues with your Carmona bonsai tree
My Carmona plant bonsai is showing weak health and structure. How do I fix it?
Provide your Carmona flower bosai the best and most suitable conditions so that it can grow and blossom beautifully. These include sufficient ventilation, regular watering while avoiding excess and exposure to indirect sunlight. But another common reason for this appearance could be feeding with a strong or artificial chemical fertilizer. Restore to optimum growing conditions and your plant will bloom and blossom beautifully once again in no time.
The plant is not blossoming. How do I promote flowering?
One quick way to promote the best and most gorgeous flowering is by feeding your Carmona flower bonsai with a natural and mild-acting fertilizer. For achieving better blossoms in the long run, you should prune your plant lightly but throughout the year.
The Carmona plant bonsai is not growing in size.
Unless your Carmona bonsai tree is too young, your plant is pre-sculpted and well-trained to stay in shape. It will maintain its beautiful shape and form inside your home with minimal maintenance required. This is because the Carmona leaves of their cute and attractive small size do not require much pruning for the pant to stay in shape.
My Carmona flower bonsai has developed root rot.
Since it has sensitive roots, you should make sure to avoid over-watering in your Carmona bonsai care practice. Even strong and chemical fertilizers can cause this same issue. If this happens, make sure the soil is well-drained and eliminate the causing factor for it.
Get an easy-to-maintain Carmona plant bonsai at your doorstep
The Carmona flower bonsai is one of the best-loved bonsai trees suitable for types of styles of indoor spaces. It is one of the few bonsai flowering plants that will blossom almost effortlessly, even inside your home. Buy a healthy plant from the comfort of your home and enjoy its natural benefits for years to come.
Enjoy the plant's lovely and snowy blossoms ornamenting your interior vibes and winter vibes. As a beginner-friendly houseplant with aesthetically pleasing looks, you can get a Carmona plant bonsai to spark up an everlasting aura of life and joy make your indoor life more beautiful.