Giving bonsai trees as gifts is surely one of the most considerate things you could do for a loved one. These compact and pre-potted plants are beautiful replications of nature's raw beauty in their most authentic form. You can buy bonsai plants online with different meanings and benefits as ideal green gifts for your family and friends suitable for all occasions.
Meaningful green gifts that everyone loves
Bonsai plants as green gifts are not only a better substitute for conventional flower bouquets but they are also truly thoughtful presents. When you give your loved ones a bonsai tree, it is truly an expression of their care and affection you hold for the person. For example, by gifting a young child a bonsai tree, you are not only giving them a beautiful companion but also a symbol of maturity and strength that they will achieve as the plant matures alongside them.
With just a little care and attention, they last for years and give your home a transformational upgrade with both their aesthetics and other beneficial properties. 
Gifting pure natural beauty and other benefits with bonsai plants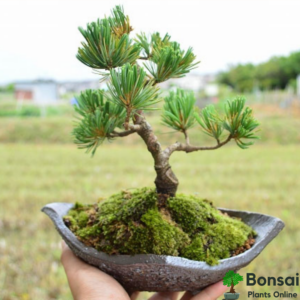 A unique and rare gifting choice, your family or friends are going to love your bonsai plants for gifts to them. These plants encapsulate the freshening beauty of nature along with a range of benefits, making them perfect gifts suitable for all occasions. 
Lush greenery for interiors:

Gifting bonsai trees packs a power punch in the form of a

compact and shrubby

plant with lush greenery and foliage that will last in the homes of your loved ones all year-round.

Long-living plants

: Bonsai plants have been known to last indoors for even

hundreds of years

. Therefore, green gifts for your loved ones are truly permanent gifts symbolizing the constant nature of your love and care for them that grows with time.

Beautiful natural aesthetics:

These plants have a sturdy structure with an

attractive bark

,

dense green foliage

and even

colorful flowers or fruits

. In fact, bonsai trees are miniature specimens of nature's aesthetics in your home and can instantly uplift the visuals of any location indoors or outdoors.

Portability of re-potted plants

: Since bonsai plants are shipped and delivered as pre-potted and pre-trained plants, your loved ones can

easily receive them and place them inside

their home as a lovely reminder of your care for them. Moreover, they will be able to maintain these well-trained and potted plants with ease and

minimal care

required.

Auspicious and spiritual virtues:

When you gift someone a bonsai tree, you give them the gift of

abundance

,

happiness

and even

good luck

and

prosperity

. These majorly fall in the category of

Feng Shui plants

, making them highly suitable choices as green gifts. 

Soothing vibes:

Since bonsai trees are live plants, they have soothing and

peaceful vibes

that your friends and family would love to keep around when you gift it to them. In fact, some gifting bonsai trees are even

aromatic

and their charming scent will be a lovely reminder of the beautiful relationship you share with that person.

Health advantages:

There are a number of

NASA-certified

plants with

air-purifying

properties, making them thoughtful gifts that will aid in the healthier and happier living of your loved ones.
Best practices for care and maintenance of your bonsai green gifts
Specially trained and maintained to look gorgeous, bonsai plants will beautify the homes of your loved ones with minimal care required, making their soothing and charming vibes even more lovable as bonsai gifts.
Placement
Gifting plants will usually thrive indoors in low to medium indirect sunlight. However, there are bonsai plants that you can keep outdoors in the full bright sunlight such as gardens, terraces, and balconies.
Once the bonsai tree is placed in the home of your loved one, it will acclimatize itself to the environment quickly, making it easy to maintain.
Watering
Though watering patterns vary from plant to plant, watering the soil whenever it runs dry is the right way of irrigation for bonsai trees. Doing so will be more than sufficient for most gifting bonsai plants to stay hydrated without being exposed to the harmful effects of over or underwatering.
Fertilization
When you gift your loved ones one of the popular gifting bonsai trees, the plant usually does not necessitate but benefits greatly from feeding with fertilizer.
Any solid organic fertilizer or weak-strength liquid fertilizer should be used once or twice a month during the growing season up until winters.
Pruning
Your loved ones will be able to shape their live bonsai gift by pruning the plant's newly-growing shoots. Moreover, dead or yellowing leaves need to be plucked from time to time, but this will be an enjoyable experience as your family member or friend forms a deep and meaningful plant with the bonsai tree gift you give them.
Wiring
Wring the plant is another great way for your loved ones to shape their bonsai gift you give them. Indoor and outdoor bonsai plants can be wired during the growing season with a soft training wire to produce fine branching arrangements.
Repotting
Since most of these bonsai green gifts are indoor plants, they grow slowly and do not require repotting very frequently. Even so, repotting them once after every 2-3 years into a new bonsai pot will aid in creating ideal growing conditions for the plant and reduce the need for fertilizing.
Wide variety of green gifts with different types of bonsai trees
Green gifts encompass a range of unique and easy-to-maintain bonsai plants. However, some bonsai types are popular and highly demanded when it comes to picking a gifting plant for all occasions or purposes.
Ornamental green gifts
The beautiful and attractive features of certain bonsai trees makes them highly suitable green gifts that your loved ones will treasure and value for home decor.
Adenium flowering bonsai tree:

Bears long-lasting pink flower

Bougainvillea bonsai tree:

Drapes itself from attractive pink to purple blossom every season
Green gifts of auspicious nature
Auspicious bonsai plants carry optimistic and positive vibes and are believed to attract wealth and happiness into one's life.
Lucky Bamboo bonsai plant:

Indoor bonsai plants available in different layered arrangements and in water-filled glass bonsai pots, for giving the gift of happiness and fortune

Money tree bonsai:

Famous money-attracting Feng Shui plant, perfect for corporate or personal gifts
Green gifts for Raksha Bandhan and other religious occasions
You can find a number of bonsai plants that you can give to your family members or other loved ones on religious or sacred occasions such as Raksha Bandhan and other festivals.
Ficus bonsai tree: Sturdy bonsai plant that symbolizes power and protection for your sibling
Money tree bonsai:

You can gift the Money tree or Pachira bonsai tree to your brother or sister for bringing wealth and prosperity into their lives.
Green gifts for bonsai beginners
For those who are new to gardening but would love to add nature to their homes, the easy to care and beginner-friendly bonsai plants make for ideal green gifts.
Ficus bonsai tree:

Semi-indoor bonsai plant with a hardy build that thrives beautifully in indoor light and regular watering.

Juniper bonsai tree:

Evergreen bonsai with flexible to wire branches and a sturdy structure. 
Points to consider for buying the best green gifts
Important things to consider before buying a bonsai gift are its specialities, features, maintenance and meaning. requirements and specialties. 
Plant features/attributes

: You can buy bonsai plants online for giving as green gifts with a range of features to choose from. These include different colors of flowers, different shapes of leaves and the appearance of the bark.

Maintenance

: Green gifts are ideally low-maintenance houseplants that thrive and offer their benefits with minimal care required.

Special benefits

: Certain green gifts are meant to show a certain emotion. For example, the Bougainvillea bonsai tree is a symbol of beautiful and long-lasting love, as it produces vibrant flowers with a charming aesthetic.

Gift meaning

: Every gift carries a certain meaning. For example, air-purifying bonsai plants symbolize thought and care for the well-being of your loved one.
Surprise your family or friends with authentic green gifts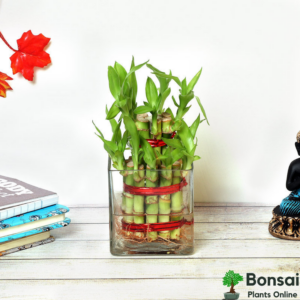 Portable and convenient, you can buy bonsai plants online as meaningful and ideal green gifts. They are aesthetic, auspicious and beginner-friendly, making for an endearing gift by all means. Moreover, their soothing vibes and air-purifying nature symbolize care and thoughts for your loved one. Therefore, green gifts are live and natural gifts with a cheerful nature that will bring a smile to your loved one's face for several years to come.