Bonsai trees are gorgeous with a majestic appearance that can become the identity of your home. Highly suitable for your gardens, you can also bring these outdoor bonsai trees inside your on special occasions such as celebrations and gatherings. There are several types of outdoor bonsai plants that use can use to beautify your homes in unique and special ways.
Transform your home with a bonsai tree for outdoors
Nature has diverse forms, and bonsai trees for your outdoors can bring all of them together into as a bundle of joy you can enjoy for several benefits.
Outdoor bonsai trees can be shaped into any form by pruning and wiring. Therefore, you can buy bonsai trees for outdoors to truly customize these beautiful personifications of nature for your gardens, porch and garage spaces.
Caring after and maintaining outdoor bonsai trees is a fun-filled and pleasurable experience. It will help you get outside to your gardens and enjoy loving these beautiful plants while caring for them.
You can enjoy outdoor bonsai trees for their gorgeous shades of natural greenery, and also for their fruits, blossoms and other natural aesthetics to complete a beautiful picture of nature in your home.
Find the best outdoor bonsai plants online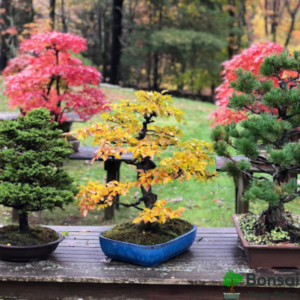 Buying your outdoor bonsai tree from an online plant nursery will help you find the best fit for your requirements. This is because,  there are several types of outdoor bonsai trees for sale and you can narrow down your choice as per aesthetics, age, benefits and various other criteria when you buy outdoor bonsai trees online.