Here is the list of most popular 10 Bonsai Tree for sale in India which can lighten up your home garden. This list of top 10 bonsai plants is compiled based on the purchase by nearly 18,000 bonsai owners. So, it can not go wrong.
Here are some interesting bonsai tree for your home garden
You can now keep a wide variety of bonsai trees in your home garden. This aspect has motivated people to buy these majestic plants in abundance. You currently have the leverage to purchase your favorite bonsai tree for both indoor and outdoor spaces. Reach out to your nearby nursery or online plant provider to check out attractive bonsai plants that are easy to grow ad maintain. You can further look out for a bonsai tree for sale, allowing you to access some exquisite bonsais at the lowest prices. 
Are you planning to get a bonsai home? If yes, check out these ten bonsai tree options you can buy from leading sources.
Baobab
It is a legendary African tree that is now smartly transformed into a popular bonsai variety. This bonsai is low on maintenance and functions excellently in the warm weather. However, during the winter season, the Baobab bonsai tree needs additional care. You can preferably keep the plant at an indoor location, which receives faded sunlight throughout the day. 
Crape Myrtle
Crape myrtle is known for its superb features, including a rare branch formation and the availability of pink or white flowers. Furthermore, this stylish bonsai plant has a thick layered outer section that can change color from rusty brown or even pink shades. To let the plant blossom at its best, keep it in bright sunlight required for flower formation.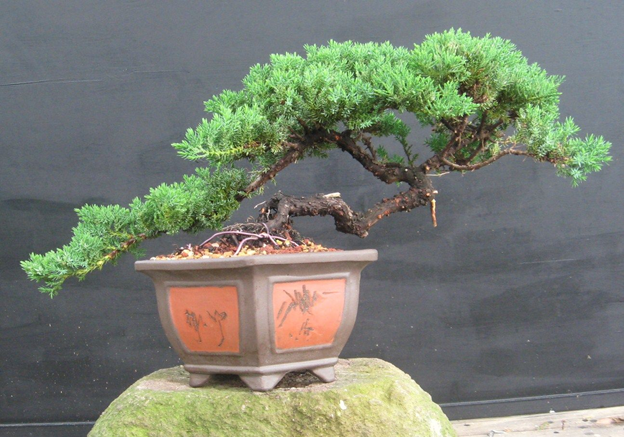 Juniper
Its easy-to-grow characteristics majorly support the popularity of Juniper as a bonsai. Juniper of Procumbens Nana is a leading bonsai tree species which can rarely survive indoors. Although they are low maintenance, its overall appearance is perfect for illuminating your porch, garden, or balcony look. A sunny spot is always better to allow the Juniper bonsai to achieve its peak level of attractiveness. Furthermore, it is required to protect a Juniper bonsai tree from cold drafts and temperatures that fall beyond 14 F during the winter season.
Ficus Benjamina
For your home garden, the selection of Ficus Benjamina is a smart option. It is an evergreen bonsai plant that is characterized by a vast canopy supported by delicate branches. Most people also call it the 'Weeping Fig' since the bonsai has a cascading branch structure. The nurturing of Ficus Benjamina can happen both indoors and outdoors, keeping in mind that the plant receives ample sunlight throughout the year. 
Boxwood
Video – https://www.youtube.com/watch?v=ykmUJXxMzOc
Boxwood is an attractive tree option that can be turned into a bonsai. The adaptability of Boxwood bonsai into a container of any size makes it quite fascinating. It's easy to care aspect makes it an appropriate choice for amateur gardening enthusiasts. Although everything with Boxwood bonsai seems fair, it becomes tough to manage during the winter season. You need to figure out ways to protect the bonsai from cold drafts or else it can experience serious issues with root and leaf growth. 
Fukien Tea
These small-sized indoor bonsai plants are readily available at any nursery or online plant selling website. Fukien Tea is best for your home garden as it exhibits shiny leaves that possess tiny white dots. The small white flowers on this bonsai are the most exciting aspect. Fukien Tea blossoms throughout the year seasons, making Fukien Tea a modern houseplant that is suitable to light up the house interior. The appropriate temperature to upkeep the growth of Fukien Tea is somewhere between 50 and 75 degrees Fahrenheit.
Japanese Maple
The Japanese Maple bonsai has lobed leaves, and the tree changes color as it grows in age. You can style the leaves of this bonsai as per your wish, making sure the pruning and trimming happen during spring or late autumn. You need to place the Japanese Maple at a place that is well lit and receives indirect sunlight. But the bonsai plant needs proper shade during the afternoon hours, or too much sunlight can damage the leaves.
Olive
Olive Bonsai is best for your living room as its delicate branch structure works to ignite the home décor. People typically prefer growing Olive bonsai trees indoors, but according to gardening experts, it's best to keep the plant in the open with enough sunlight to experience rapid growth. This particular species of bonsai is not common but can be bought on request from online plant providers. 
Ficus Retusa
Your hunt for tropical bonsais can now be fulfilled by checking out Ficus Retusa species. It is a tolerant bonsai tree that can withstand basic mistakes in its care. Furthermore, you can style the Ficus Retusa in numerous ways by elegantly trimming the leaves. This bonsai is recommended for beginners as there is not much to worry about while nurturing it at home. You must pick a bright and clean spot for the Ficus Retusa. Make sure too much direct sunlight is not healthy for this bonsai as the leaves start to decay. 
Jade
Jade is a type of succulent plant which is characterized by thick and fleshy leaves. People call it a low on maintenance bonsai, which is evergreen. Usually, this bonsai variety is grown indoors, considering the plant receives sufficient light, temperature, and watering. It is recommended to maintain the indoor temperature greater than 41 F in order to manage sustained growth for Jade bonsai. 
Most of the bonsais mentioned above can be easily purchased without any hassle. It is essential that you keep your selection precise and not get drifted away. For instance, always look for well-branched plants that showcase symmetry and proportion. Furthermore, pick a bonsai that exhibits a beautiful shape; this indicates its well-groomed and healthy nature. Foliage is another important aspect that is brought into consideration before finalizing any bonsai plant. Do not forget to check the authenticity of the plant provider, be it in person or online. There are several cases where people have been fooled by diseased plants provided under bonsai trees for sale scheme. The best way is to check out their return policy and see whether they are favorable for the customers. Also, check out customer reviews to understand the service offerings by the respective bonsai plant provider.