3 Layered Lucky Bamboo Bonsai
Get this live emblem of happiness, longevity and abundance for your home for an positive indoor transformation.
Auspicious Feng Shui bamboo bonsai in an attractive glass bowl.

Arranged in a beautiful 3 layer style.

Perfect bonsai plant for your home or office.

Thrives well with minimum care and attention.

Ideal and lucky gift for your dear ones.
Description
Making an ideal gift for your friends and colleagues, this 3 layered lucky bamboo bonsai holds a significant place in the line of Feng Shui plants. Arranged and styled in a symbolic 3 layer lucky structure, the plant belongs to the family of water lilies and gives a lovely semblance of the bamboo trees.
Native to the tropical rainforests of Africa and Southeast Asia, the 3 layered lucky bamboo bonsai makes for a highly auspicious plant for your home or office. It has three beautiful layers, signifying the three types of luck: happiness, long life, and wealth. While in its lovely miniature form, it spreads positivity all around the place where it is kept. Moreover, the plant's bright green, grass-like leaves and upright stalks instantly enhance the look of your home too. The plant is easy to care for, and will continue to bring good luck and beauty into your home for years to come.
Know your 3 layered lucky bamboo bonsai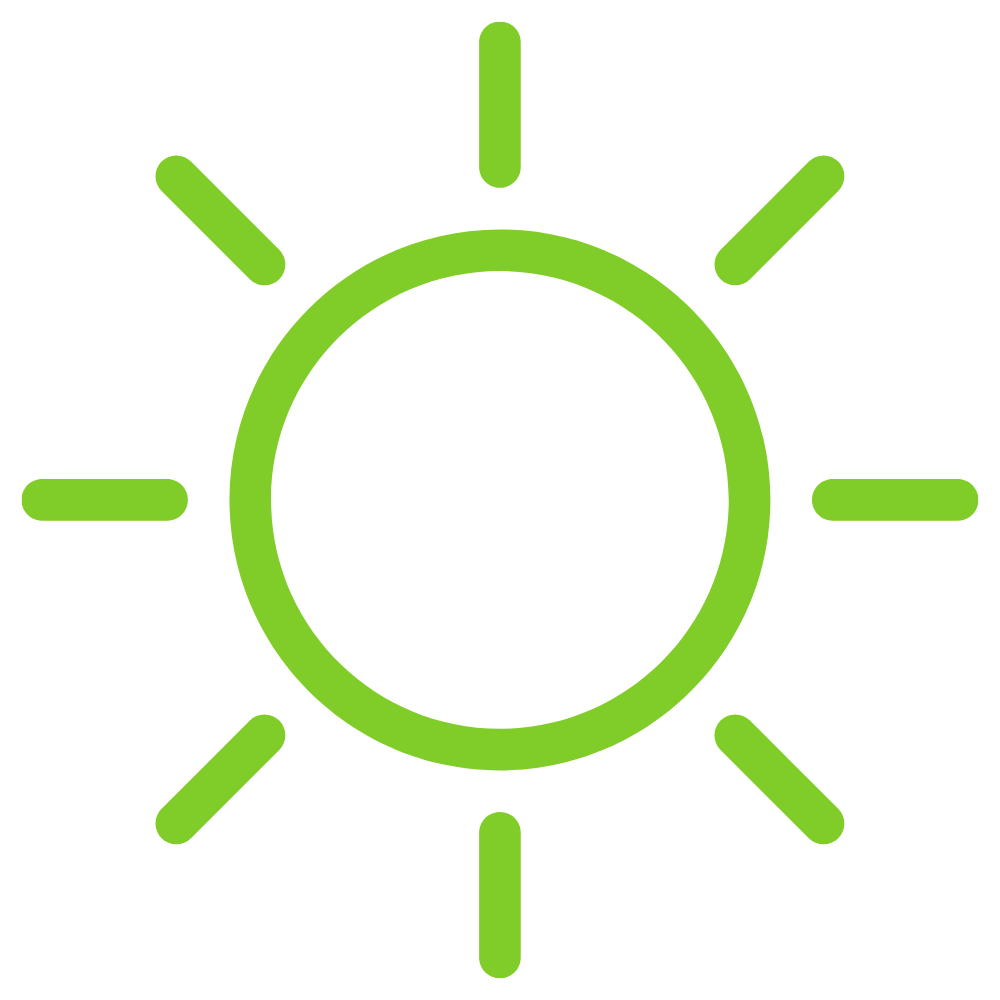 Sunlight
Well-lit indoor, Indirect sunlight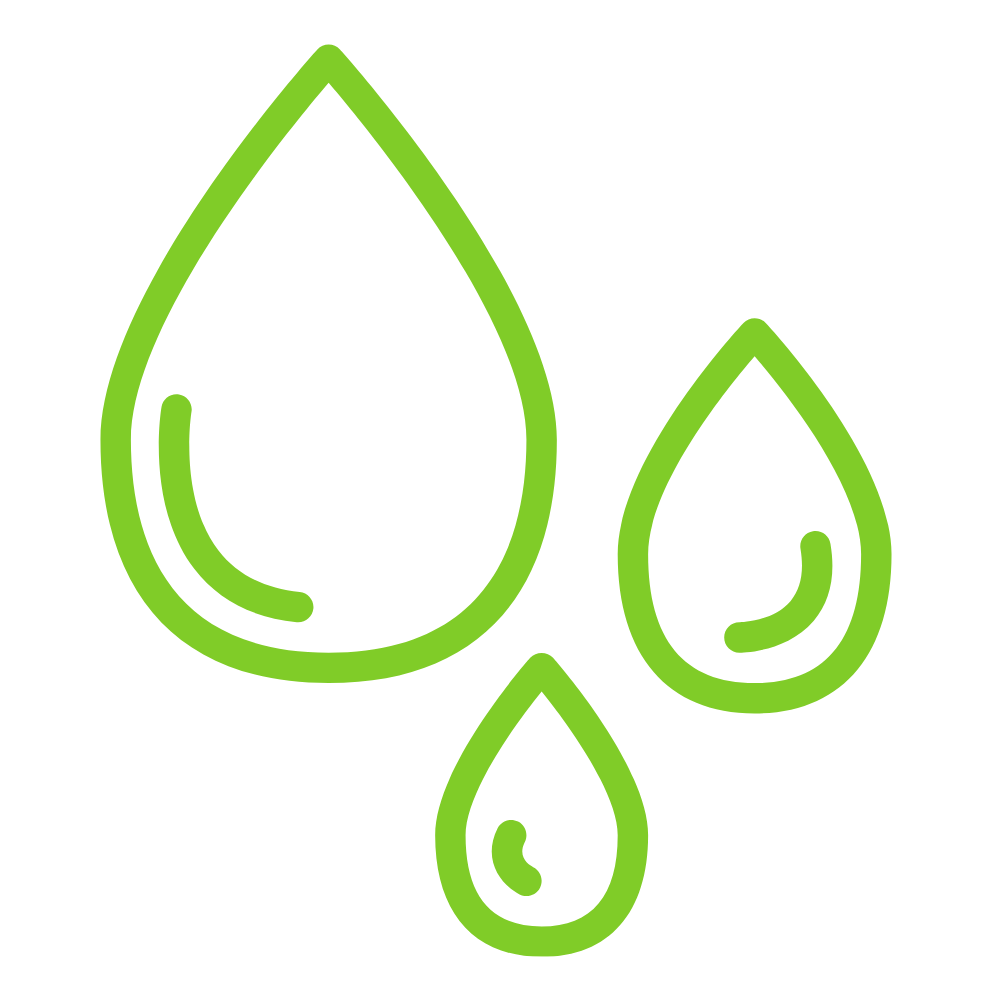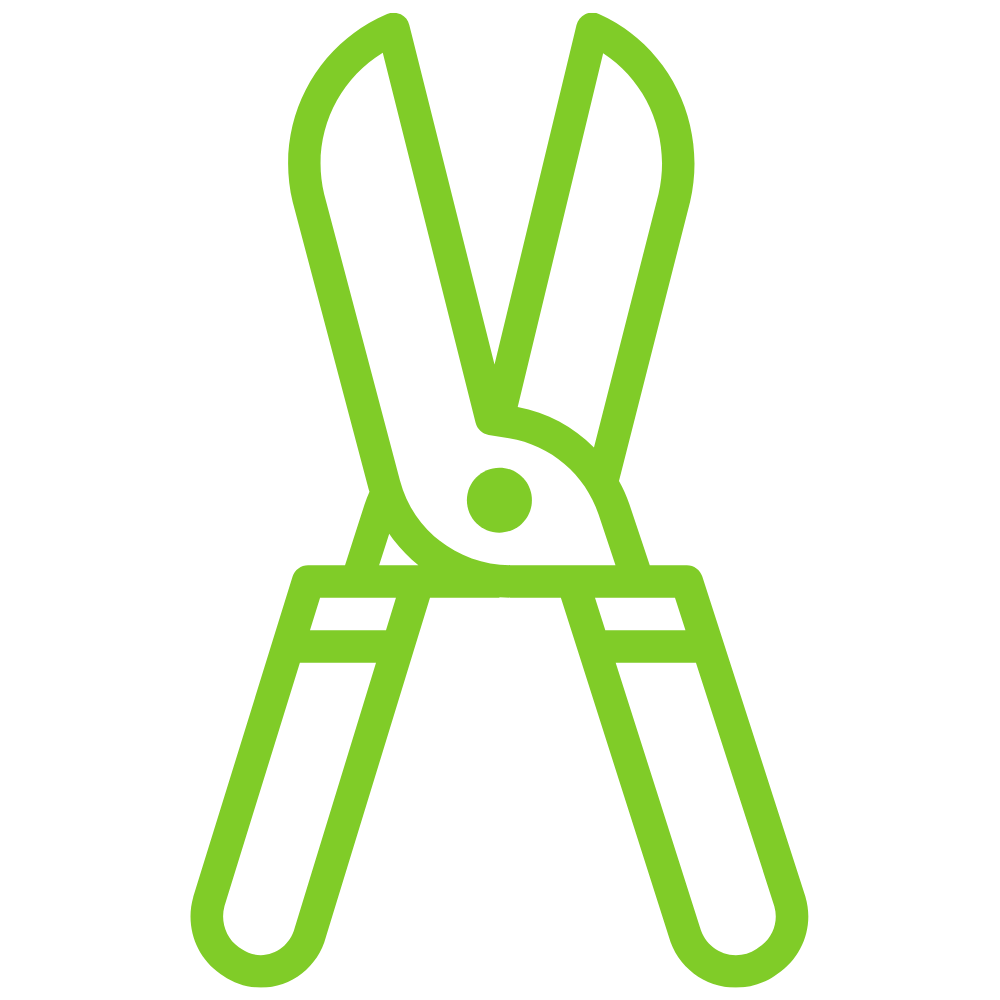 Pruning
Light pruning throughout the year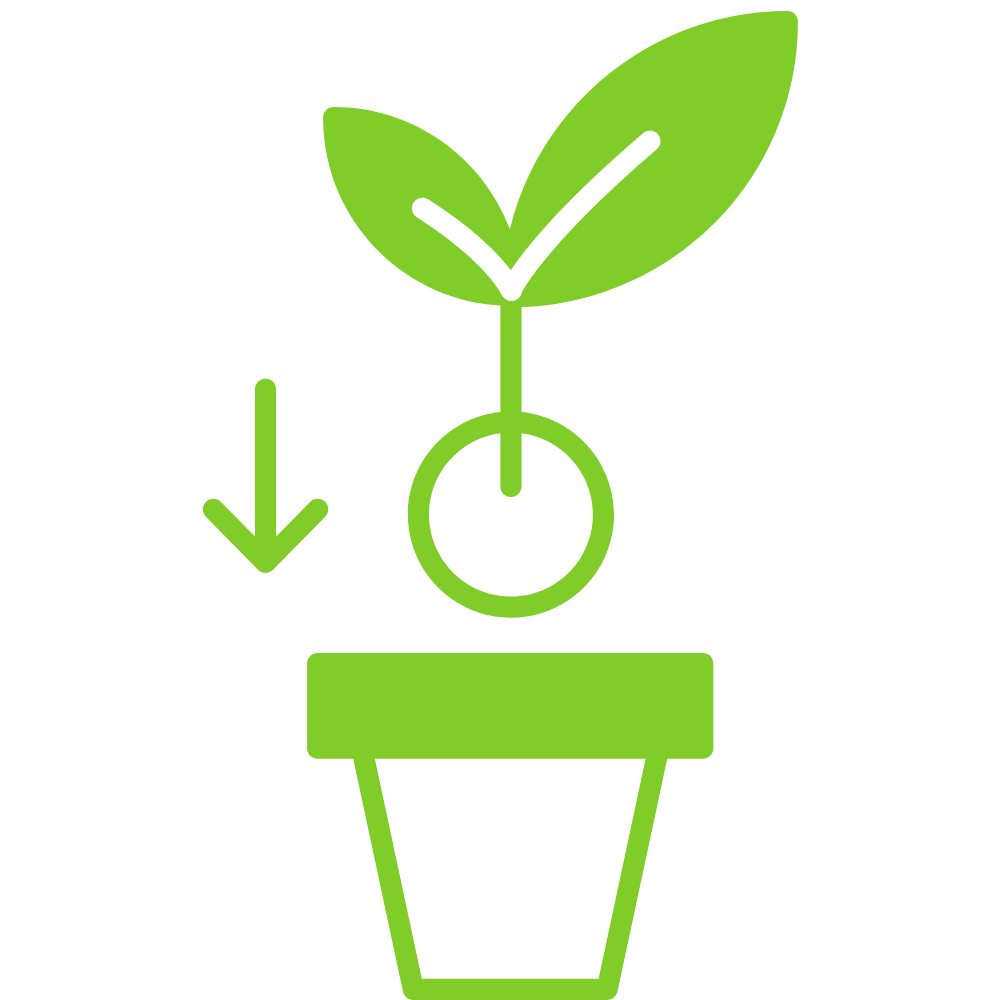 Repotting
Rarely required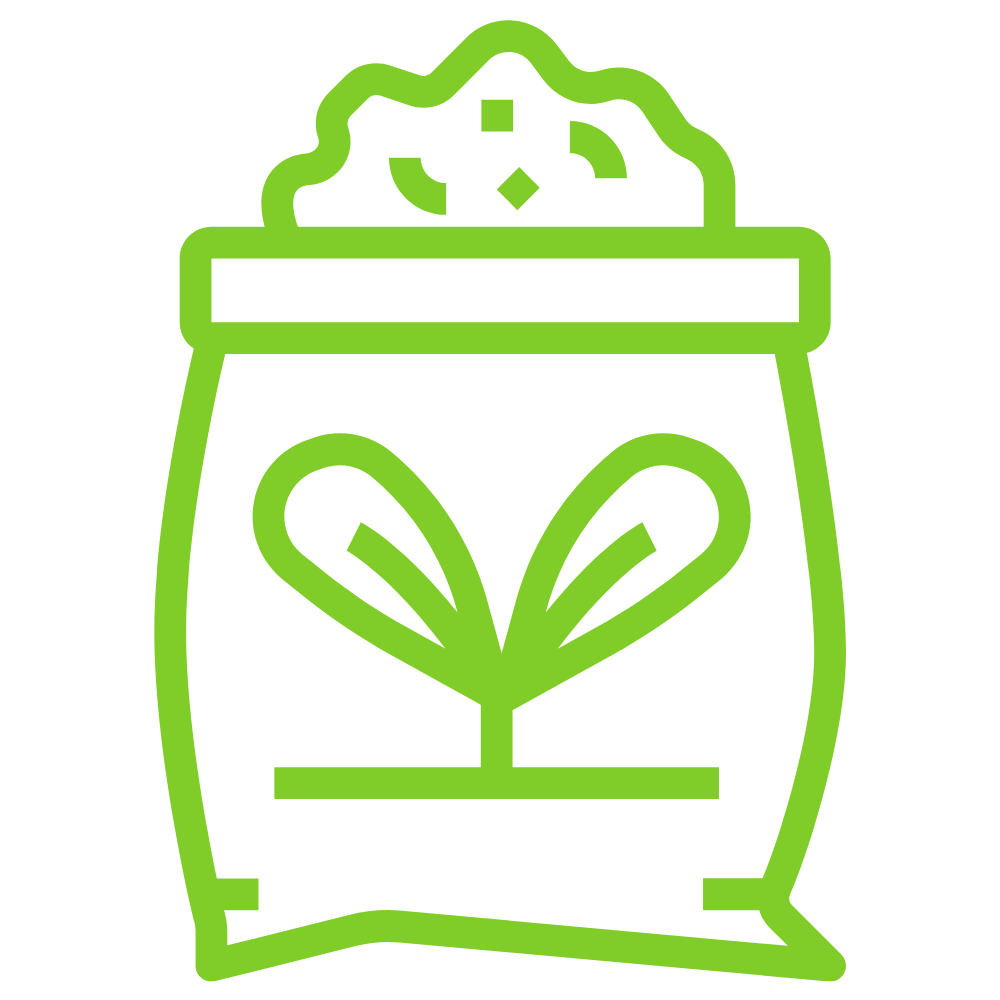 Fertilizer
Mild liquid fertilizer, Once per month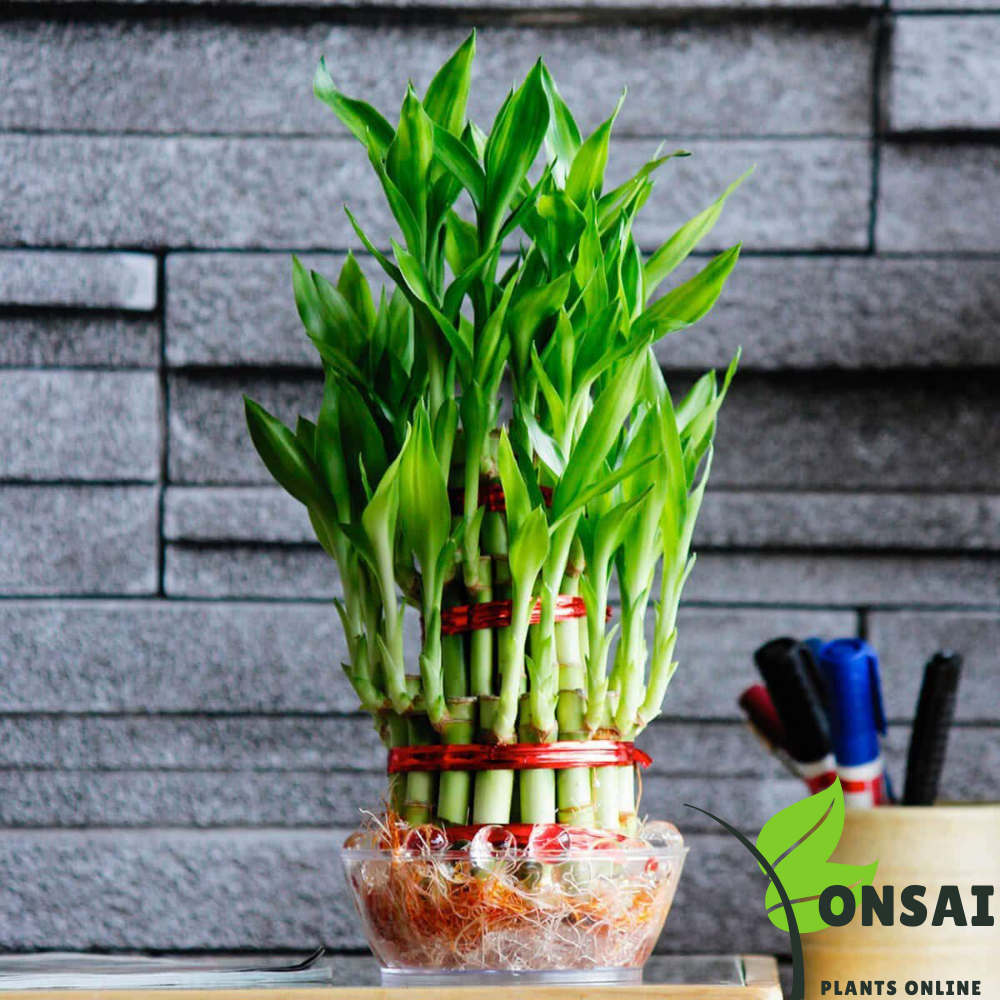 The 3 layered lucky bamboo bonsai for your interiors
Widely recognized as a famous Feng Shui plant, this auspicious 3 layered lucky bamboo bonsai attracts abundance and happiness to your home. Besides working like a lucky charm, the plant also enlightens your dull indoor spaces with its bright evergreen appearance. In fact, its beauty and ease of care make it a thoughtful gift for your dear ones.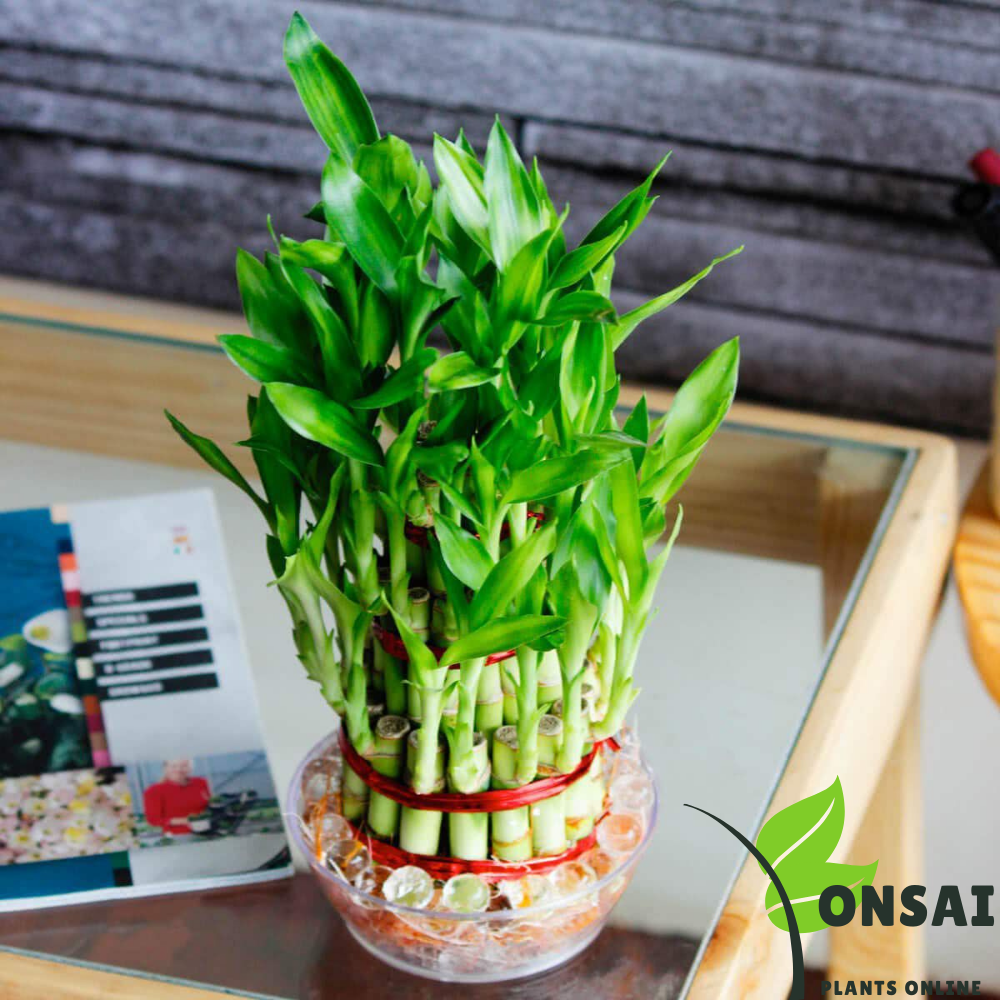 Feng Shui plant in a beautiful and compact glass pot
Auspicious, ornamental, and easy to care for, the 3 layer lucky bamboo bonsai embodies all the marvelous qualities that you want to see in an indoor plant.
This arrangement is symbolized by straight stalks ordered in a beautiful 3 layer arrangement along with light green lacy leaves. Planted in a water-filled glass bowl, the plant looks even more appealing to the eyes and makes a perfect ornamental and gifting plant.
The 3 layered lucky bamboo bonsai will continue to be a living symbol of happiness and good luck as it establishes peace and prosperity into your home.
Care instructions for your 3 layered lucky bamboo bonsai
This 3 layer lucky bamboo is a low-maintenance plant and requires little to no caring for thriving indoors.
Placement: This plant needs to be placed under low to medium light and should be avoided to keep in too bright sunlight in order to protect its leaves from burning.
Watering: When grown in a watered bowl, only misting your plant with a spray bottle will be enough for it while in case if you are growing it in soil then watering twice a week will be perfect. 
Pruning: Removing the dead and yellowed leaves from the plant all year round will help your lucky bamboo to stay healthy and bright. 
Repotting: If grown in soil, it will require repotting once a year. Otherwise, just ensure changing the water of the container twice weekly will encourage the plant to grow perfectly.
What do our customers have to say?
Bonsai Plants or any plant for that matter, BPO team does great work in design, health of the plants and post-sale service. I've been enjoying the association for my last 12 bonsai plants. 🙂

Impeccable packaging and delivery. I was surprised for the first time, and fall in love with their mastery in packing the plant and delivering it safe to my home. Interesting. Thank you.

True Gardening assistance. I got healthy plant and help whenever I needed through the dedicated WhatsApp channel. Not only the bonsai but also for the normal plants that you buy.

Frequently Asked Questions by customers
What does the 3 layer structure of this lucky bamboo bonsai symbolize?
The pretty 3 layer layers of this lucky bamboo bonsai symbolize the three kinds of luck that are happiness, wealth, and long life. It is a significant Feng Shui plant that is considered a highly promising plant across the world, often grown in offices due to its optimistic values.
Where should I place my 3 layered lucky bamboo according to Feng Shui?
This lucky bamboo bonsai should be placed on the east most or south-east corner of the home according to the Feng Shui belief. Kept in those spots, it will resonate with the energy of the place and bring peace and prosperity to your home.
Is this bonsai plant difficult to maintain?
Not really, as the plant is well-familiar with the Indian climate and is easy to care for. In fact, this bamboo bonsai is quite self-sufficient and will need little to no attention for growing indoors.
Can I grow this 3 layerered lucky bamboo bonsai in water?
Yes, this lucky bamboo bonsai can be easily grown in water with ease. Just place the plant in a bright corner of the room and make sure to change the water at least twice a week. Mist your plant occasionally with a spray bottle and feed it with a single drop of liquid fertilizer once a month and your plant will thrive in water quite perfectly.
Can I use tap water to grow this plant?
For better and healthy growth, it is advisable to use distilled or R/O water for your plan. This is because tap water may contain minerals and pollutants, and cause the leaves to turn yellow and die eventually. 
Additional information
| | |
| --- | --- |
| Brand | Abana Homes |
| Variety | Bamboo |
| Location | Indoor |
| Plant Age | 10 Years |
| Plant Size | 35 cm |
| Occasion | Anniversary, Exotic, Grand, Office, Parents |
| Pot Material | Ceramic |
Reviews (18)
Only logged in customers who have purchased this product may leave a review.
Related products
Out of stock
Rated 4.41 out of 5
(18)
₹

1,259
Ships Tomorrow