Barbados Cherry Bonsai Tree
Create exotic aesthetics by bringing this fruit-bearing and easy-to-maintain Barbados Cherry bonsai tree inside your home.
Weeping twigs and branches for exotic and enchanting looks.

Perfect ornamental tree for indoor transformation.

Produces tiny pink-red flowers followed by beautiful red cherries.

Thrives with minimal care and attention.
Out of stock
Notify me when the item is back in stock.
Description
The plant is a beautiful evergreen shrub that is native to the countries of China and Japan. In fact, this Barbados Cherry bonsai tree is no short of organic beauty. With its elegant pendulous structure and tiny green ovate pointy leaves, the tree captivates everyone's attention towards it. It also produces joyous and delicious red cherries that are perfectly edible and delightful. The plant comes potted in a beautiful pot and along with all care instructions you will ever need to maintain it indoors.
Know your Barbados Cherry bonsai tree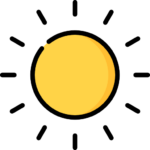 Sunlight
Well-lit indoors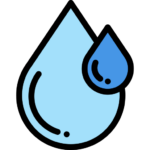 Watering
Water every time the soil runs dry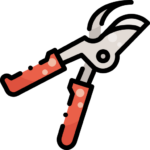 Pruning
Regular pruning throughout the year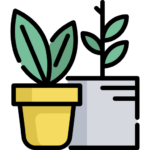 Re-potting
Every 4-5 years in mid-summer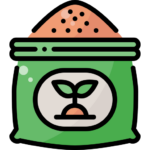 Fertilizer
Mild liquid fertilizer, Once a month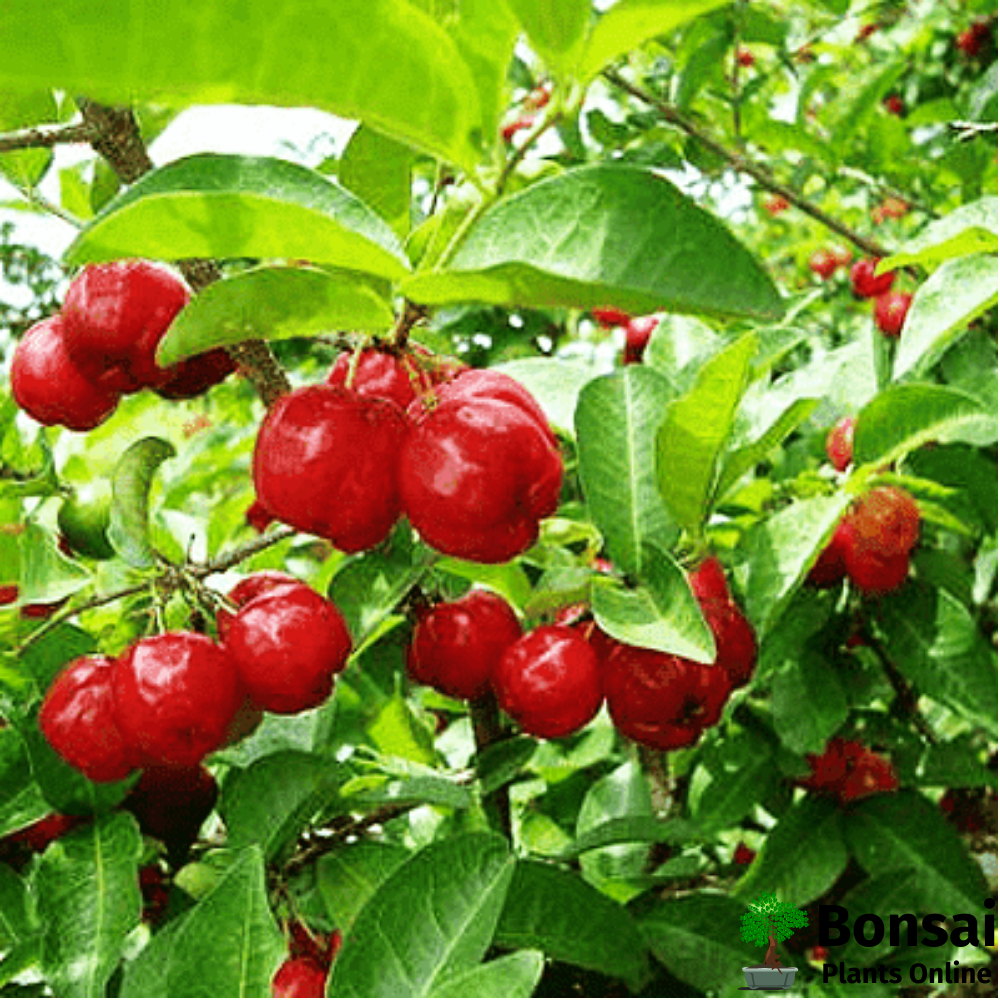 Barbados Cherry bonsai tree offering delicious treats
Highly evocative of the hardwood cherry tree, the Barbados Cherry bonsai tree is easy to care for. In return, the plant will give you enjoyable treats of cherries every year. This exotic tree has a twiggy structure with rough bark and naturally exposed roots, making it a rare and exclusive bonsai for your home. Moreover, the pink to red flowers and small apple-shaped fruits will immediately beautify your home with their charm and colors.
Beautify your interiors with the apple-like cherries
With this Barbados Cherry bonsai tree you can bring its tempting and widely renowned red cherries that look like small apples and appear right after the flowers wither and drop. Its artistic lowering branches, compact structure, and canopy of foliage make this plant highly reminiscent of Japanese and Chinese cultural beauty. With its fine looks and fruity goodness, this Barbados Cherry bonsai tree will surely bring the joy and pleasure of nature right into your home.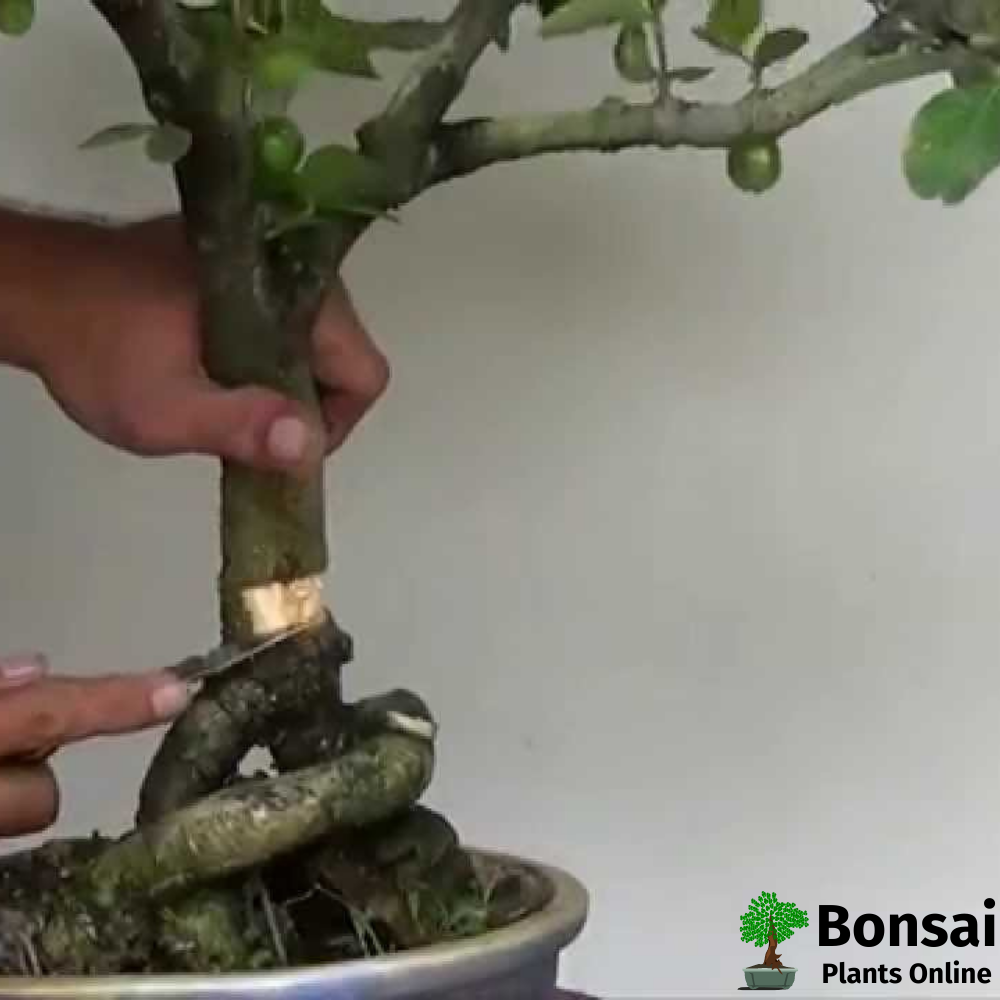 Care instructions for your Barbados Cherry bonsai tree
The Barbados Cherry bonsai is a low-maintenance plant and is very easy to care for. However, you'll be needing to follow some very basic set of care instructions that will ultimately help your plant to grow to its full potential.
Location: Keep the plant indoors so it can thrive well without getting burnt by way too much bright sunlight. 
Watering: Water the plant when the soil starts to run dry, keep the soil moist but avoid overwatering.
Pruning: Regular pruning of your Barbados Cherry bonsai tree throughout the year will ensure its healthy growth. However, make sure that you do not completely remove the newer foliage as it will harm the plant and its beauty as well.
Repotting: Repotting is required once every 4-5 years.
What do our customers have to say?
Bonsai Plants or any plant for that matter, BPO team does great work in design, health of the plants and post-sale service. I've been enjoying the association for my last 12 bonsai plants. 🙂

Impeccable packaging and delivery. I was surprised for the first time, and fall in love with their mastery in packing the plant and delivering it safe to my home. Interesting. Thank you.

True Gardening assistance. I got healthy plant and help whenever I needed through the dedicated WhatsApp channel. Not only the bonsai but also for the normal plants that you buy.

Frequently Asked Questions by customers
Where should I keep my Barbados Cherry bonsai tree?
This is an indoor bonsai so it would be ideal for this tree to be kept indoors beside a window, shaded balcony, or patios. But, if you're keeping this plant outdoors then make sure that it doesn't get exposed to bright midday sunlight. That might cause its leaves to turn yellow and fall eventually.
Are the cherries on this bonsai tree edible?
Yes, this Barbados Cherry bonsai tree produces perfectly edible and tasty cherries around autumn that give you an incomparable amount of joy of relishing self-grown and organic fruits grown right in front of your eyes. 
Does this Barbados bonsai tree also produce flowers?
The plant does in fact bear flowers during the spring season. They are pink to red in colors and grow in clusters that catch anyone's attention with their highly aesthetic looks. 
How can I take good care of my Barbados Cherry bonsai tree?
Taking care of your bonsai won't be a thing to worry about at all. As this plant is very hardy to extreme conditions and perfectly trained to be grown indoors, you'll not have to put a lot of effort and thinking into its maintenance except following some very simple set of care guidelines provided with the product package of your plant.
Will this bonsai tree require any special kind of fertilizer to grow fruits?
Not really, as any weak water-soluble fertilizer once a month will be enough for this plant's healthy growth. With just a little pampering and basic feeding, the plant thrives well and keeps flourishing.
Additional information
| | |
| --- | --- |
| Brand | Abana Homes |
| Variety | Barbados Cherry |
| Location | Indoor |
| Plant Age | 10 Years |
| Plant Size | 35 cm |
| Occasion | Anniversary, Exotic, Grand, Office, Parents |
| Pot Material | Ceramic |
Reviews (18)
Only logged in customers who have purchased this product may leave a review.
Related products
Rated 4.58 out of 5
(20)
₹

5,500
Ships Tomorrow