Barberry Bonsai Tree
₹3,599
Paint your indoor life with the rich colors of this Barberry bonsai tree, and enjoy the stunning visuals of this exotic-looking live plant grown as a rare bonsai.
Bears lovely yellow flowers every autumn, which later turn into vivid red berries.

Dynamic home decor- the leaves change hue with the season too.

Creates a beautiful Gothic feel in both modern and traditional contexts.

Hassle-free plant- doesn't even require watering!.
Description
Lesser known amongst even plant enthusiasts but relatively easy to care for – this makes the Barberry bonsai tree a highly recommended option for an indoor bonsai tree. The plant is a sure-shot way to leave your guests in awe of your interior decor game.
The Barberry bonsai tree is a miniature tree that comes pre-grown and pre-sculpted in a classic-styled pot. It bears cute-looking yellow flowers and numerous small berries of a vivid red color every season. To add to that, even the leaves of this exotic-looking houseplant will change their hues with the season's moods. This makes the Barberry bonsai tree ideal for a dynamic style of home decor to your living room truly feels full of ever-changing and sparkling life.
The product package includes the live, healthy plant in a beautiful pot, shipped to you along with simplified care instructions. That's because we understand your need to focus on enjoying the rich and vivid colors of this rare indoor bonsai tree with minimum hassles and worries.
Know your Barberry bonsai tree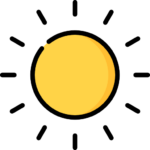 Sunlight
Protected from harsh and direct sun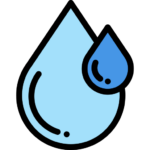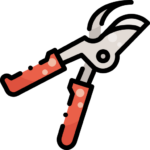 Pruning
After the flowering season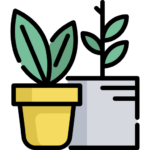 Repotting
Every two years, In spring season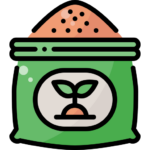 Fertilizer
Weak liquid fertilizer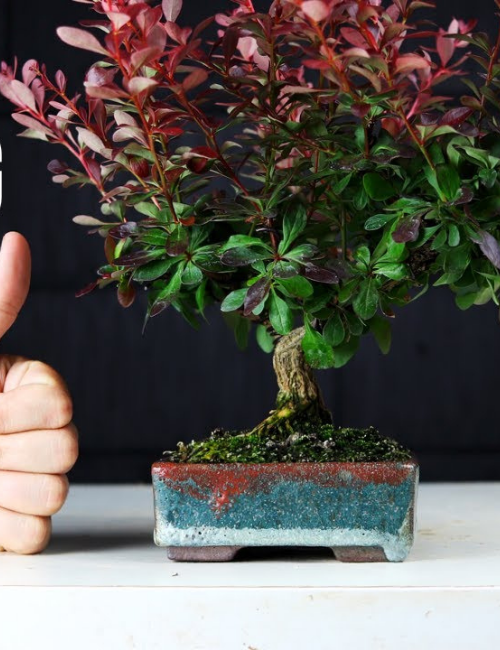 Barberry bonsai tree as a truly all-round indoor plant
The Barberry bonsai tree has it all. It changes colors and hues throughout the year for a dynamic appearance that changes with the seasons. This will makes sure that your indoor spaces never look monotonous again. Besides, the Barberry bonsai tree gets laden with numerous berries of a rich red color right after the flowering season, giving it a multi-level visual appeal. Since the plant is also easy to maintain, it makes an ideal houseplant.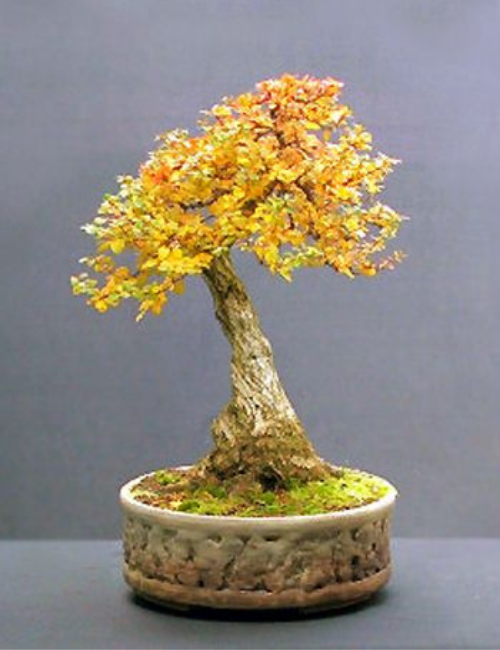 Bring the rich colors of Barberry bonsai tree indoors
Barberries have a shallow root system, which means they can grow in a pot without difficulty. The Barberry bonsai tree is also easy to shape. And although your Barberry bonsai tree comes pre-potted and pre-sculpted so you just have to bring it indoors, keeping after it will not only be easy but also an enjoyable experience.
The beautiful hues displayed by your Barberry bonsai tree are comparable to no other. These colors will vary from season to season, and make a lovely setting no matter where you decide to place the plant. The plant will even bear rounded berries, which are a delight to look at. Overall, owning the Barberry bonsai tree will be fun as its delightful and dynamic looks will offer a sense of comfort and company.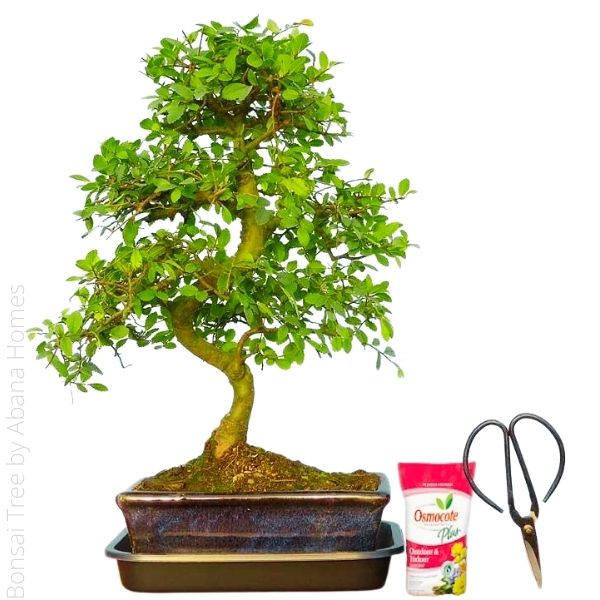 Care instructions for your Barberry bonsai tree
With the simple and easy-to-follow care guidelines for the Barberry bonsai tree, your home can boast of this rare and exotic-looking indoor plant without much hassle at all.
Location: It is suggested to keep the barberry bonsai tree exposed to maximum sunlight. Doing so will help the leaves turn their color in the typical and attractive manner of barberry trees.
Watering: Lucky for homeowners, the Barberry bonsai tree doesn't require extensive watering. Allow the pot to dry slightly in between watering sessions.
Pruning: Pruning should be performed after the flowering season. The Barberry bonsai tree will grow back readily, meaning that pruning it isn't a difficult task. Make sure to retain some of the older shoots and wood for the next season of flowering.
Repotting: Repot the plant every one to two years. An alkaline soil mix should be used for repotting.
What do our customers have to say?
Bonsai Plants or any plant for that matter, BPO team does great work in design, health of the plants and post-sale service. I've been enjoying the association for my last 12 bonsai plants. 🙂

Impeccable packaging and delivery. I was surprised for the first time, and fall in love with their mastery in packing the plant and delivering it safe to my home. Interesting. Thank you.

True Gardening assistance. I got healthy plant and help whenever I needed through the dedicated WhatsApp channel. Not only the bonsai but also for the normal plants that you buy.

Frequently Asked Questions by customers
Is the plant difficult to care for?
Not at all. Even though the Barberry bonsai tree has a tremendously gorgeous appearance, it is one of the easiest to care for and maintain as a bonsai plant indoors. In fact, this plant is one of the few bonsais you can afford to forget watering or fertilizing, yet continue enjoying its rich colors and gorgeous structure.
Does this Barberry bonsai tree need fertilization?
Fertilization is not usually required to ensure the healthy growth of your Barberry bonsai tree. However, if the soil is really nutrient-deprived, you can use a weak-acting liquid fertilizer twice a month during the growing season.
What color are the flowers and berries?
Yes. Even though it is not specifically bought as a flowering houseplant but instead for its foliage and natural aesthetic, your Dwarf Umbrella bonsai tree can occasionally bear flowers during the spring season.
Are the berries on this plant fit for consumption?
Yes, the berries from your Barberry bonsai tree will have a tart and slightly sweet flavor. You can consume these berries from your very own houseplant either raw or with jam. They are even used as a herbal ingredient in dishes of rice and in salads.
When should I prune this Barberry bonsai tree?
It is recommended to prune the Barberry bonsai tree right after the flowering season. By doing so, you can ensure that the plant will bear flowers the following year as well, as flowers bud on shoots that are at least about a year old.
Can I keep this Barberry bonsai tree indoors?
Yes, this Barberry bonsai tree is an indoor plant. Since it requires minimal care and attention, it thrives indoors and is a popular option for creating rich aesthetics of various home decor styles such as Gothic and Oriental. In fact, the Barberry bonsai tree will do wonders to beautify the indoors of any home or office space.
Chinese Elm Bonsai Tree 12 Yrs - Bonsai Plants Online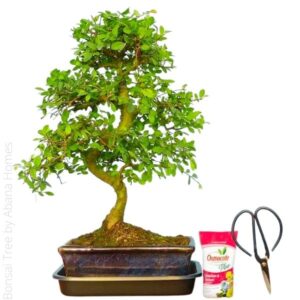 Enliven vacant spaces outdoors with this beautiful and classic tree in miniature form. Graceful tree in a ceramic pot. Robust built, strong and sturdy. Reaching 35 cm in height. Ideal for your porch, verandah or garden.
Product Brand: Abana Homes
Product Currency: INR
Product Price: 1299
Price Valid Until: 2022-03-31
Product In-Stock: InStock
Additional information
| | |
| --- | --- |
| Brand | Abana Homes |
| Variety | Chinese Elm |
| Location | Outdoor Plants |
| Plant Age | 10 Years |
| Plant Size | 35 cm |
| Occasion | Anniversary, Exotic, Grand, Office, Parents |
| Pot Material | Ceramic |