Bougainvillea Bonsai Tree
₹3,599
Surprise everyone with one of the most sought-after and gorgeous flowering plants grown as a healthy bonsai tree.
Flowers every year from summer to autumn.

Has leaves that grow in beautiful and alternating patterns.

Has a beige-grey bark that turns gnarly with age for symbolizing wisdom.

Fast-growing and tolerant plant for achieving natural aesthetics easily.
Description
The plant is a flowering bougainvillea grown in a bonsai form so that you can also keep the plant indoors if you want, as long as its requirements are met. The Bougainvillea bonsai tree will flower beautifully every year, from summer up until autumn season. It has a lovely tree structure adorned with leaves that look nearly perfectly aligned. The plant has a tasteful appearance overall, and will boost the aesthetics of whichever space it is placed in. As a tough and resilient bonsai tree, it is a suitable plant for beginners who are looking to buy a flowering bonsai tree for their home or office spaces.
Know your Bougainvillea bonsai tree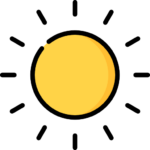 Sunlight
Full bright sunlight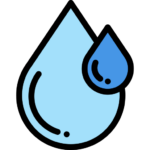 Watering
Water every time the soil runs dry, Avoid overwatering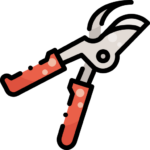 Pruning
After every flowering season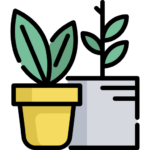 Repotting
Every 2 to 4 years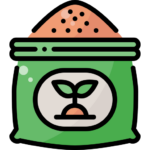 Fertilizer
Solid organic fertilizer / Liquid fertilizer, During the growing season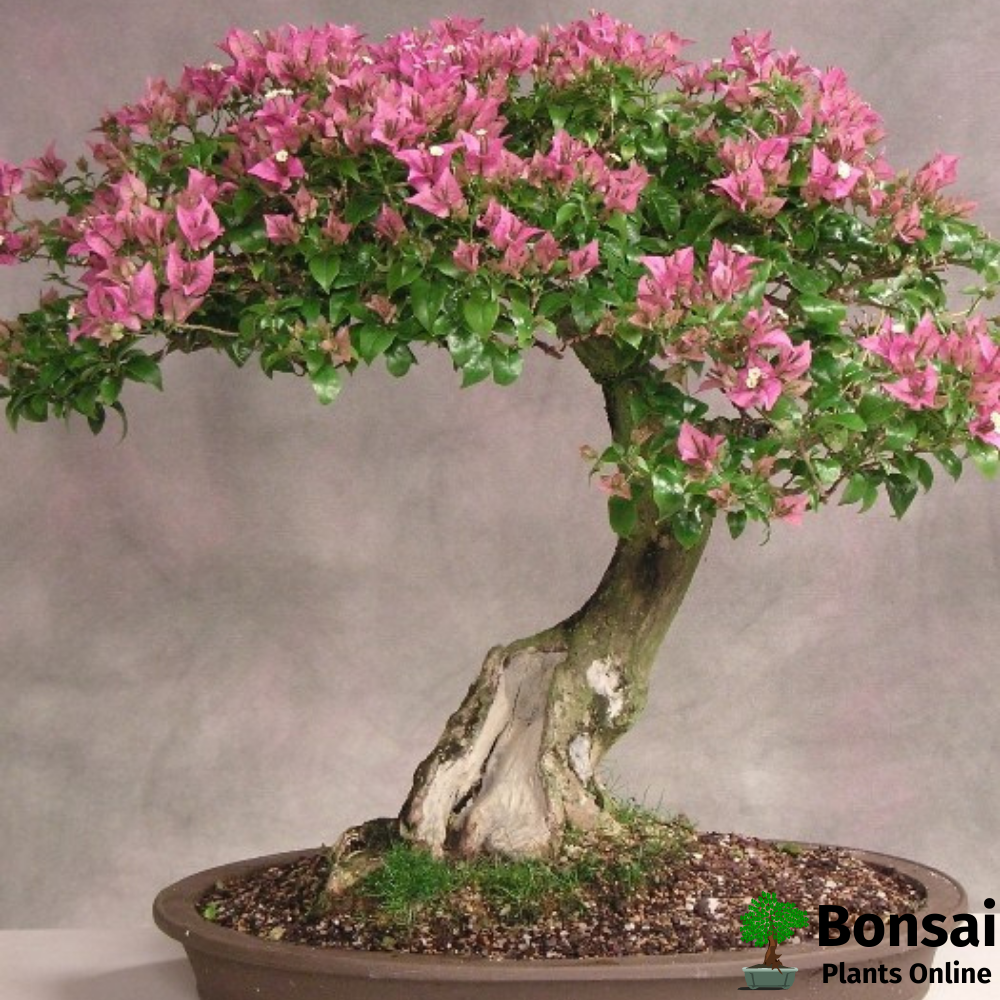 Bougainvillea bonsai tree as an extravagant houseplant
The Bougainvillea bonsai tree is one of the most popular flowering houseplants throughout the world. But there is more to this gorgeous plant than just its gorgeous flowers. In fact, the leaves of the Bougainvillea bonsai tree display a beautiful appearance as they are arranged in alternating patterns as they surround the gnarly-looking bark. This texture of the bark gives the plant a symbol of strength. Therefore, the Bougainvillea bonsai tree not only offers beautiful aesthetics but also an inspiring sense of wisdom in strength in your home.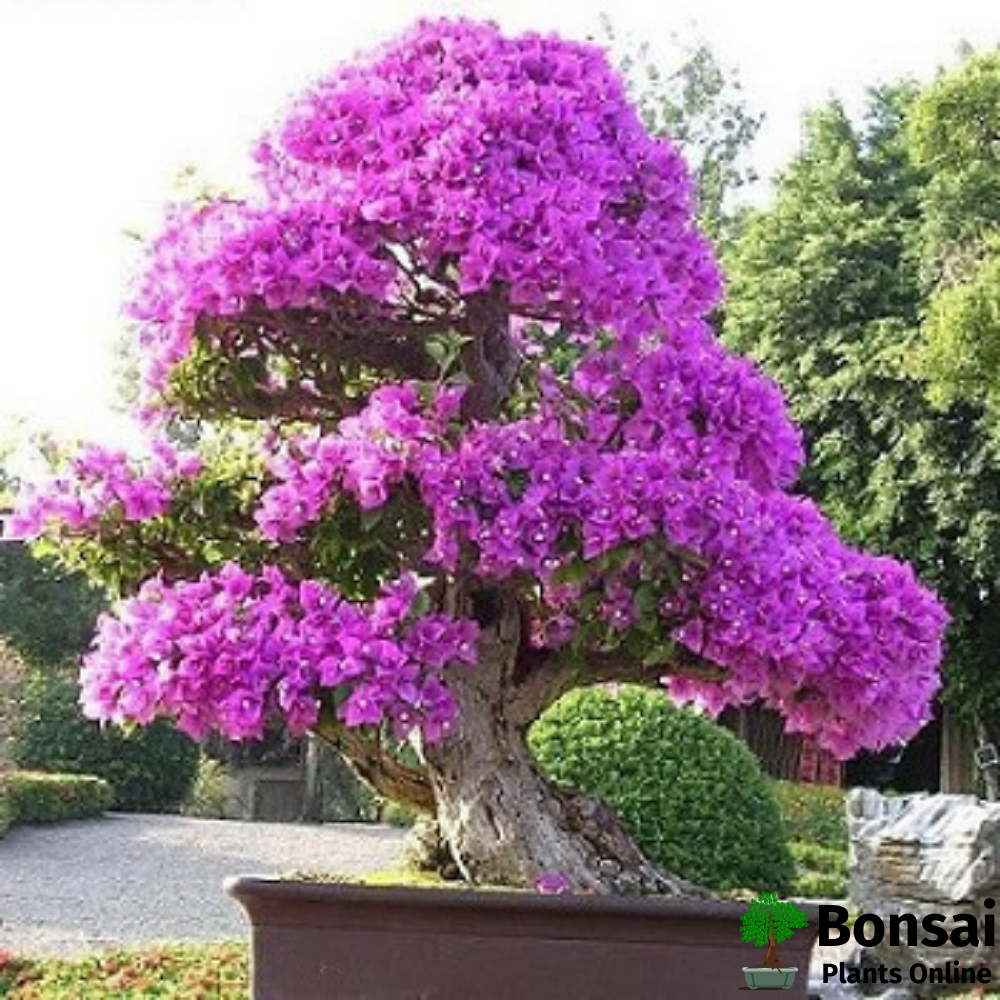 Create beautiful aesthetics that are easy-to-maintain
The Bougainvillea bonsai tree is truly a multipurpose aesthetic plant. Not only does it blossom in an extravagant and beautiful manner, it will also stay in your house or gardens as an awe-inspiring sense of wisdom to draw from. Luckily, the Bougainvillea bonsai tree grows fast and will achieve its full form easily. The plant is easy to care for and maintain, so even if you lack much experience with gardening you can enjoy its beautiful and elegant aesthetics with ease.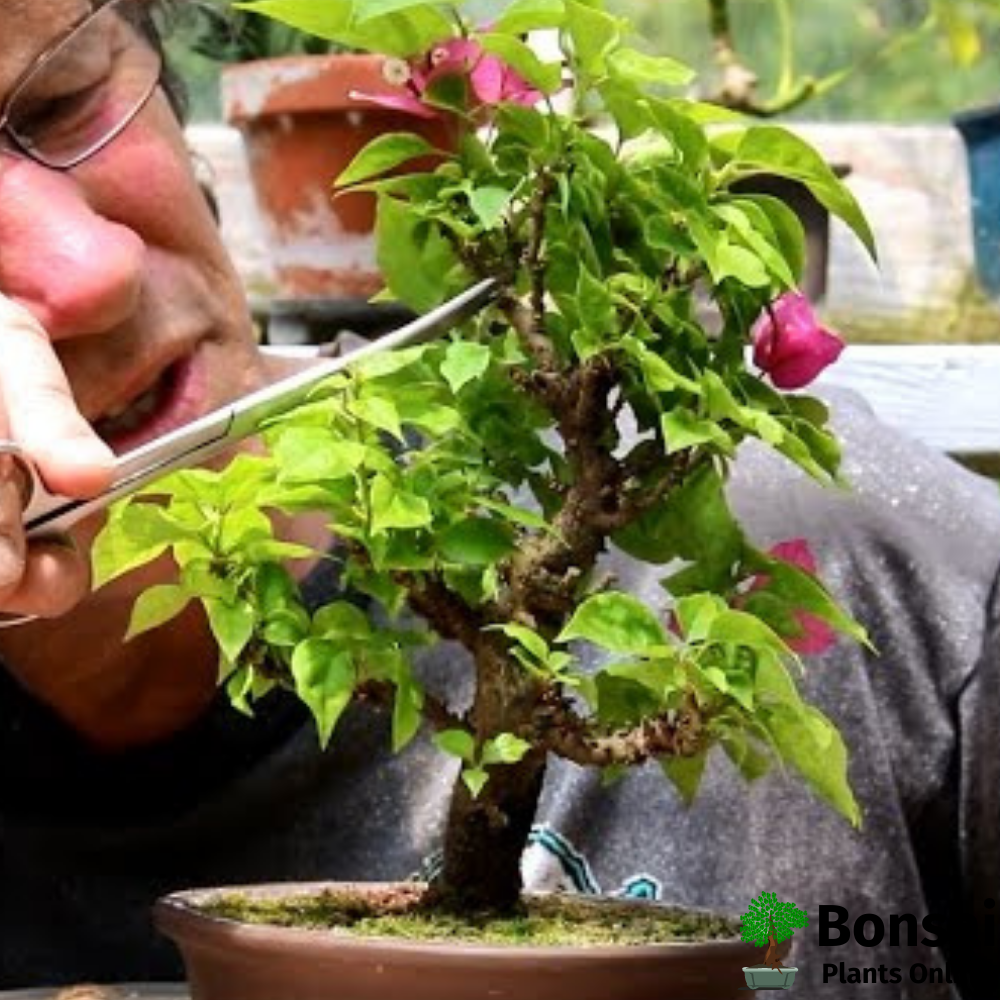 Care instructions for your Bougainvillea bonsai tree
Bougainvilleas are not only resilient but also fast-growing plants. This means that as long as basic plant needs are met your Bougainvillea bonsai tree will thrive in the lushest and most colorful manner.
Location: Since it needs full and bright sunlight, you can keep the plant either indoors right next to a south-facing window, or bring it outdoors regularly. In case of frosty winters, the Bougainvillea bonsai tree should be brought indoors.
Watering: Let the soil run slightly dry in between regular watering sessions to ensure the best health of the roots.
Pruning: Pruning should be performed after every flowering season, when you need to cut the shoots back to each of their first two leaves.
Repotting: Repotting into a bigger pot is required after every 2 to 4 years, depending on the size of the Bougainvillea bonsai tree.
Fertilizer: Either feed the soil with a solid organic fertilizer once a month or with a liquid fertilizer once a week to ensure healthy growth and beautiful blossoms on your Bougainvillea bonsai tree.
What do our customers have to say?
Bonsai Plants or any plant for that matter, BPO team does great work in design, health of the plants and post-sale service. I've been enjoying the association for my last 12 bonsai plants. 🙂

Impeccable packaging and delivery. I was surprised for the first time, and fall in love with their mastery in packing the plant and delivering it safe to my home. Interesting. Thank you.

True Gardening assistance. I got healthy plant and help whenever I needed through the dedicated WhatsApp channel. Not only the bonsai but also for the normal plants that you buy.

Frequently Asked Questions by customers
How easy it is to care for the Bougainvillea bonsai tree?
Contrary to what it might appear, maintaining the Bougainvillea bonsai tree in good health is pretty easy as it is a tough and fast-growing plant. All necessary care points will be supplied along with the care package so that the plant will continue to beautify your home and your life for years to come.
How much sunlight does the Bougainvillea bonsai tree need?
The Bougainvillea bonsai tree needs an ample amount of sunlight. If placed indoors, it is suggested to keep the right next to a south-facing window where it can enjoy maximum direct sunlight.
Where should I keep it?
Although the Bougainvillea bonsai tree grows best outdoors, you can also keep it near a window where it enjoys full bright sunlight. In fact, sunlight is one of the most important care points for this gorgeous plant.
When does the Bougainvillea bonsai tree flower?
The Bougainvillea bonsai tree flowers every year from summer to autumn. These gorgeous flowers will be a delight to witness and will feel like a rewarding experience to any homeowner.
Chinese Elm Bonsai Tree 12 Yrs - Bonsai Plants Online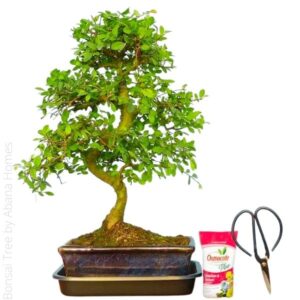 Enliven vacant spaces outdoors with this beautiful and classic tree in miniature form. Graceful tree in a ceramic pot. Robust built, strong and sturdy. Reaching 35 cm in height. Ideal for your porch, verandah or garden.
Product Brand: Abana Homes
Product Currency: INR
Product Price: 1299
Price Valid Until: 2022-03-31
Product In-Stock: InStock
Additional information
| | |
| --- | --- |
| Brand | Abana Homes |
| Variety | Bougainvillea |
| Location | Indoor |
| Plant Age | 10 Years |
| Plant Size | 35 cm |
| Occasion | Anniversary, Exotic, Grand, Office, Parents |
| Pot Material | Ceramic |