Buddhist Pine Bonsai Tree (Podocarpus)
Bring the famous "Buddha tree" anywhere into your home for a complete home and life transformation.
Produces eye-striking fruits of a blue-green color.

Has dark-green, narrow leaves which resemble Yew leaves.

Has a furrowed or scaly-looking bark that imparts a touch of wisdom.

Marks a beautiful and spiritual entry to your home.
Out of stock
Notify me when the item is back in stock.
Description
The Buddhist Pine bonsai tree is also known as the Fern Pine bonsai tree due to its shrubby appearance. It is an evergreen plant, meaning that it will be a constant symbol of beauty and peace inside your home throughout the year. The tree resembles the look of the Yew tree, making it a great and convenient way to bring the beautiful aesthetics of needle-like leaves indoors. The bark of the Buddhist Pine tree has a scaly appearance, whose ancient looks complement the name and purpose of the plant. As a slow-growing indoor bonsai tree, the plant will not only be easy to take care of but will continue to beautify your interiors with its enlightening presence.
Know your Buddhist Pine bonsai tree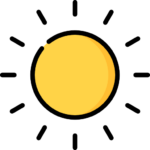 Sunlight
Well-lit indoors, Semi-shaded outdoors in Summer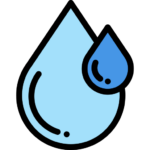 Watering
Keep the soil moist at all times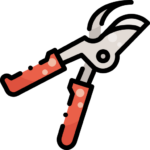 Pruning
Prune the shoots when they grow to 4 inches long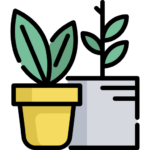 Repotting
Every two years, In Spring season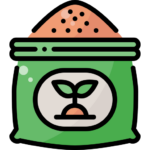 Fertilizer
Organic fertilizer or liquid fertilizer, During the growing season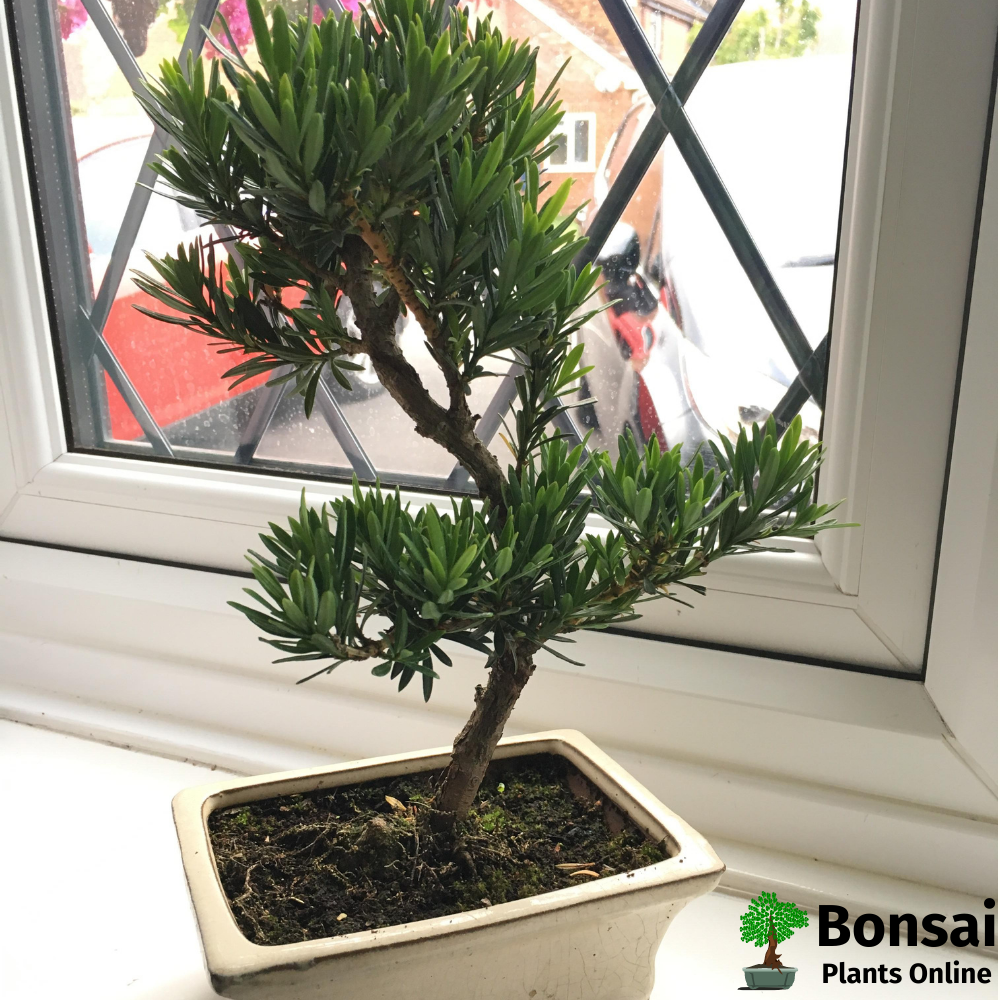 Buddhist Pine bonsai tree as an indoor plant
The Buddhist Pine tree has both aesthetic and spiritual significance. In fact, the bonsai form of this tree is often used in parks, plazas and hotel spaces for enhancing the entire look and feel.
Being a tropical plant, it offers a rich appearance combining the aesthetics of dark-green coniferous leaves with its wise-looking bark. Moreover, the Buddhist Pine bonsai tree grows slowly making maintenance such as pruning and repotting more sparsely required.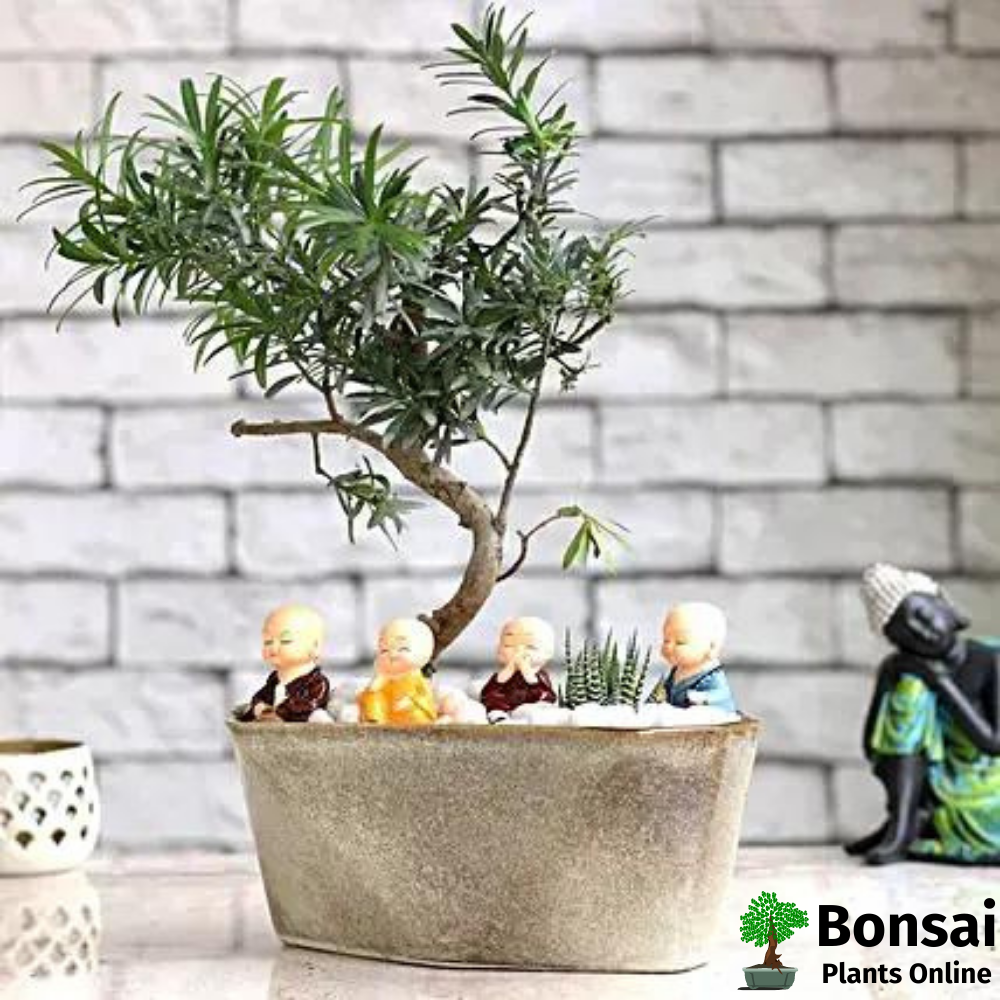 Beautiful houseplant and a source of positivity
While the actual tree grows to a gigantic height, its bonsai form is slow-growing and responds well to pruning,. This makes it easy to maintain the size of the Buddhist Pine or Fern Pine bonsai tree and enjoy its benefits indoors.
The plant has long needle-shaped leaves with an eye-catching and richly infused color. After the flowering season, the plant bears blue-colored berries that will add an additional touch of beauty to your interiors. Besides a home decor plant, the Buddhist Pine bonsai tree will also enrich the space and living experience with its positive and spiritual vibes due to its spiritual connotation.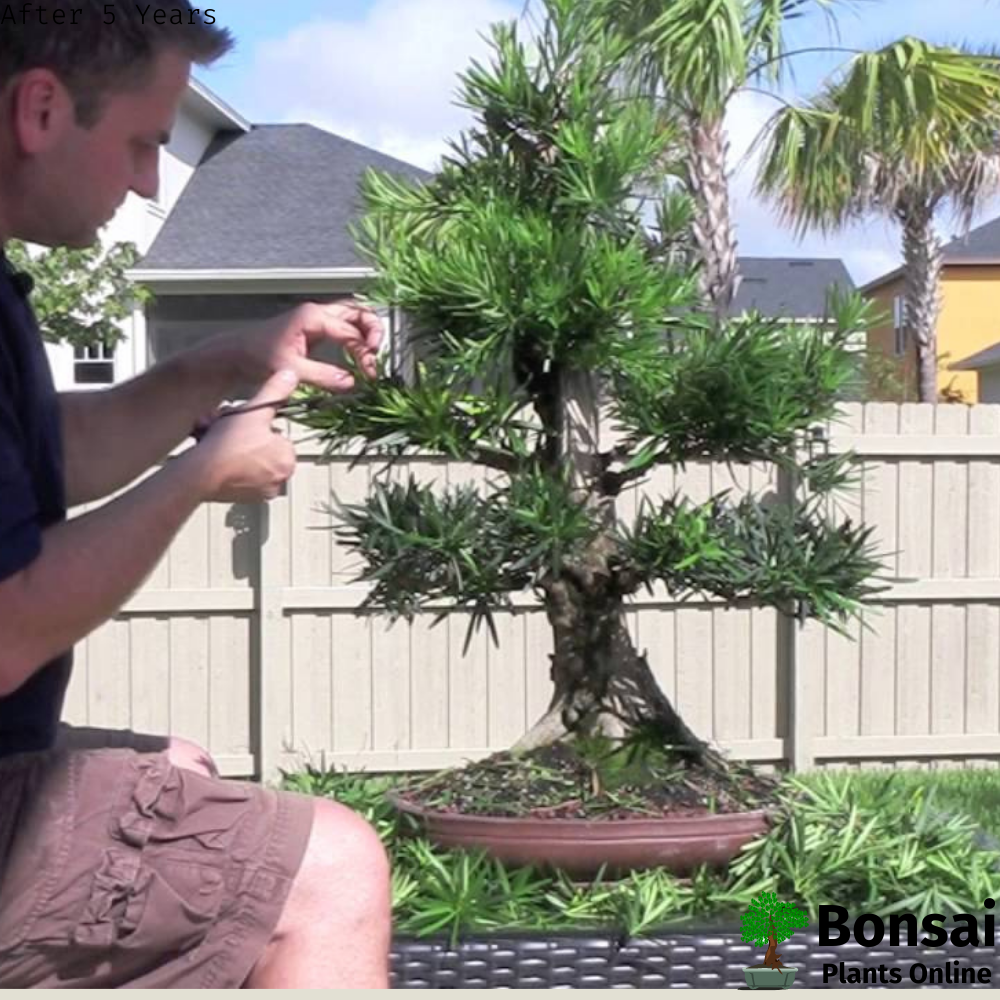 Care instructions for your Buddhist Pine bonsai tree
Being a tropical plant, the plant is hard to kill. However, .it does a good amount of sunlight and watering for healthy growth.
Location:

It is an indoor plant and should be placed where it gets maximum sunlight throughout the day. In the summers, you can also place the plant outdoors for short durations to promote the healthy growth of your Buddhist Pine bonsai tree.

Watering:

The plant needs watering daily, so the soil does not run dry at any time. Being a tropical bonsai tree, it also benefits greatly from misting.

Pruning:

The Buddhist Pine or Fern Pine bonsai tree can be safely pruned any time of the year. New shoots should be pruned when they grow to 4 inches in length.

Repotting:

Repot the plant after every 3 to 4 years. Use a slightly acidic or neutral soil mix for repotting the Fern Pine bonsai tree.

Fertilizer: Use a solid organic fertilizer once a month or a liquid bonsai fertilizer two to three times a month to ensure the healthy growth of your Fern Pine bonsai tree.
What do our customers have to say?
Bonsai Plants or any plant for that matter, BPO team does great work in design, health of the plants and post-sale service. I've been enjoying the association for my last 12 bonsai plants. 🙂

Impeccable packaging and delivery. I was surprised for the first time, and fall in love with their mastery in packing the plant and delivering it safe to my home. Interesting. Thank you.

True Gardening assistance. I got healthy plant and help whenever I needed through the dedicated WhatsApp channel. Not only the bonsai but also for the normal plants that you buy.

Frequently Asked Questions by customers
u003cstrongu003eWill the Carmona bonsai tree have a lot of leaves?u003c/strongu003e
The plant has evergreen leaves that exhibit ideal growth for a houseplant. In fact, the Fukien Tea bonsai treeu2019s leaves donu2019t even require to be pruned for maintaining their small and shapely size.
u003cstrongu003eWill my Carmona bonsai tree require extensive care?u003c/strongu003e
While difficult to sculpt into bonsai form, this Carmona or Fukien Tea bonsai tree is easy to care for after purchasing. Having been grown and sculpted by experts, you only need to follow a simple set of care guidelines for watering and other needs in order to maintain its good health.
u003cstrongu003eWhere can I keep this Carmona bonsai tree?u003c/strongu003e
The plant is best for growing indoors, and its beautiful and exotic look will go great in the living room. You can also keep it in the bedroom for enjoying its delicate and charming beauty more closely.
u003cstrongu003eWhat kind of fertilizer is good for this Fukien Tea bonsai tree?u003c/strongu003e
No special or liquid fertilizers are needed by the Fukien Tea bonsai tree. Solid organic fertilizers will more than suffice, and prove helpful if you are buying the plant in a less warm region.
Additional information
| | |
| --- | --- |
| Brand | Abana Homes |
| Variety | Buddhist Pine |
| Location | Indoor |
| Plant Age | 10 Years |
| Plant Size | 35 cm |
| Occasion | Anniversary, Exotic, Grand, Office, Parents |
| Pot Material | Ceramic |
Reviews (18)
Only logged in customers who have purchased this product may leave a review.
Related products
Out of stock
Rated 4.47 out of 5
(18)
₹

1,500
Ships Tomorrow