Carmona Flowering Bonsai
₹3,599
Spark up the glamour of your interiors with this lovely-shaped Carmona or Fukien Tea tree grown as a rare bonsai.
White snowy blossoms that last throughout the year.

Lustrous leaves and textured bark for an exotic look.

Comes in a beautiful plant with simplified care instructions.

Ideal for all indoor aesthetics.
Description
Originally from South China, Carmona is undoubtedly regarded as an amazing and auspicious bonsai tree for your indoors. The plant is also popularly known as a Fukien Tea bonsai tree. The Fukien Tea or Carmona bonsai tree blooms with enchanting white blossoms that last throughout the year. It also has dark green leaves with a shiny luster that appear decorated with white freckles. It is an ideal houseplant and works best to add beauty and charm to your living room or bedroom alike.
Know your Carmona bonsai tree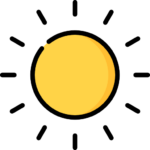 Sunlight
Well-lit indoors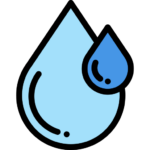 Watering
Keep the soil moist at all times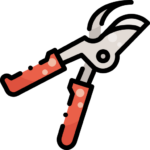 Pruning
Light pruning, Once or twice a year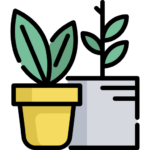 Repotting
Every two years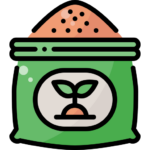 Fertilizer
Organic fertilizer, March to September
Marvel at your very own Carmona bonsai tree
Fukien Tea's beautiful looks and thick appearance feels like an instant-rewarding experience to the owner. It is considered an excellent houseplant when bought as a bonsai tree, as even guests won't help but marvel at its unique and exotic looks.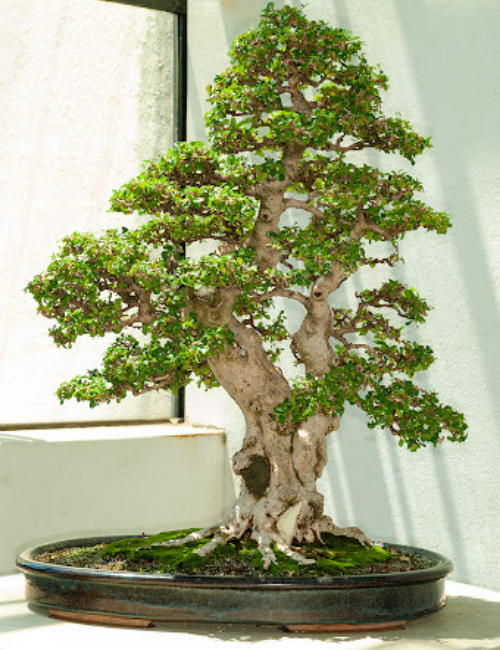 An indoor plant with all-round beautiful looks
The plant is a true and live specimen of how beautiful nature can be. And with the Carmona bonsai tree, you can enjoy it within the comfort and the walls of your home. In fact, everything about the plant has something to leave you spellbound.
Flowers: Not only are the snowy-looking flowers beautiful they are evergreen. Your Fukien Tea bonsai tree blossoms throughout the year, and bears small rosebud-shaped berries occasionally.
Leaves: The small dark-green leaves look captivating to the eye with a shiny luster and white freckles on them.
Bark: Your Fukien Tea bonsai tree has a bark textured just like old mahogany, for an exotic touch indoors.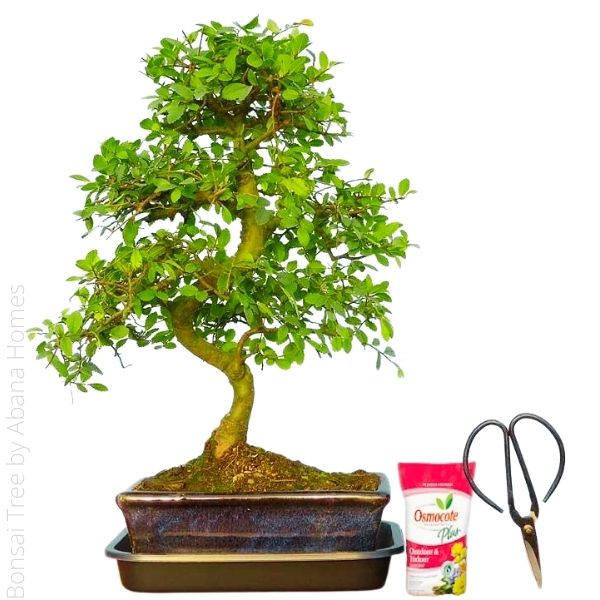 Care instructions for your Carmona bonsai tree
The plant takes skill and expert hands to sculpt, but your pre-sculpted Carmona bonsai tree will thrive indoors with an easy and simple set of care guidelines.
Location: The beautiful Fukien Tea bonsai tree will be perfect for beautifying your indoors, as they perform well with a little warmth in winters. Ideally, keep it next to a window and away from a heat source in winter.
Watering: Keep the plant watered at all times, but let the soil dry slightly in between watering.
Pruning: Prune to the first two pairs of leaves when a shoot grows up to a couple of inches. Spring and summer are ideal times for pruning.
Repotting: The plant requires repotting after every two years. You should repot your Carmona bonsai tree during the spring season.
What do our customers have to say?
Bonsai Plants or any plant for that matter, BPO team does great work in design, health of the plants and post-sale service. I've been enjoying the association for my last 12 bonsai plants. 🙂

Impeccable packaging and delivery. I was surprised for the first time, and fall in love with their mastery in packing the plant and delivering it safe to my home. Interesting. Thank you.

True Gardening assistance. I got healthy plant and help whenever I needed through the dedicated WhatsApp channel. Not only the bonsai but also for the normal plants that you buy.

Frequently Asked Questions by customers
Will the Carmona bonsai tree have a lot of leaves?
The plant has evergreen leaves that exhibit ideal growth for a houseplant. In fact, the Fukien Tea bonsai tree's leaves don't even require to be pruned for maintaining their small and shapely size.
Will my Carmona bonsai tree require extensive care?
While difficult to sculpt into bonsai form, this Carmona or Fukien Tea bonsai tree is easy to care for after purchasing. Having been grown and sculpted by experts, you only need to follow a simple set of care guidelines for watering and other needs in order to maintain its good health.
Where can I keep this Carmona bonsai tree?
The plant is best for growing indoors, and its beautiful and exotic look will go great in the living room. You can also keep it in the bedroom for enjoying its delicate and charming beauty more closely.
What kind of fertilizer is good for this Fukien Tea bonsai tree?
No special or liquid fertilizers are needed by the Fukien Tea bonsai tree. Solid organic fertilizers will more than suffice, and prove helpful if you are buying the plant in a less warm region.
Chinese Elm Bonsai Tree 12 Yrs - Bonsai Plants Online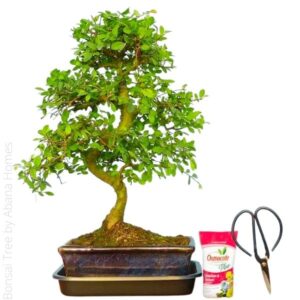 Enliven vacant spaces outdoors with this beautiful and classic tree in miniature form. Graceful tree in a ceramic pot. Robust built, strong and sturdy. Reaching 35 cm in height. Ideal for your porch, verandah or garden.
Product Brand: Abana Homes
Product Currency: INR
Product Price: 1299
Price Valid Until: 2022-03-31
Product In-Stock: InStock
Additional information
| | |
| --- | --- |
| Brand | Abana Homes |
| Variety | Chinese Elm |
| Location | Outdoor Plants |
| Plant Age | 10 Years |
| Plant Size | 35 cm |
| Occasion | Anniversary, Exotic, Grand, Office, Parents |
| Pot Material | Ceramic |