Cedar Bonsai Tree
Sink into deeply spiritual and aesthetic vibes with this eye-striking and eye-pleasing Cedar bonsai tree for your outdoor spaces.
Live and healthy Cedar tree in a rare miniature form.

Has an elegant trunk with long needle-like leaves for a truly rare and coniferous look.

Carries a mesmerizing and mildly spicy aroma.

Bringer of positivity and spiritual vibes in homes and office spaces.
Out of stock
Notify me when the item is back in stock.
Description
The plant is a live and healthy Cedar tree, grown as a charming bonsai that is perfect for your gardens. Being a miniature coniferous tree, the plant has great visual appeal. The Cedar bonsai tree is a recommended bonsai tree for beginners who wish to beautify and liven up their garden, porch or balcony.
The Cedar bonsai tree carries a prominent spiritual significance, and this Cedar bonsai tree is an excellent way to uplift the energy of your surroundings and bring positivity to your home. Besides its green and dense foliage and artistically shaped trunk, this Cedar bonsai tree also possesses a mildly spicy aroma. As the aroma defuses all around your garden, the plant will mark its unique presence with more than just its eye-striking natural aesthetics.
The product comes trained and potted in a beautiful pot that you can bring outdoors without hassle. All necessary care instructions will be supplied along with the product package so the Cedar bonsai tree can last for years beautifying your gardens and other outdoor spaces.
Know your Cedar bonsai tree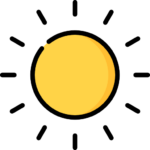 Sunlight
Partial to bright sunlight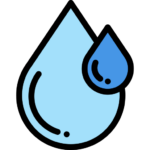 Watering
Every time the soil runs dry Avoid overwatering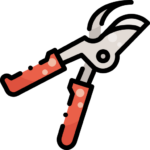 Pruning
Light pruning, During spring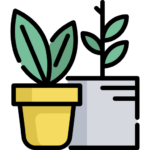 Repotting
Every 3 years, During spring or autumn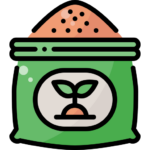 Fertilizer
Liquid fertilizer twice a month / Organic fertilizer once a month, During the growing season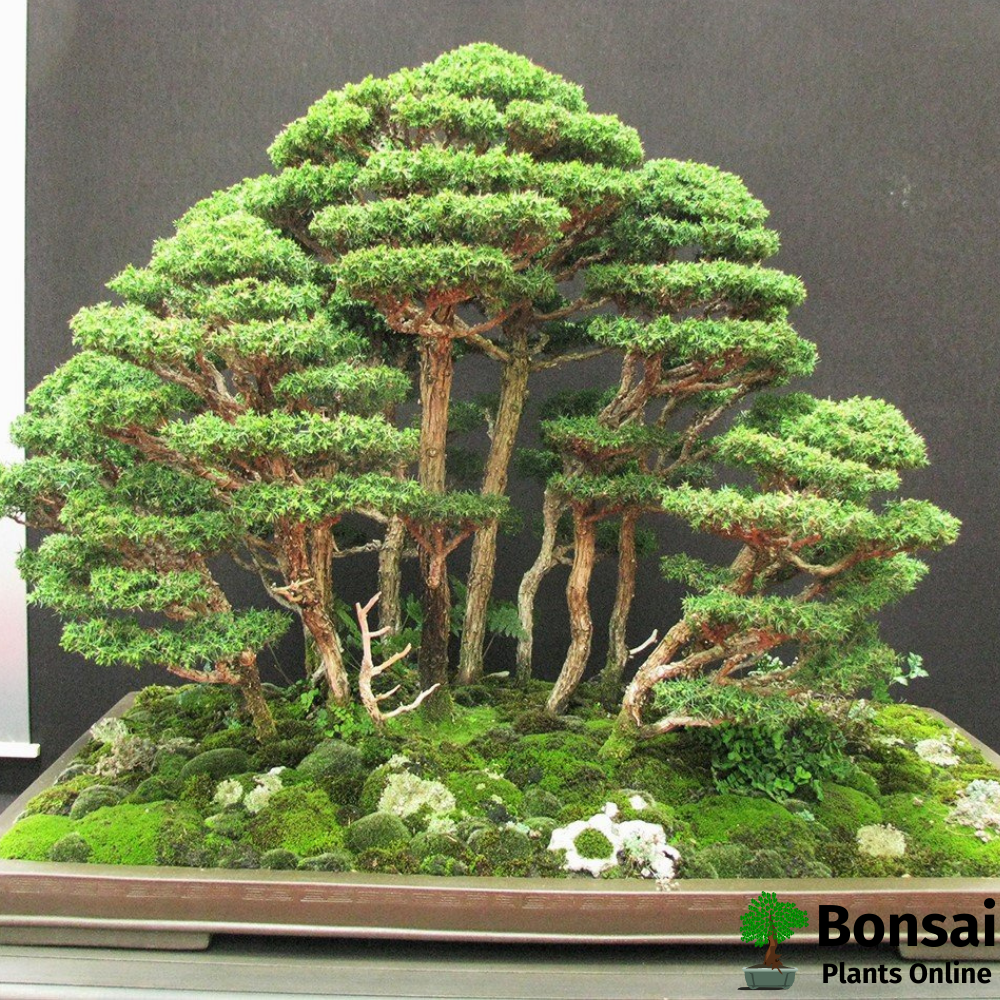 Beautiful Cedar bonsai tree as a ceremonial plant
Much more than just an amazing decorative plant for outdoors, the Cedar bonsai tree is eminently known for its spiritual and ceremonial contexts. As a symbol of endurance, strength and immortality, it is often used in the gardens and other outdoor spaces of wedding halls and even office spaces.
When bought as an outdoor houseplant, the Cedar bonsai tree is often associated with meditation and holy rituals. Besides, it is known to instantly bring vibes of positivity wherever the plant is placed. Due to these positive and enduring vibes, the Cedar bonsai tree also makes the perfect gift for loved ones going through a rough time.
Eye-catching natural aesthetics of the Cedar bonsai tree
Bringing this plant home could truly be the best decision you ever made. Its beautifully shaped grey trunk combines with the luscious and coniferous foliage to beautify your gardens, lawns or patios.
Aside from its eye-striking presence, the Cedar bonsai tree also carries an alluring and spicy scent. This scented fragrance is bound to fill you with a euphoric and reinvigorating spirit every time you pass through your gardens. Your Cedar bonsai tree can truly be a life-transforming houseplant thanks to the highly enjoyable experience it creates in your home. If you will feel a positive energy resonate throughout your home, you know it comes from your plant's high spiritual connotations.
Care instructions for your Cedar bonsai tree
The Ficus panda is a tolerant bonsai and adjusts perfectly with the Indian climatic conditions. However, you will be needing to follow some basic care instructions that will help the plant to stay healthy and happy.
Location: As it is an indoor plant, it'd be ideal for the plant to be kept indoors beside a window, shaded balconies, or verandas so that it enjoys the maximum amount of indirect sunlight.
Watering: Water the plant when the soil runs dry. Try to keep the soil moist all the time but do not overwater.
Pruning: The plant can be pruned regularly throughout the year. It will help the plant to encourage new growth while retaining its lovely size. 
Repotting: Repot the plant every 2-3 years during spring. Prune the roots properly before repotting and keep the plant in a shady area for 2-3 days after pruning.
What do our customers have to say?
Bonsai Plants or any plant for that matter, BPO team does great work in design, health of the plants and post-sale service. I've been enjoying the association for my last 12 bonsai plants. 🙂

Impeccable packaging and delivery. I was surprised for the first time, and fall in love with their mastery in packing the plant and delivering it safe to my home. Interesting. Thank you.

True Gardening assistance. I got healthy plant and help whenever I needed through the dedicated WhatsApp channel. Not only the bonsai but also for the normal plants that you buy.

Frequently Asked Questions by customers
Is the Cedar bonsai tree a fast grower?
No, your Cedar bonsai tree will grow at a slow rate. This makes it ideal to be bought by homeowners, as the Cedar bonsai tree requires less frequent pruning and repotting in order to thrive in its beautiful miniature form.
How tall can I grow this Cedar bonsai tree?
The ideal height of this Cedar bonsai tree is 10 to 12 inches. However, you can surely keep it even smaller if you want to. For that, you'll have to plant it in a smaller pot that restricts the growth of its roots.
How can I reduce the density of its leaves?
If you want to decrease the foliage density of your Cedar bonsai tree, then you should pinch the new leaves on a regular basis from time to time. Careful and gradual reduction in the amount of watering is another great way to reduce the density of its leaves.
Is this Cedar bonsai tree difficult to maintain?
The Cedar bonsai tree is not very difficult to maintain at all. Providing it with ample direct sunlight and a good amount of watering are the most important requirements for the healthy and long-lived growth of this Cedar bonsai tree. To ensure your convenience, all the necessary tips and tricks will be provided to you in the product package, so you can take care of your new houseplant like a bonsai pro.
Can this Cedar bonsai tree survive in the cold temperature?
Albeit resilient to all the seasons and varying temperatures, it is advisable to keep the Cedar bonsai tree away from drastic temperature drops and heavy frost to avoid damage to the roots and the plant. Therefore, you can bring the plant indoors in winter if you experience cold temperatures during the season. Just make sure to provide it with an artificial source of bright light and keep it away from heat sources like heaters.
Does it require any special care if I am bringing it indoors?
No, you can safely bring your Cedar bonsai tree indoors during special occasions, parties and even during cold and frosty winters. However, it is suggested to place the plant next to a south-facing window where it can enjoy maximum direct sunlight in its duration indoors.
Will my Cedar bonsai tree require any special fertilizer to grow?
One of the great about bringing a Cedar bonsai tree home is that they don't require any special or costly fertilizer at all. Even so, a liquid fertilizer (twice a month) or organic fertilization (once a month) can be used if you want to ensure the healthiest possible growth of the plant or if the soil is deprived of nutrients. Remember to water it sufficiently right after feeding the Cedar bonsai tree, to ensure the nutrients are absorbed by the roots properly.
Additional information
| | |
| --- | --- |
| Brand | Abana Homes |
| Variety | Cedar |
| Location | Outdoor Plants |
| Plant Age | 10 Years |
| Plant Size | 35 cm |
| Occasion | Anniversary, Exotic, Grand, Office, Parents |
| Pot Material | Ceramic |
Reviews (18)
Only logged in customers who have purchased this product may leave a review.
Related products
Out of stock
Rated 4.35 out of 5
(18)
₹

3,599
Ships Tomorrow