Square Ceramic Bonsai Pot
Amp up the beauty of your bonsai plants indoors with this square-shaped glazed ceramic pot that stands for a stunning home decor piece as well. 
Classic pot structure of an elegant square shape.

Suitable for your adorable indoor bonsai plants. 

Has a shiny and glossy texture with a long-lasting glaze.

Makes an ideal eye-catching gift for loved ones.
Description
The pot is a classic square-shaped ceramic bonsai pot with a lustrous glaze for a charming companion for your plant. While the shining texture offers rich aesthetics for your interiors, the pot keeps the plant well-supported and secure. 
It is 4 inches deep and comes with a drainage hole to ensure that your plant stays protected from the harmful consequences of overwatering. Moreover, it has a sturdy build that does not get affected by varying weather conditions, and thus you will not have to worry if the pot will crack in winter. Both its shimmering appearance and structure will last for a longer duration of time and will keep your beautiful plant to shine out in your for days to come.
Know your ceramic bonsai pot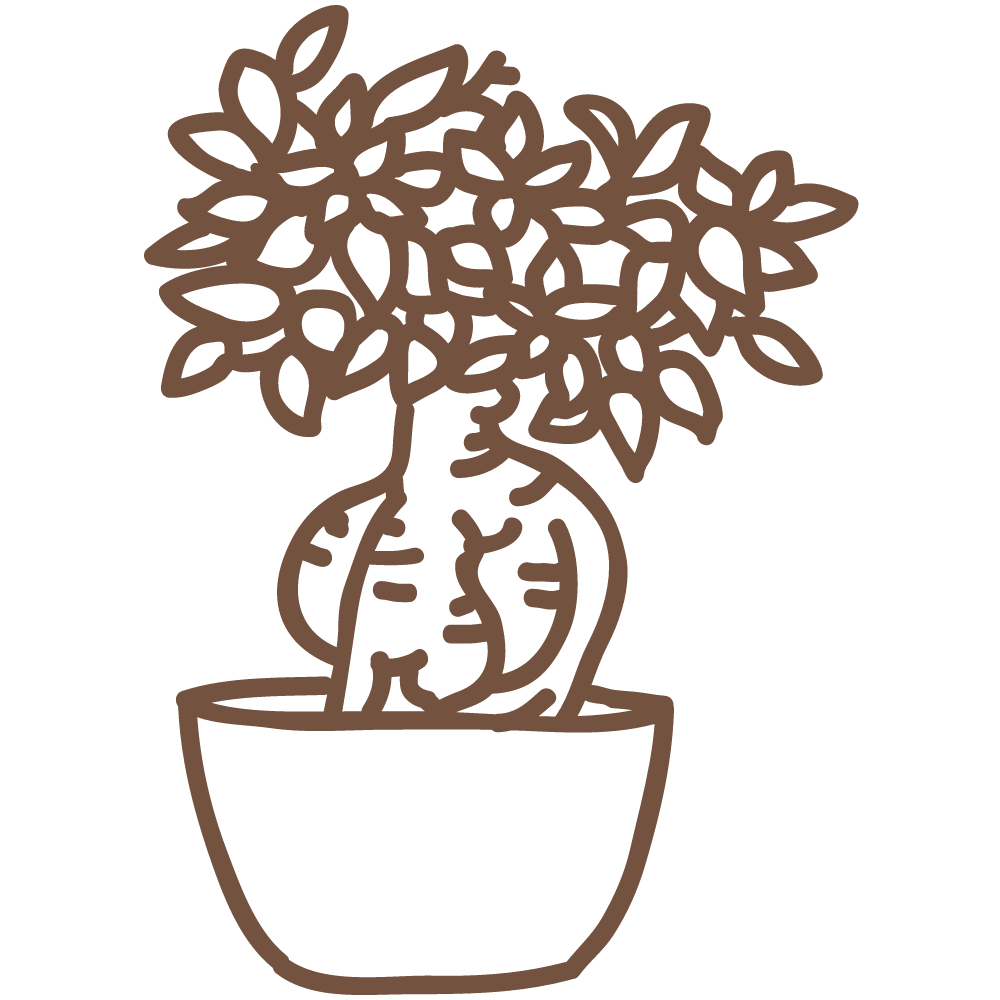 Unique textured design for eye-striking aesthetics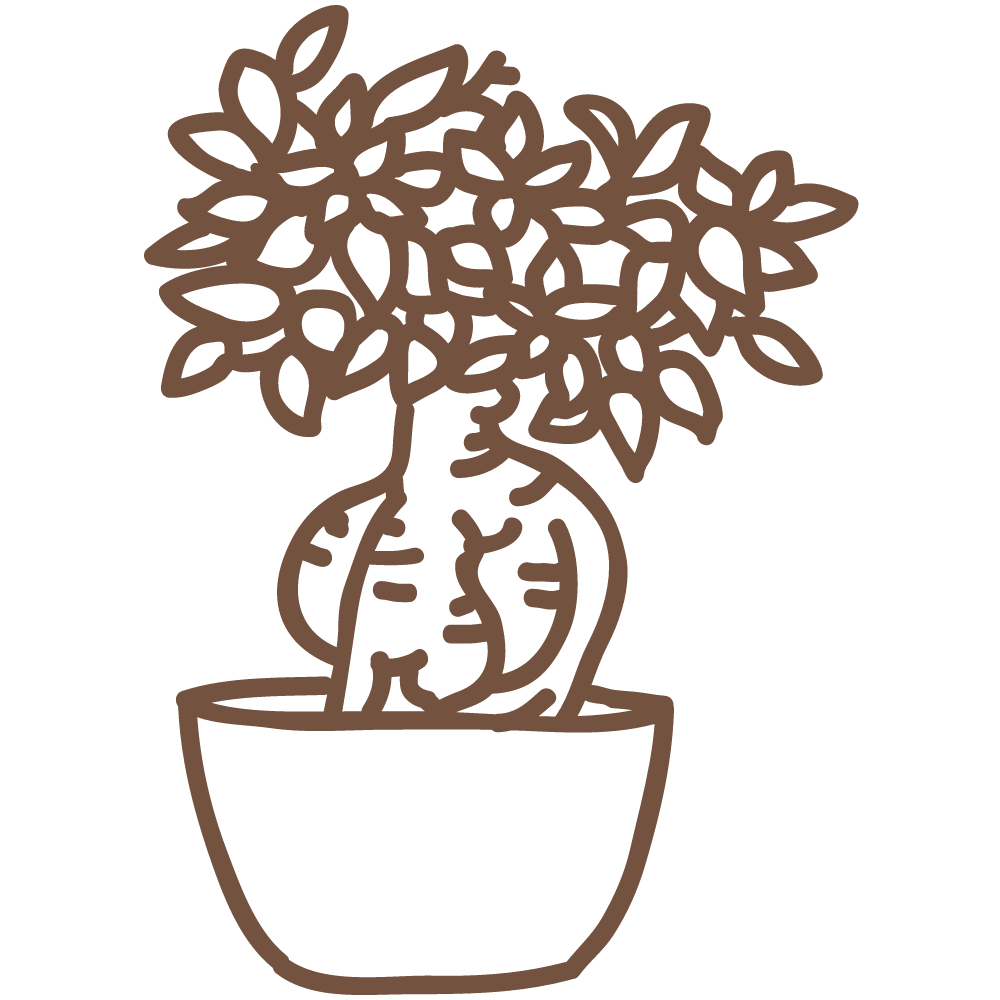 Drainage hole ensures best nourishment for plants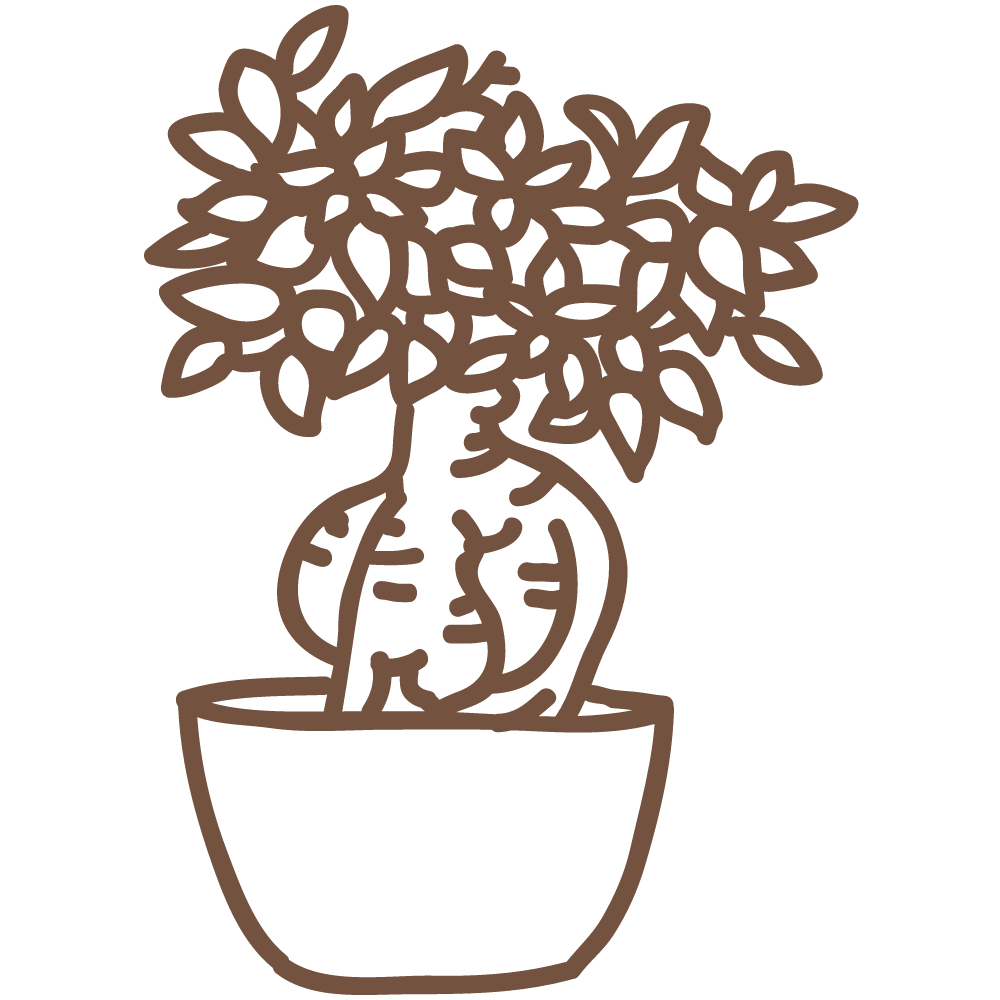 Suitable for both indoor and outdoor spaces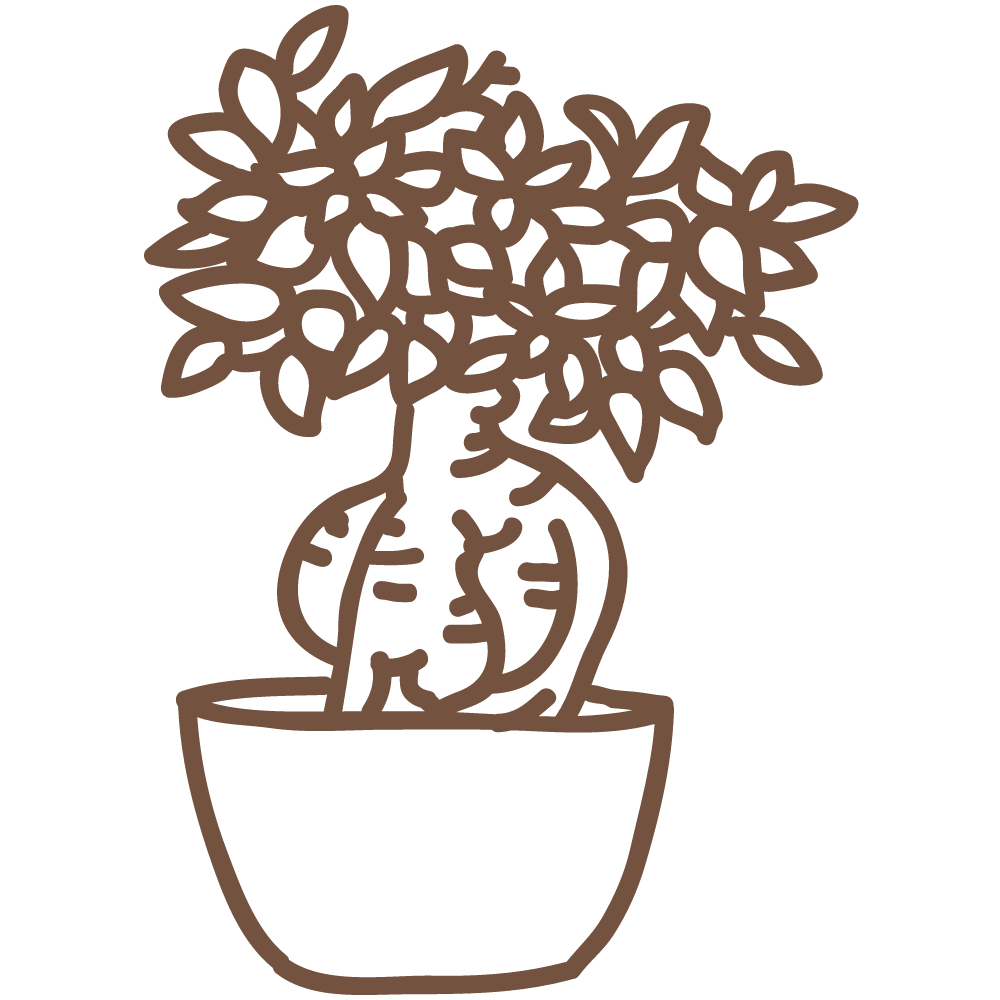 Ideal for wide range of bonsai trees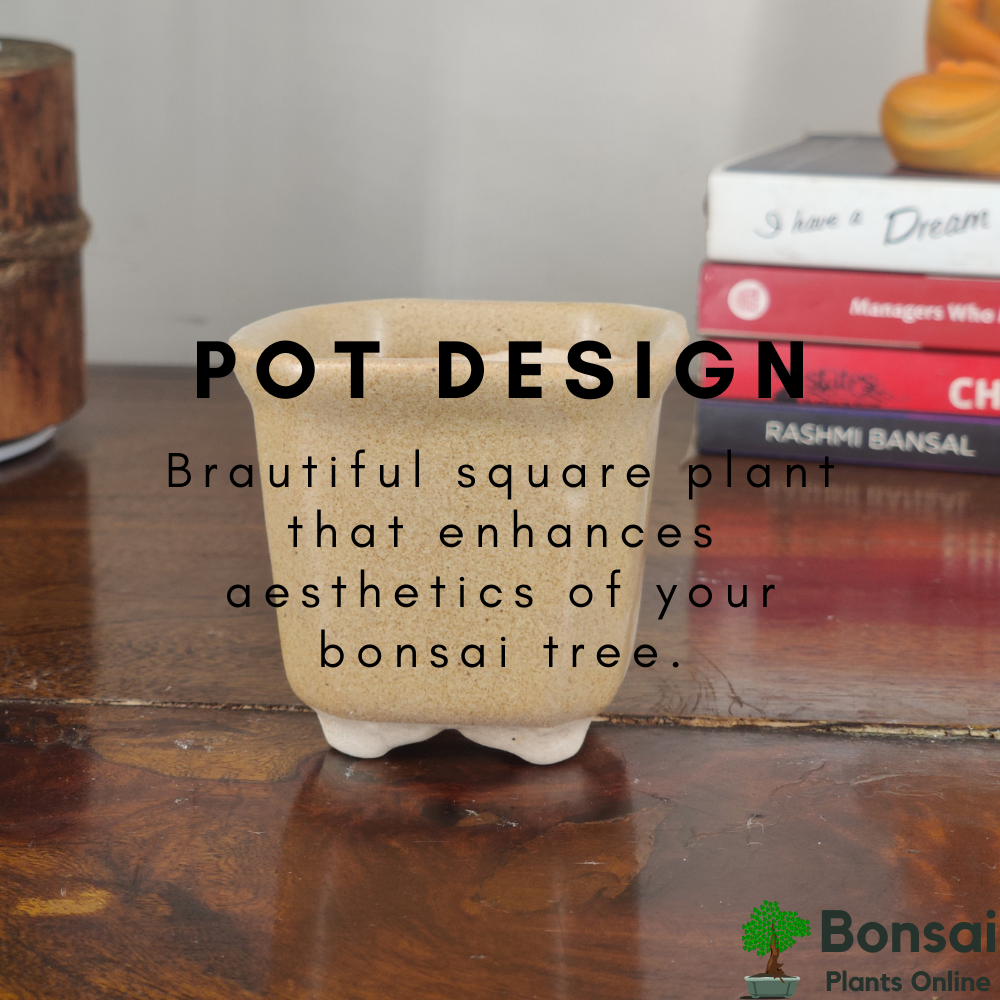 Pot design and aesthetics
Featuring an eye-striking glaze, the ceramic bonsai pot offers a highly aesthetic appearance that goes perfectly along with any interior setting. Thai 4 inch pot has an elegant square shape which gives it a classy yet unique look. 
Its compact and adorable structure makes it ideal for keeping it anywhere indoors where it will continue to radiate its beaming glaze. Meanwhile, you can also gift it to a dear one to uplift their mood and their interior's aesthetics.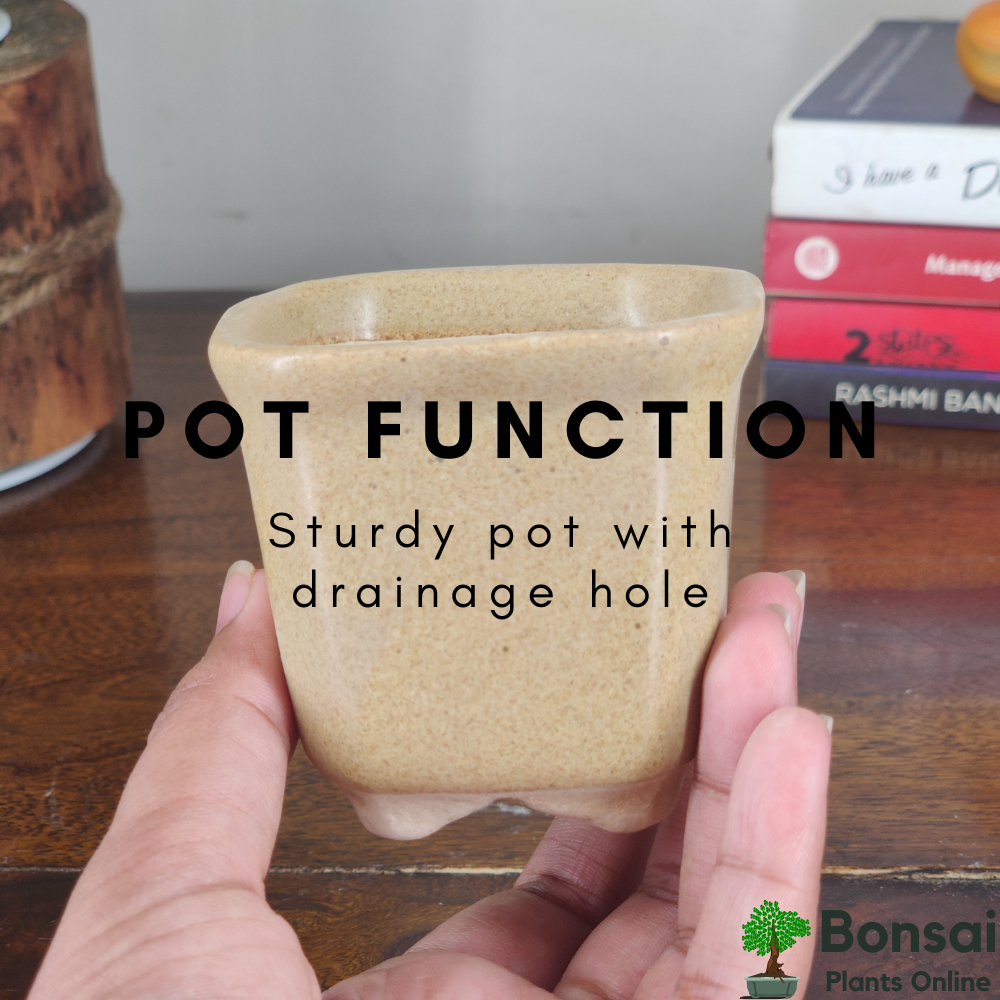 Pot functionalities
The pot prevents quick drying out of the soil and keeps it moist for the better growth of the plant. At the same time, the drainage hole present at the bottom helps release excess water during watering, protecting it from getting root rotted. 
It has a depth of 4 inches that is perfect for holding a variety of indoor bonsai plants. It keeps the plant root-bound while the thick and porous walls stabilize the temperature and enable easy movement of air and moisture, all suitable for the healthy growth of your plant.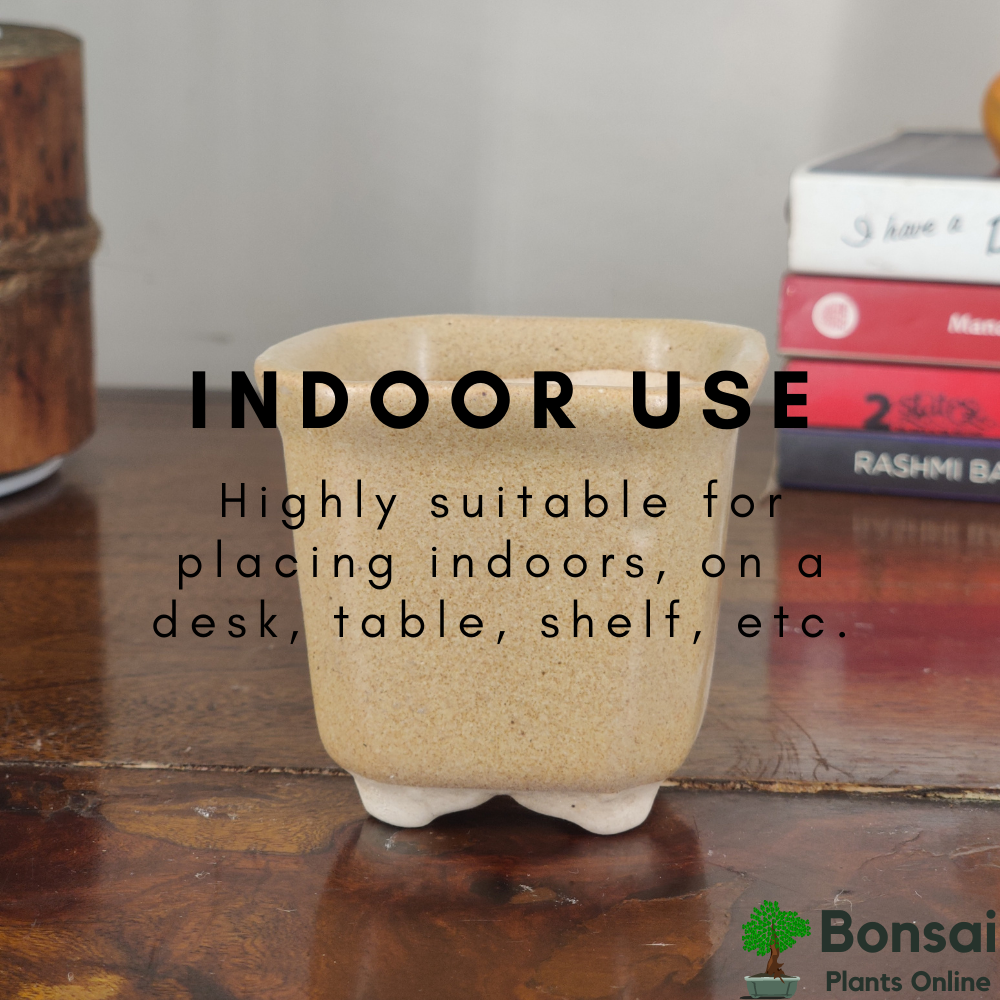 Suitable bonsai trees for this glazed ceramic bonsai pot
Since this pot has a small size, plants requiring relatively lesser space for the roots are best suited for keeping in this lovely pot.
If your plant is young, this glazed ceramic bonsai pot is one of the best ways to offer protection and nourishment to the plant while also maintaining its compact size inside your home.
What do our customers have to say?
Bonsai Plants or any plant for that matter, BPO team does great work in design, health of the plants and post-sale service. I've been enjoying the association for my last 12 bonsai plants. 🙂

Impeccable packaging and delivery. I was surprised for the first time, and fall in love with their mastery in packing the plant and delivering it safe to my home. Interesting. Thank you.

True Gardening assistance. I got healthy plant and help whenever I needed through the dedicated WhatsApp channel. Not only the bonsai but also for the normal plants that you buy.

Frequently Asked Questions by customers
What is this bonsai pot made of? 
The pot is made of superior quality ceramic that has thick walls, providing water and heat-resistant features for the healthy growth of the plant. This ceramic has a glazed finish for a shine or gloss that will last in your interiors for a long time to come.
What bonsai plants can be grown in this ceramic pot?
Aunty indoor bonsai plants that can be thrived in a relatively small space, make for the most suitable plant for this pot. For example, you can grow succulents like the Jade bonsai tree and other plants like Money tree bonsai are the ideal plants to grow in this ceramic pot.
Where can I place this ceramic bonsai pot?
You can place this beautiful pot anywhere indoors such as office desks, tabletops, shelves, and showcase tables, etc. The pot will look great anywhere it is placed and will continue to maze viewers with its shining glaze. 
What are the benefits of using this ceramic pot?
Made of high-quality ceramic, this pot will serve you and your plants in more than one way. It will provide your plant with ideal growing conditions and will also save it from overwatering. Meanwhile, the beautiful structure and glossy texture will give a stunning addition to the visual aesthetics of your interiors. 
Additional information
| | |
| --- | --- |
| Dimensions | 10.1 cm |
| Brand | Abana Homes |
| Variety | Bonsai Pot |
| Location | Indoor |
| Occasion | Anniversary, Birthday, Gifting, Office, Return |
| Pot Material | Ceramic |
Reviews (18)
Only logged in customers who have purchased this product may leave a review.
Related products
Rated 4.56 out of 5
(18)
₹

299
Ships Tomorrow