Ceramic Plant Pot, Brown Rectangular, 6×4″
Uplift your home's aesthetics while you ensure better health for your plants with this charming glazed ceramic bonsai pot.   
Has a wide rectangular shape for maximum root space.

6 inches deep to give your bonsai plants a comfortable companion. 

The shiny glaze has been adorned by beautiful embossed designs.

Perfect for keeping both indoor and outdoor bonsai plants.
Description
This glazing pot exhibits a unique and eye-catching appearance in your home with its shiny and textural outer. It is made of premium quality ceramic and is a top-notch material for growing bonsai plants especially. 
The pot is 6 inches wide and deep enough so it lets the plant spread its roots comfortably and thrive gracefully. It also makes it perfect for holding a variety of bonsai plants regardless of the placement requirements of the plant. Additionally, there is a watering hole at the very bottom to reduce the damaging effects of excess watering by releasing the surplus water from the soil. The pot is durable and will enhance the beauty of your plants for a long time to come.
Know your ceramic bonsai pot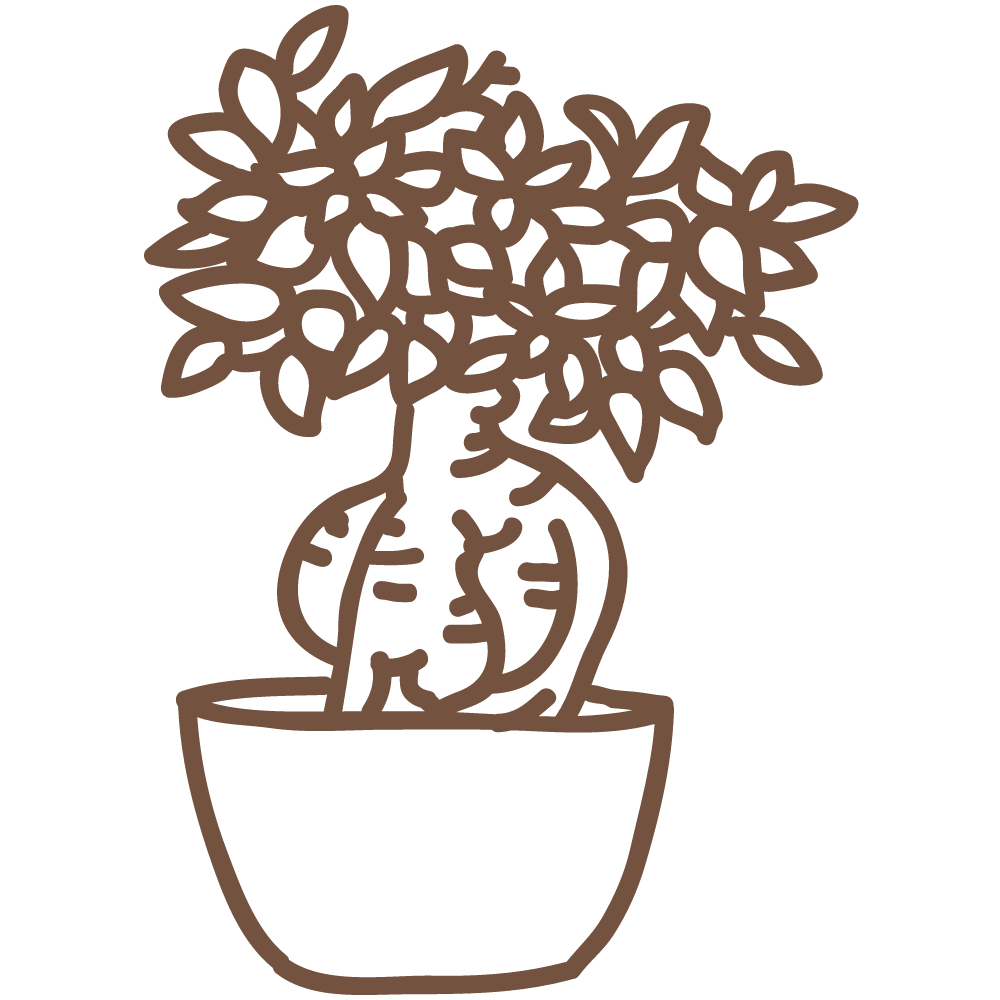 Unique textured design for eye-striking aesthetics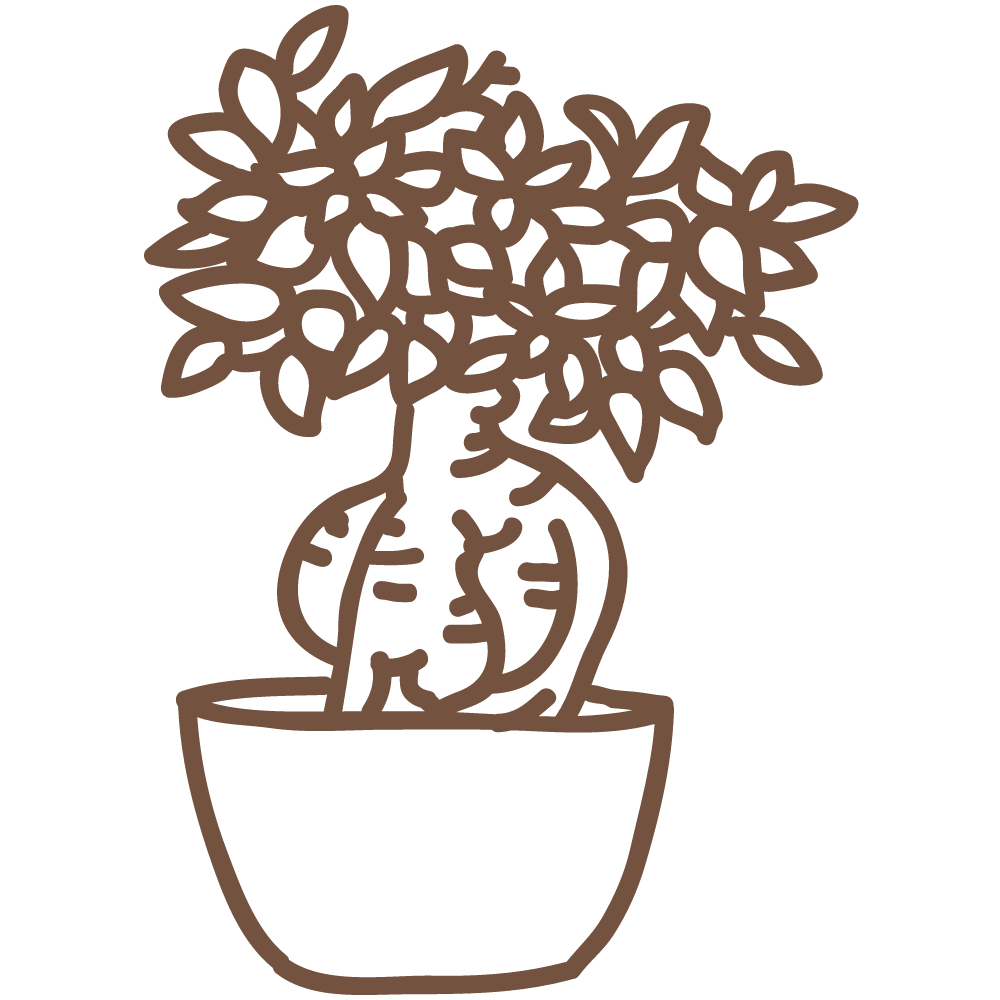 Drainage hole ensures best nourishment for plants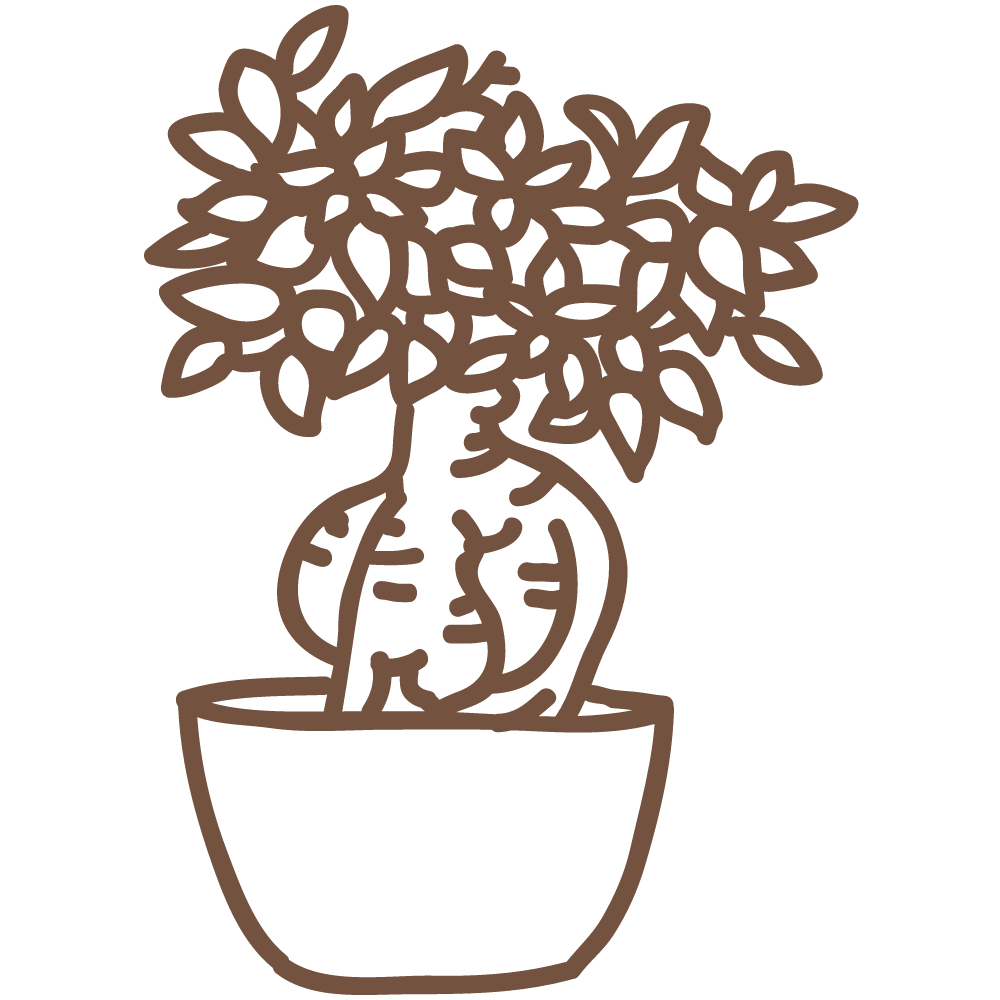 Suitable for both indoor and outdoor spaces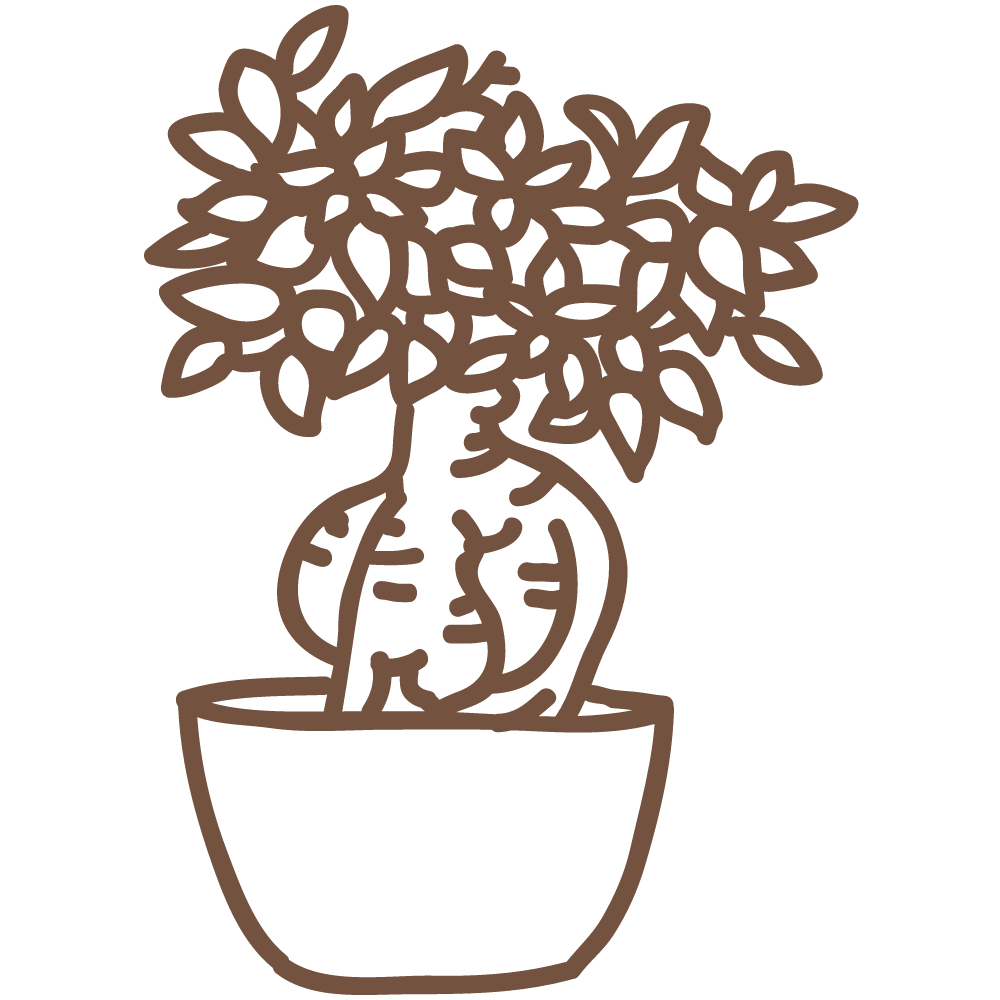 Ideal for wide range of bonsai trees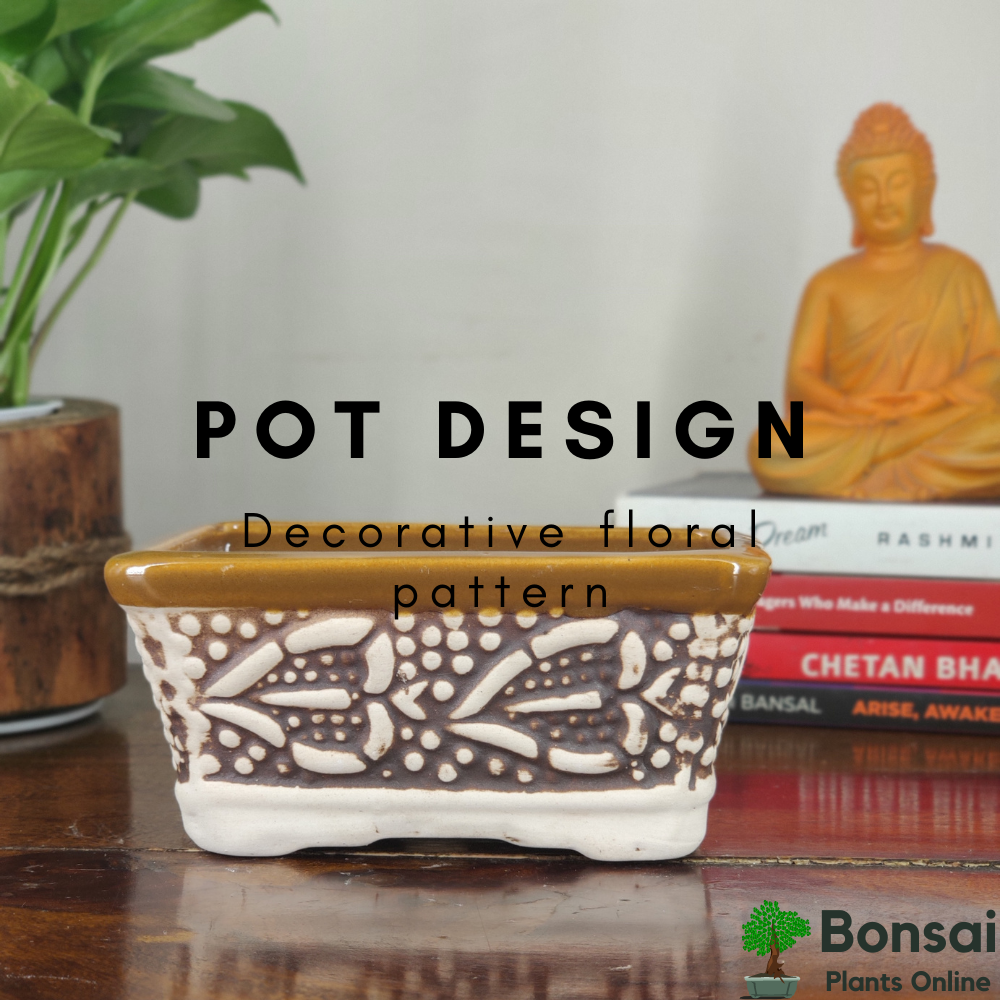 Pot design and aesthetics
This classic brown pot imparts truly aesthetic values in your home when combined with the soothing greenery of a bonsai plant. The pot has a wide rectangular shape with a shining glaze that has been further arrayed by charming patterns that have been raised from the surface. 
It gives the pot a highly aesthetic and enchanting outer, perfect for decorating any dull space both indoors and outdoors. The eye-pleasing appearance is also ideal for gifting purposes that will surely give them a delightful experience of gardening.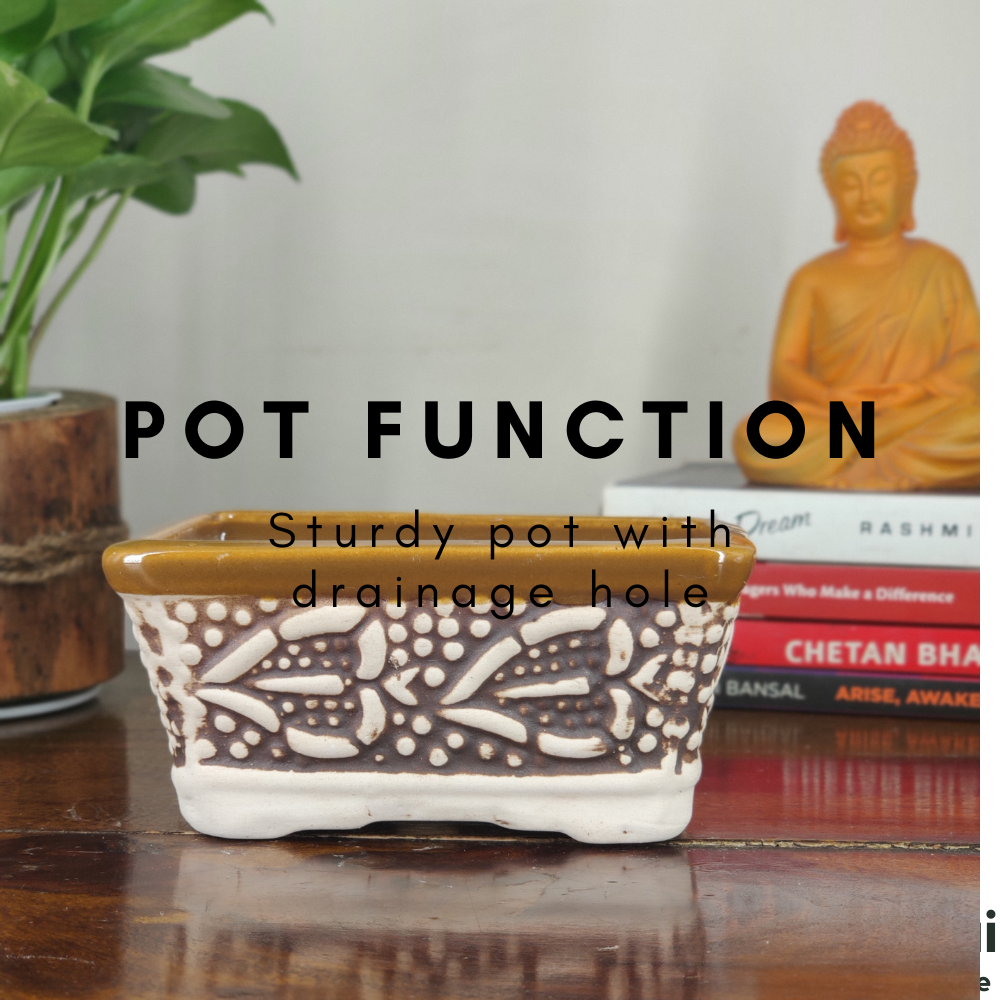 Pot functionalities
The pot is rectangular and wide in shape that gives adequate space for the roots to grow and is perfect for growing any of your bonsai plants no matter where you are wishing to place it. It allows the plant to breathe and receive maximum aeration to flourish conveniently.
Also, it comes with a pre-carved drainage hole that will let any excess water seep through the button and leave the pot. It will protect the plant from experiencing the harmful results of overwatering and prevent the cause of root rot.
Suitable bonsai trees for this glazed ceramic bonsai pot
As this ceramic pot is ideal for keeping anywhere in the home, you can grow a range of bonsai plants in it. From tropical to subtropical and evergreen bonsai plants, the pot creates suitable growing conditions for them and looks elegantly classic to be placed anywhere in your home. 
Some of the most suited plants that you can grow in this pot are Ficus bonsai varieties, Chinese Elm, flowering bonsai plants such as Carmona, and even succulents like Jade and Adenium bonsai tree.
What do our customers have to say?
Bonsai Plants or any plant for that matter, BPO team does great work in design, health of the plants and post-sale service. I've been enjoying the association for my last 12 bonsai plants. 🙂

Impeccable packaging and delivery. I was surprised for the first time, and fall in love with their mastery in packing the plant and delivering it safe to my home. Interesting. Thank you.

True Gardening assistance. I got healthy plant and help whenever I needed through the dedicated WhatsApp channel. Not only the bonsai but also for the normal plants that you buy.

Frequently Asked Questions by customers
What is the material of this bonsai pot?
The material of this pot is ceramic that has been glazed to offer a shiny luster. Ceramic is one of the most sought-after materials for growing bonsai plants that give a suitable growing environment for the plant while looking all gorgeous wherever you place it.
What kind of plants will grow well in this ceramic pot?
The pot has a depth of 6 inches, and so is able to hold a variety of indoor and semi-indoor bonsai plants. However, for your convenience, you can go for tropical and subtropical bonsai plants specifically for this pot that will thrive flawlessly in this ceramic pot. 
Will this ceramic pot crack in winter?
No. Though ceramic pots tend to chip or crack in too cold a temperature, this pot is made of high-quality material and will not break that easily. Still, it is advisable to move the pot indoors in winters to avoid any adverse consequences and ensure better health for your plant as well.  
What are the pros of using this ceramic pot?
The pot will not only create an ideal growing condition for your plant but will also serve as a stunning centerpiece in your home. It has a pleasing glaze which combined with enchanting designs appears truly aesthetic and is perfect as an interior decor item or gift for a loved one. 
Reviews (18)
Only logged in customers who have purchased this product may leave a review.
Related products