5 Inches Hexagonal Ceramic Bonsai Pot
Give your interiors an aesthetic boost with this hexagonal glazed ceramic bonsai pot for prolonging the health and beauty of your indoor plants.
Beautiful dia-style pot ideal for keeping indoors anywhere

Offers highly aesthetic looks with a hexagonal shaped and glazed finish.

Sturdy bonsai pot with a depth of 5 inches.

Highly recommended for indoor bonsai plants.
Description
This beautiful bonsai pot is of a unique and attractive hexagonal shape, and is made of ceramic with a glazed finish for a highly sought-after appearance. Moreover, it has a strong and rigid dia-style build suitable for a number of indoor bonsai plants.
The charming looks of this glazed ceramic bonsai pot make it perfect for ornamenting your interiors as well as making for an attractive gift for a special occasion. Its thick walls are water-resistant yet porous, allowing the plant to receive moisture at an accurate and desired rate. The pot is also provided with a drainage hole at the bottom, which reduces the risk of over-water your bonsai tree. Thus, the pot creates ideal consequences for your bonsai tree to thrive spread its joyous vibes indoors.
Know your ceramic bonsai pot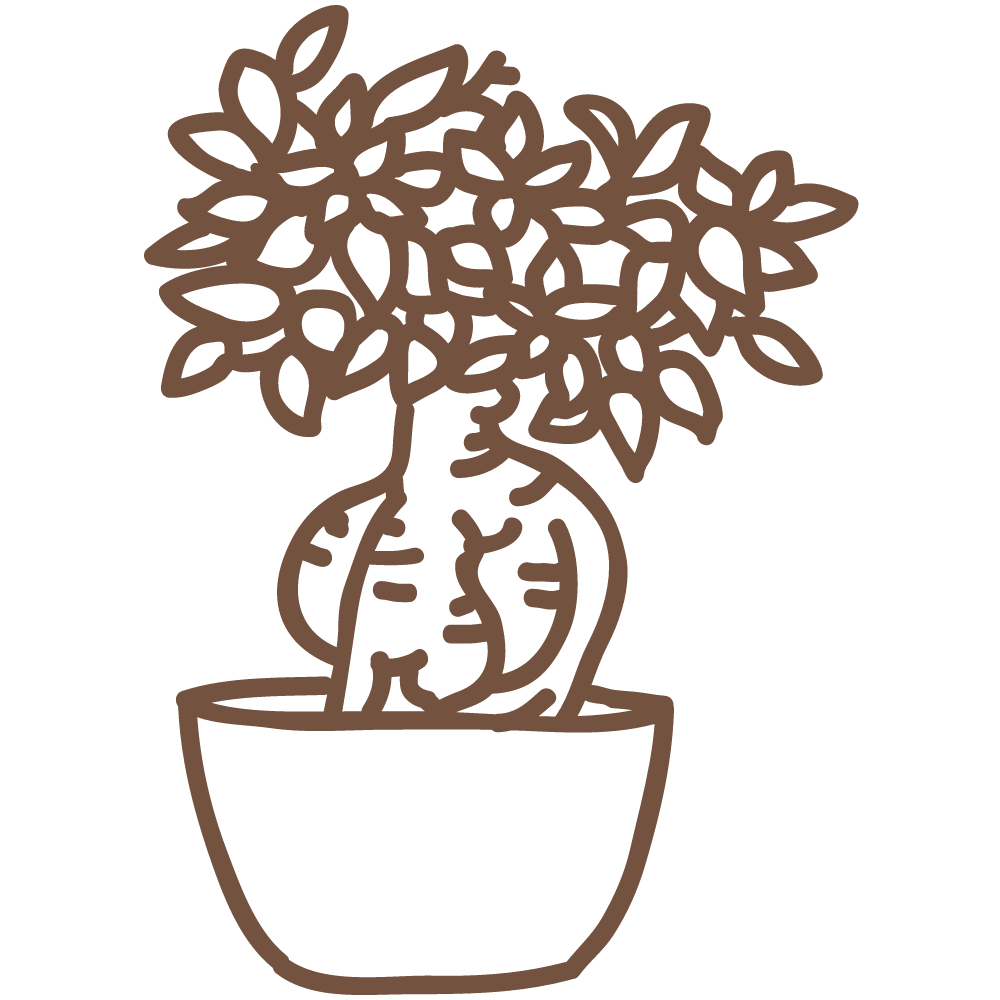 Easy to maintain and sturdy pot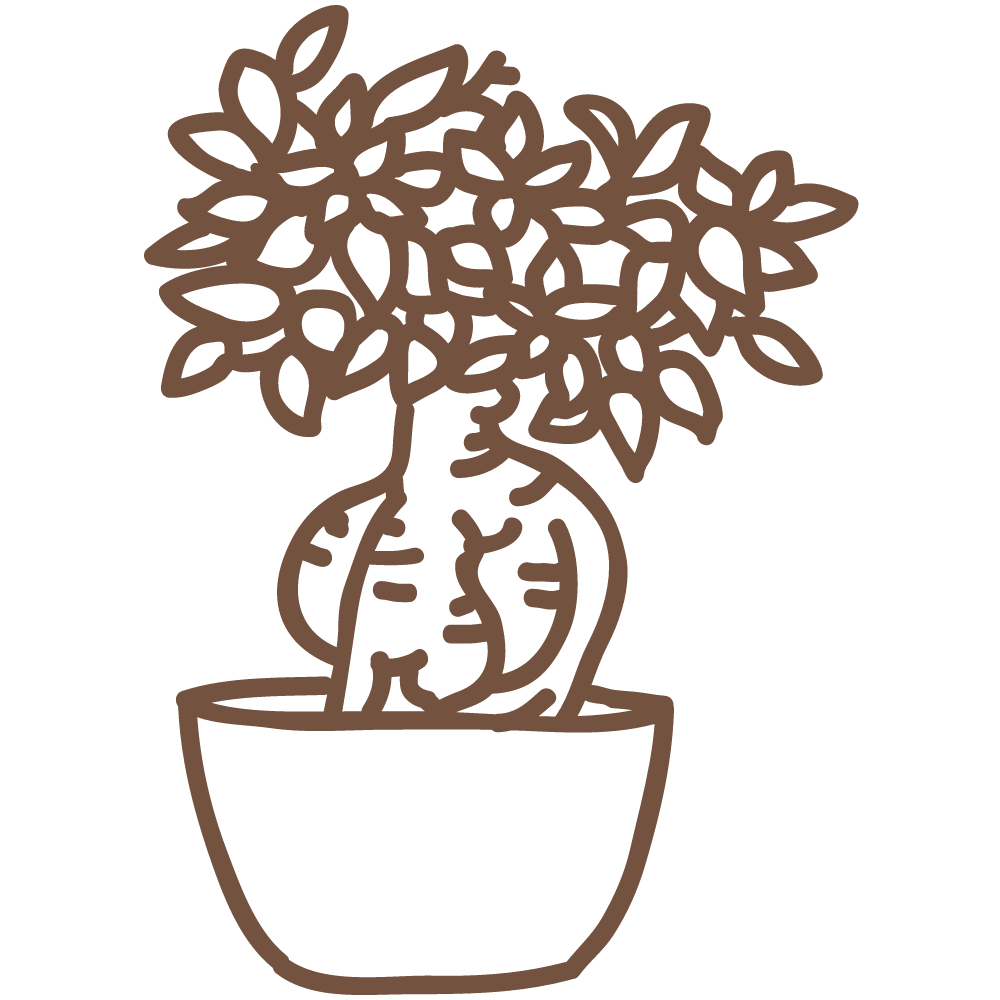 Wide hexagonal design for maximum root space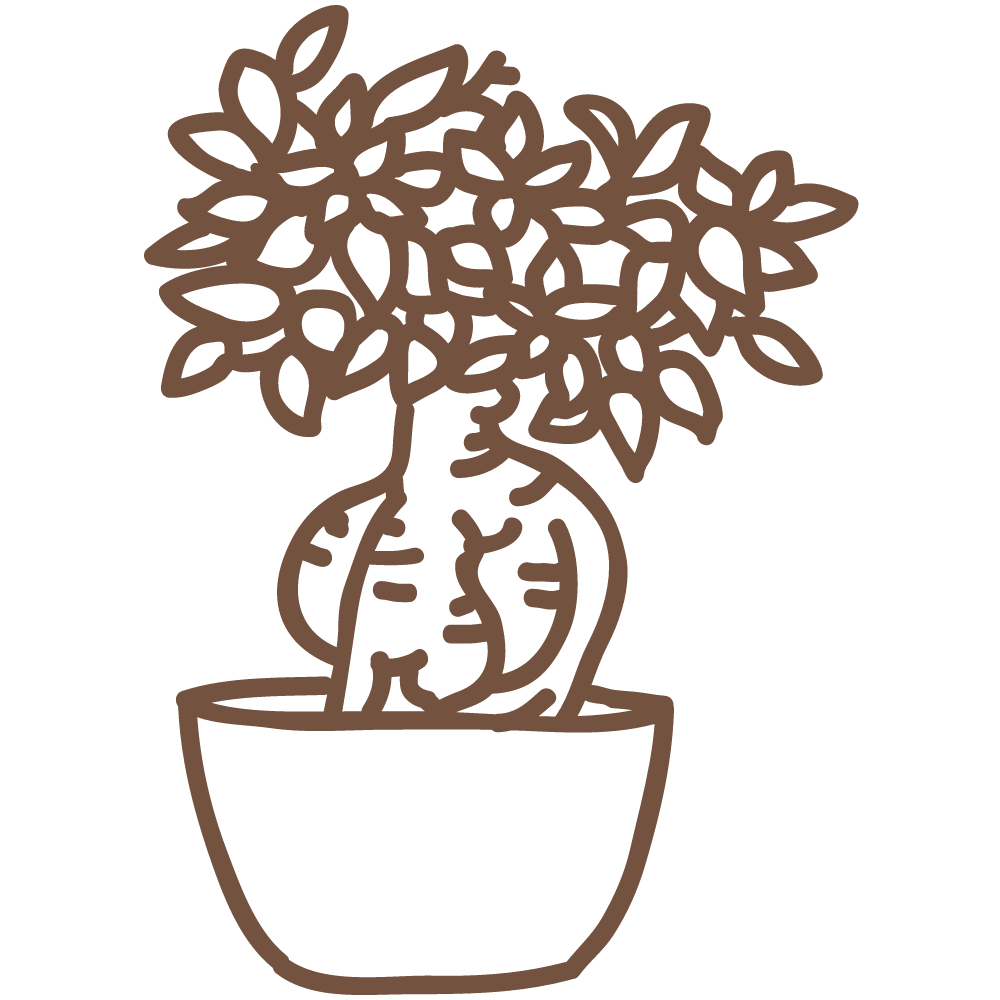 Suitable for tabletops and indoor spaces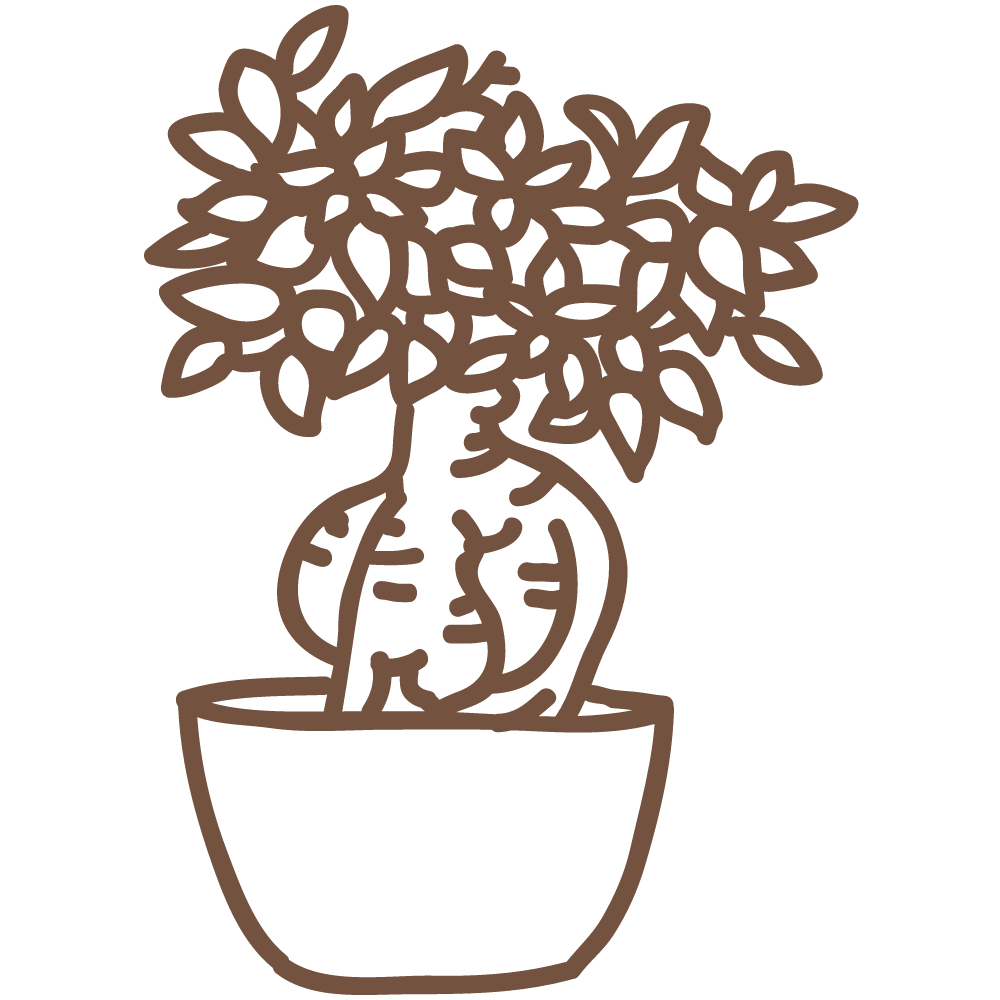 Ideal for a wide variety. of indoor bonsai plants
Pot design and aesthetics
This bonsai pot looks highly aesthetic with its classic hexagonal shape and is a great way to increase the joy of keeping a bonsai plant indoors. Made of glazed ceramic, the pot has a shiny appearance with a polished texture, making it ideal for uplifting the visual interest of your interiors.
The pot has a lovely hexagonal shape and is beautifully styled like a dia. This makes the pot a well-suited option for decorating and gifting purposes. Its elegant classy look creates a captivating contrast with the plant and imparts truly aesthetic visuals to your interiors.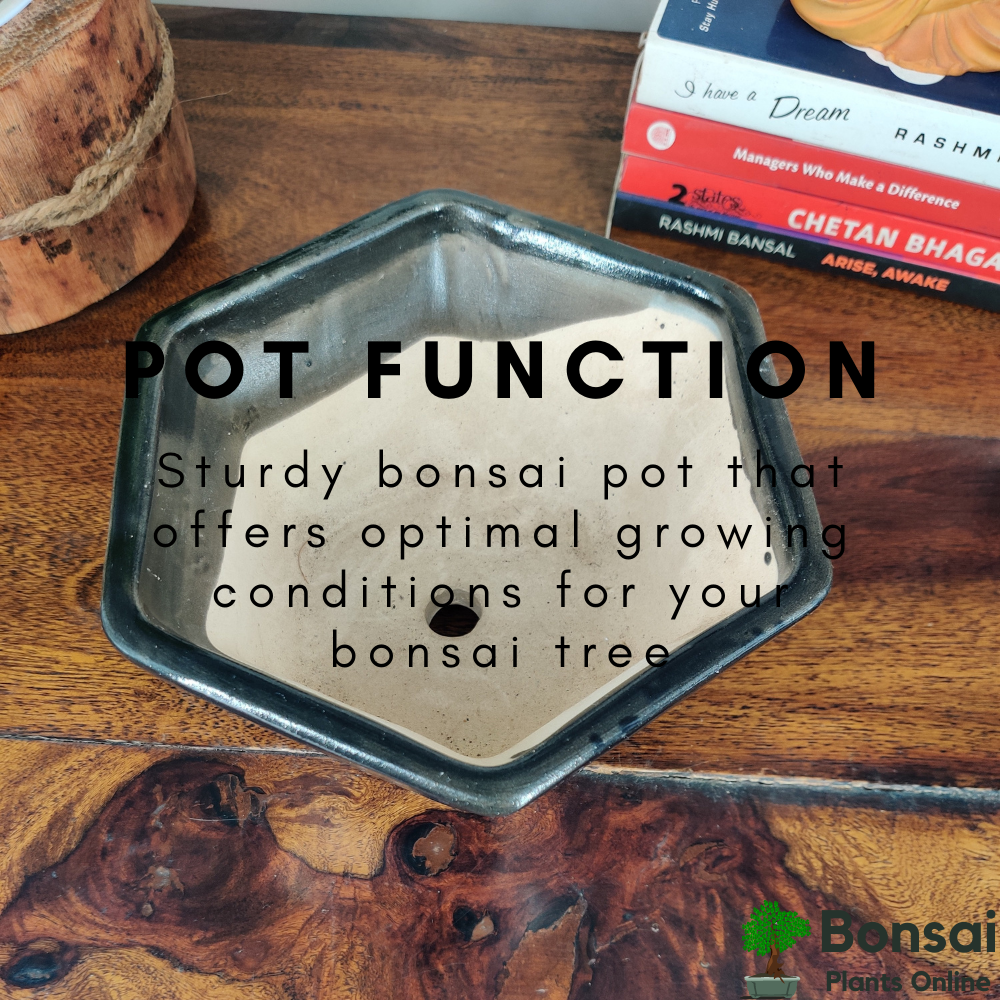 Pot functionalities
Glazed ceramic is one of the most recommended materials for growing indoor bonsai plants as they provide them with the right thriving conditions. The walls of this glazed ceramic pot are thick, making it water and heat-resistant. However, they are porous, enabling the perfect exchange of air and moisture for the better health of your plant.    
The pot is 5 inches in depth and comes with a watering hole at the bottom that means your plant will not suffer from the harmful effects of overwatering and will keep radiating its beauty along with the shiny glaze of this lovely pot.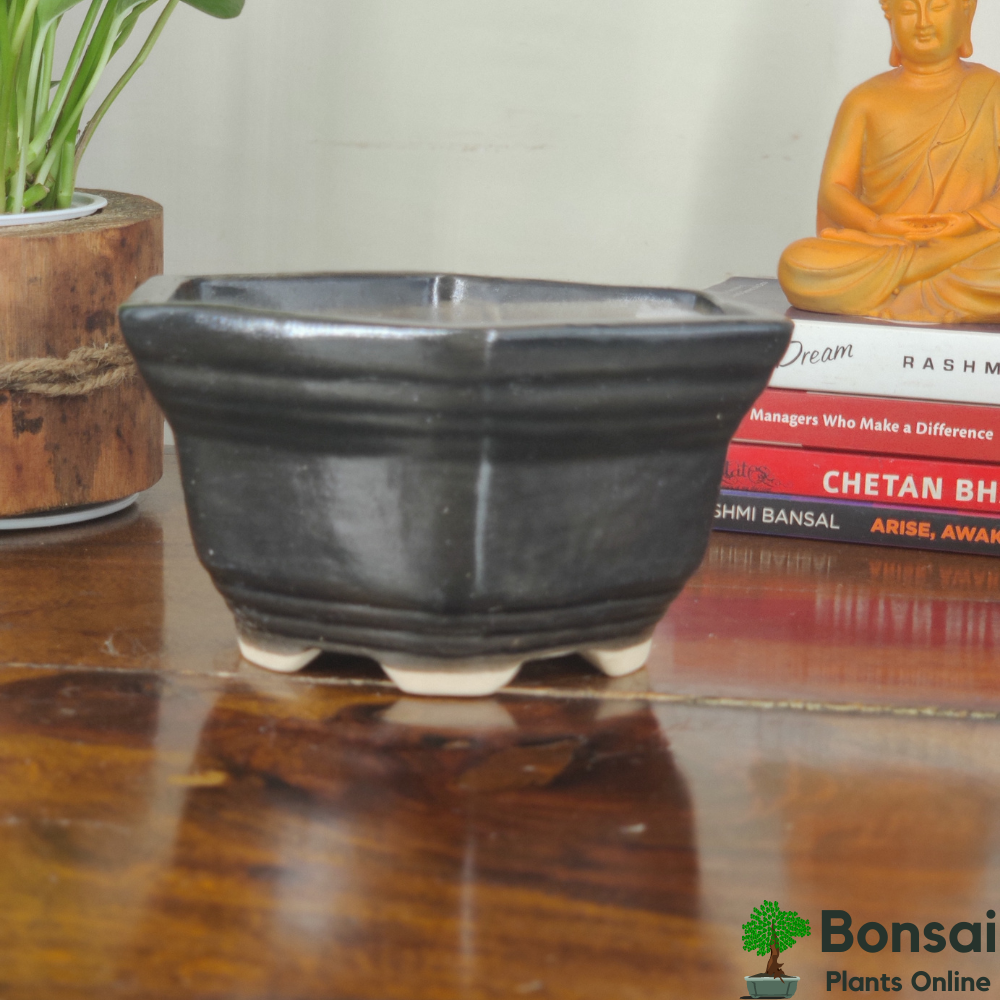 Suitable bonsai trees for this glazed ceramic bonsai pot
Highly suitable for bonsai plants, this glazed ceramic pot offers weather-resistant features and elegant ornamental visuals, all perfect for preserving indoors. In fact, not only indoor bonsai trees but outdoor varieties can be grown in this bonsai pot with ease.
Some of the most suggested bonsai plants that will look and grow graciously in this pot include Carmona, Chinese Elm and even succulents like the Jade plant bonsai and the Adenium flowering bonsai tree.
What do our customers have to say?
Bonsai Plants or any plant for that matter, BPO team does great work in design, health of the plants and post-sale service. I've been enjoying the association for my last 12 bonsai plants. 🙂

Impeccable packaging and delivery. I was surprised for the first time, and fall in love with their mastery in packing the plant and delivering it safe to my home. Interesting. Thank you.

True Gardening assistance. I got healthy plant and help whenever I needed through the dedicated WhatsApp channel. Not only the bonsai but also for the normal plants that you buy.

Frequently Asked Questions by customers
Where is this bonsai pot best suitable for keeping?
The pot goes well with every interior setting, and will last for years to come. In fact, it can even be placed on tabletops and shelves for its elegant and eye-striking aesthetics.
How long will the glaze of this ceramic bonsai pot last?
This lovely pot is made of superior quality ceramic and has a long-lasting glaze that is easy to maintain. Since it is quite weather-resistant, temperature and moisture do not affect its glossy appearance and make it radiate its shine in your home for a long time to come.
Is this glazed ceramic pot difficult to clean?
No, not at all. In fact, the glaze prevents stains and dirt from sticking to the pot's surface and makes it easier to clean. You will just have to rub it with a scrub or brush or wipe it with water or vinegar-soaked cloth and it will keep transcending its shiny luster in your home for many years to come. 
What are the advantages of using this ceramic bonsai pot?
The pot not only gives your plant a well-protected, well-drained abode, but it also looks highly aesthetic with its dia-style hexagonal shape and glazed appearance. That makes it ideal for being used as decorative elements for home decor or stunning gifts for your loves. 
Additional information
| | |
| --- | --- |
| Dimensions | 13 cm |
| Brand | Abana Homes |
| Variety | Bonsai Pot |
| Location | Indoor |
| Occasion | Anniversary, Birthday, Gifting, Grand, Office, Religious, Return |
| Pot Material | Glazed ceramic |
Reviews (18)
Only logged in customers who have purchased this product may leave a review.
Related products
Rated 4.41 out of 5
(18)
₹

559
Ships Tomorrow