Ceramic Bonsai Tray Pot
Introduce fresh life and elegant beauty to your bonsai plant indoors with this wide and glazed ceramic bonsai pot with watering tray.
Rectangular shape that offers maximum aeration for the plant.

Has a glazed texture with long-lasting shine.

Suitable for all indoor bonsai trees.

Perfect for eye-pleasing and eye-catching home decor.
Description
This wide bonsai pot for all your indoor bonsai plants is made of superior quality ceramic with a glazed finish. The glazing offers a long-lasting shine to the white color, that creates a highly charming and enchanting aesthetic to go along with your bonsai tree indoors.
The pot comes with a watering tray, also of glazed ceramic of matching style. This will ensure that any leakages from the drainage hole at the base of the pot do not spread around the floor or patio. It will also ensure that the plant is not overwatered, and any excess water in the next watering session can be returned to the pot.
The pot is of a sturdy build that is easy to maintain in terms of both structure and the shine of the glazed ceramic bonsai pot.
Know your ceramic bonsai pot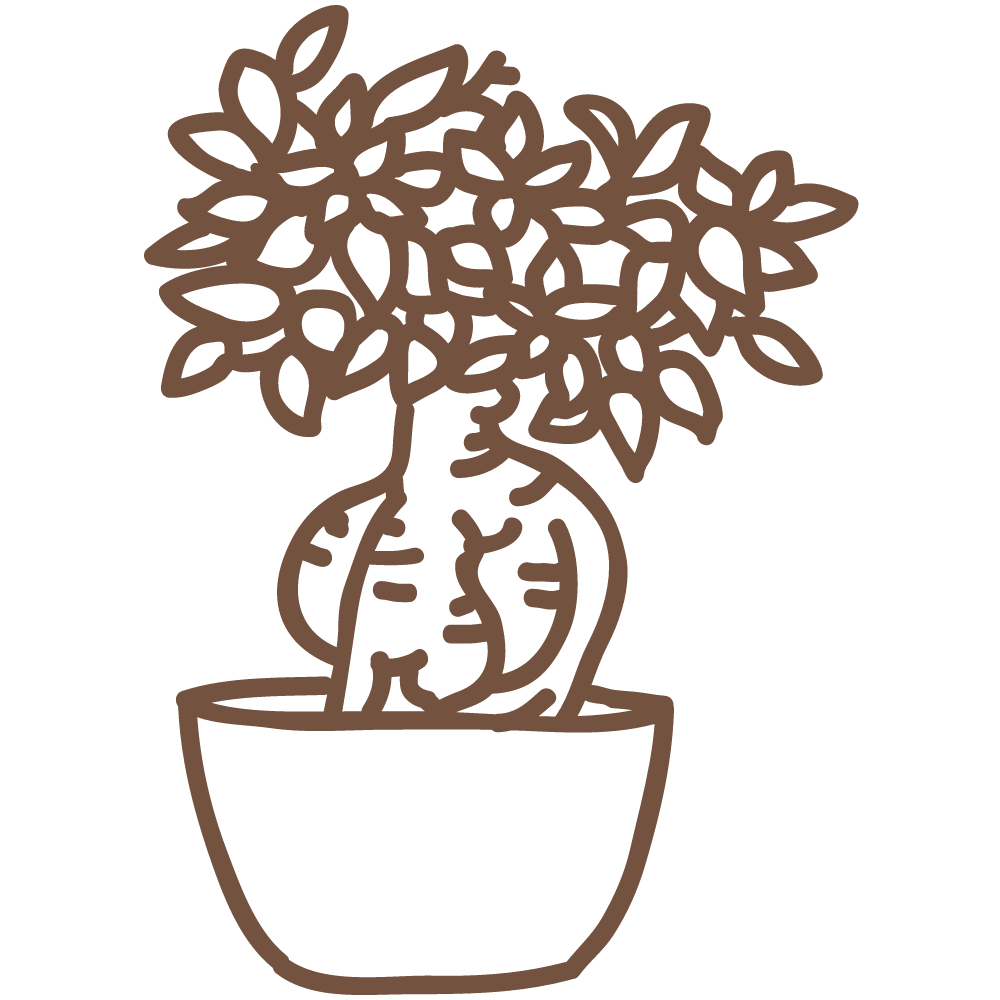 Wide pot for maximum aeration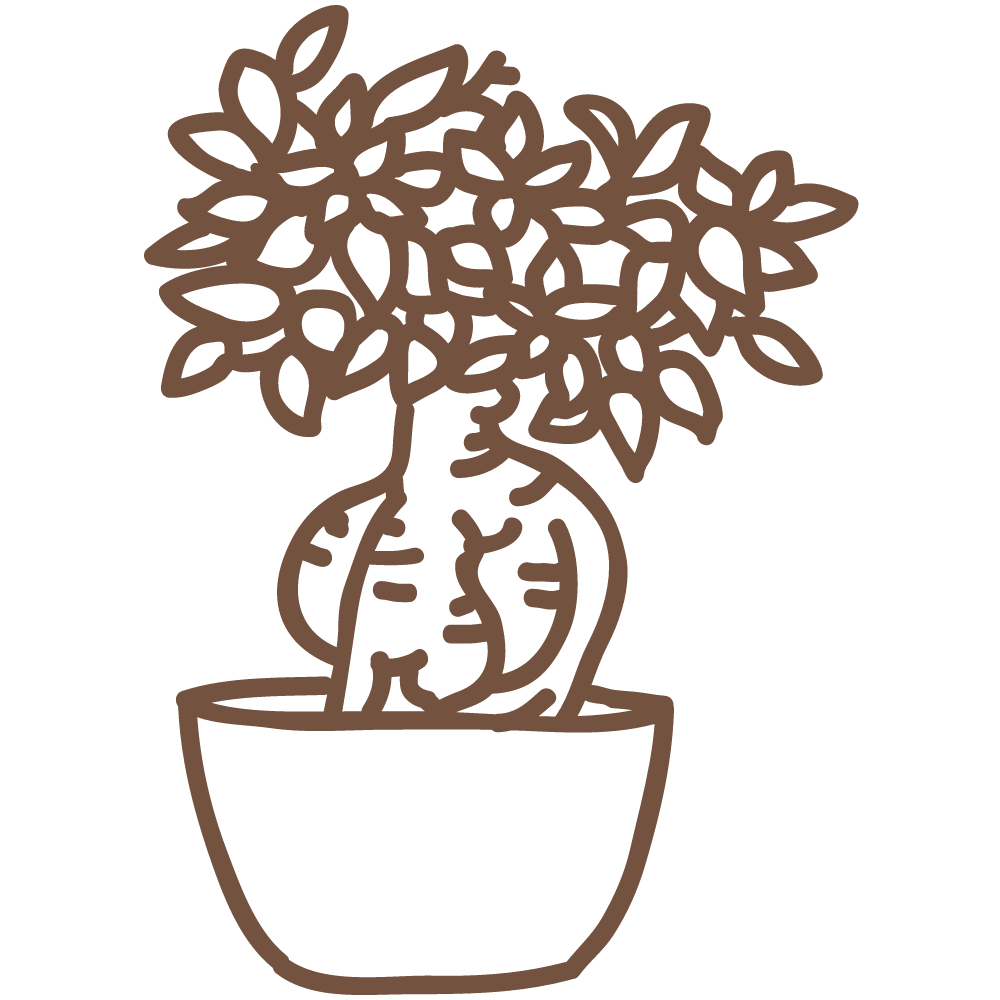 Comes with a matching watering tray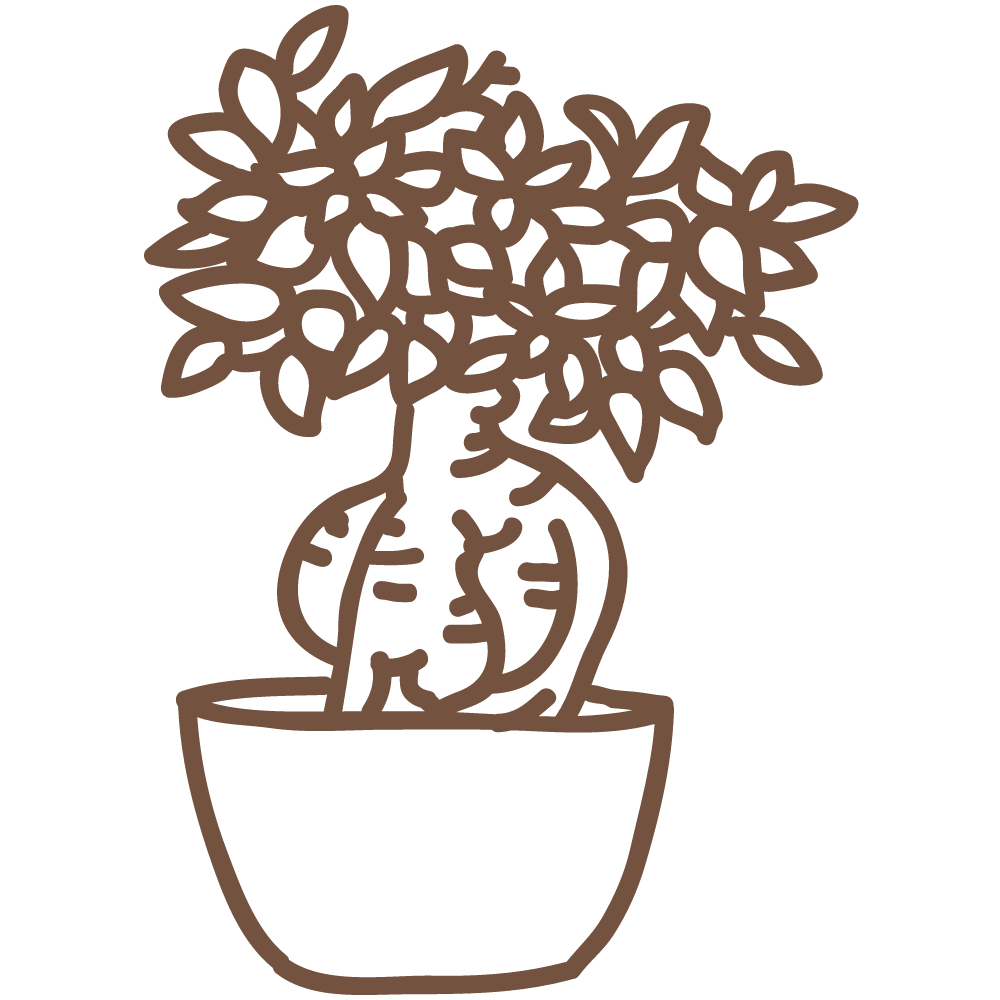 Suitable for interiors, porch and balconies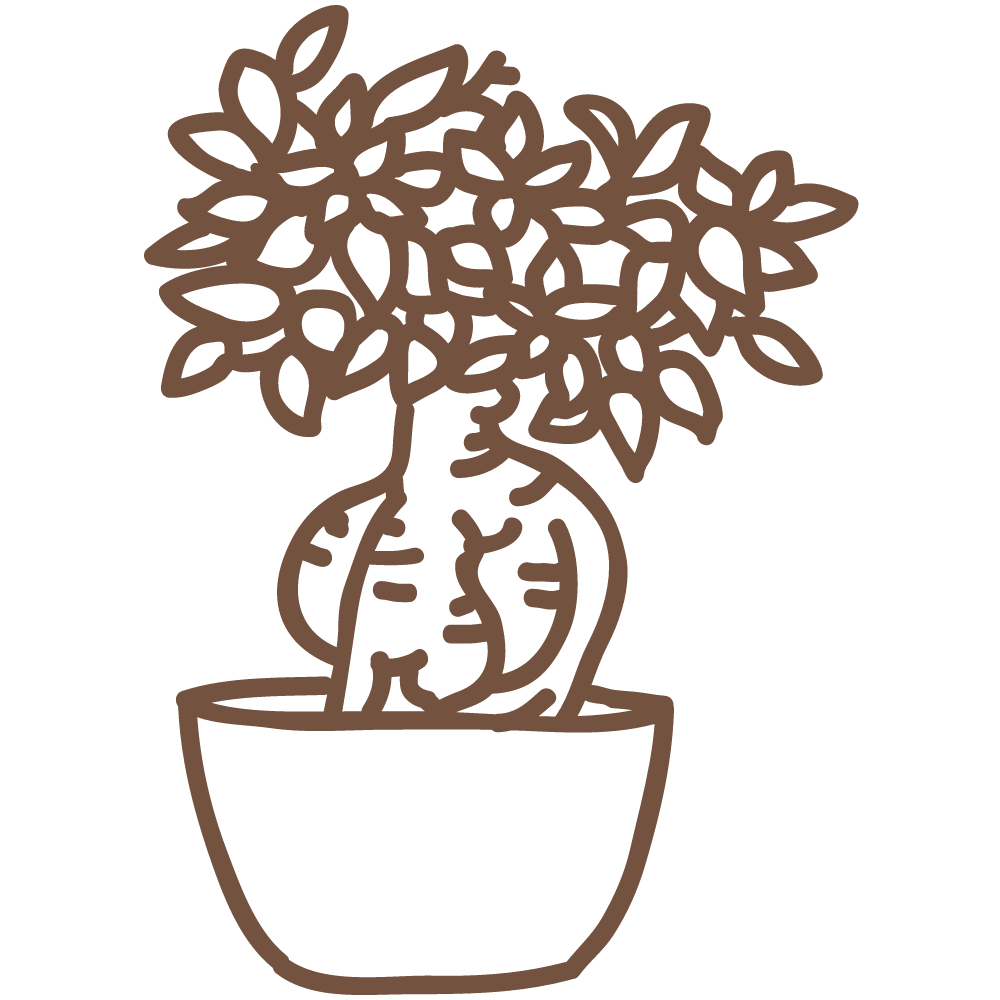 Ideal for a wide variety of indoor bonsai plants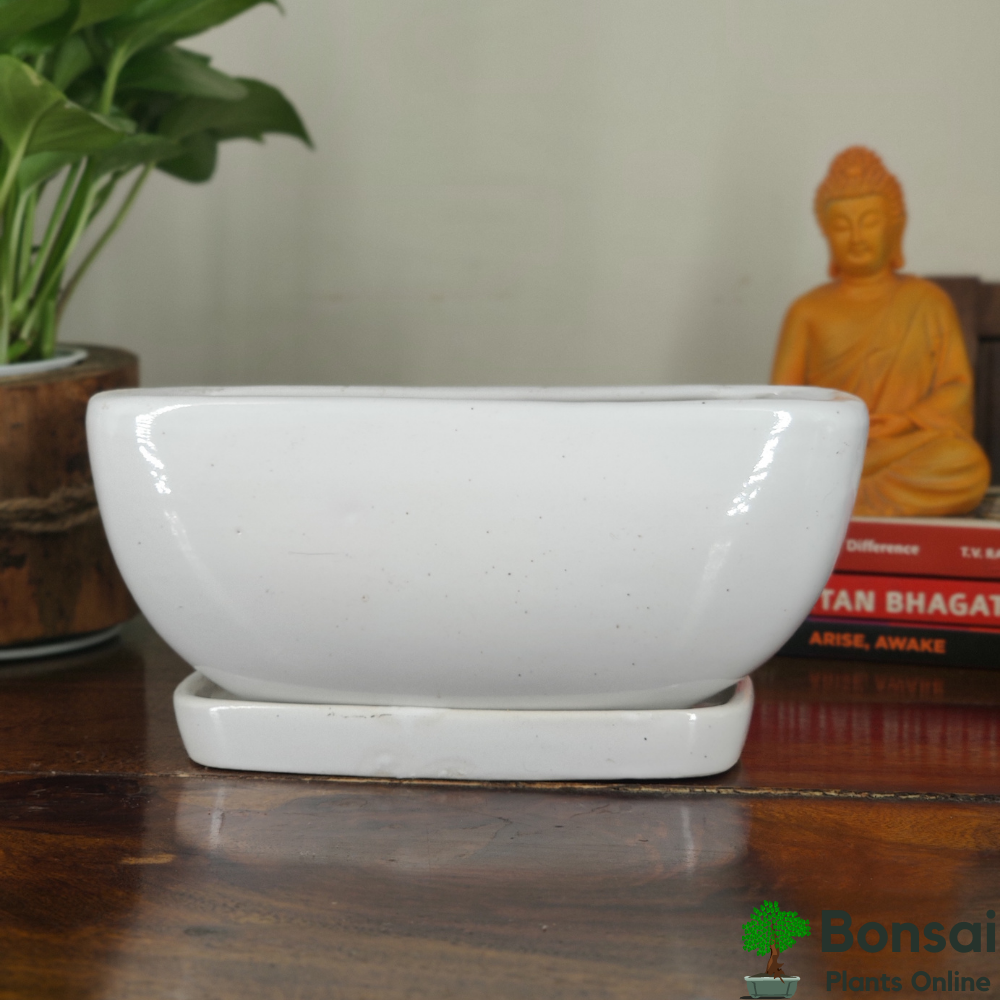 Pot design and aesthetics
This bonsai pot has a rather elegant appearance for a charming and delightful addition to your interiors or balconies.
The pot has a glazed finish, giving its white color is a cheerful shine that will last for years to come and is easy to maintain.
The wide structure of the pot gives it an inviting feel, that creates a lovely contrast with the greenery of your bonsai tree indoors.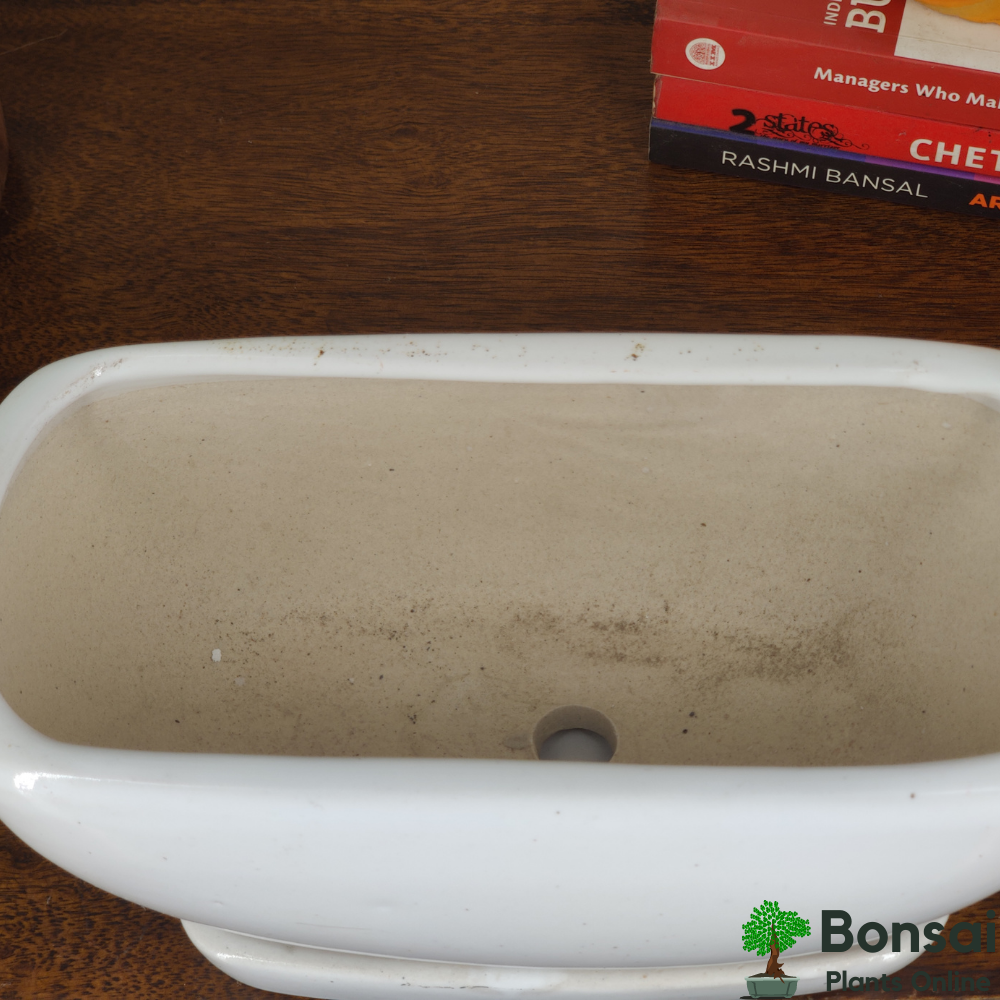 Pot functionalities
The pot comes supplied with a drainage hole at the base, which allows any excess water to flow out into the watering tray. This water can be later given back to the plant. In this manner, the glazed ceramic bonsai pot helps save spillage and reduces the need for watering.
The wide shape of the pot ensures that your indoor bonsai plant is receiving the maximum aeration not just in the shoots but for the roots as well.
The pot is easy to maintain, and its white-colored surface is easy to maintain, as it can be cleaned with a wet cloth easily due to the lustrous and smooth texture of. thepot.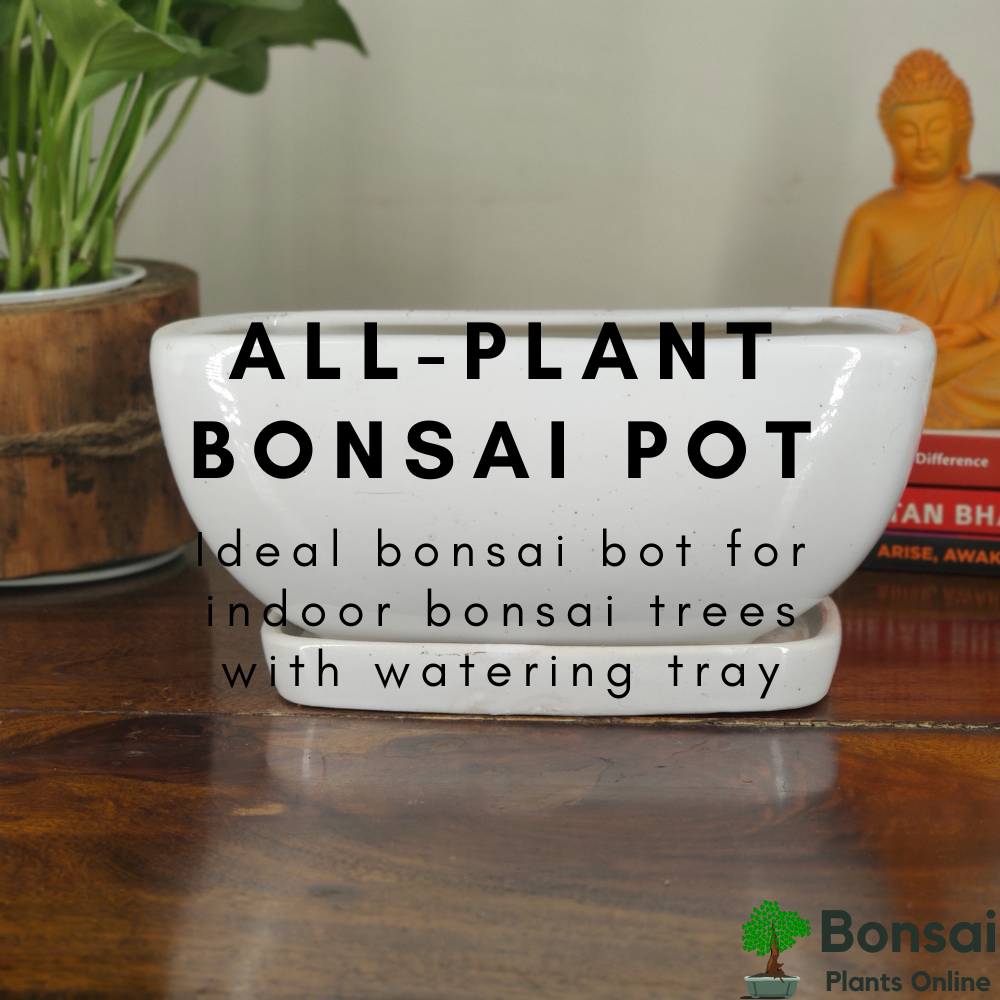 Suitable bonsai trees for this glazed ceramic bonsai pot
Since the pot provides the best nourishment and care for your bonsai tree besides enhancing its aesthetics, it is suitable for varieties of indoor bonsai plants.
Leafy bonsai plants such as Ficus and Adenium are going to look the best in this glazed ceramic bonsai pot. The green color of the flowers and the colorful flowers will create a stunning contrast with the shiny white color of the pot.
What do our customers have to say?
Bonsai Plants or any plant for that matter, BPO team does great work in design, health of the plants and post-sale service. I've been enjoying the association for my last 12 bonsai plants. 🙂

Impeccable packaging and delivery. I was surprised for the first time, and fall in love with their mastery in packing the plant and delivering it safe to my home. Interesting. Thank you.

True Gardening assistance. I got healthy plant and help whenever I needed through the dedicated WhatsApp channel. Not only the bonsai but also for the normal plants that you buy.

Frequently Asked Questions by customers
What is this bonsai pot made of?
The bonsai pot is made of high-quality and glazed ceramic, so its white color has a glossy and shiny look. Being made of ceramic, the pot is also sturdy and rigid in build for the safety and protection of your precious bonsai plants.
What bonsai plants are suitable for growing in this bonsai pot?
While any bonsai plant can essentially be grown in this pot, this bonsai pot is best suitable for growing tropical and subtropical varieties of indoor bonsai plants such as Ficus. The exotic and dark-green leaves of these plants create a stunning and eye-striking contrast with the glazed finish of this bonsai pot.
What are the benefits of using this pot for my bonsai trees?
The glazed ceramic bonsai pot comes with a drainage hole and watering tray to ensure your convenience. This will not only reduce the need for watering, but also the risk of over-watering your indoor bonsai plant.
Is this bonsai pot easy to clean and maintain?
Yes, the pot is made of glazed ceramic, which gives it a smooth texture with a long-lasting shine that is easy to maintain inside your home. The surface of this bonsai pot can thus be cleaned easily by wiping it with. awet cloth from time to time.
Additional information
| | |
| --- | --- |
| Dimensions | 13 cm |
| Brand | Abana Homes |
| Variety | Bonsai Pot |
| Location | Indoor |
| Occasion | Gifting, Parents, Religious, Return |
| Pot Material | Glazed ceramic |
Reviews (21)
Only logged in customers who have purchased this product may leave a review.
Related products
Rated 4.41 out of 5
(18)
₹

499
Ships Tomorrow