Football-Style Ceramic Bonsai Pot
Indulge in fun gardening with this charming ceramic pot for your bonsai pots that is also ideal for creating stunning aesthetics indoors.
Beautifully shaped in a rounded football-style for eye-striking aesthetics indoors. 

Comes with a watering hole at the bottom for risk-free watering. 

Has a depth of 5 inches, providing enough space for any indoor bonsai plant.

Ideal for gifting and decor purposes.
Description
Highly suitable for indoor bonsai plants, this pot is made of ceramic and looks elegantly chic. Moreover, the beauty has been graded up with textural details that make it look sober and stylish at the same time. In fact, this also gives the bonsai pot its unique design and style of a football or soccer ball.
The pot is rounded in the shape and has a depth of 5 inches, providing maximum space for your indoor bonsai plant. Also, it comes with a drainage hole at the bottom to reduce the harmful effects of overwatering. It is sturdy, durable, and easy to clean that will give your plant a long-lasting and beautiful companion for a long time to come.
Know your ceramic bonsai pot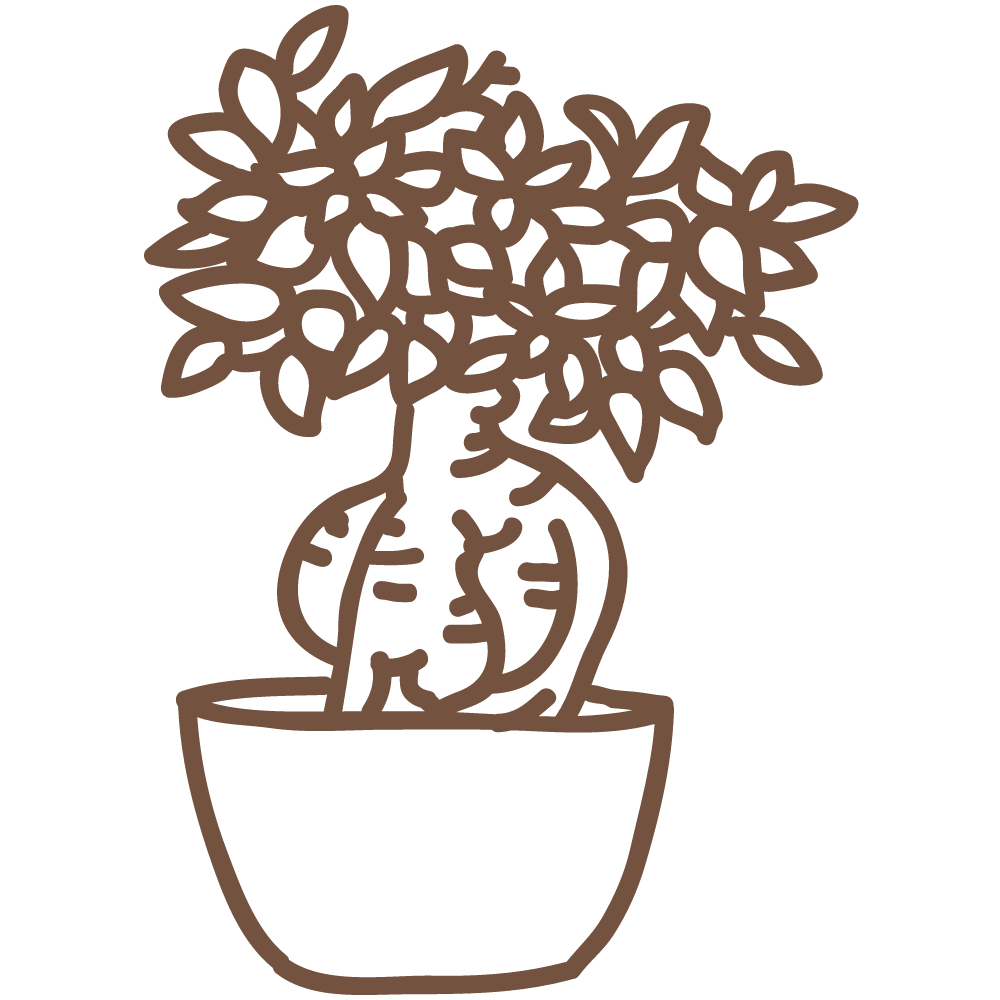 Unique and beautiful vase design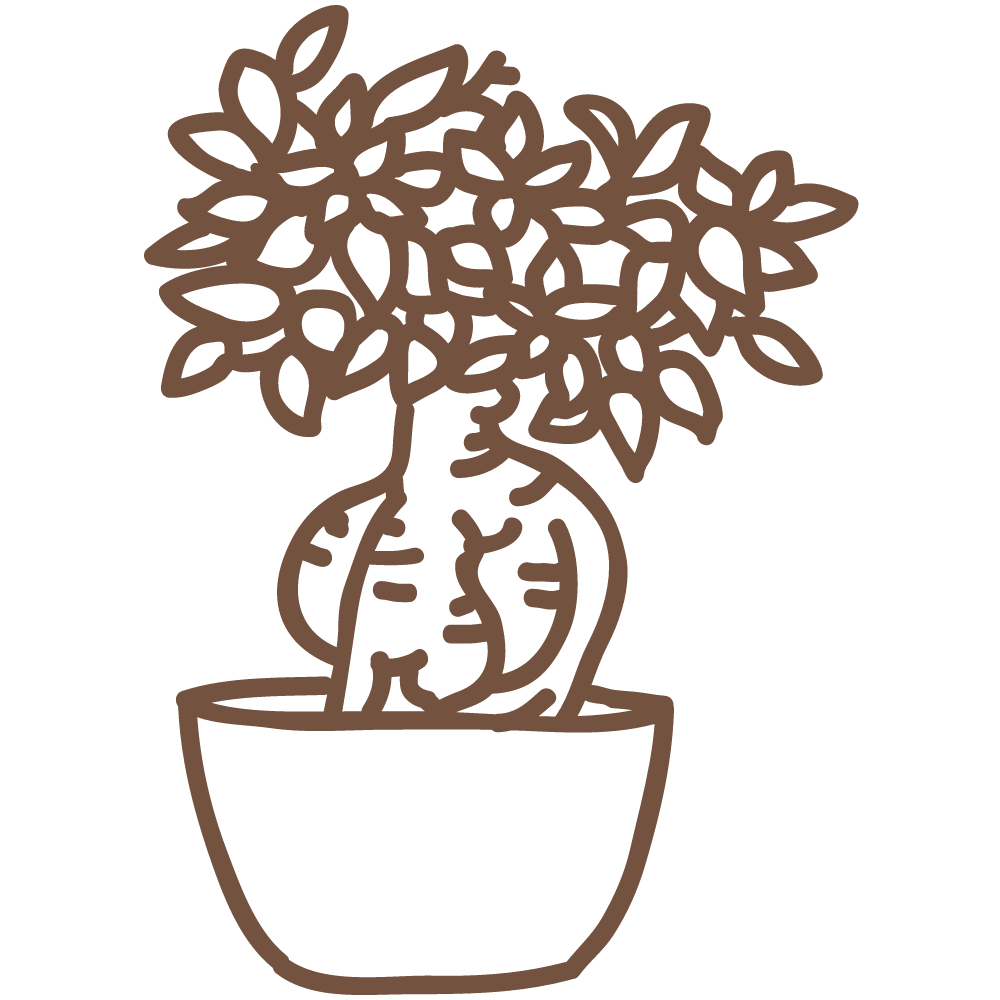 Drainage hole ensures best nourishment for plants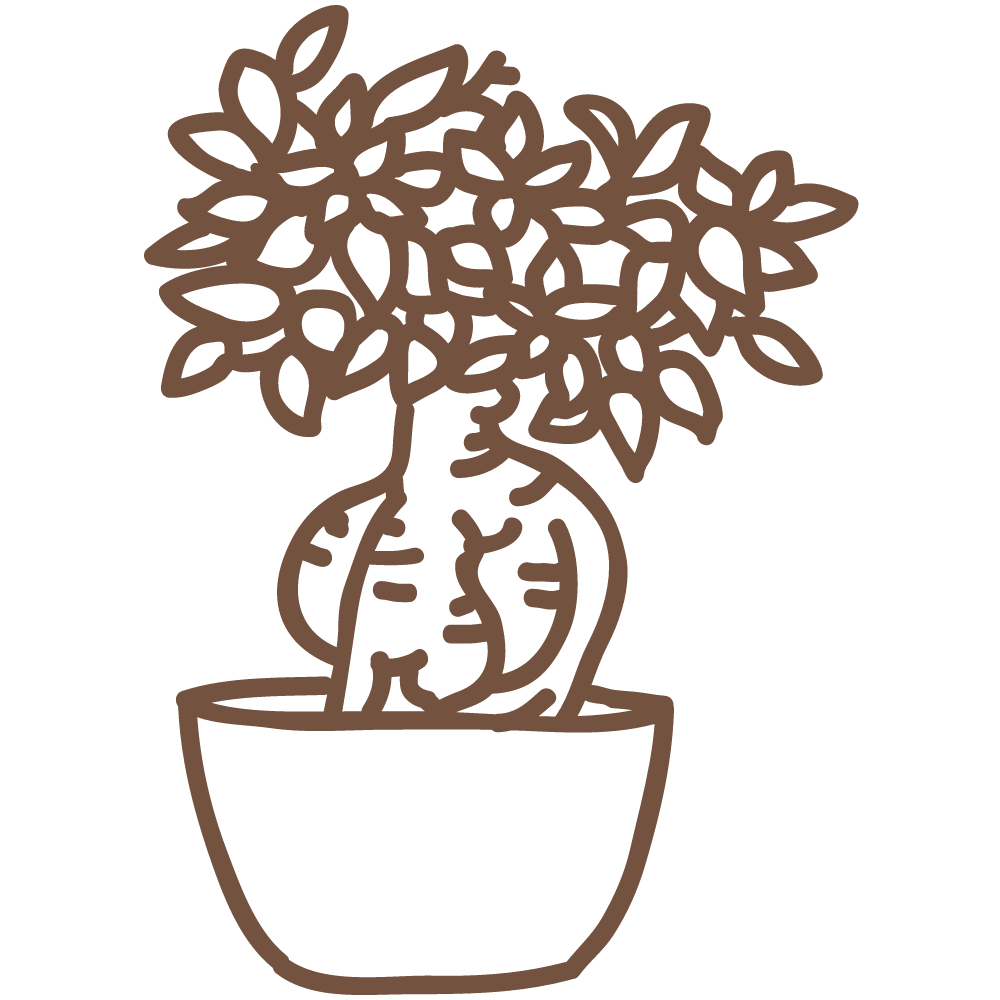 Suitable for interior decoration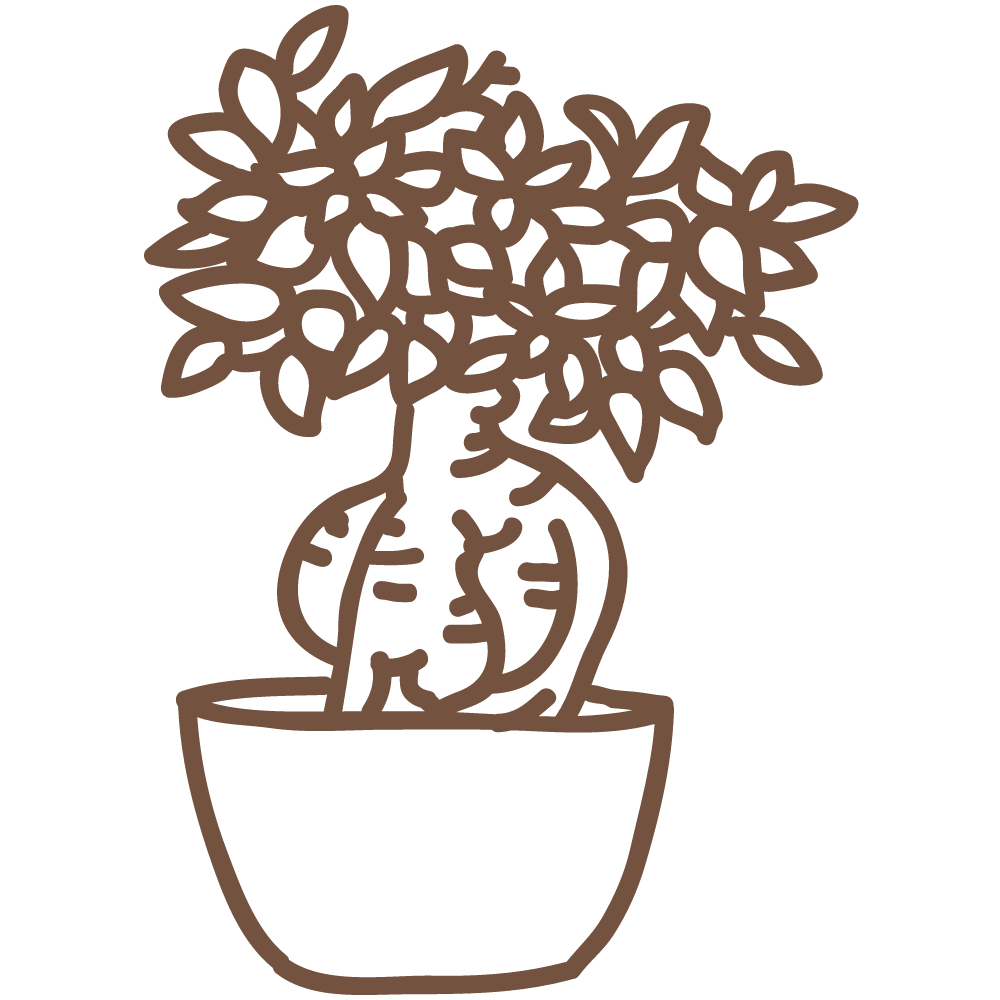 Ideal for indoor bonsai plants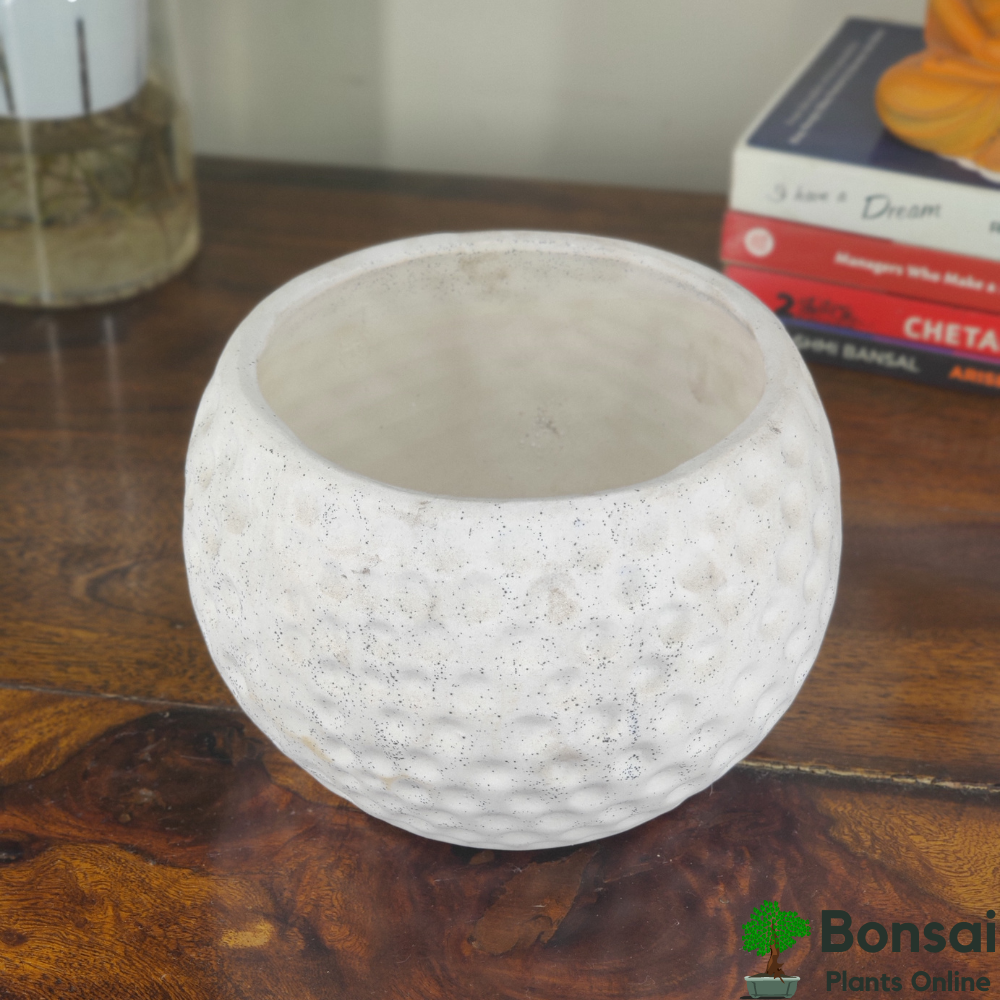 Pot design and aesthetics
With its beautiful football-style structure of a round shape, this pot makes for a charming addition to the aesthetics of your interiors. Made of ceramic, it has a unique textural outer with a polished finish that is truly eye-catching.
The pot presents highly ornamental visuals when conjoined with a beautiful bonsai or alone stand as an eye-pleasing centerpiece. Round and sturdy, it gives a bold look to the aesthetics of any interior space where it is placed. Also, it makes for an ideal gift for those who love to add unique decor elements to their interiors.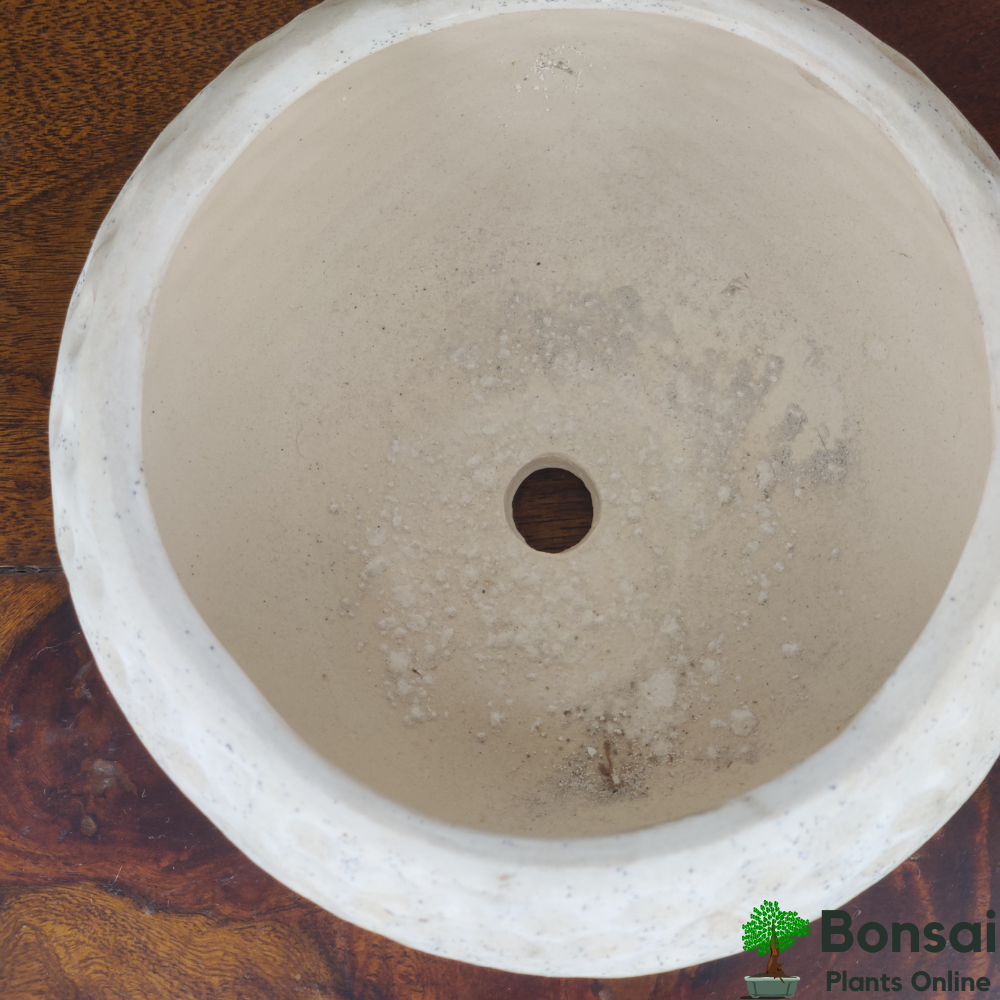 Pot functionalities
This bonsai ceramic pot has a sturdy build and a depth of 5 inches that will keep your plant secure and root-bound. Meanwhile, it provides sufficient space and a long-lasting abode for your bonsai plants. 
The pot has porous walls for maximum aeration that is a vital aspect for growing any kind of bonsai plant. Also, it comes with a watering hole at the bottom through which it controls the level of moisture required for the plant and saves it from getting root rotted due to overwatering.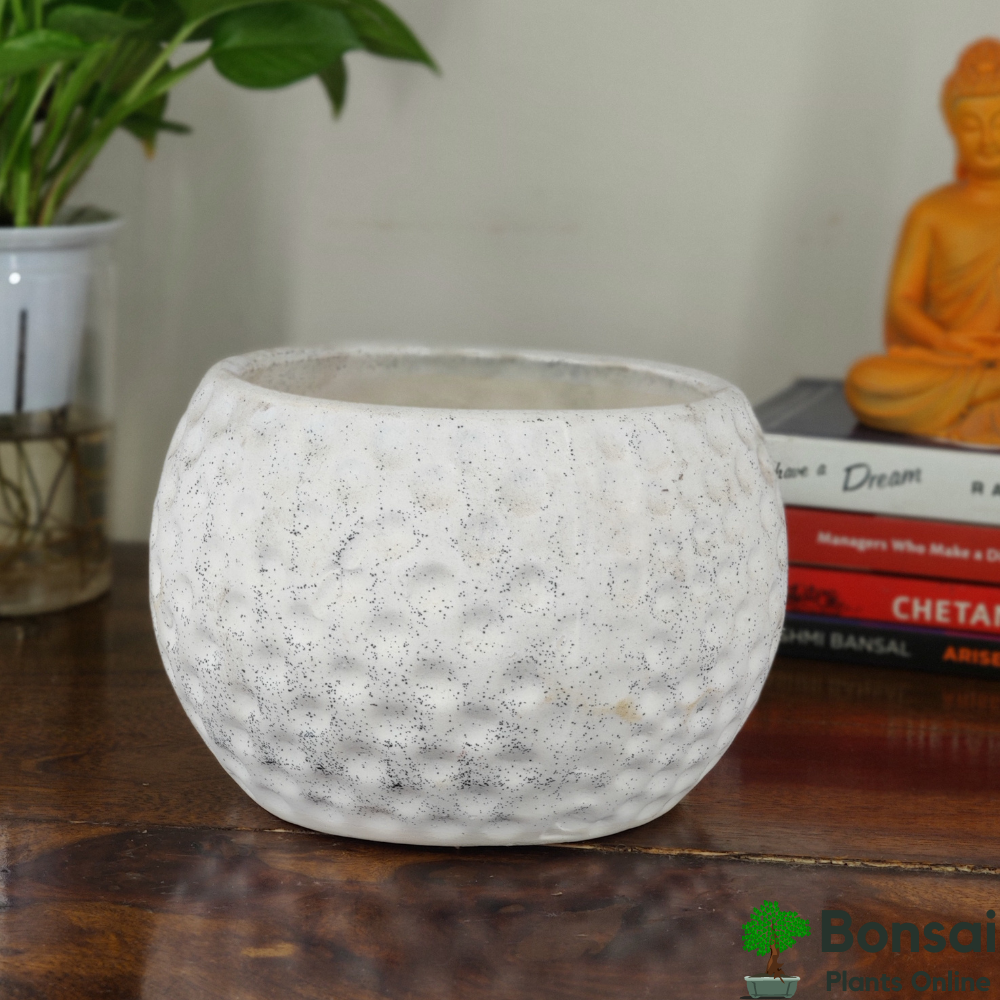 Suitable bonsai trees for this glazed ceramic bonsai pot
This rounded ceramic pot is suitable for keeping a wide variety of indoor bonsai plants. Not only do its thick and porous walls offer ideal conditions for the better growth of the plant, but its simple yet chic look also adds to the pleasing aesthetics of any interior space.
There are a number of plants from tropical to subtropical species along with gorgeous succulents that you can grow in this pot without a single doubt. They will thrive perfectly in this pot and create a stunning sight indoors.
What do our customers have to say?
Bonsai Plants or any plant for that matter, BPO team does great work in design, health of the plants and post-sale service. I've been enjoying the association for my last 12 bonsai plants. 🙂

Impeccable packaging and delivery. I was surprised for the first time, and fall in love with their mastery in packing the plant and delivering it safe to my home. Interesting. Thank you.

True Gardening assistance. I got healthy plant and help whenever I needed through the dedicated WhatsApp channel. Not only the bonsai but also for the normal plants that you buy.

Frequently Asked Questions by customers
Is this ceramic pot easily breakable?
No, the pot is created with superior quality ceramic and is quite long-lasting. Ceramic is a temperature and moisture resistant material, thus weather does not have a significant impact on the pot and so, your pot will not break easily and will stay intact if handled carefully.
What plants can be grown in this ceramic pot?
Tropical and subtropical species of plants grow best in ceramic pots, and thus, plants like Ficus bonsai tree, Money tree bonsai, or even succulents like Jade plant bonsai and Adenium flowering bonsai will look elegant in this pot and thrive gorgeously.
Where can I keep this ceramic pot?
As it looks great with every interior setting, you can keep it anywhere indoors. Be it your living room tabletop, shelves, or your office desk, the pot will add a stunning glaze to any of your empty and boring spaces.
What advantages does this ceramic bonsai pot offer?
The pot is a beautiful ceramic bonsai pot that provides ideal growing conditions for a wide variety of indoor bonsai plants. Meanwhile, the textured appearance gives an eye-catching boost to your interiors and makes them look stunning.
[review-schema]
Additional information
| | |
| --- | --- |
| Dimensions | 13 cm |
| Brand | Abana Homes |
| Variety | Bonsai Pot |
| Location | Indoor |
| Occasion | Anniversary, Birthday, Gifting, Office, Return |
| Pot Material | Glazed ceramic |
Reviews (18)
Only logged in customers who have purchased this product may leave a review.
Related products