Ficus Religiosa Bonsai (Bodhi Tree Bonsai)
Get a live and ultimate symbol of spirituality for your home or office space with this easy-to-maintain and hard-to-kill Bodhi tree bonsai.
Healthy indoor plant trained to grow in width rather than height.

Useful for making sacred beads from is seeds.

Brings instant peace to any interiors.

Has dark-green heart-shaped leaves with a beautiful drip structure.

Ideal for keeping in porch or balconies.
Out of stock
Notify me when the item is back in stock.
Description
The plant is a live and healthy Ficus religiosa bonsai grown and trained in a beautifully glazed pot as a bonsai. Not only does it carry the uplifting values of bonsai trees, but the Ficus religiosa bonsai also has a special spiritual value attached to it. The plant will beautify your interiors and fill up the spaces and your life with positive energies. Its leaves have a beautiful drip structure, which literally means water pours down the tip of its leaves slowly whenever it rains. For this reason, balconies are an ideal spot to keep this plant, where it will receive an ample amount of sunlight and aeration as well.
Even though the plant has a robust structure and is highly tolerant, the product comes supplies with complete care instructions so your Ficus religiosa bonsai will continue to bless your interiors with its multifold benefits.
Alternate names: Buddha tree bonsai / Bodhi tree bonsai / Sacred Fig bonsai
Know your Ficus religiosa bonsai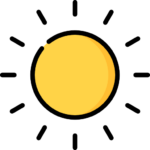 Sunlight
Well-lit indoors, Indirect sunlight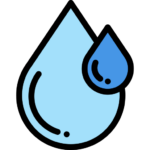 Watering
Keep the soil moist at all times, Avoid overwatering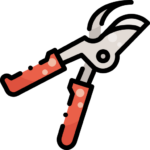 Pruning
Regular pruning throughout the year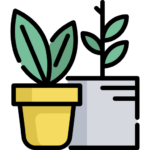 Repotting
Every 2-3 years, During mid-summer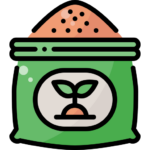 Fertilizer
Liquid fertilizer, Twice a week during summer
Barbados Cherry bonsai tree offering delicious treats
The Ficus religiosa bonsai is most sought-after for its spiritual values. In fact, the plant is commonly referred to as the Buddha tree or Bodhi tree bonsai, which reflects its sacred value. In lieu of this, the Ficus religiosa bonsai is popularly referred to as the Sacred Fig throughout the world. The sacred value of the Ficus religiosa bonsai tree is well-recognized, as it is known to bring peace indoors and thereby uplift the mood and spirit wherever it is placed.
Beautify your interiors with the apple-like cherries
As one of the most renowned indoor plants linked to spirituality, the Ficus religiosa bonsai offers an enlightening experience to homeowners. This has righteously earned the plant the nickname of the Buddha tree or Bodhi tree bonsai. Not only does it bring peace indoors, but it also offers beautiful natural aesthetics to liven up the dead spaces inside your home. If you decide to keep it on the balconies or other similar places, then the water from rains drips down its attractive heart-shaped leaves thus creating an enchanting and lovely aesthetic. Moreover, everyone including guests is bound to immediately recognize your beautiful houseplant as the Bodhi tree bonsai.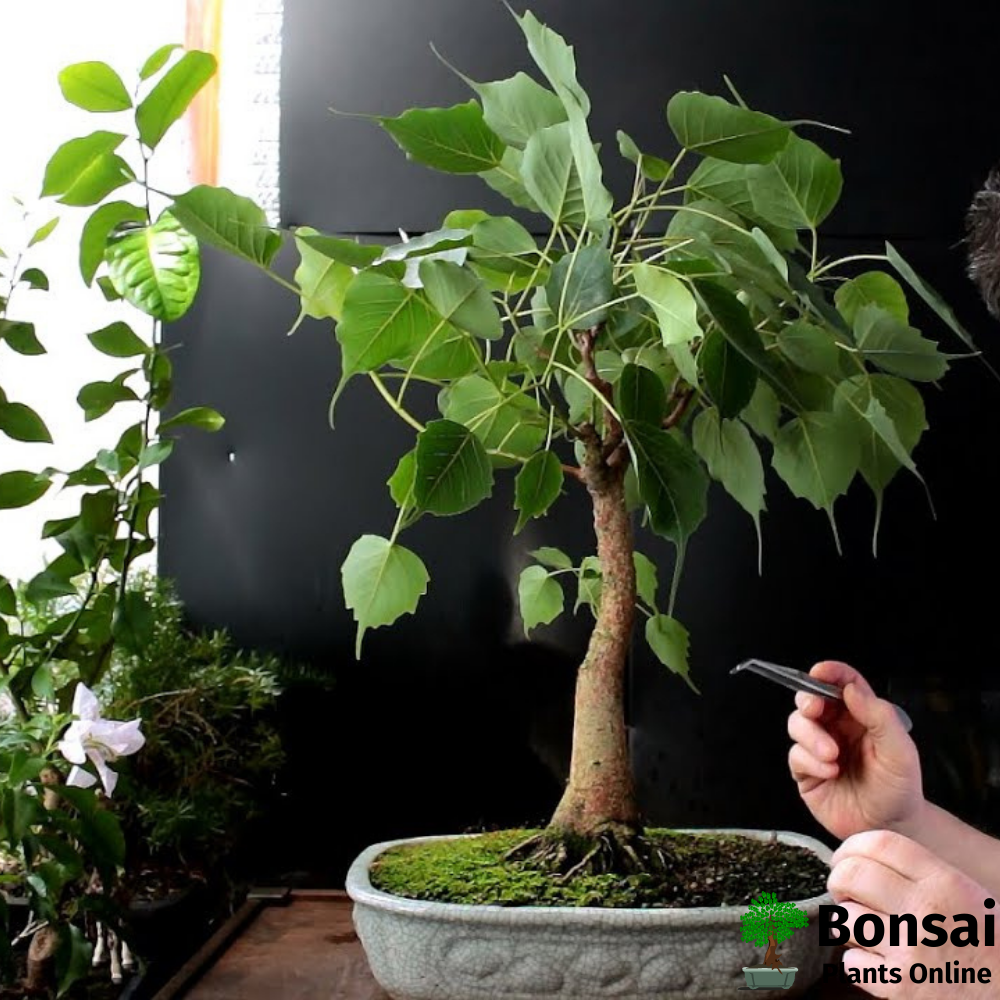 Care instructions for your Ficus religiosa bonsai
The Ficus religiosa is a tolerant bonsai, but the following simple care points must be adhered to in order to maintain its beautiful structure and health.
Location: Since it requires a good amount of sunlight exposure, it is suggested to keep your Ficus religiosa bonsai indoors near a window or in shaded balconies or porch. However, if the leaves are turning yellowish the plant should be moved outdoors temporarily.
Watering: While the soil should be kept moist at all times, overwatering this Bodhi tree bonsai must be certainly be avoided.
Pruning: The plant should be regularly pruned in order to maintain its beautiful shape. Make sure to retain a couple of leaves on each of the shoots when pruning your Bodhi tree bonsai.
Repotting: You should re-pot the Ficus religiosa bonsai every 2 to 3 years, during mid-summer or summer. Remember to prune the roots when transferring it to the new pot.
Fertilizer: Feeding the soil with any mild liquid fertilizer twice a week during summers will result in the best growth of this Ficus religiosa bonsai.
What do our customers have to say?
Bonsai Plants or any plant for that matter, BPO team does great work in design, health of the plants and post-sale service. I've been enjoying the association for my last 12 bonsai plants. 🙂

Impeccable packaging and delivery. I was surprised for the first time, and fall in love with their mastery in packing the plant and delivering it safe to my home. Interesting. Thank you.

True Gardening assistance. I got healthy plant and help whenever I needed through the dedicated WhatsApp channel. Not only the bonsai but also for the normal plants that you buy.

Frequently Asked Questions by customers
Does the plant really have sacred values attached to it?
Yes, the Ficus religiosa bonsai is popularly considered sacred religious in Hindusim, Buddhism and Jainism, which accounts for its common name of the Sacred Fig bonsai tree. The plant brings positive vibes and a range of health benefits when kept indoors. This is because the fruits or figs are extracted for their seeds for making sacred beads, which gives it the popular name of Buddha tree or Bodhi tree bonsai in India.
What are the health benefits associated with the Ficus religiosa bonsai tree?
The Ficus religiosa is often used in traditional Indian medicine for curing gastrointestinal problems, skin problems and asthma. In fact, thanks to its medicinal values it is also called the Buddha or Bodhi tree bonsai. When kept indoors as a bonsai, it is known to fill the interiors with its positive and peaceful vibes throughout the year.
How hard is it to maintain this plant indoors?
The plant is not at all difficult to maintain, as the Ficus religious bonsai is resistant to tough conditions. With sufficient sunlight, watering and regular pruning, the plant will stay in good health for several years to come. In case the health of the plant begins to deteriorate, it will give a warning sign through the yellowing of the leaves. When it does, you should bring the plant outdoors immediately and it will recover fast. This is truly one of the magical aspects of the Bodhi tree bonsai.
Where can I keep this Bodhi tree bonsai?
Although an indoor plant, it is suggested to place the plant in a semi-indoor space such as a shaded porch or balconies. By doing so, you will ensure the best sunlight exposure and aeration for your Ficus religiosa bonsai.
Will this Ficus religiosa bonsai bear flowers and fruits?
Yes, the plant blooms with purple flowers and also bears figs, which are considered sacred by all. The seeds from the figs it bears are useful for making sacred beads used in spirituality and in different religions such as Hinduism and Buddhism. In fact, people love wearing these beads on their bodies, as it imparts them the spirituality and wisdom of the Bodhi tree bonsai.
Additional information
| | |
| --- | --- |
| Brand | Abana Homes |
| Variety | Ficus Religiosa |
| Location | Indoor |
| Plant Age | 10 Years |
| Plant Size | 35 cm |
| Occasion | Anniversary, Exotic, Grand, Office, Parents |
| Pot Material | Ceramic |
Reviews (18)
Only logged in customers who have purchased this product may leave a review.
Related products
Rated 4.29 out of 5
(18)
₹

26
Ships Tomorrow