Glazed Ceramic Bonsai Pot
Enjoy your bonsai adventures more with the glazed ceramic pots that combine vogue looks with convenient maintenance.
Waterproof bonsai pots that lock moisture in the soil for a long time.

Do not topple or tip over easily due to their weight.

Best for growing tropical and subtropical houseplants.

Available in an array of colors, sizes, shapes, and designs.
Description
These pots are one of the most popular and the most colorful types of bonsai pots online. Ranging from the classic earthen tones to colorful shades, glazed ceramic pots can make your indoor or outdoor gardening spot look ornamented with their lovely glaze.
These are waterproof bonsai pots as they are less porous, allowing them to retain moisture in the soil for a long time. This makes ceramic bonsai pots as perfect thriving conditions for plants that require consistently moist soil, such as tropical bonsai plants.
Heavy and sturdy types of bonsai pots, glazed ceramic pots provide a rigid and stable base to these outdoor tropical plants so that they do not topple over due to wind.
Know your glazed ceramic bonsai pots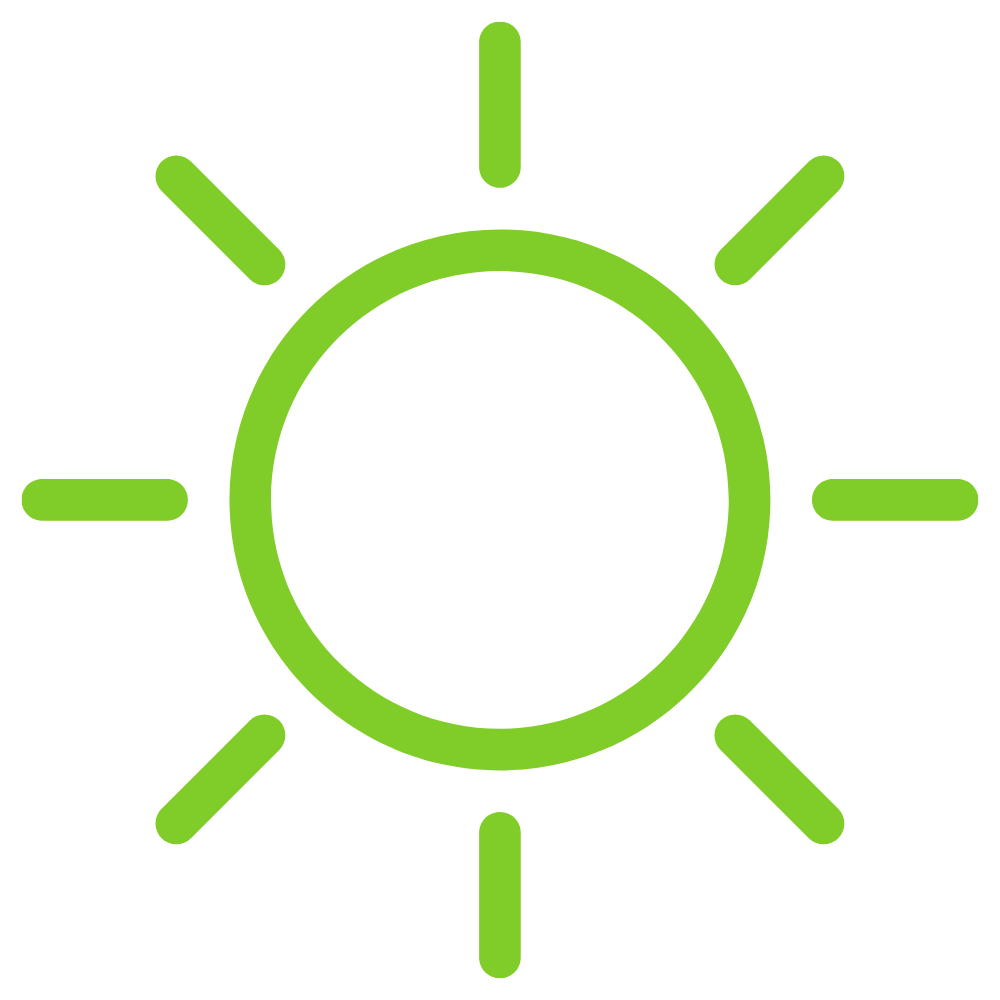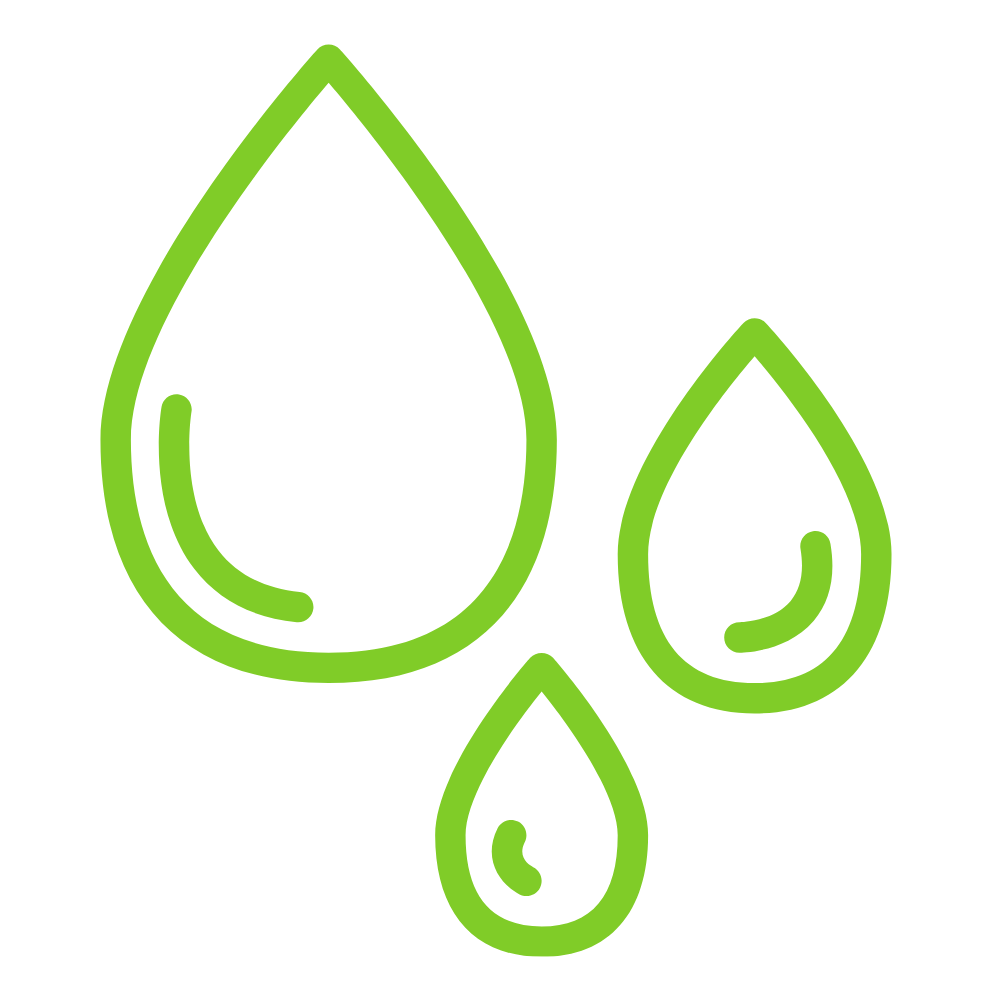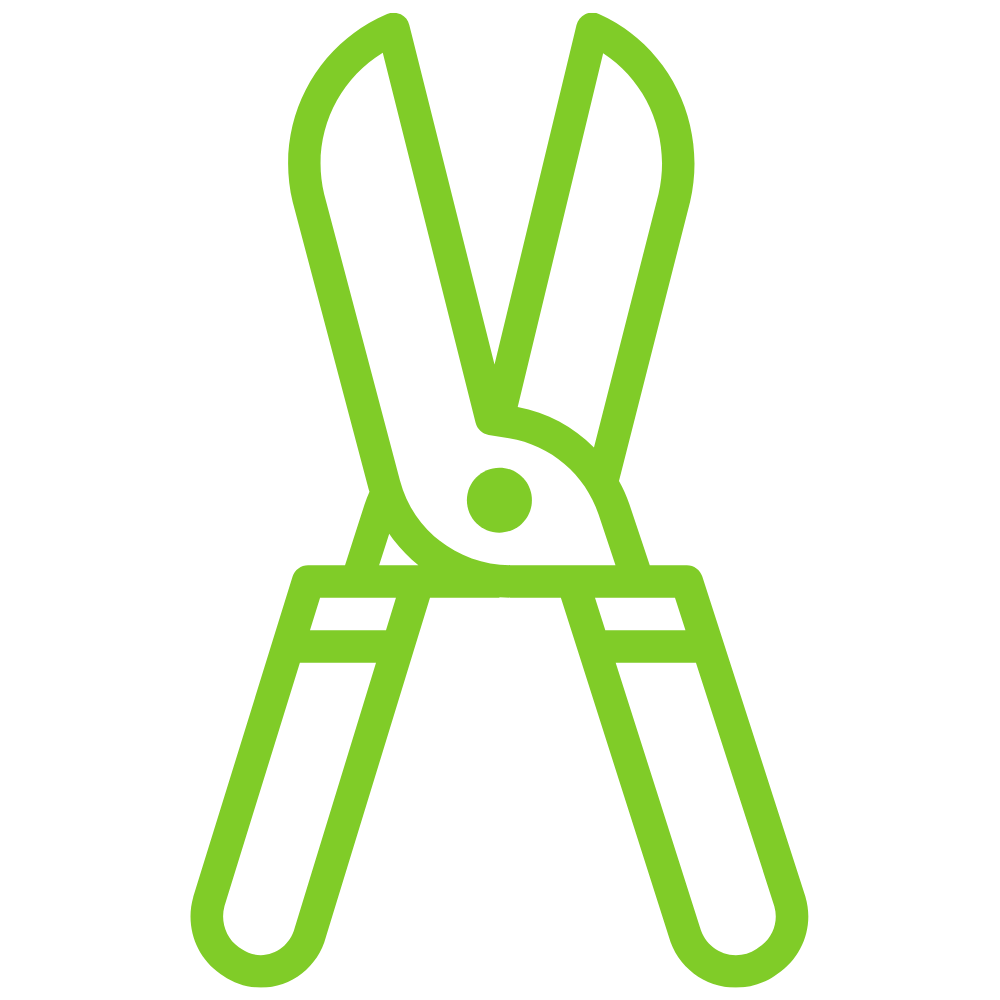 Suitable for most indoor and outdoor bonsai trees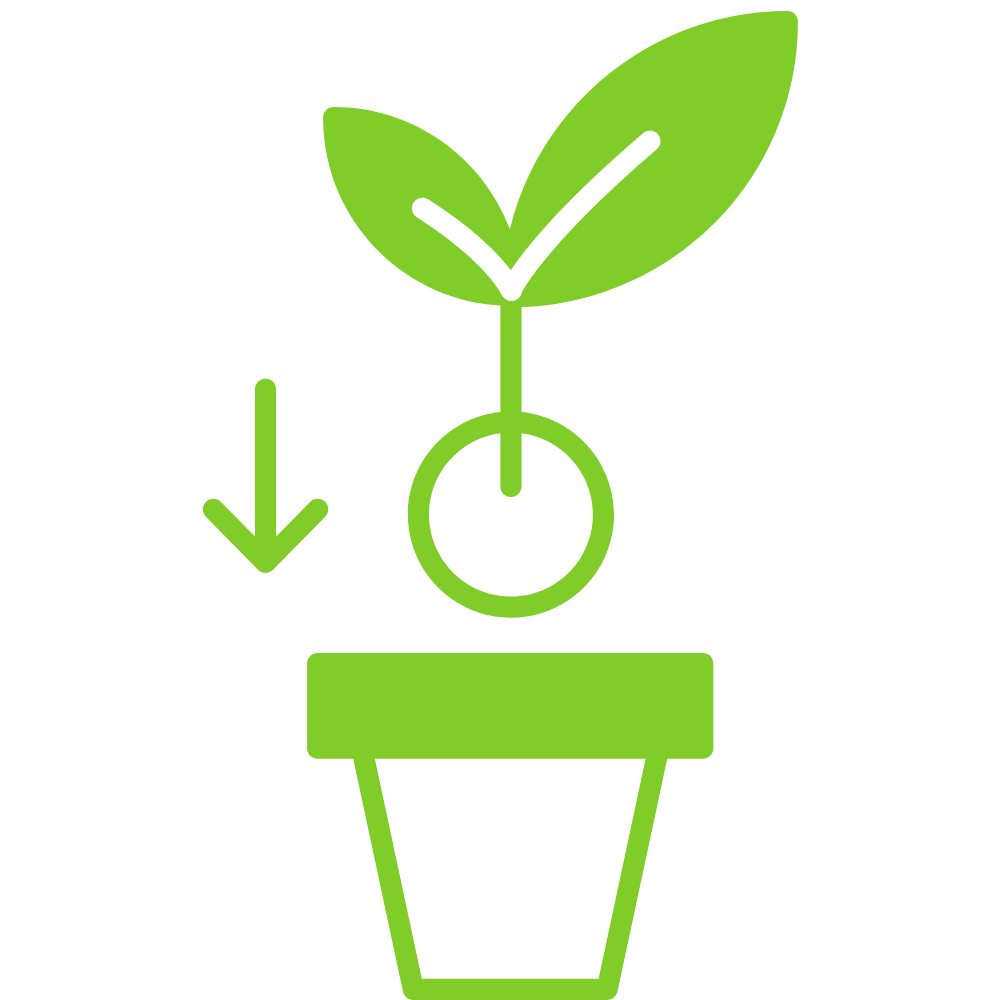 Available in various design options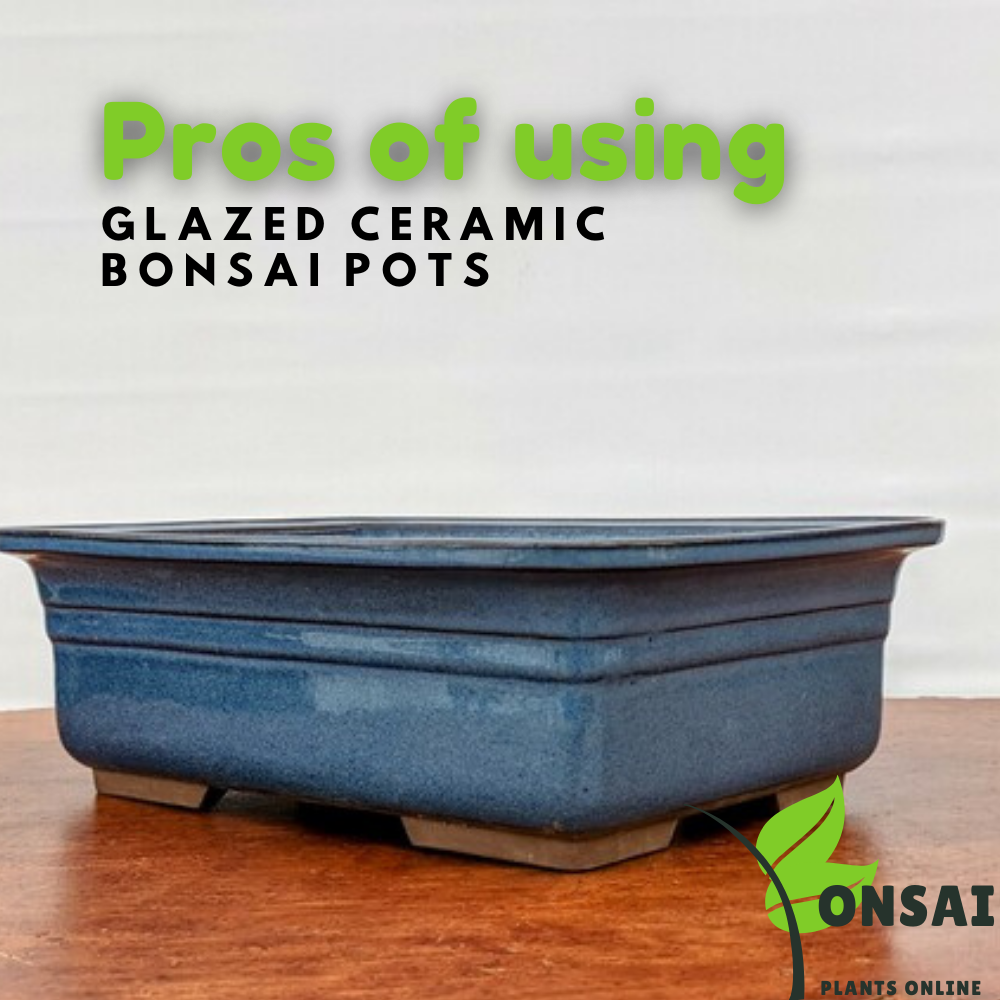 Pros of using glazed ceramic bonsai pots
Loved by all, glazed ceramic pots are best for decorating purposes.
Good-quality glazed ceramic pots are very durable and can even last for decades.
Keep the soil moist for a very long time, making for one of the best choices for most of the bonsai species.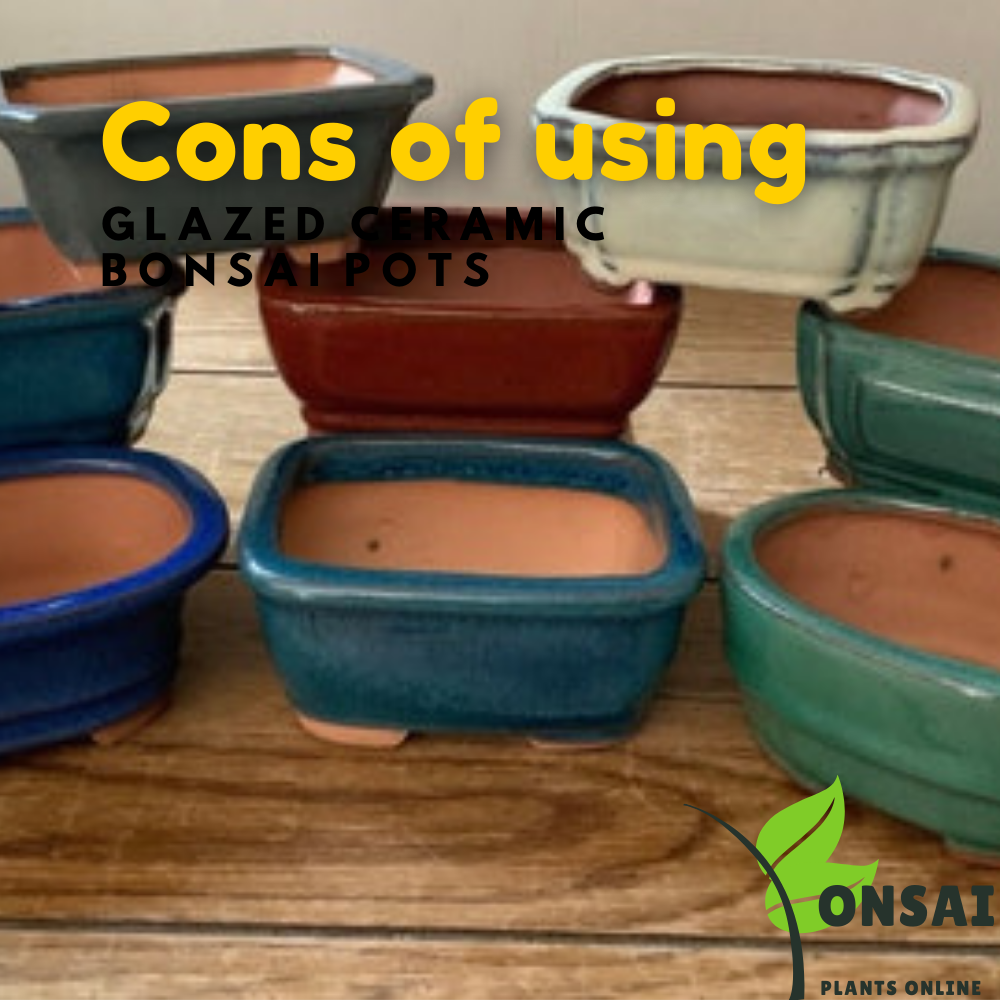 Cons of using glazed ceramic bonsai pots
These are some of the flaws of glazed ceramic pots.
Depending on the size and thickness, it can be a bit more expensive than the other types of containers.
Prone to cracking and breaking, especially during winters, repotting, or moving. Thus, it requires extra care while handling.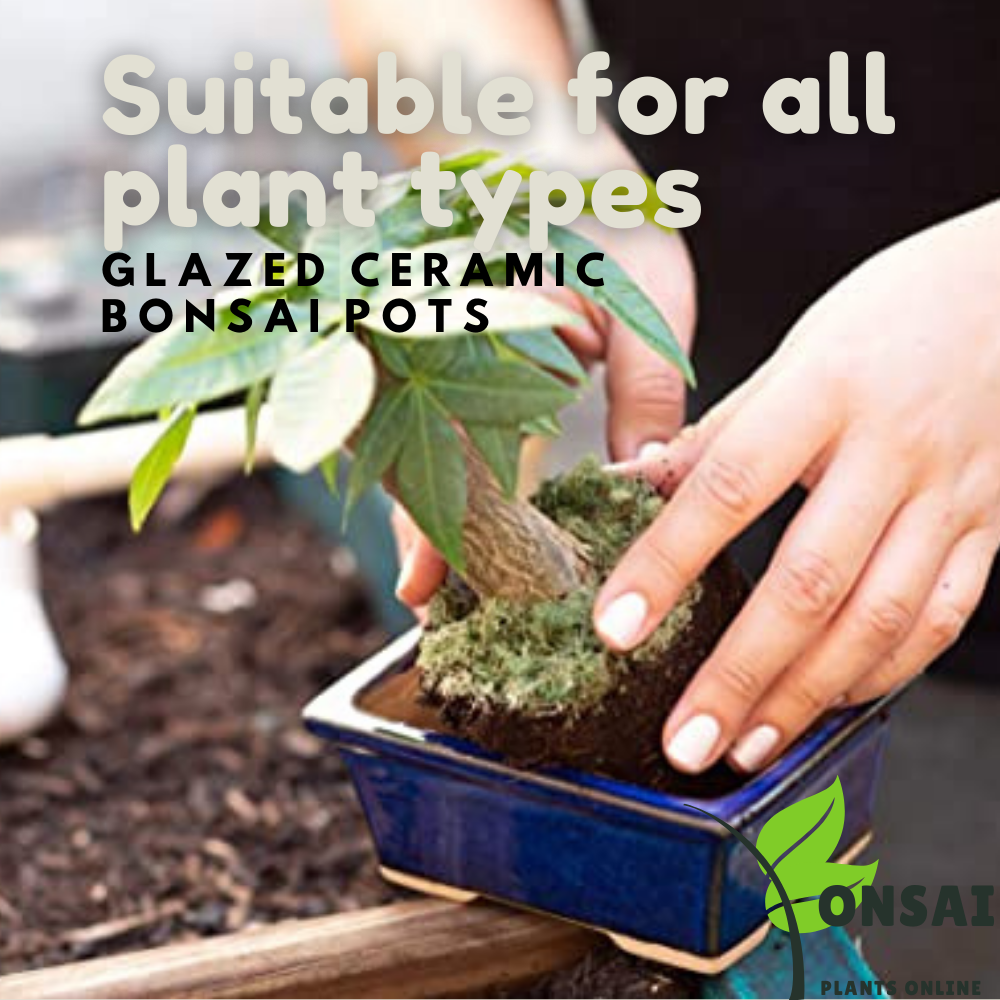 Suitable bonsai trees for glazed ceramic bonsai pots
Since they can hold moisture for long, tropical plants grow best in these glazed ceramic pots.
Flowering bonsai plants like Bougainvillea bonsai grow perfectly in the glazed ceramic plants. 
Brazilian rain tree is one of the known bonsai plants that thrive best in these glazed ceramic pots.
Another famous bonsai, the Ficus bonsai tree flourishes well in these pots.
Fukien tea tree, one of the popular bonsai options, can also be grown in these glazed ceramic pots.
What do our customers have to say?
Bonsai Plants or any plant for that matter, BPO team does great work in design, health of the plants and post-sale service. I've been enjoying the association for my last 12 bonsai plants. 🙂

Impeccable packaging and delivery. I was surprised for the first time, and fall in love with their mastery in packing the plant and delivering it safe to my home. Interesting. Thank you.

True Gardening assistance. I got healthy plant and help whenever I needed through the dedicated WhatsApp channel. Not only the bonsai but also for the normal plants that you buy.

Frequently Asked Questions by customers
Do glazed ceramic pots last longer?
Glazed ceramic pots can last long if taken care of while handling. They are quite tolerant of varying seasons but should not be left outdoors in freezing temperatures. If managed carefully, these pots can last for decades without losing their shine or glaze.
What is the benefit of using glazed ceramic bonsai pots?
Glazed ceramic pots have thick walls and are less porous that makes them perfect pots for outdoor tropical plants that require frequent watering and high temperature. Besides, the shiny glaze of these pots is useful for both interior and outdoor home decor.
Can I use these for interior decoration?
Yes, glazed ceramic pots have a glossy appearance and come in a range of various eye-catching colors and designs. When paired with a lovely indoor flowering bonsai, its beauty becomes matchless and enhances the visual appeal of your house.
What sizes are these pots available in?
These lovely and attractive glazed ceramic pots can be found in any desired size. There is a wide range of these pots online that includes a variety of small to medium and large ceramic pots that you can get for your garden or home.
Additional information
| | |
| --- | --- |
| Brand | Abana Homes |
| Location | Indoor |
| Plant Age | 10 Years |
| Plant Size | 35 cm |
| Occasion | Anniversary, Exotic, Grand, Office, Parents |
| Pot Material | Ceramic |
Reviews (18)
Only logged in customers who have purchased this product may leave a review.
Related products
Out of stock
Rated 4.14 out of 5
(7)
₹

450
Ships Tomorrow