I-Shaped Ficus Long Island Bonsai Tree – 4 Yrs Old
Fill your home with the lush greenery, beauty and peace of this healthy and compact Ficus bonsai tree that is 4 years old.
Healthy and compact bonsai tree of Ficus Long Island species.
Beginner-friendly plant that comes pre-potted in a beautiful ceramic bonsai pot.
Spiritual and auspicious plant that comes from the Banyan tree species.
Grown and trained into a sturdy, healthy and beautiful shape of upright form,
Ideal choice for green gifts to family and friends.
Description
Enjoy this popular tropical houseplant that comes pre-potted in a beautiful ceramic pot. The Ficus bonsai plant is 4 years old and belongs to the Ficus Long Island species which is popular as an indoor houseplant due to its beautiful shape in a compact size. has received the best bonsai training for growing in your home. While staying at an optimal height of up to 20 cm for your indoor spaces, the plant has air-purifying properties for your home. It also brings good luck and happiness in other ways, as it is popularly regarded as an auspicious bonsai plant to keep indoors.
The plant is also ideal for gifting to friends and family on all occasions. You can also keep it in your living rooms and other indoor or semi-indoor spaces for enjoying its natural beauty and benefits for a long time to come. It will need minimal plant care to thrive, and all of these necessary care instructions will be provided in the product package as a bundle of joy for you or your loved ones.
Know your Ficus Long Island bonsai tree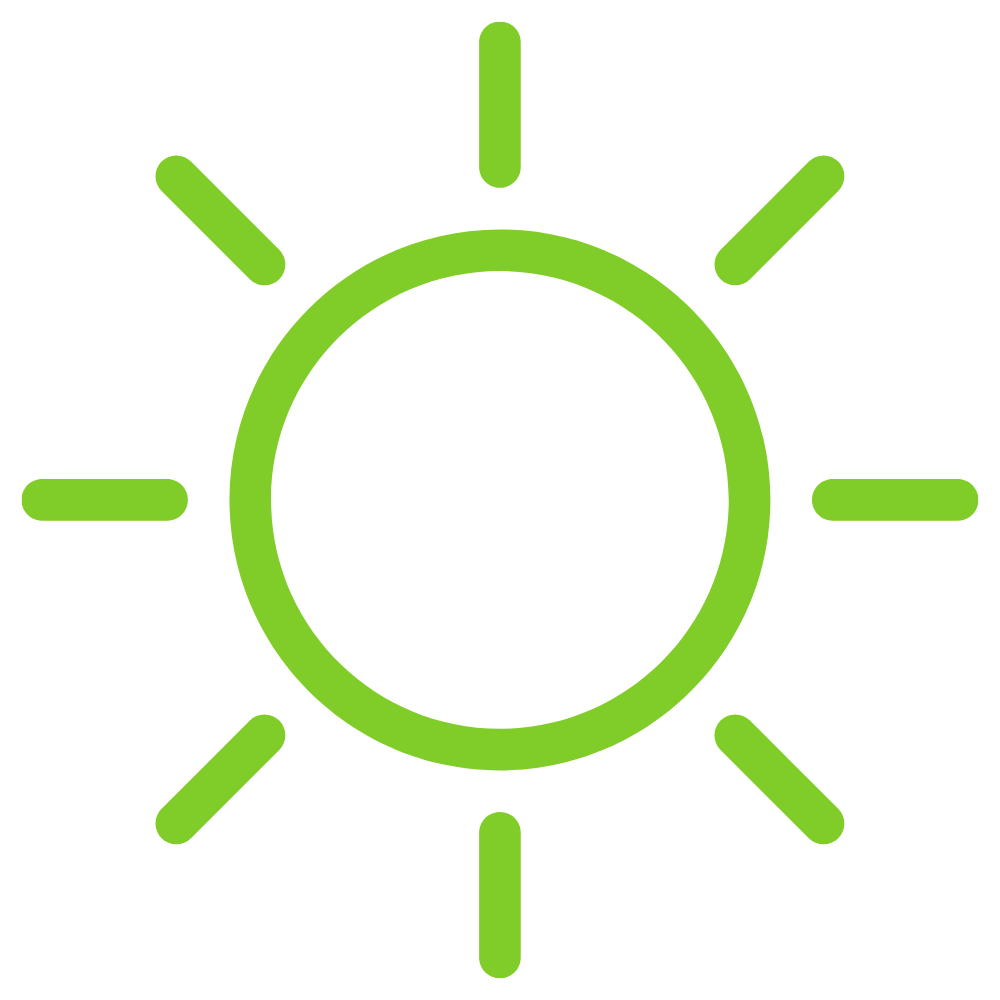 Sunlight
Well-lit indoor, Indirect sunlight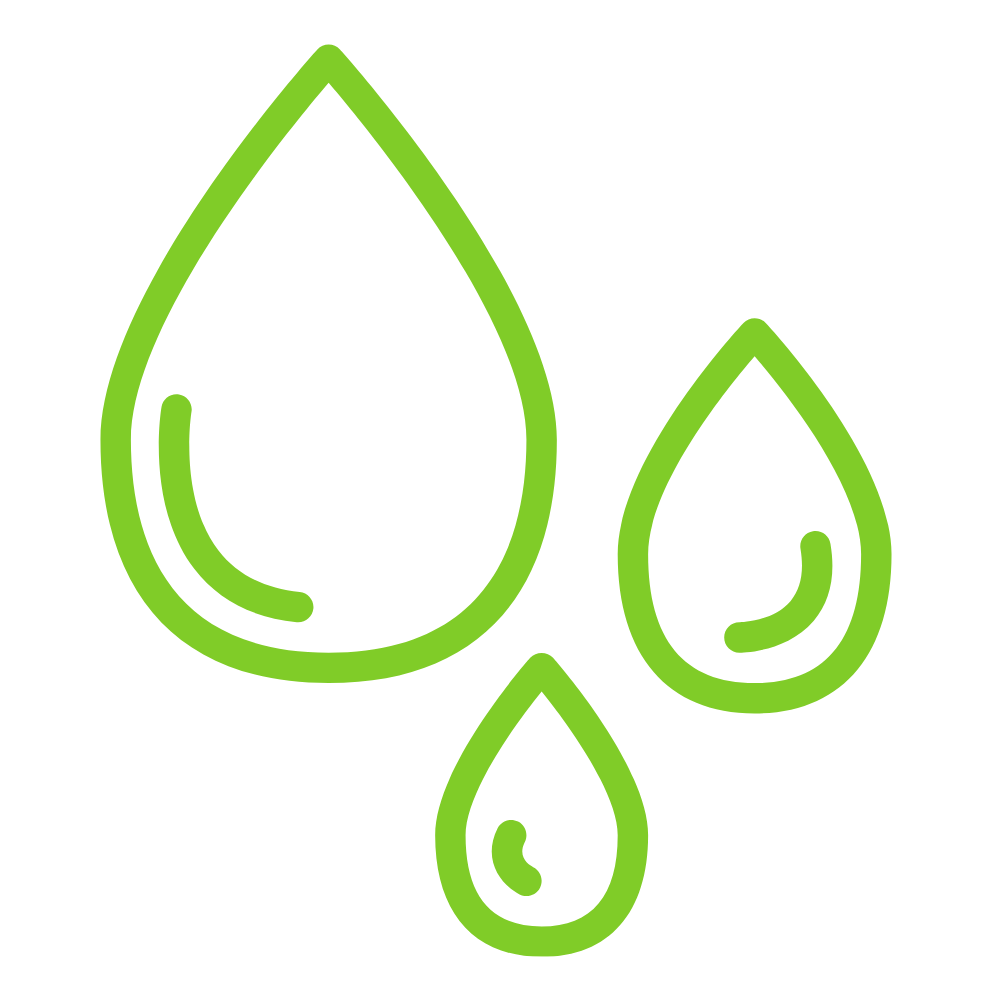 Watering
After every 2-3 days, Avoid over-watering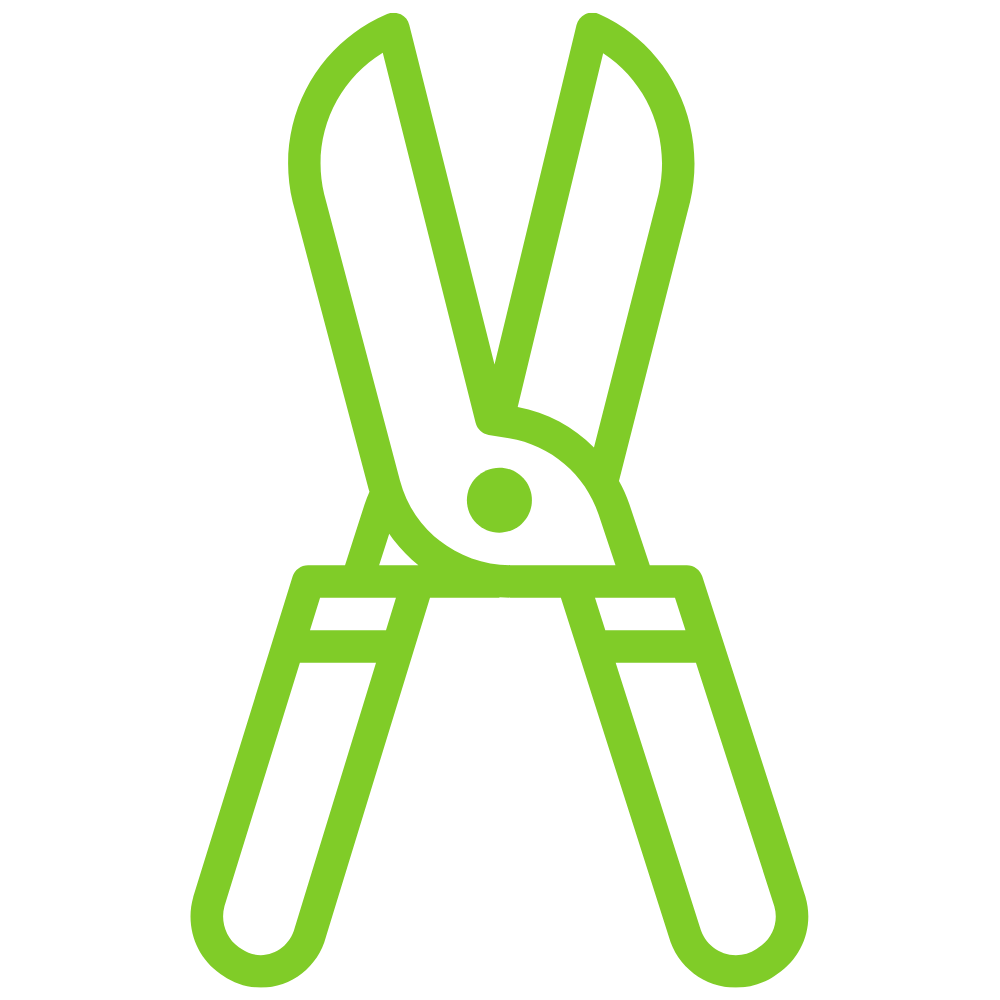 Pruning
Light pruning throughout the year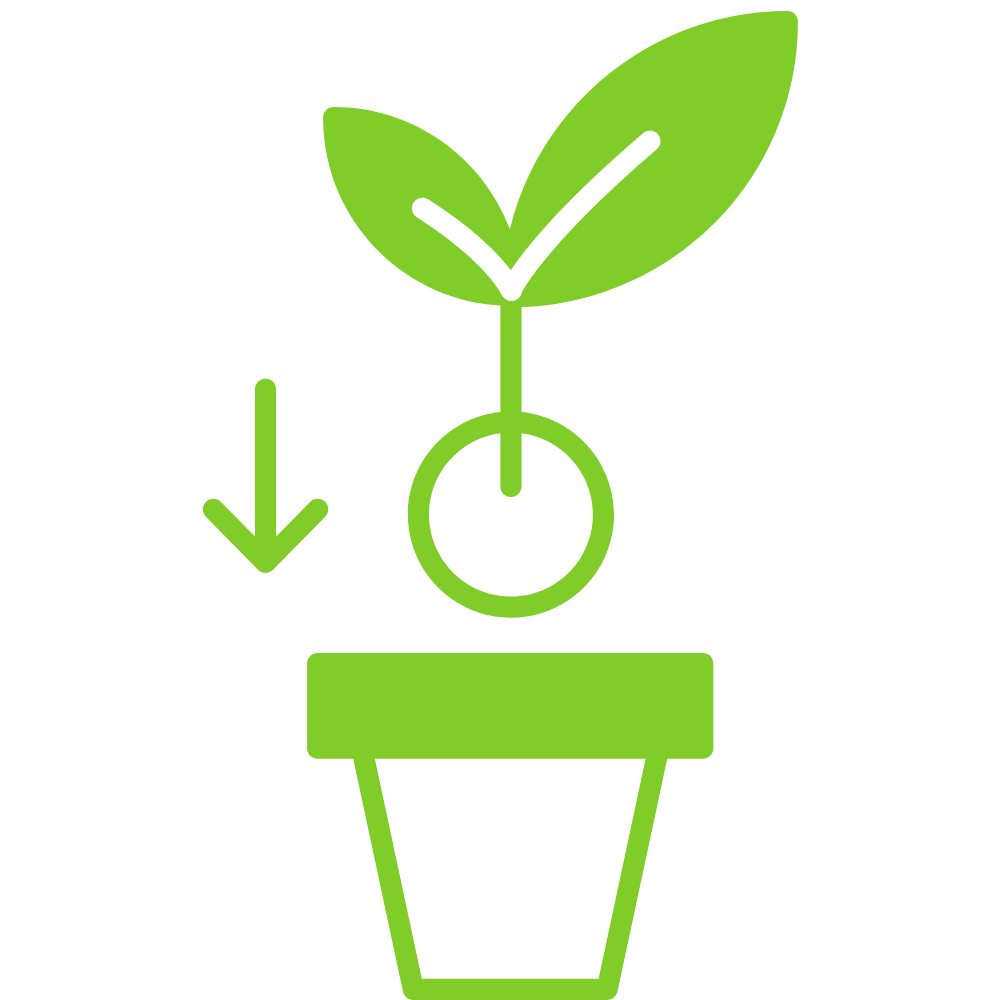 Re-potting
After every 2-3 years, During mid-summer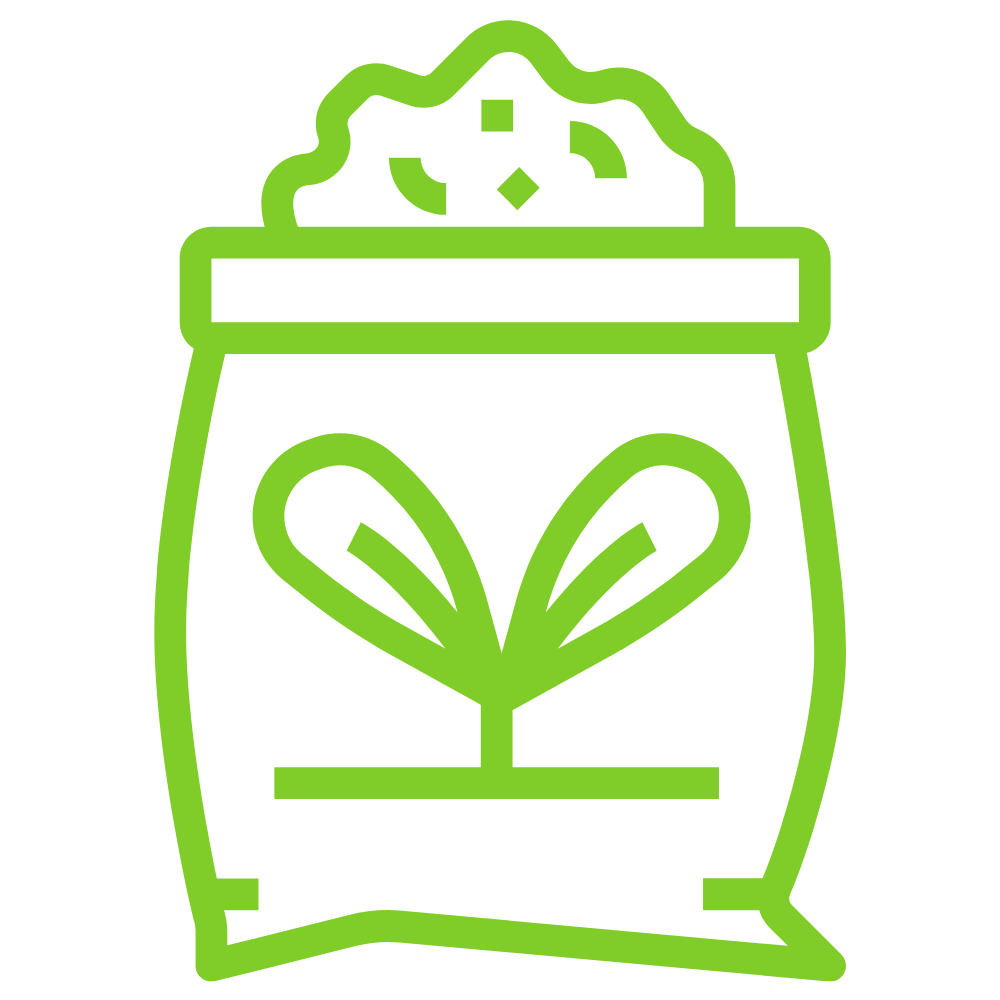 Fertilizer
Liquid fertilizer, twice a week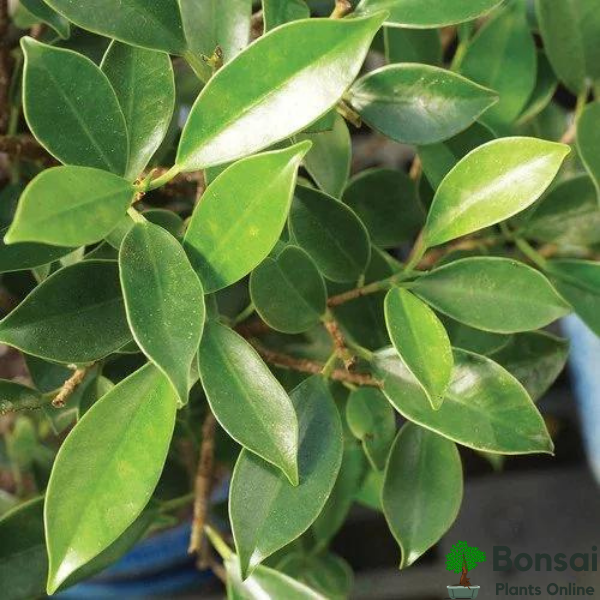 Tropical aesthetics in a compact size for your home
As an evergreen and tropical plant, this Ficus tree bonsai will add lush greenery and natural beauty to your living rooms or other indoor spaces. With a sturdy and upright structure of I-shape, this Ficus bonsai plant has a really positive presence that is easy to fall in love with.
The plant is Ficus Long Island bonsai tree, which is a beautiful houseplant in a compact size that is easy to maintain. The plant will have several benefits when placed in your indoor spaces, as it is a natural air purifier and also brings positive vibes wherever it is placed.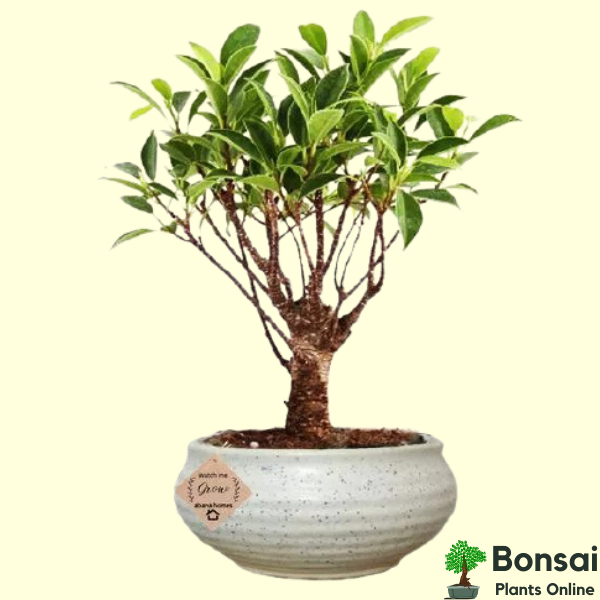 Beautiful houseplant with a peaceful vibe
No matter where it is kept in your indoor spaces, whether the living room or even balcony, this Ficus bonsai tree will offer soothing and peaceful vibes into your home and life.
As a tropical plant, it has a leafy and lush green appearance. It has oval-shaped leaves of a dark color. Overall, the Ficus bonsai tree creates a peaceful combination combined with the beautiful ceramic pot and attractive monk figurine that it comes with.
Since it has a high decorative value that is easy to maintain, this Ficus bonsai plant is ideal for gifting to your friends and family. In fact, you will be giving them the gift of happiness and inner peace inside their own homes.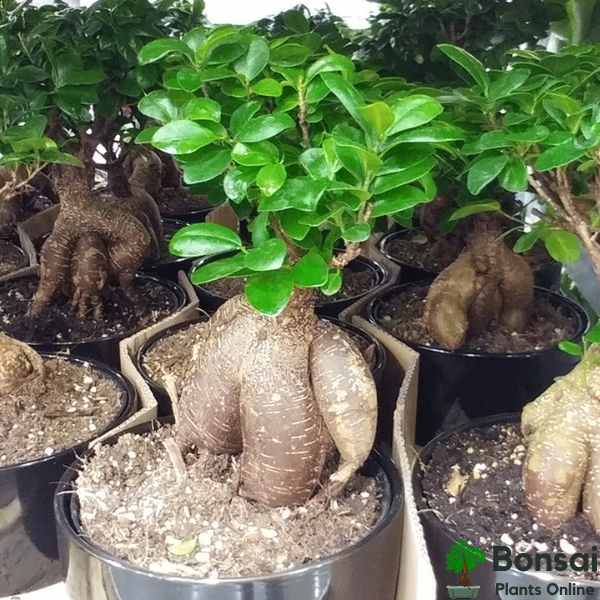 Care points for this Ficus Long Island bonsai tree
As a beginner-friendly plant, you will not have much difficulty in maintaining the gorgeous and lush green aesthetics of your Ficus bonsai plant. Only a few basic care points need to be followed.
Placement: Since it requires good sunlight exposure, you can enjoy this Ficus bonsai plant in semi-indoor spaces such as porch or balcony, on even in your well-lit living room.
Watering: Avoid over-watering the Ficus bonsai plant. Watering it 2 to 3 times per week regularly will suffice well.
Pruning: Keep pruning the plant lightly throughout the year as it is a leafy and fast-growing plant.
Repotting: It is suggested to re-pot the Ficus tree bonsai after every 2-3 years. For best results, do this during the mid-summer season and make sure to prune the overgrown roots before replanting.
Fertilization: Using a mild-acting liquid bonsai fertilizer twice a week during the summer season will result in the healthiest and most beautiful growth of the plant.
What do our customers have to say?
Bonsai Plants or any plant for that matter, BPO team does great work in design, health of the plants and post-sale service. I've been enjoying the association for my last 12 bonsai plants. 🙂

Impeccable packaging and delivery. I was surprised for the first time, and fall in love with their mastery in packing the plant and delivering it safe to my home. Interesting. Thank you.

True Gardening assistance. I got healthy plant and help whenever I needed through the dedicated WhatsApp channel. Not only the bonsai but also for the normal plants that you buy.

Frequently Asked Questions by customers
Where can I keep this Ficus Long Island bonsai tree?
You can keep this Ficus bonsai tree indoors, where it gets sufficient exposure to indirect sunlight every day. It can also be placed in semi-indoor spaces such as your shaded porch or balconies
What style of home decor is the Ficus bonsai tree suited for?
The Ficus Long Island bonsai tree is great for all styles of home decor. It has lush green natural aesthetics in a beautiful ceramic pot that will bring life and cheerfulness to all of your indoor spaces.
What are the benefits of this Ficus bonsai plant?
The Ficus tree bonsai of Long Island variety has positive and soothing vibes that will create a blissful atmosphere inside your home. Moreover, it has lush natural greenery that will be a delight for you and your guests alike in your indoor spaces and even fill the dull corners of your home with life.
How can I care for this Ficus tree bonsai?
The plant is beginner-friendly, meaning that you can maintain it in good health even with minimal care and attention. Proper watering and sunlight are the most essential requirements. These will be supplied along with the product package to help you take care of your Ficus bonsai tree with maximum ease.
Additional information
| | |
| --- | --- |
| Dimensions | 20 cm |
| Brand | Abana Homes |
| Variety | Ficus |
| Location | Indoor |
| Plant Age | 4 Years |
| Plant Size | 20 cm |
| Occasion | Anniversary, Birthday, Gifting, Love, Parents, Religious |
| Pot Material | Ceramic |
Reviews (25)
Only logged in customers who have purchased this product may leave a review.
Related products
Rated 4.29 out of 5
(18)
₹

1,599
Ships Tomorrow