Jacaranda Bonsai Tree
Make your indoors home to the captivating beauty of nature with the magnificent flowers of this Jacaranda bonsai tree.
Beautiful and evergreen plant in a lovely pot.

Has pretty and compound fern-like leaves. 

Bears large, bell-shaped blue flowers that last for two months.

Perfect ornamental bonsai for indoor transformation.
Out of stock
Notify me when the item is back in stock.
Description
Loaded with subtropical evergreen beauty, the Jacaranda bonsai tree is native to the exotic lands of South America. Being one of the finest bonsai tree options, this tree is widely celebrated for its large, bell-shaped flowers that appear in large panicles. While the flowers give a refreshing look to your house, the long-lasting evergreen beauty of the tree adds an admirable touch of nature to your home. The Jacaranda bonsai tree comes potted in a matching glazed pot so that you can instantly place it in an appropriate spot indoors.
Know your Jacaranda bonsai tree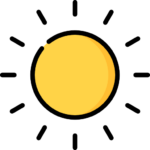 Sunlight
Well-lit indoors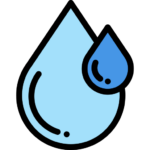 Watering
Water every time the soil runs dry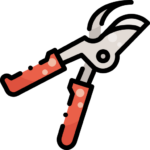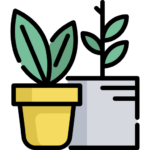 Re-potting
Every 2 years, In spring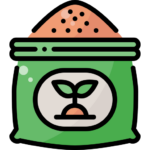 Fertilizer
Liquid fertilizer, During the growing season and winter season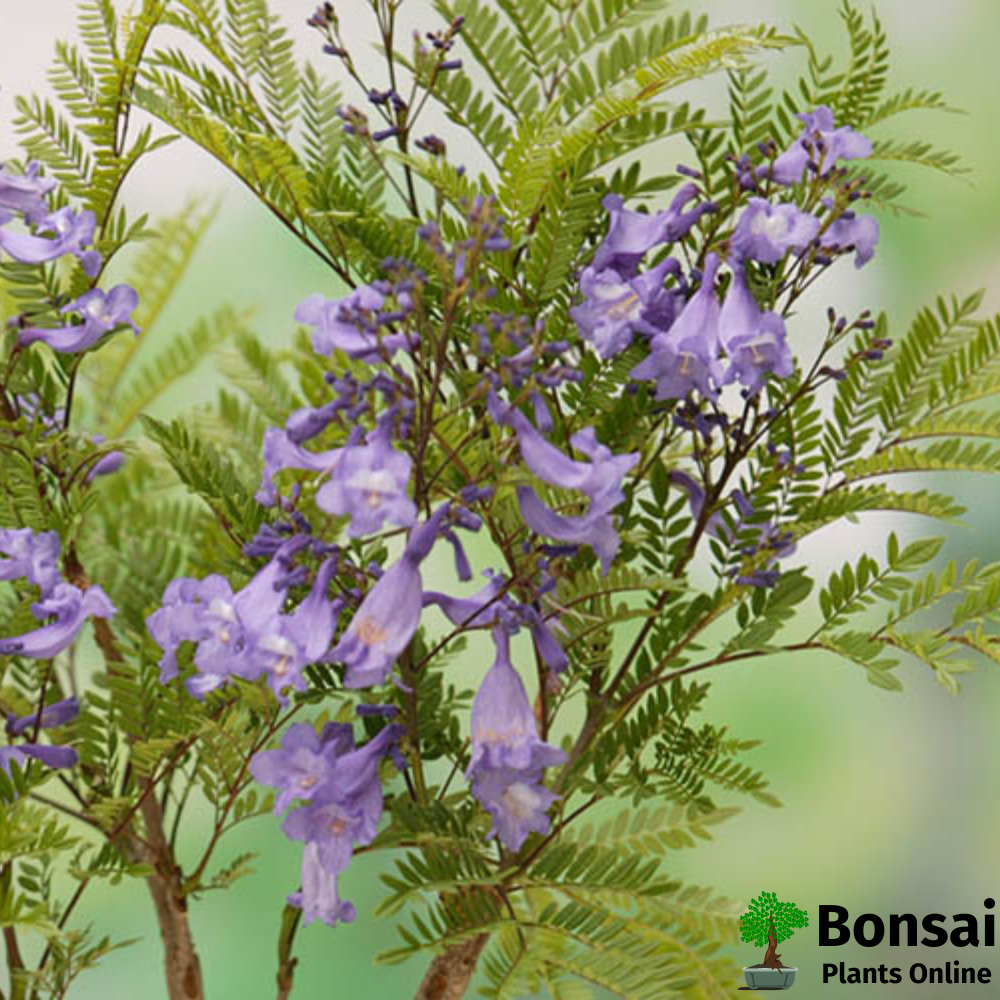 Jacaranda bonsai tree makes a stunning houseplant
As a stunning addition for interior decor, the Jacaranda bonsai tree exhibits enchanting flowers that last for two long months to embellish your indoors with their exclusive looks. It has bright green and shining leaves that highly resemble the leaves of a beautiful fern. While the plant blossoms with bluish bell-shaped flowers, the Jacaranda bonsai tree elevates the aesthetics of your home with its hardwood structure and artistic flaky bark throughout the year.
Get beauty and convenience with the Jacaranda bonsai tree
With a magnifying appearance and easy-to-maintain nature, this lovely Jacaranda bonsai tree will be an ideal decorative plant for your home or office. While the tree lightens up the dullness of your vacant indoor spaces with its enchanting greenery throughout the year, in spring, large bell-shaped flowers paint the foliage with their lovely blue and purple color. They stay on the tree for a very long time, giving it an extremely ravishing appearance and making for a wonderful sight to experience in your very own house.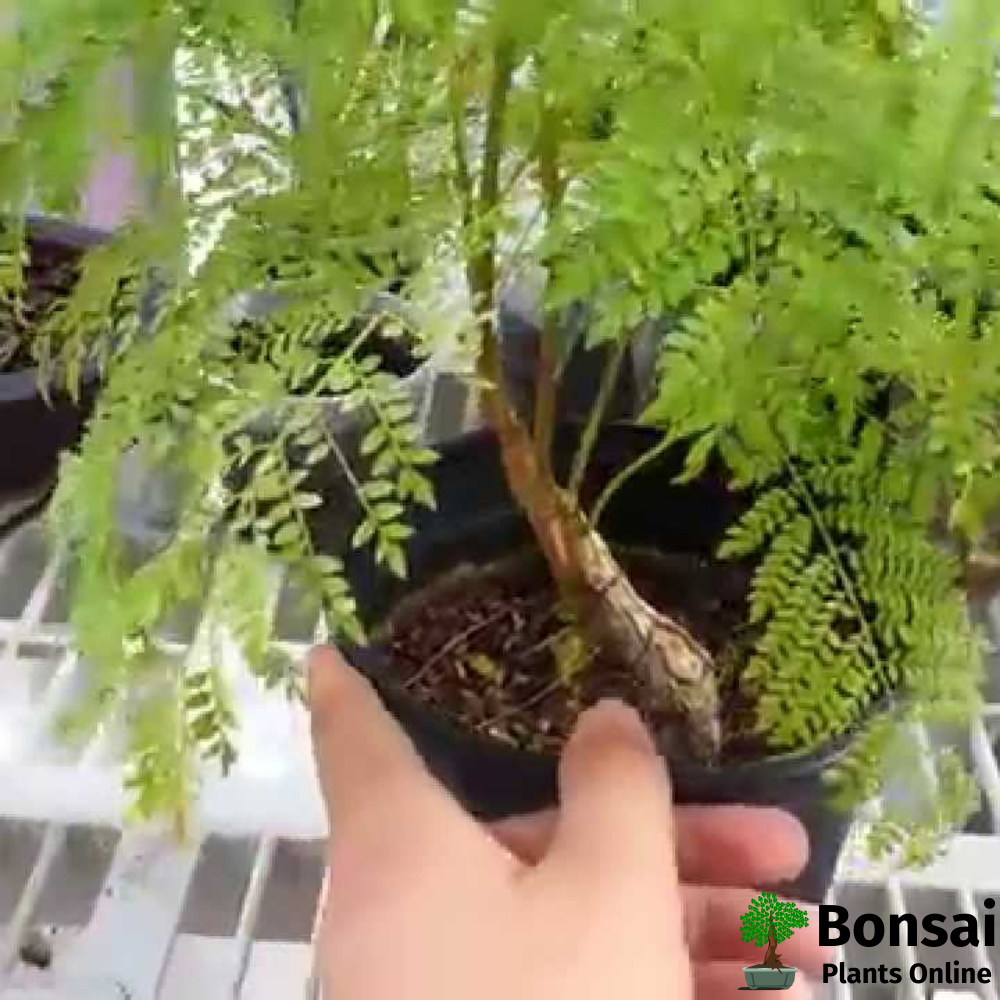 Care instructions for your Jacaranda bonsai tree
Excellently trained to be a bonsai, this lovely Jacaranda bonsai tree is relatively easy to care for and anyone with basic care points will be able to perfectly take care of this plant.
Location: Keep the plant indoors at a place where it gets a lot of light. Shaded and semi-shaded balconies, porch, and patios would be the best-suggested spots for your tree.
Watering: Water the plant when the soil starts to run dry. Try to keep the soil moist but avoid overwatering.
Pruning: Shorten the newer shoots to one or two leaf pairs whenever you notice a heavier growth while strong pruning is ideal during spring.
Repotting: Repotting is required every second year.
What do our customers have to say?
Bonsai Plants or any plant for that matter, BPO team does great work in design, health of the plants and post-sale service. I've been enjoying the association for my last 12 bonsai plants. 🙂

Impeccable packaging and delivery. I was surprised for the first time, and fall in love with their mastery in packing the plant and delivering it safe to my home. Interesting. Thank you.

True Gardening assistance. I got healthy plant and help whenever I needed through the dedicated WhatsApp channel. Not only the bonsai but also for the normal plants that you buy.

Frequently Asked Questions by customers
Where can I keep my Jacaranda bonsai tree?
As an indoor houseplant, the Jacaranda needs to be placed in well-lit and open indoor areas. Shaded or semi-shaded verandas, gardens, or balconies make for the ideal spots where it gets enough light and good airflow. 
Does this Jacaranda bonsai tree drop its leaves?
Though this Jacaranda bonsai tree is an evergreen shrubby plant that barely drops its foliage, it can shed leaves if the temperature drops. And it is quite fine. Usually, the tree drops leaves before the flower buds open and lets the magnifying flowers take over the branches to create a highly aesthetic scenery in your house.
Can this Jacaranda bonsai tree survive cold temperatures?
This plant is a little sensitive to varying temperatures and can't stand the too cold temperatures and frost. So, it is advisable to protect the tree from cold winds during winters and keep it as warm as possible. 
How can I take good care of my Jacaranda bonsai tree?
Taking care of this bonsai is not a big deal. Perfectly trained and already fit into the bonsai culture, it is quite sturdy and strong to thrive. However, you will receive a proper care instruction guide with your product package to ensure convenience on your part.
Will my Jacaranda bonsai tree require any special fertilizer to grow flowers?
No really, as any weak water-soluble fertilizer once a month will be enough for this plant's healthy growth. With just a little pampering and basic feeding, the plant thrives well and keeps flourishing.
Additional information
| | |
| --- | --- |
| Brand | Abana Homes |
| Variety | Jacaranda |
| Location | Indoor |
| Plant Age | 10 Years |
| Plant Size | 35 cm |
| Occasion | Anniversary, Exotic, Grand, Office, Parents |
| Pot Material | Ceramic |
Reviews (18)
Only logged in customers who have purchased this product may leave a review.
Related products
Rated 4.54 out of 5
(26)
₹

1,900
Ships Tomorrow