Radermachera Bonsai Plant (China Doll Plant)
Revive your living room with this elegant-looking Radermachera bonsai tree with drooping and feathery leaves.
Live. healthy and well-trained Radermachera bonsai plant.

Has a compact build with drooping foliage for all your indoor spaces

Produces glossy leaves of bright green color in the form of beautiful leaflets

Thrives naturally in India's warm and humid weather.

New and modern species of houseplant that is beginner-friendly.

Comes in a beautiful glazed ceramic bonsai pot supplied with a watering tray
Description
As a recently-discovered species for bonsai-making, you might know the Radermachera bonsai plant as the Emerald plant or the China Doll plant. It has a great natural aesthetic due to large and feathery-looking leaves that add beauty and delight to any living or office space. 
The plant is easy to maintain, as after buying only pruning and other basic plant care activities need to be provided. Its mesmerizing leaf arrangements can be enjoyed in any indoor space. The Radermachera bonsai tree will be a great aesthetic addition that allows you to stay connected with nature even inside Your home.
The plant comes pre-potted in a beautiful bonsai pot made of ceramic that enhances its natural and feathery aesthetics. This pot is also provided with a bonsai tray, that not only keeps the plant healthy by avoiding over-watering but also prevents any spillage of water inside your home. The plant is delivered in safe and corrugated packaging and is supplied with all necessary instructions to help you enjoy this beautiful houseplant for a long time to come
Know your Radermachera bonsai tree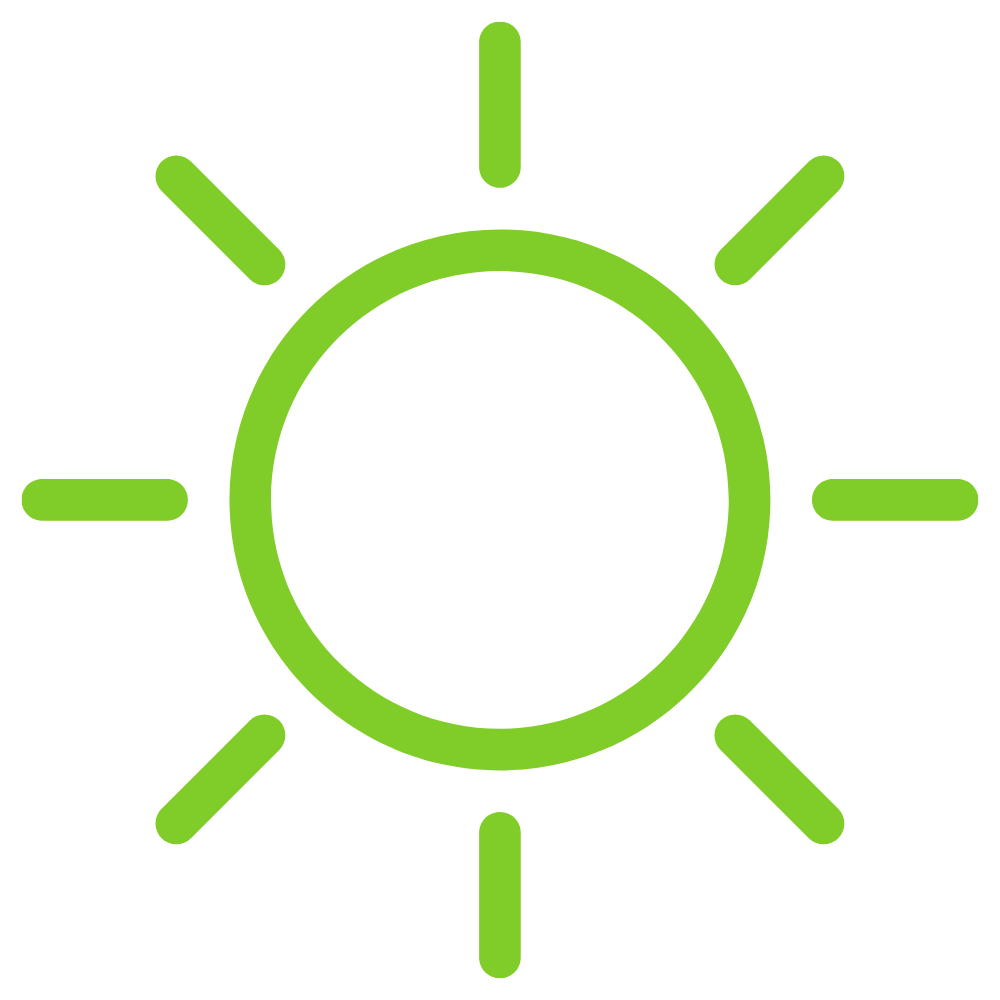 Sunlight
Bright and indirect sunlight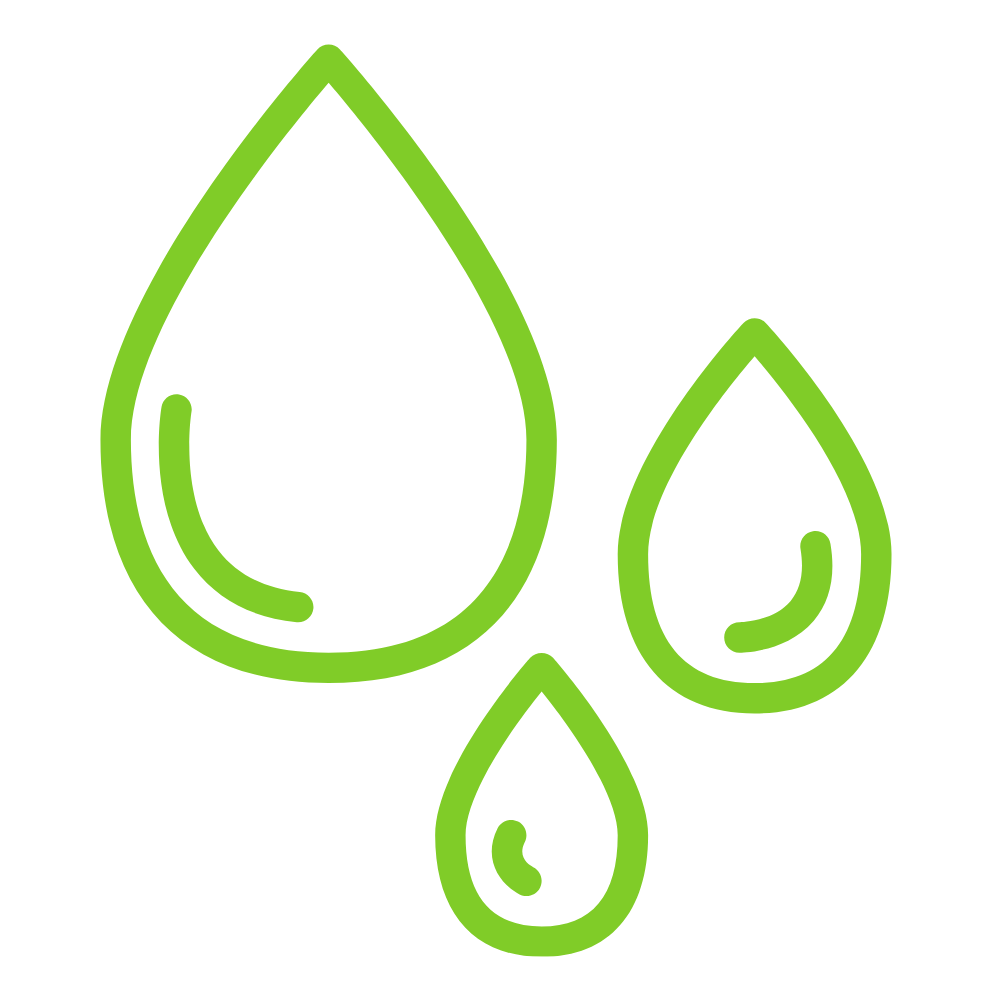 Watering
2-3 times per week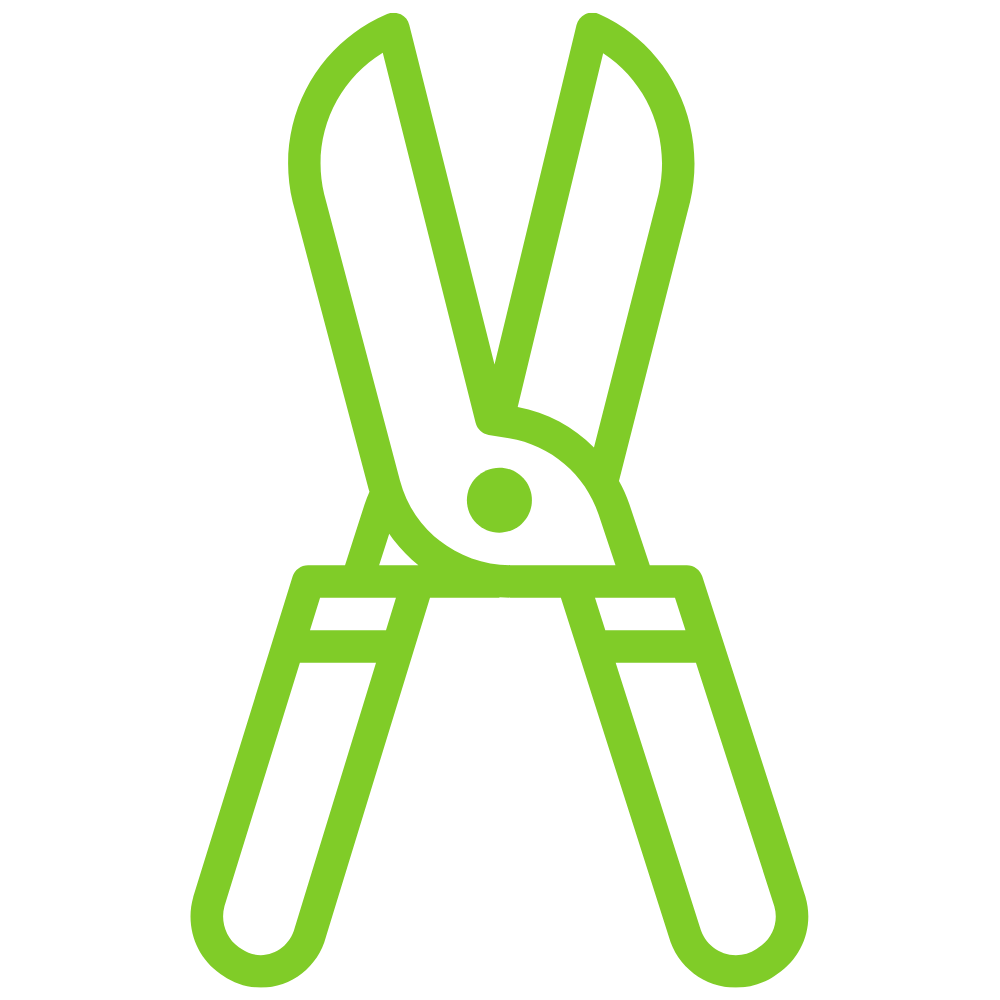 Pruning
Light pruning throughout the year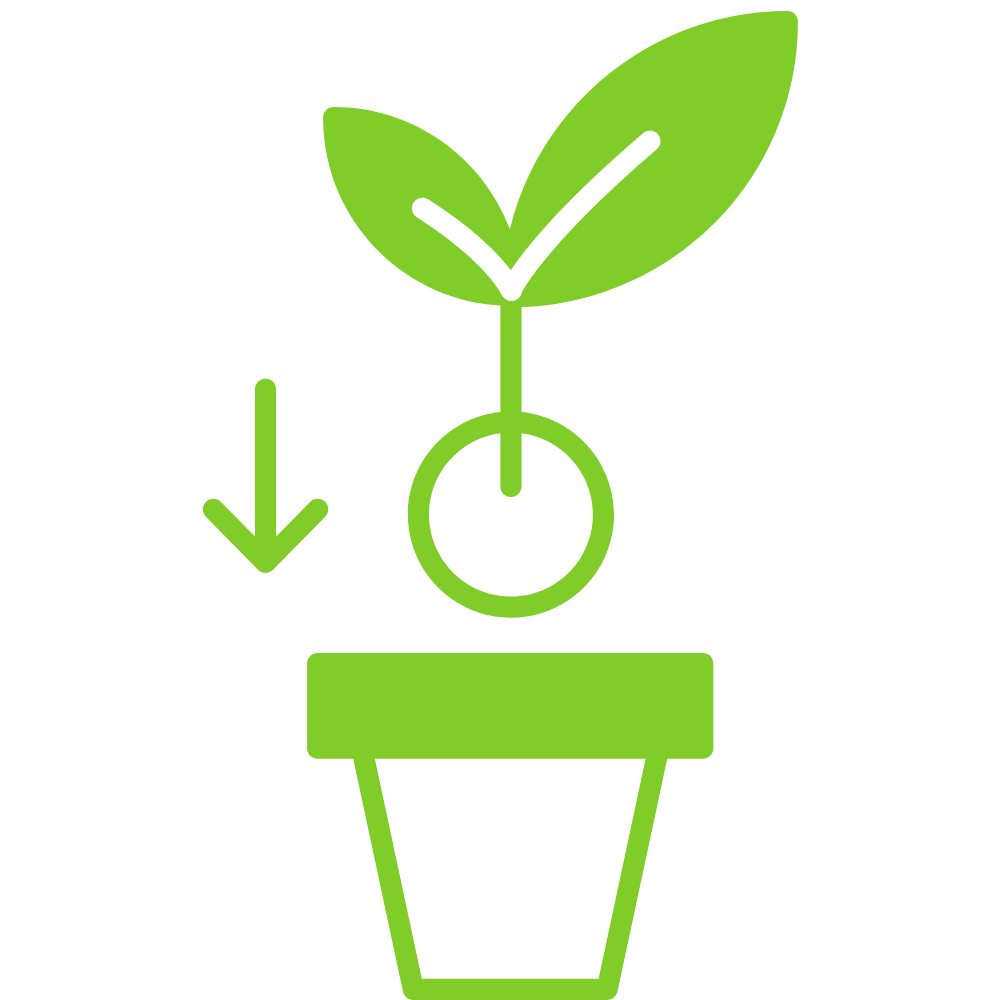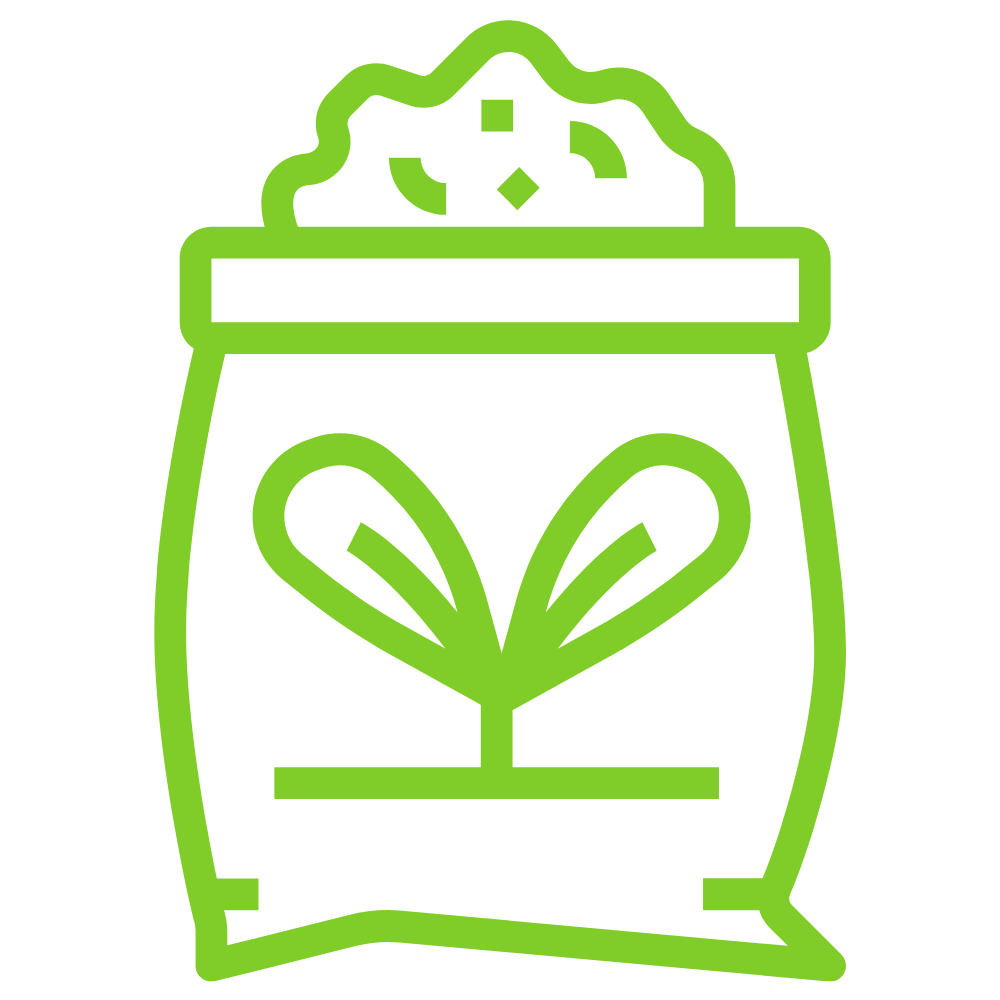 Fertilizer
Liquid and diluted fertilizer, Twice a month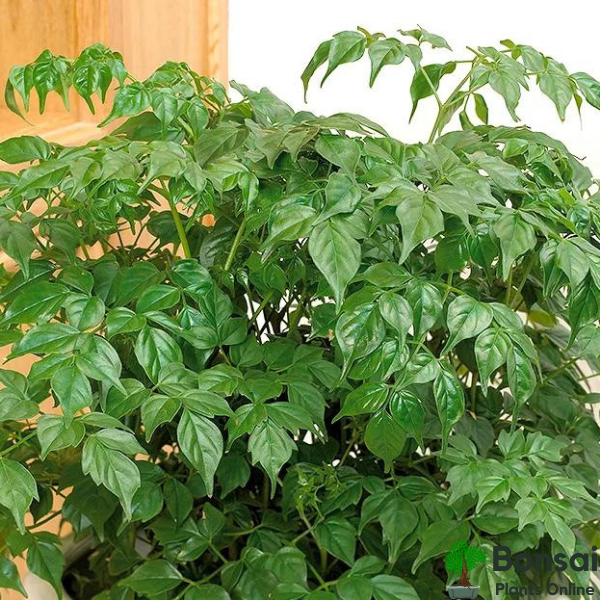 Beautify your home with the unique and feathery Radermachera bonsai tree
The Radermachera bonsai tree or the Chinese Doll plant is most loved for its subtly cascading foliage. This presents itself in a compact plant structure that you can easily keep anywhere indoors – from tabletops to window sills.
The plant has a fairly thin trunk with a luscious green canopy that appears to burden the overall structure of the plant but is actually lightweight. These leaves are bright green in color and grow in leaflets that display this mesmerizing drooping arrangement.
Place the Radermachera or Emerald plant in any of your living space or office space to add an awe-inspiring and dynamic effect of bright-green natural beauty.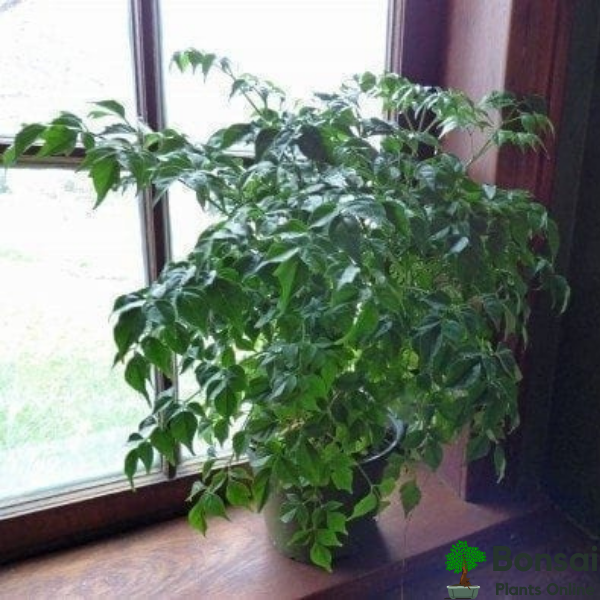 Add this unique and eye-catching plant for a soothing aesthetic
This indoor bonsai plant is a novel beauty that greatly enhances the aesthetics of your home or office. It has uniquely shaped foliage that droops down from the slender branches and creates a round-shaped structure.
The thin and refined leaves are strikingly light green in color and look truly rejuvenating. This makes the Radermachera bonsai plant a perfect plant for a refreshing change in your home.
The Radermachera plant grows well in warm and humid weather conditions, making it easy to maintain in the Indian climate.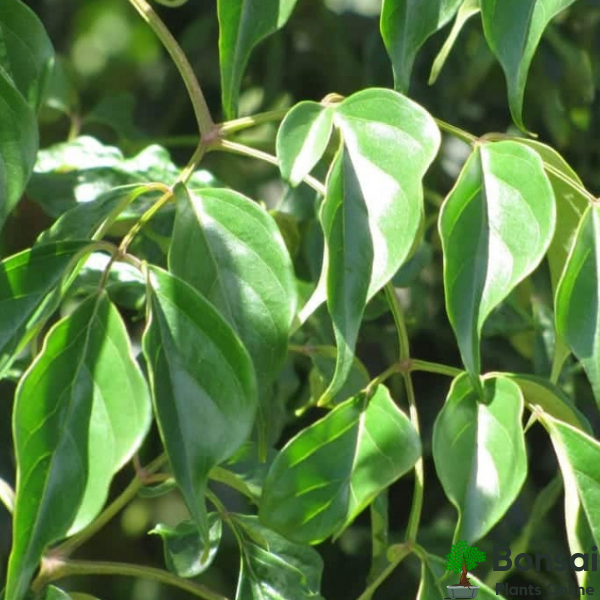 Care points for this Radermachera bonsai plant
Even though highly unique and sophisticated in appearance, the Radermachera bonsai tree is easy to care for. Only basic instructions need to be followed after you buy this bonsai plant online.
Placement: The plant survives and thrives best when kept indoors, exposed to indirect sunlight. The ideal temperature range for the Rademachera bonsai tree is 18-28 deg C.
Watering: Keep the soil moist at all times, but only water when the top layer of the soil runs dry. This will make sure to prevent over-watering and under-watering both. For this reason, watering it 2-3 times per week and regularly is ideal for the plant. The matching watering tray of ceramic that is supplied along with the bonsai pot will ensure that your plant is never over-watered and also prevents spillage of water.
Pruning: It is suggested to keep pruning your Radermachera bonsai tree throughout the year in order to maintain its shape and size.
Repotting: While not required for this special indoor plant, you can perform re-potting in order to ensure the best plant health.
Fertilization: Use a liquid bonsai fertilizer by diluting it water. For best results, this should be done twice a week.
What do our customers have to say?
Bonsai Plants or any plant for that matter, BPO team does great work in design, health of the plants and post-sale service. I've been enjoying the association for my last 12 bonsai plants. 🙂

Impeccable packaging and delivery. I was surprised for the first time, and fall in love with their mastery in packing the plant and delivering it safe to my home. Interesting. Thank you.

True Gardening assistance. I got healthy plant and help whenever I needed through the dedicated WhatsApp channel. Not only the bonsai but also for the normal plants that you buy.

Frequently Asked Questions by customers
Is this Chinese doll plant difficult to care for?
The plant is not difficult to care for as it has already been trained as a mature bonsai tree. Since Indian weather conditions are the most suitable for the Radermachera or China Doll plant, it will grow and thrive with ease. All other basic plant care instructions that need to be followed for the plant's good health and looks will be provided in the product package
How do I take care of my China Doll plant?
Just place the plant in bright but indirect sunlight, such as well-lit indoor spaces, and water it every time the soil dries out. Doing so is enough for maintaining the good health and aesthetics of the plant. You can also fertilize it twice a month to enjoy the best aesthetics of your Radermachera bonsai plant
Will this Radermachera bonsai tree drop its leaves?
Yes, this plant will drop its leaves once a year around winters and will soon flourish with newer foliage. This ensures healthy growth of the plant to cheer up your indoor spaces with fresh, new and bright green leaves every year.
Do I need to take any precautions for my Radermachera plant indoors?
The Radermachera bonsai plant does not like to be moved around much, as it adjusts to new habitats slowly. Therefore, moving the plant around the house often or re-potting it unless necessary can slow down the good and healthy growth of the plant.
What are the watering requirements of this Radermachera bonsai tree?
The plant should only be watered when the soil runs dry. This is because the Radermachera bonsai tree is sensitive to over-watering as much as it is to under-watering. In order to prevent root rot, watering 2 to 3 times per week is ideal. This Radermachera plant is also supplied with a ceramic watering tray that matches the pot's aesthetics and prevents over-watering and root rot.
Additional information
| | |
| --- | --- |
| Dimensions | 23 cm |
| Brand | Abana Homes |
| Variety | Radermachera |
| Location | Indoor |
| Plant Age | 4 Years |
| Plant Size | 25 cm |
| Occasion | Anniversary, Birthday, Gifting, Office, Parents, Return |
| Pot Material | Ceramic |
Reviews (16)
Only logged in customers who have purchased this product may leave a review.
Related products
Out of stock
Rated 4.41 out of 5
(18)
₹

2,599
Ships Tomorrow