Rubber Tree Bonsai (Ficus Elastica Bonsai Tree)
Establish a beautiful centerpiece in your home with the hardy trunk and firm dark-green leaves of this Rubber Tree or Ficus Elastica bonsai plant for indoors.
Healthy Rubber Tree plant with captivating looks

Produces oval-shaped large leaves of dark green to burgundy color. 

Easy to maintain and requires little to no attention.

Ideal as a gifting plant.
Air-purifying plant that makes the air indoors healthy.
Out of stock
Notify me when the item is back in stock.
Description
The plant is a live and healthy Rubber tree in a compact size for keeping indoors. Famous as the Ficus Elastica bonsai tree, the plant is an evergreen member of tropical trees that are native to Southern China and Southeast Asia. The Rubber Tree bonsai is a great way to bring rich and beautiful natural aesthetics to your interiors.
With a rough and woody appearance of bark, the plant is highly appreciated for its long oval-shaped, leathery leaves. Interestingly, these leaves ooze with a white latex whenever you scratch or tear them apart. They appear in beautiful shades of dark green to deep red and burgundy color to spruce up any indoor spot with their rare looks.
The plant comes in a beautiful pot and with all the necessary care points so that you can enjoy the greenery of tropical landscapes anywhere inside your home.
Know your Rubber Tree bonsai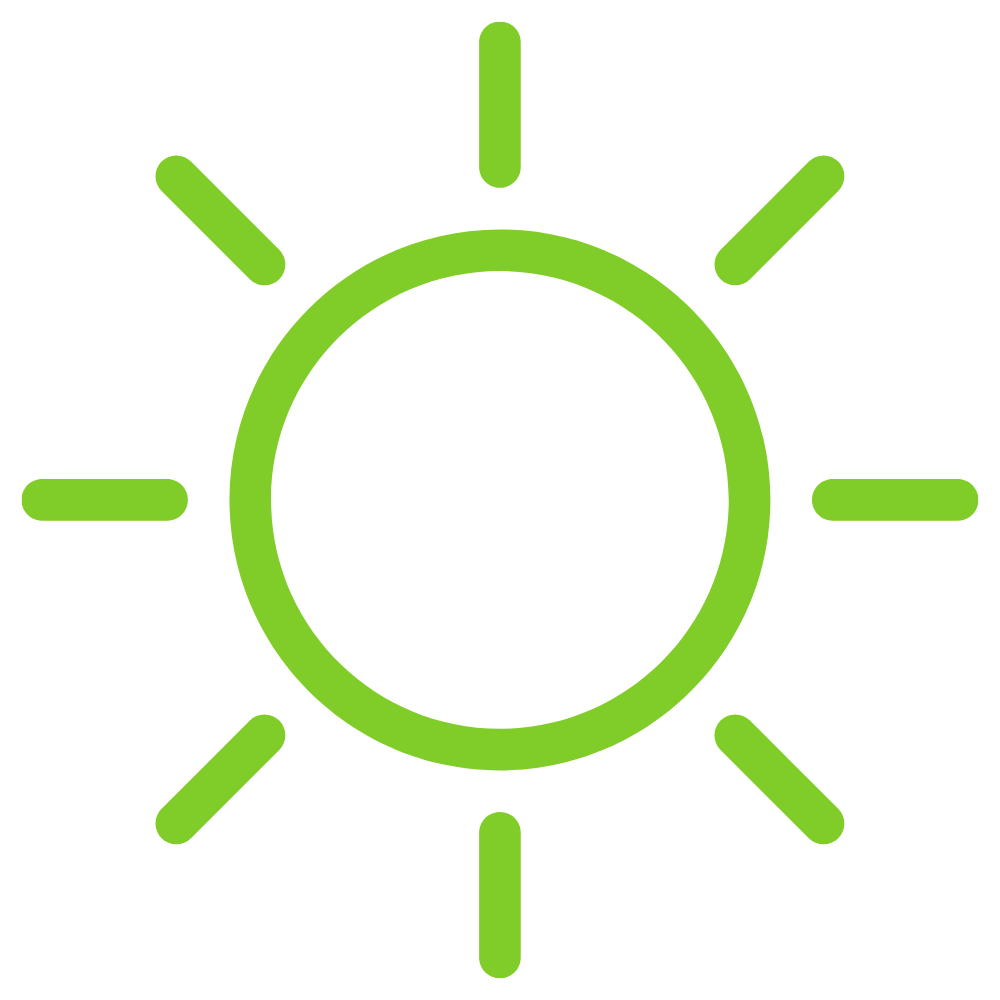 Sunlight
Well-lit indoors, Indirect sunlight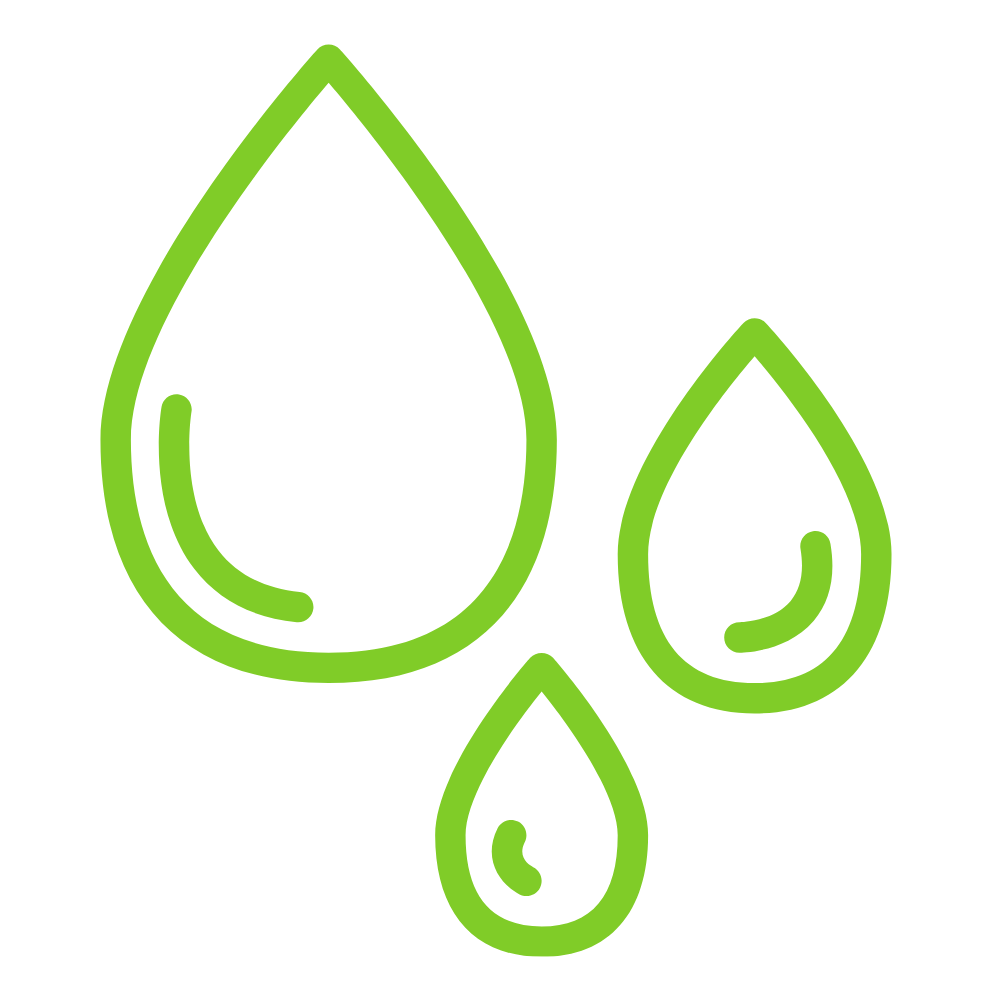 Watering
Twice a week in summers, Once. a week in winters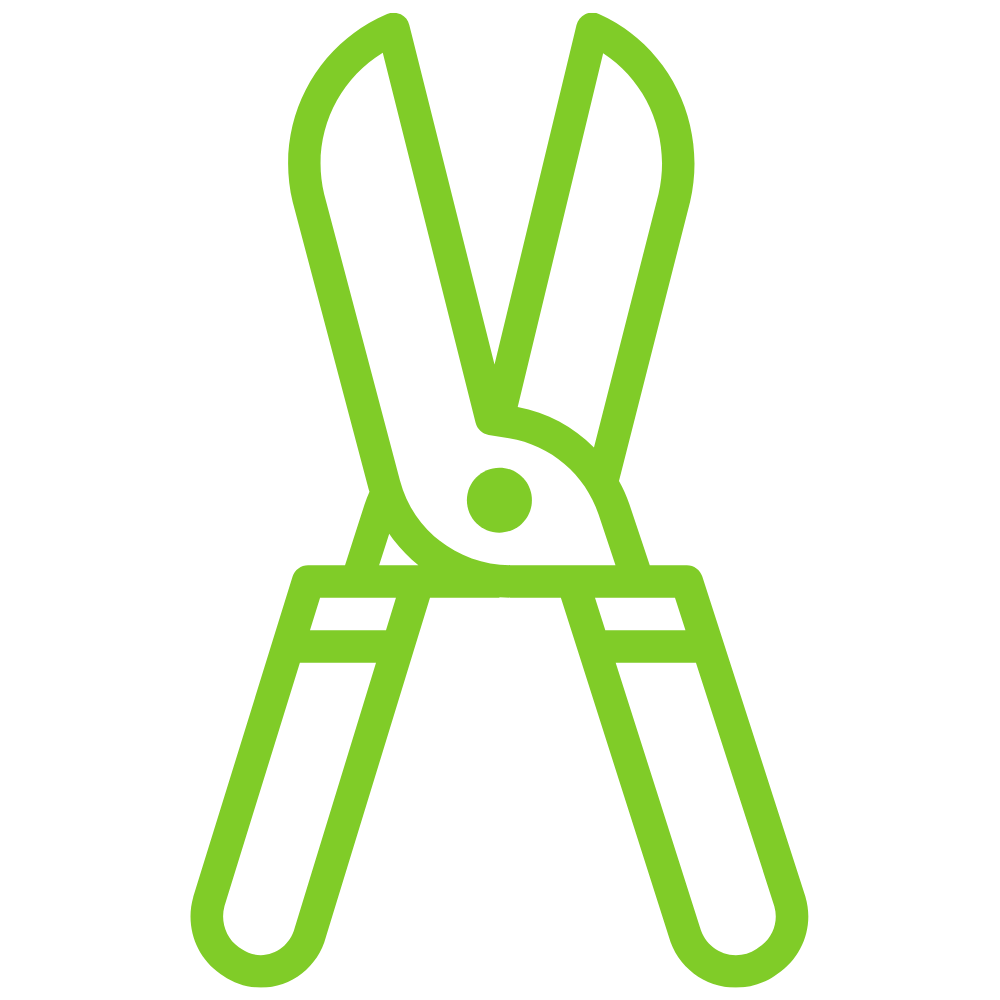 Pruning
Light pruning, During the growing season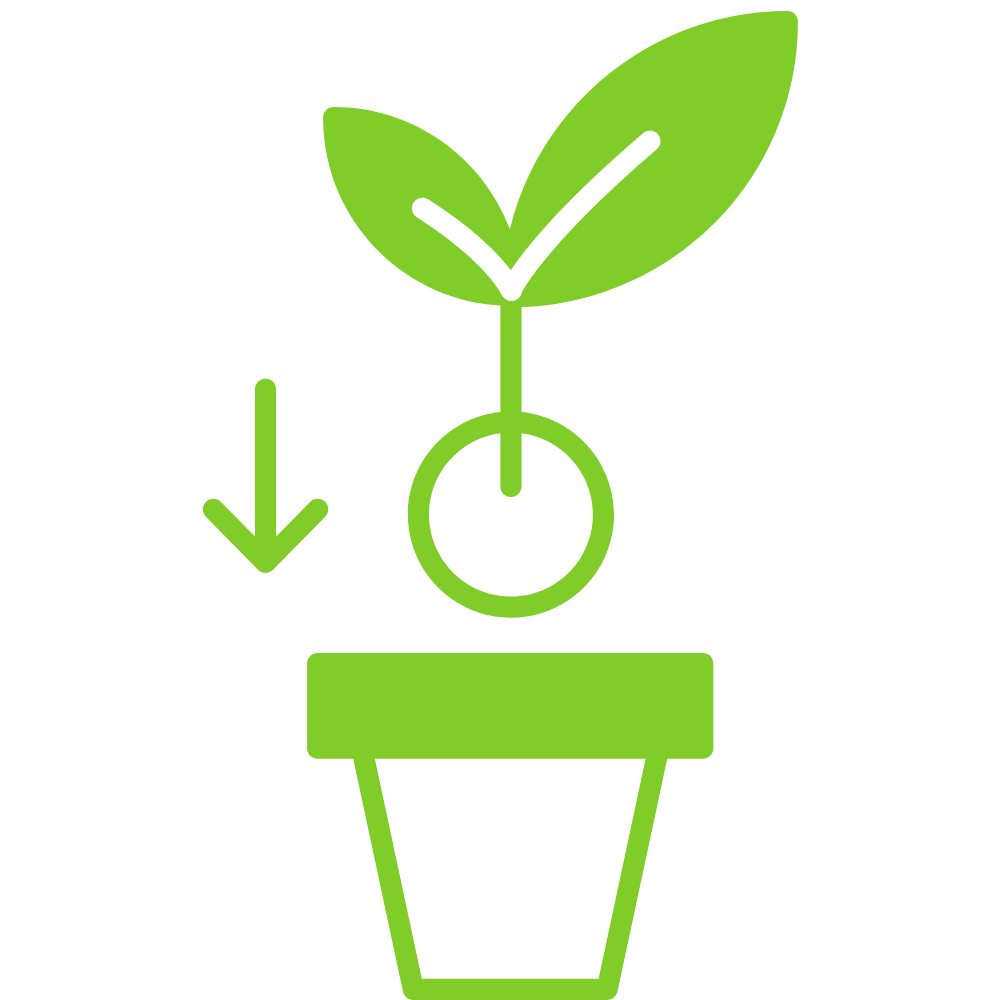 Repotting
After every 2-3 years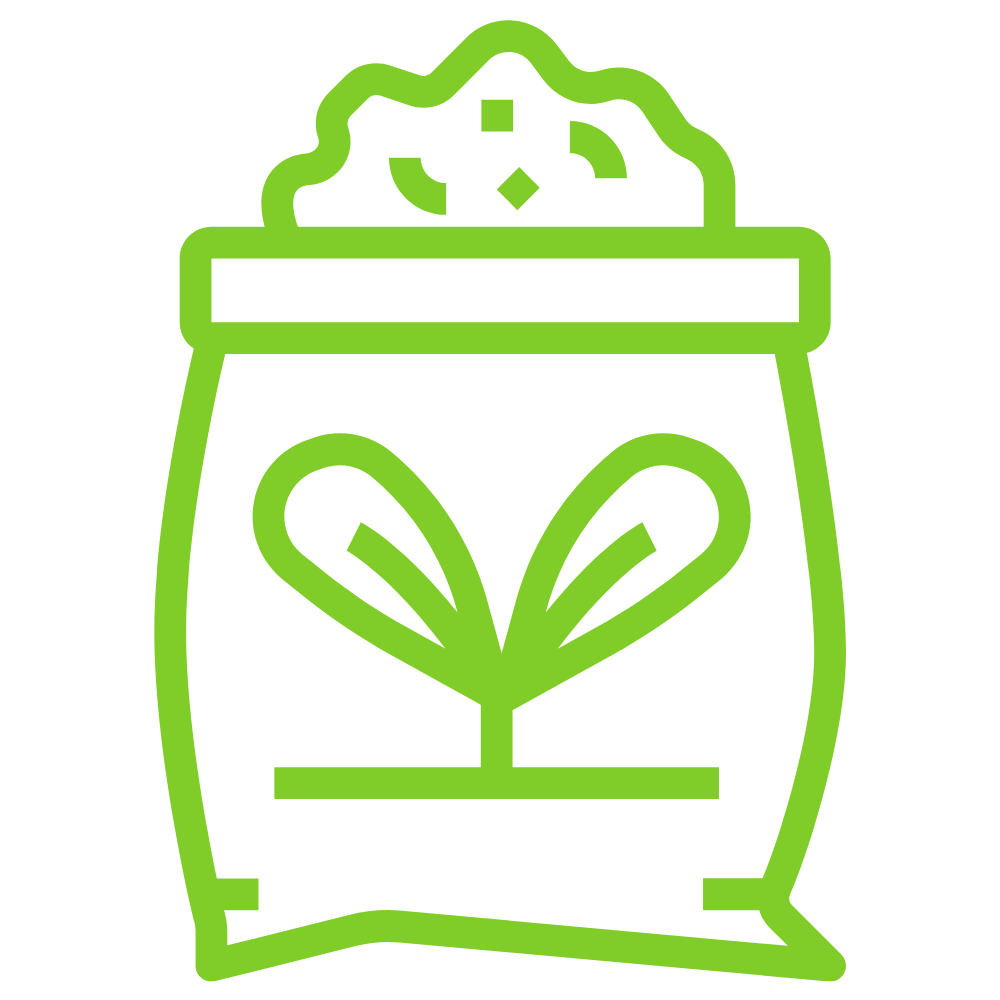 Fertilizer
Once a month, During the growing season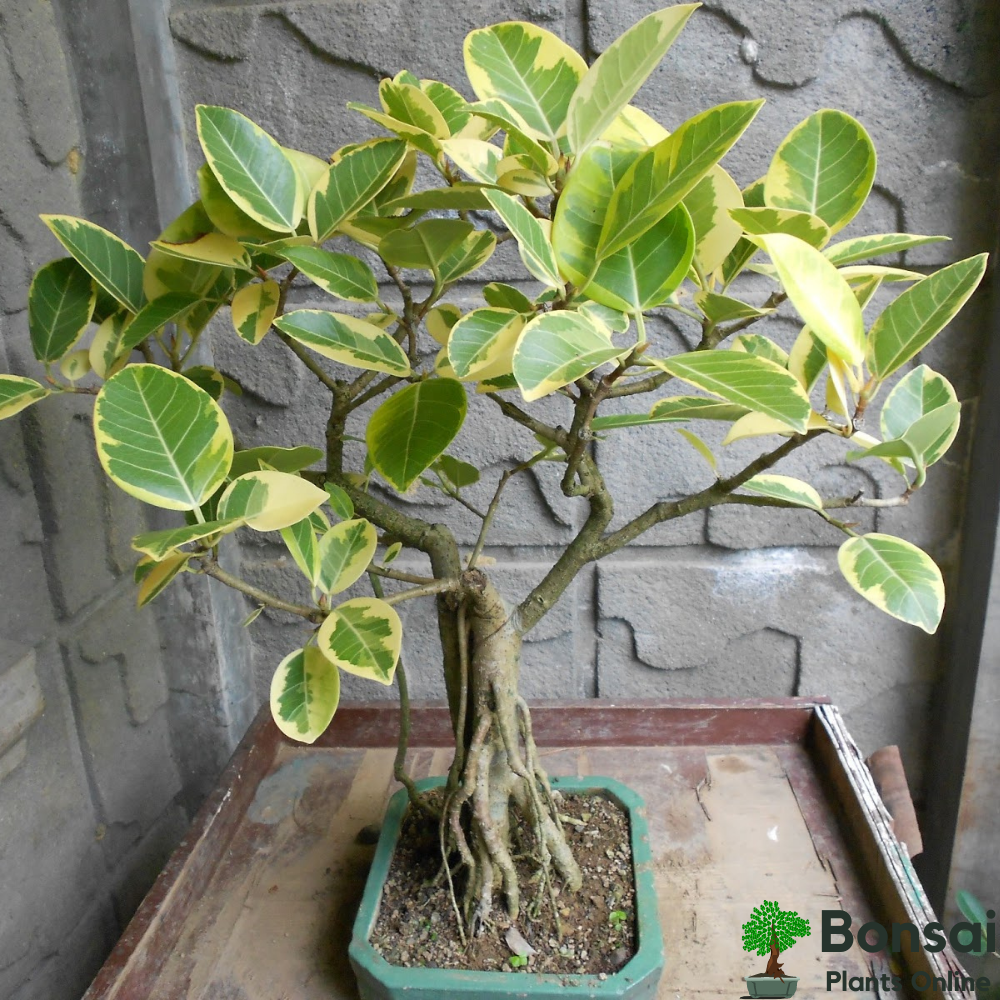 Alluring foliage for tropical-style interiors
The Rubber Tree bonsai is loved for its uniquely shaped fleshy leaves that often look unrealistic due to their firm and thick appearance. These create an attractive canopy that grows naturally in an arranged manner, making it easy to prune the plant.
One of the easiest houseplants to care for, Ficus Elastica bonsai tree is an ultimate decorative element for your home. Its compact structure and natural air-purifying properties make it not only ideal for living and office spaces, but also as a gifting plant for the ones you love.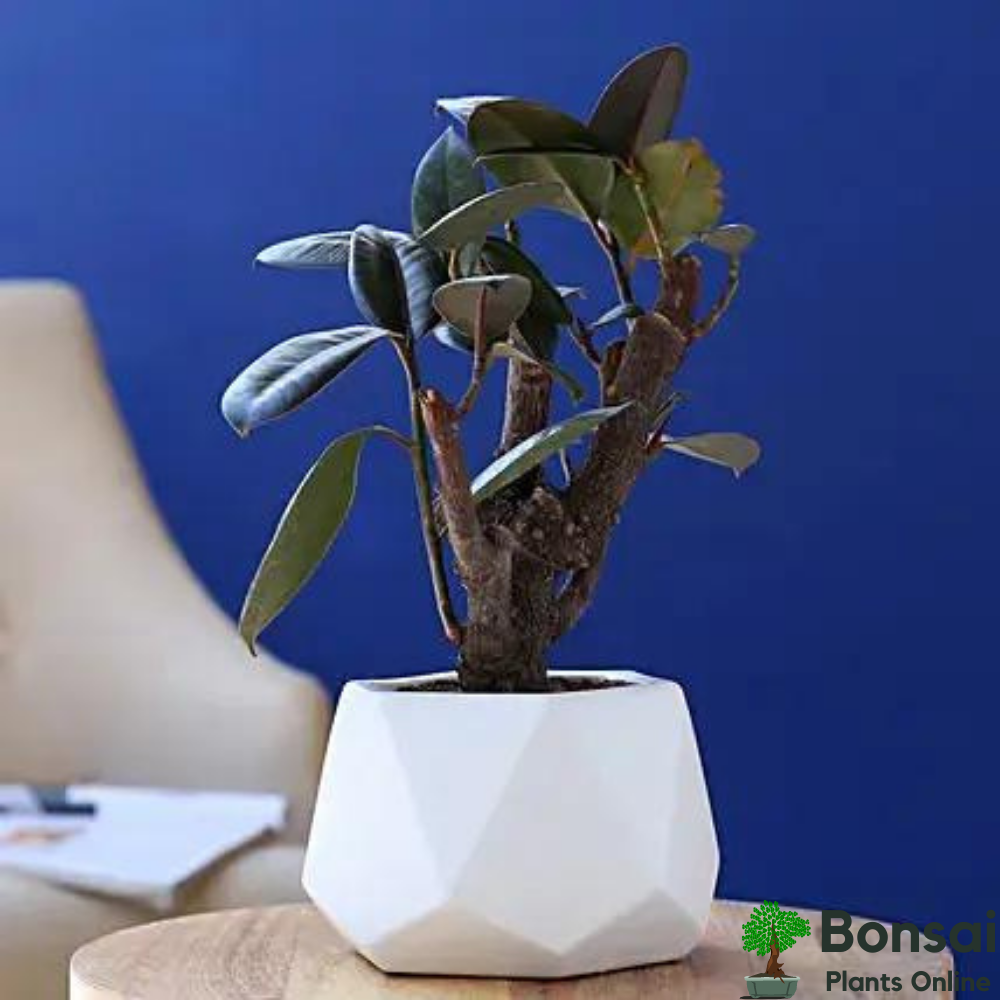 Rubber Tree plant with real latex
One of the most selected bonsai out of all, the Ficus Elastica bonsai plant has unique foliage that continues to flourish throughout the year. The dark-green, luscious leaves evolve a deep red or purple color on the tips, depending on the plant's age and season of the year.
Glossy and thick, they create a lovely contrast with the rough bark, while continuing to cheer up your indoor spaces with their evergreen aura. Moreover, these leaves ooze with a white rubbery latex whenever its leaves are scratched, as a delightful surprise offered by the plant.
Grown and trained well as a bonsai to grow healthily indoors, this plant is relatively easy to care for. The Rubber tree or Ficus Elastic bonsai tree thrives excellently in low-light with little care. Moreover, its thin, elastic branches are easy to wire.
The plant consists of all the desired qualities of an ideal and exotic-looking indoor bonsai plant. It serves as a delightful replica of tropical evergreen forests inside your home.
Care instructions for this Rubber Tree bonsai
The ease of the plant's maintenance and the simple care instructions make it a popular and recommended bonsai tree for beginners and masters alike. 
Placement: The Ficus Elastica bonsai thrives perfectly in medium to bright indirect sunlight. Therefore, keep the plant in well-lit indoor spots so that it gets plenty of indirect light without harming its leaves by getting exposed to the bright sun.
Watering: Rubber tree bonsai does not require frequent watering. Water it twice a week in summers, and reduce to once a week during winters. Make sure to let the soil dry out between waterings.
Pruning: The Rubber Tree bonsai grows aggressively. Thus, heavy pruning becomes necessary especially during growing season. Cut off the newer shoots in the middle of the growing period or at the end of fall. Also eliminate any dead leaves regularly throughout the year.
Repotting: Repot this Ficus Elastica bonsai tree once every few years whenever you notice that the plant has outgrown the pot.
Fertilizer: Alhough not required for the Rubber Tree plant, feeding the plant with any bonsai fertilizer once a month during the growing season will be helpful for the plant's healthy growth.
What do our customers have to say?
Bonsai Plants or any plant for that matter, BPO team does great work in design, health of the plants and post-sale service. I've been enjoying the association for my last 12 bonsai plants. 🙂

Impeccable packaging and delivery. I was surprised for the first time, and fall in love with their mastery in packing the plant and delivering it safe to my home. Interesting. Thank you.

True Gardening assistance. I got healthy plant and help whenever I needed through the dedicated WhatsApp channel. Not only the bonsai but also for the normal plants that you buy.

Frequently Asked Questions by customers
How tall will this plant grow?
With the right climatic conditions and care, the Rubber Tree plant will grow up to an optimal height of 2 to 3 feet. To keep the plant retain its ideal height throughout the time, just make sure to trim and prune it regularly and choose a small to medium size pot while repotting.
Is the Rubber Tree bonsai an invasive plant?
The plant is a fast grower and can be invasive if not pruned regularly. As it is a tropical plant that grows rapidly and takes over its surroundings, it should be kept away from the walls and furniture and trimmed lightly and regularly all around the year. 
Is the latex oozing from the leaves and branches toxic?
The sticky white substance or the latex released when you snap or cut the leaves can be harmful to health if ingested. It can also cause mild irritation on the skin if you are allergic to rubber latex. Besides the accidental consumption of the plant's latex, the Rubber Tree bonsai is an excellent air-purifying plant that absorbs pollutants from the air and makes it purer. 
Will my Rubber Tree bonsai survive in colder temperatures?
The Rubber Tree plant or the Ficus Elastica bonsai tree is an evergreen plant that can survive perfectly in cold temperatures while maintaining its lush green appearance. Note that it is advisable to move the plant indoors and keep it away from windows and open areas to protect the plant from frost in chilly weather.
Can I keep my FIcus Elastica bonsai outdoors?
While meant for keeping indoors, this hardy plant can thrive outdoors as well. If growing outdoors, you will just have to water it more frequently and keep it in a shaded area such as a balcony or shaded porch so that the leaves can be protected from the exposure of too much bright sunlight.
Additional information
| | |
| --- | --- |
| Brand | Abana Homes |
| Variety | Ficus Elastica |
| Location | Indoor |
| Plant Age | 4 Years |
| Plant Size | 25 cm |
| Occasion | Exotic, Gifting, Love, Office, Return |
| Pot Material | Ceramic |
Reviews (18)
Only logged in customers who have purchased this product may leave a review.
Related products
Rated 4.29 out of 5
(18)
₹

26
Ships Tomorrow