Tamarind Bonsai Tree
Enjoy tasteful tamarinds and further surprises from your very own Tamarind bonsai tree with uniquely beautiful and enchanting aesthetics.
Has pinnate and feathery leaves of bright-green color that close at night.

Bears inch-wide flowers colored yellow and streaked in or yellow or red.

Has pink-colored flower buds that shed and reveal the beautiful flowers inside.

Grows slowly and known to last indoors for several years.
Out of stock
Notify me when the item is back in stock.
Description
Unique in its form and shape, this Tamarind bonsai tree offers much more than lip-smacking tamarinds grown in your very home. The leaves and flowers of the plant change their appearance throughout the year, making for amazing and dynamic home decor. It is a healthy Tamarind bonsai tree that will bring life to your home for several years to come. The plant comes in a beautiful pot and is shipped along with complete care instructions. You and your family will enjoy the beautiful appearance of the plant and its edible tamarind fruits for a long time to come.
Know your Tamarind bonsai tree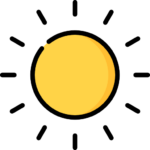 Sunlight
Well-lit indoors, Indirect sunlight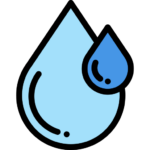 Watering
Keep the soil moist at all times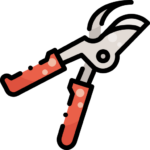 Pruning
Frequently required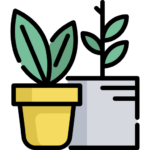 Re-potting
Every 2 to 3 years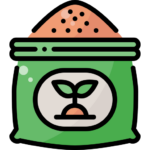 Fertilizer
Mild liquid fertilizer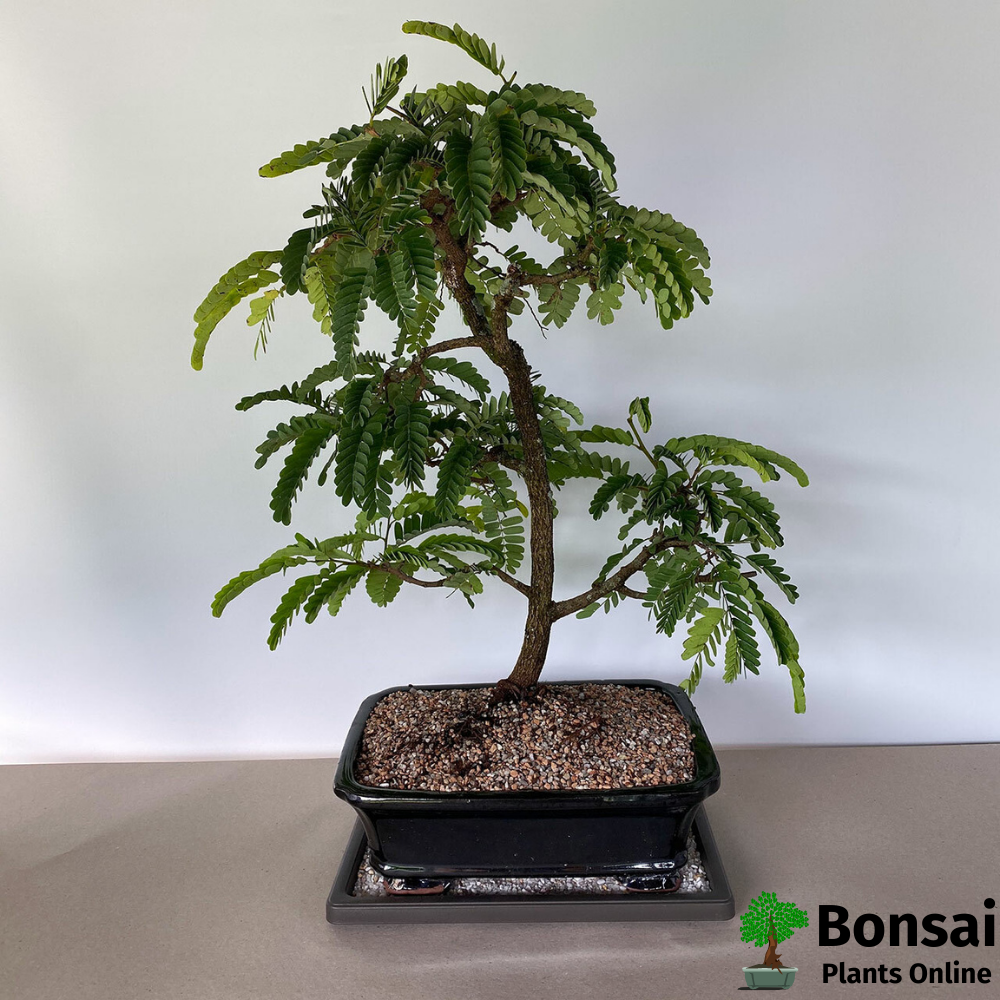 Fruit-bearing Tamarind bonsai tree
As a fruit-bearing indoor plant, the Tamarind bonsai tree offers you the chance to enjoy juicy and lip-smacking tamarind fruits. The leaves of the Tamarind bonsai tree appear feathery and are shaped uniquely like pinnate. In addition, the flower buds are of a pink color, which shed and give way to inch-wide colored flowers before the plant actually bears these famous fruits. The Tamarind bonsai tree is truly an all-around delight to enjoy indoors.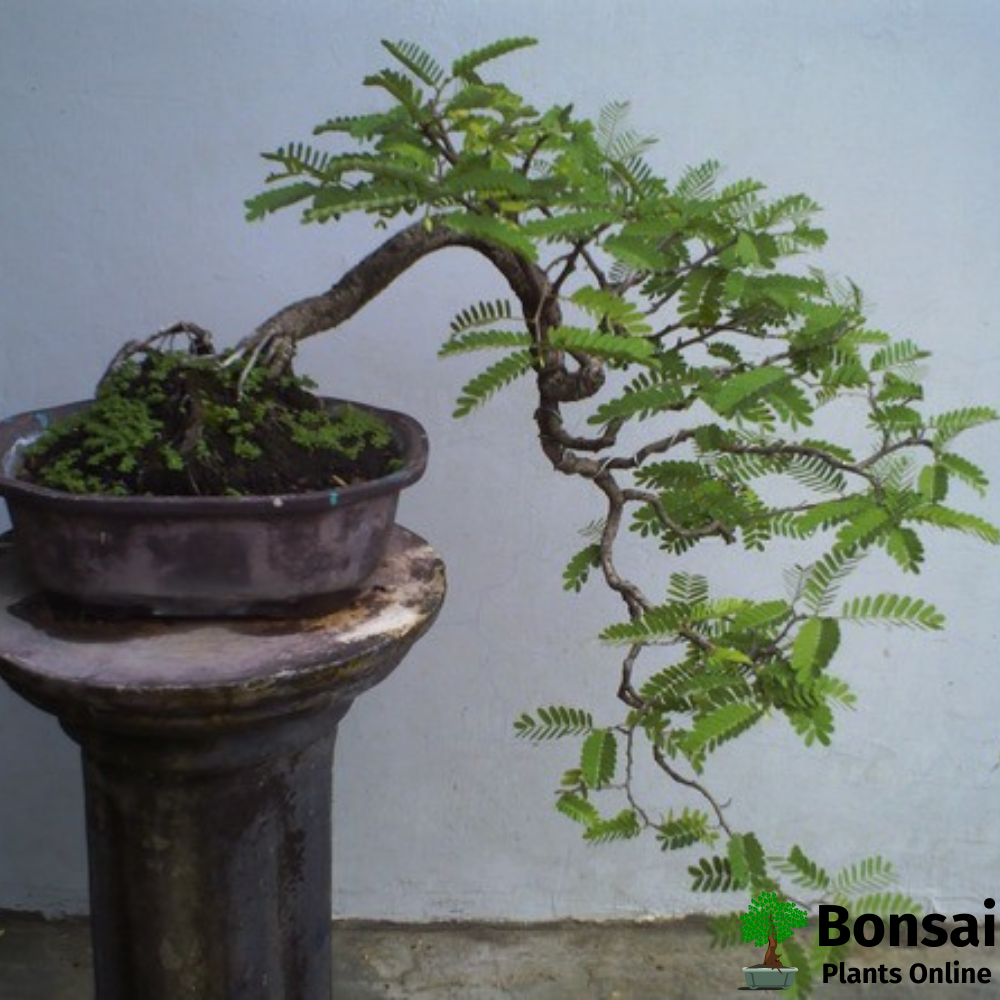 A beautiful plant with a deep meaning
The Tamarind bonsai tree is no short of attractive and charming features. Not only can you eat the tamarinds growing on your houseplant by plucking them right off, but the plant will also enrich your life and enliven your indoor spaces with its beautiful aesthetics. When the Tamarind bonsai tree blooms, its colors will turn all dead and vacant spaces to spice. With beautiful leaves that you can see close off on their own every night, the plant will give you several reasons to cherish its awe-inspiring and eye-striking presence indoors.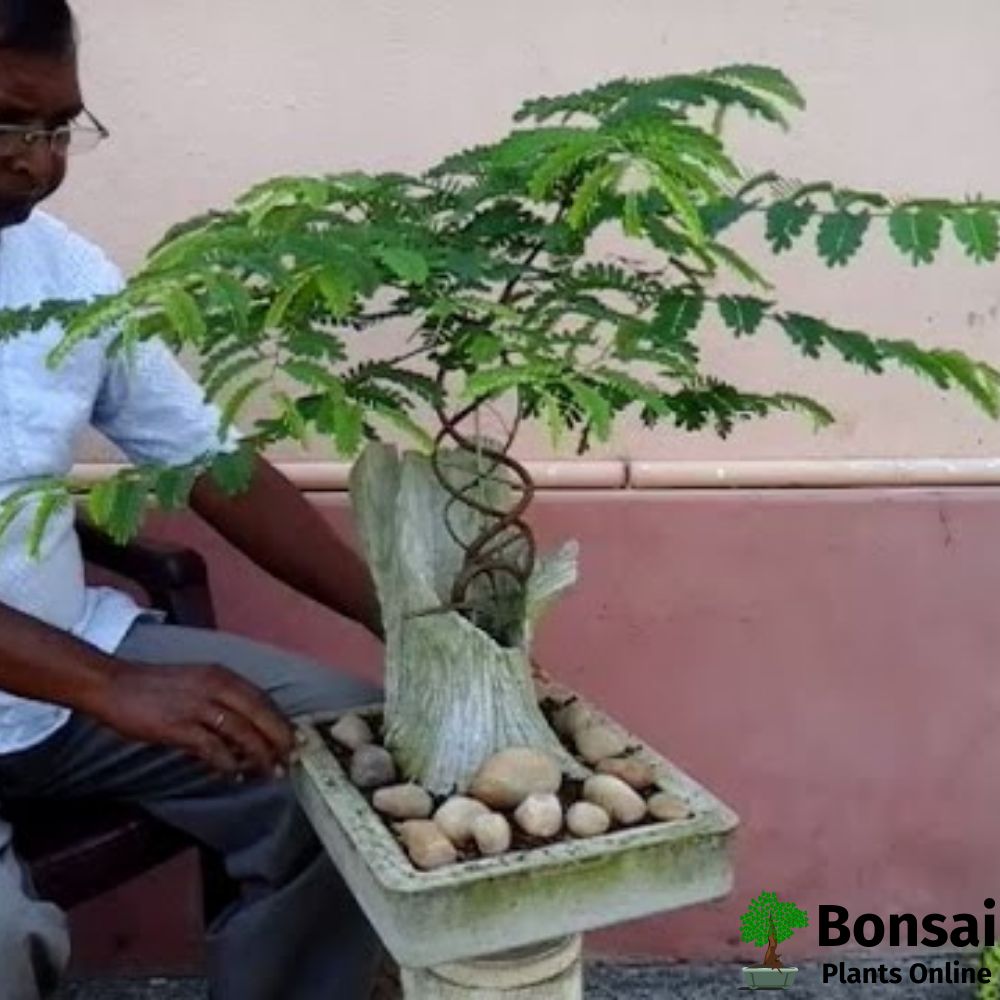 Care instructions for your Desert Rose bonsai tree
While the Tamarind bonsai tree needs regular care, all of the practices needed are basic plant care and thus will be an enjoyable experience that will feel rewarding when you consume the tasty homegrown tamarinds.
Location: Even though it is an indoor plant, keeping it outdoors during spring and summer will aid in the healthy growth of your Tamarind bonsai tree.
Watering: The Tamarind bonsai tree requires regular watering before the soil even starts to run dry. For this reason, using a watering tray will help you get a better yield and luscious growth.
Pruning: Prune the overgrown shoots and leaves to maintain the shape and size of the plat. Alternatively, you can also pinch these growths which makes the task easy.
Repotting: It is suggested to repot the plant after every two to three years. Make sure to prune the overgrown roots before planting it in the new pot.
Fertilizer: Fertilization is necessary for the healthy and beautiful growth of your Tamarind bonsai tree. However, any liquid fertilizer is going to suffice.
What do our customers have to say?
Bonsai Plants or any plant for that matter, BPO team does great work in design, health of the plants and post-sale service. I've been enjoying the association for my last 12 bonsai plants. 🙂

Impeccable packaging and delivery. I was surprised for the first time, and fall in love with their mastery in packing the plant and delivering it safe to my home. Interesting. Thank you.

True Gardening assistance. I got healthy plant and help whenever I needed through the dedicated WhatsApp channel. Not only the bonsai but also for the normal plants that you buy.

Frequently Asked Questions by customers
What color are the flowers of the Tamarind bonsai tree?
The flowers on the plant are yellow in color and streaked beautifully with pink or red. In addition, before the plant actually blooms fully, the flower buds that appear will be of a pink yellow and shaped like a closed cone, giving a highly exciting feeling to everyone in your home.
Can I eat the tamarinds from this Tamarind bonsai tree?
Yes, the tamarind fruits from this Tamarind bonsai tree are perfectly edible. In fact, everyone is going to have a fun and engaging time eating the homegrown and delicious tamarind fruits from this Tamarind bonsai tree.
How difficult is it to take care of this Tamarind bonsai tree?
Taking care of the Tamarind bonsai tree is not difficult to care for at all, as it is a slow-growing indoor plant. In fact, if only basic care points are followed, the Tamarind bonsai tree will continue to fill your life with its beautiful appearance and delicious fruits for several years to come.
How often should I water my Tamarind bonsai tree?
You should water the plant before the soil even begins to run dry. A good and convenient way to make watering the Tamarind bonsai tree is to use a watering tray.
Should I use any fertilizer for this Tamarind bonsai tree?
Fertilizing the soil is needed by the Tamarind bonsai tree for promoting its healthy growth and flowering. However, the use of any mild liquid fertilizer is going to suffice.
Additional information
| | |
| --- | --- |
| Brand | Abana Homes |
| Variety | Tamarind |
| Location | Indoor |
| Plant Age | 10 Years |
| Plant Size | 35 cm |
| Occasion | Anniversary, Exotic, Grand, Office, Parents |
| Pot Material | Ceramic |
Reviews (18)
Only logged in customers who have purchased this product may leave a review.
Related products
Rated 4.50 out of 5
(14)
₹

1,700
Ships Tomorrow