Protect your sibling on Raksha Bandhan with a plant gift that lasts a lifetime. You can send lovely plants as Raksha Bandhan gifts for sister, brother or anybody else to heal and nurture them with the power of nature.
When you give bonsai trees as Raksha Bandhan gifts for sister or brother, the plant encapsulates love and protection into a beautiful plant structure. Moreover, bonsai plants for gifts on Raksha Bandhan serve as a living and ever-growing reminder of the love, bond and memories you share with your sibling. Choose between these different bonsai trees to personalize your Raksha Bandhan gift with the love and protection you wish to convey to your sibling.
Our bonsai plants for sale as Raksha Bandhan gifts for sister
(10)
₹

1,299
Ships Tomorrow
What makes bonsai plants suitable for gifting?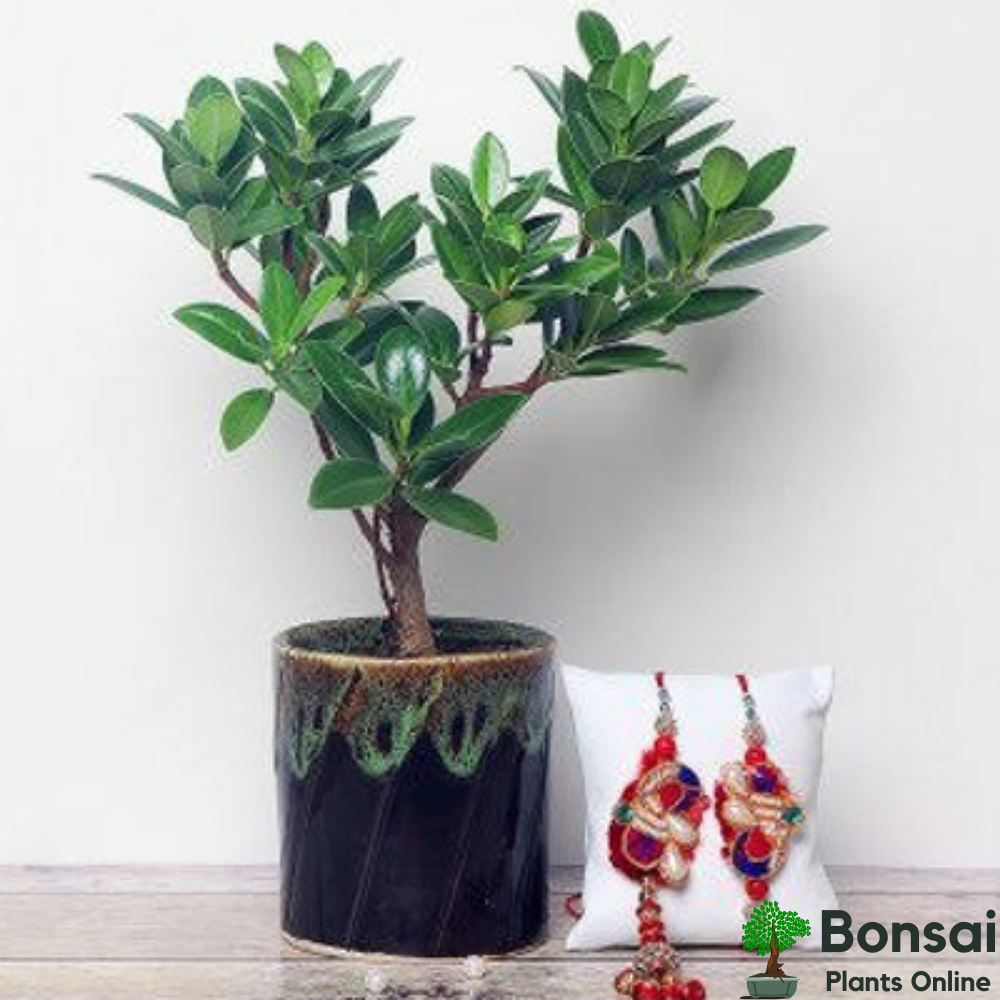 Bonsai trees are live and healthy trees that are pre-trained to grow in a pot inside your home. They offer various benefits of exotic trees such as beautiful aesthetics and soothing vibes with minimal maintenance required. This is because the plant has already been trained by experts for growing as a houseplant. For this reason, you can easily gift a bonsai tree to someone as a live and natural gift without having to worry about whether they will have time to care for the plant.
The plants also have a meaningful symbolism when given as a gift. Since they are live plants, bonsai plants for gifts represent the most authentic form of love. And like any other form of love, the plant grows and evolves in shape and size, while preserving its natural beauty. Bonsai trees are compact and available in different designs for bonsai pots online, which makes them popular as gifting options on Raksha Bandhan and other occasions.
Why are bonsai plants great Raksha Bandhan gifts for sister?
You can buy bonsai plants online as meaning Raksha Bandhan gifts for sister. The plant will be a realistic representation of nature's beauty to enjoy at home, delivered to the doorstep of your siblings with all the love and care.
You love for your sister and other family members is as evergreen and permanent as these bonsai plants. In fact, bonsai trees have been known to last as indoor houseplants for even 100s of years.
These plants are highly beautiful because of their attractive-looking leaves, bark or even flowers. Their beauty will be a true comparison to and reminder of the beautiful bond and memories you share with you sister.
You or your loved ones will not have to worry about maintaining these plants, as bonsai trees are easy to maintain even indoors is and requires minimal care.
Bonsai trees are a symbol of strength, wisdom and protection, making them highly suitable gifts for Raksha Bandhan to sister.
The plant will grow in shape and size over time. This is a perfect representation of the love that siblings share gorws and matures over time.
Choose from different plant gifts for Raksha Bandhan to sister
While all bonsai plants offer spectacular beauty in their own ways, the specific features of certain bonsai trees make them particularly ideal for gifting purposes on Raksha Bandhan. Following are the most prominent bonsai plants in the popular list of gifts for sister on Raksha Bandhan.
#1 Lucky bamboo bonsai: For prosperity of your loved ones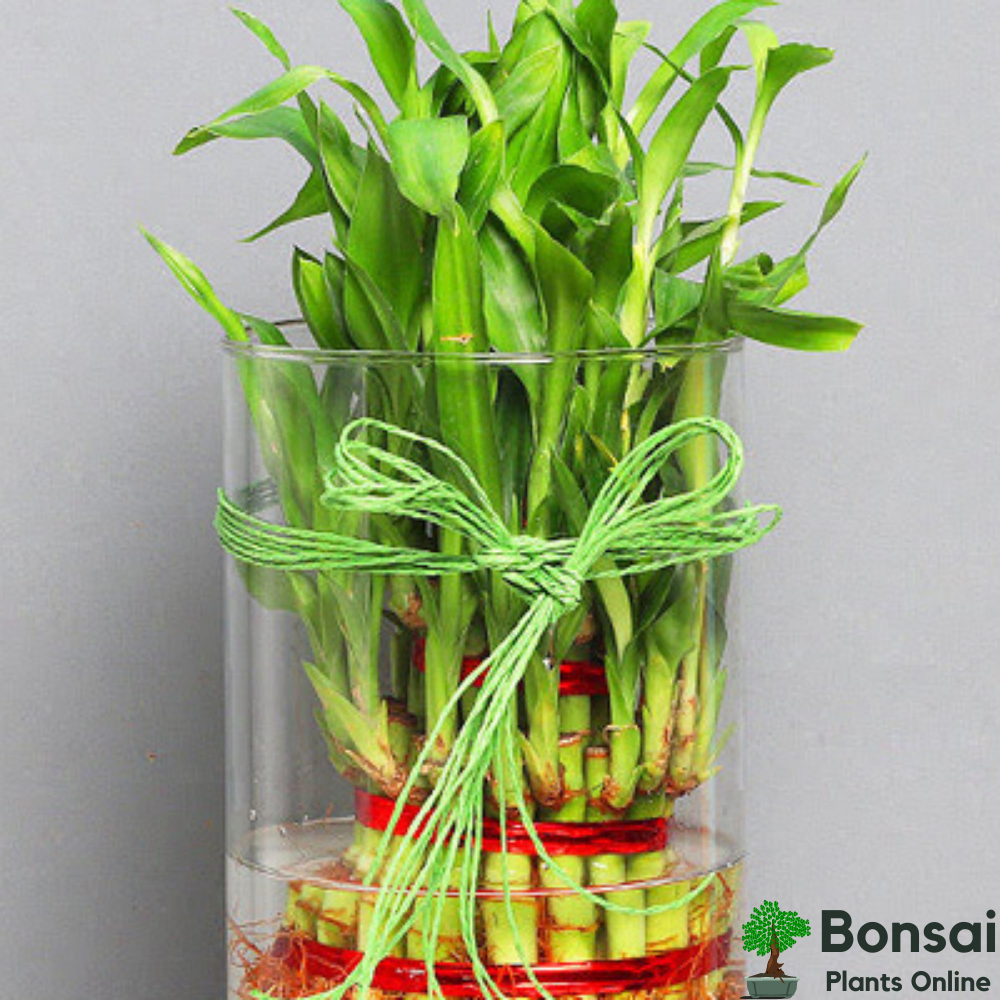 The bamboo bonsai is considered as one of the most auspicious houseplants. It is known to bring prosperity to the household or plant owner – especially in monetary ways. Therefore, when given as gifts for Raksha Bandhan to sister, the Lucky Bamboo bonsai tree ensures that your sisters and any other loved ones enjoy a flourishing life in the future as long as the plant is theirs.
The plant's chich aesthetics are easy to maintain as minimal care is needed. In return, the Bamboo bonsai tree will continue to grant prosperity and beauty to the life and home of your sister. In fact, these plants make special and beautiful Raksha Bandhan gifts for sister, as the lucky bamboo bonsai tree can even grow without soil and in water inside a glass bonsai pot.
#2 Phoenix Palm Tree bonsai: Give the gift of clean air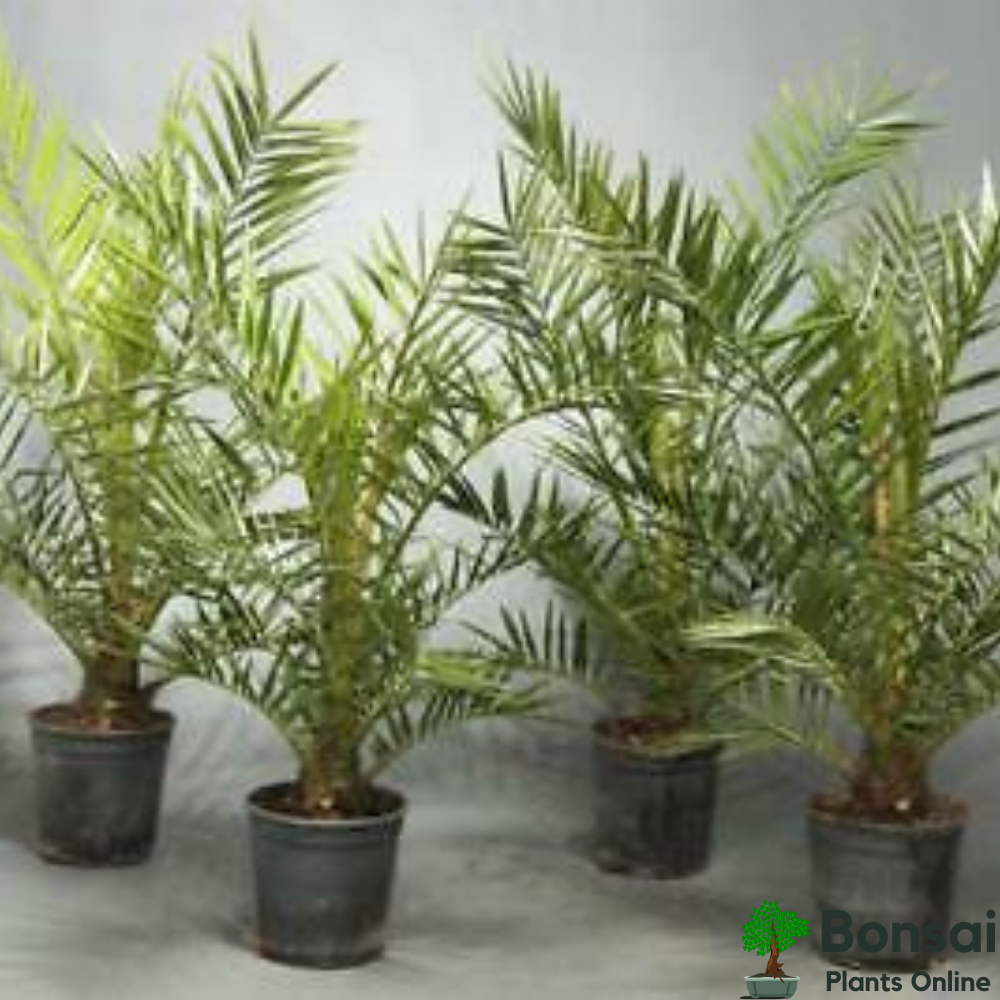 Protect your loved ones from harmful pollutants in the air such as toluene, with this excellent air-purifying plant. The Phoenix Palm Tree bonsai thus represents care and protection for your sister, through the gift of clean air on an occasion signifying the protection of your loved ones.
The plant has brightly-hued leaves with a lacy appearance and eye-pleasing aesthetics that are easy to maintain. In fact, the Phoenix Palm Tree bonsai thrives with minimal care, which means the plant will not die even if unattended to or not watered for a few days. This is another important reason why these indoor plants make great Raksha Bandhan gifts for sister and other loved ones.
#3 Carmona bonsai tree (Fukien Tea Tree): Beautiful gift of flowers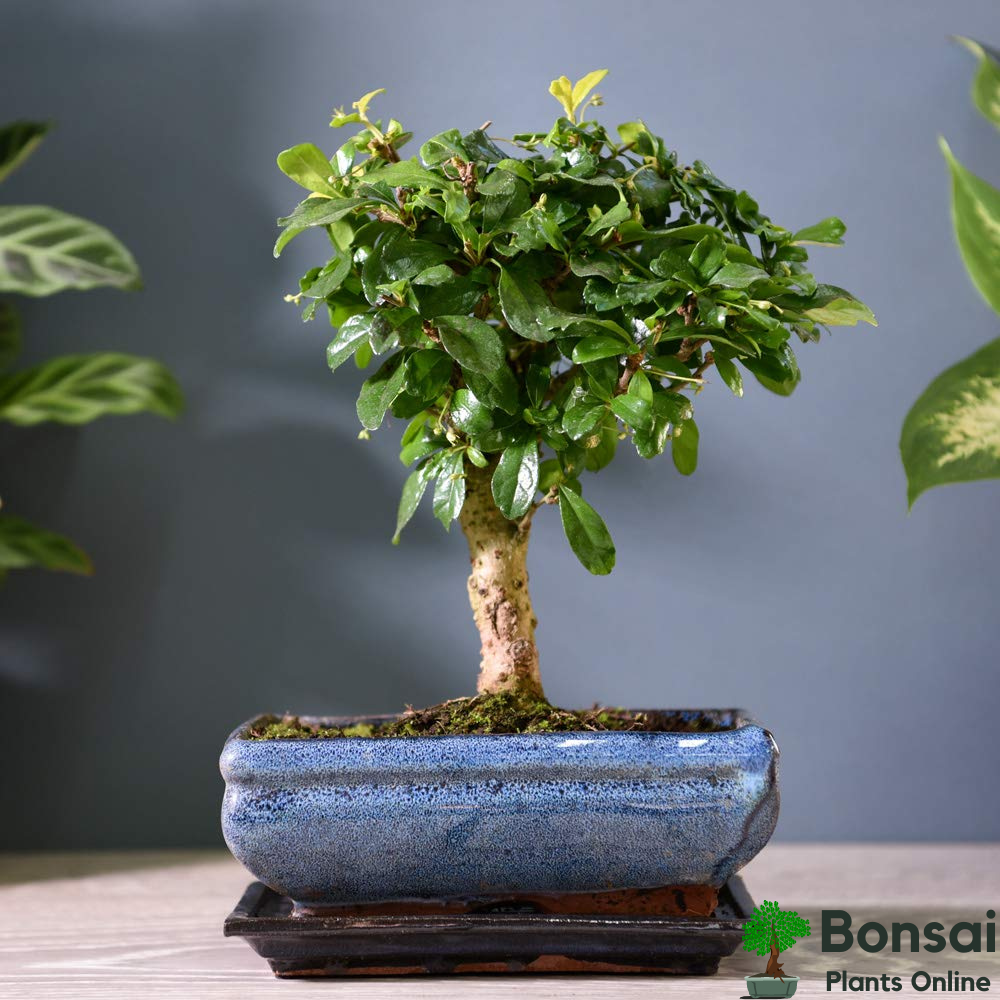 The Carmona flowering bonsai tree or Fukien Tea Tree is famous for its highly aesthetic looks throughout. The plant has glossy leaves, which appear lustrous or shiny, which gives them a soothing feel. Moreover, these leaves have freckles on them, which adds to the exquisite touc of the Carmona bonsai tree indoors. Moreover, the plant bears tiny white flowers that appear like snowy blossoms.
Due to the beautiful appearance of the Carmona flowering bonsai tree it is an ideal gift for your sisters, brothers and even other family members or friends on Rakhi. No matter who you gift it to, the Carmona bonsai tree will flourish indoors beautifully with minimal care and maintenance required.
#4 Ficus bonsai tree: Spiritual gift on Raksha Bandhan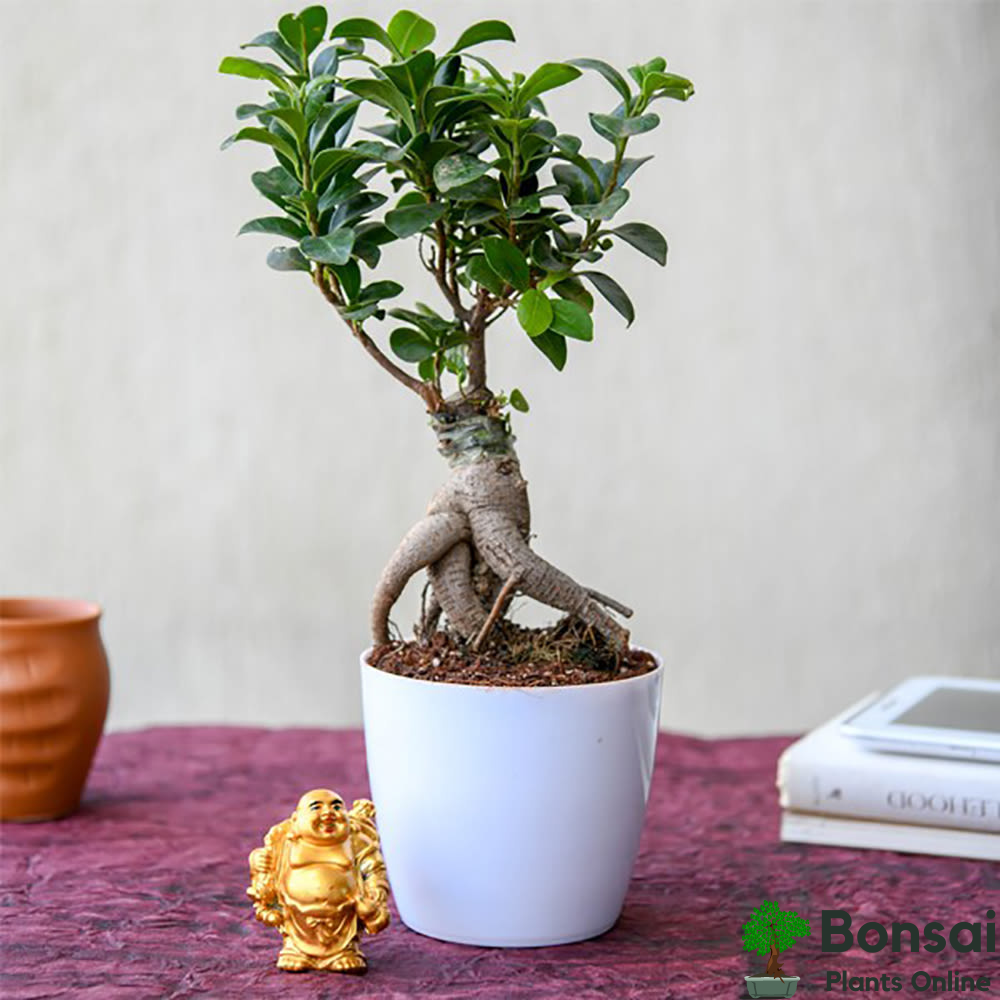 There are several varieties of the Ficus Tree bonsai available as Raksha Bandhan gifts for sister and brother. These include some of the most popular bonsai trees for sale in India as well, such as the Peepal Tree bonsai. The Ficus bonsai tree has rich tropical looks along with additional benefits when given as Rakhi gifts.
These plants have dense foliage of dark green leaves, which means when you are gifting your loved one a Ficus bonsai tree, you are gifting them evergreen life and cheerfulness.
They are evergreen plants, and thus year-round greenery symbolizes the permanent nature of your relationship with your sibling.
The Ficus bonsai tree is one of the easiest bonsai trees to maintain indoors. You don't have to worry about your loved ones having to spend additional effort only on maintaining the looks and beauty of this plant.
A number of Ficus bonsai tree varieties have a sacred or spiritual significance. If you are looking for a natural and long-lasting gift for your sister on Rakhi, then the Peepal Tree bonsai and Indian Banyan Tree bonsai also hold significance for the religious values associated with them.
Give the gift of love and protection on Raksha Bandhan
Bonsai trees signify a lot of meaning in their miniature structure. With more than just eye-catching and eye-pleasing aesthetics, the plant will protect your sister with its natural and soothing vibes and range of various benefits. Besides, its gorgeous looks is bound to leave her with a smile with the live and flourishing plant beautifying her home. By buying these bonsai trees from a bonsai plant online nursery, you can send these beautiful and meaningful plants as Raksha Bandhan gifts for sister hand-delivered to their home.
Frequently Asked Questions about Raksha Bandhan gifts for sister
What gift should I gift my sibling for protection on Raksha Bandhan?
You can gift your sister or brother the Ficus bonsai tree, which has spritual values associated with it. As a thick and dense tropical plant of evergreen nature, the plant will protect your sibling inside their home and in the outdoor spaces through clean air, soothing vibes and lush greenery.
What gift should I give to my sibling for prosperity on Raksha Bandhan?
The stylish and lucky bamboo bonsai is a great plant for gift to anybody on special occasions such as Raksha Bandhan. The plant has auspicious values associated with it, and will bring prosperity and fortune into the lives and home of your siblings when given as a plant gift on Raksha Bandhan.
What bonsai flowering plants are most suitable as Raksha Bandhan gifts to sister?
Carmona is one of the most loved bonsai flowering plants that works as a perfect and adorable Rakhi gift. You can buy the Carmona flower bonsai for your sister and be certain that it will bloom with lovely snowy blossoms of white color inside her home even during the time of Raksha Bandhan,